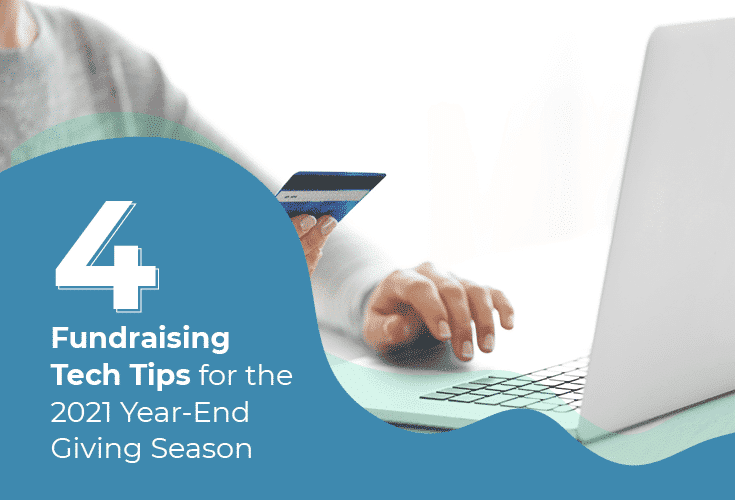 The busiest time of year for your nonprofit is right around the corner: the year-end giving season. It can be a stressful time as you try to finish the year strong by meeting fundraising goals–especially after keeping your nonprofit going through the COVID-19 pandemic. But year-end fundraising in 2021 doesn't have to be a headache. In this post, we'll review 4 important tech tips that will help you stay on top of this busy season. 
Using technology to your advantage is essential at the end of the year, especially this year as we're coming out of the COVID-19 pandemic. You've likely already been incorporating tech into your efforts in all kinds of new ways over the past year, and now it's time to take the virtual fundraising ideas that you've tried and incorporate everything you've learned into your year-end fundraising strategy. 
Here at Donately we create donation tools designed to help nonprofits raise support more effectively. We've seen the huge impact that the right tech and design choices can make for organizations, especially over the past year, so we wanted to share some tips:  
Cover all your tech bases.

Offer engaging and intuitive online experiences.

Pay special attention to events.

Offer donors easy ways to stay engaged. 
These tips can give you a solid foundation for the upcoming year-end season, meaning more new donors and more visibility for your cause in 2022 and beyond. 
Let's get started!
1. Cover all your tech bases. 
Successful fundraising with technology starts with a solid plan. Make sure you've explicitly outlined your fundraising goals and any specific plans for events or campaigns, including the necessary tech you'll need to pull them off. You'll also want to have a clear sense of your timeline and budget. 
This is especially important today as the shift to virtual-only engagement and rise of hybrid events have made nonprofit fundraising more tech-centric than ever before. For example, you might have a great plan for an auction night or 5K, but that plan might also require some modification to occur virtually or be hosted with a mix of in-person and remote elements.
After learning about the situation you're working within, you'll want to review your tech toolkit and evaluate what issues or roadblocks might arise so that you can resolve them in advance–after all, an ounce of prevention is worth a pound of cure. 
In many cases, this means investing in and implementing new software as needed for your year-end fundraising events and campaigns. For example, essential tools that many nonprofits use this time of year include: 
Donation software 

Peer-to-peer fundraising software

Virtual event or livestreaming software

Event-specific tools, like auction software

A robust website and campaign page 

Social media profiles, email managers, and other marketing tools 
Now is a great time to upgrade any basic tools you've used in the past. One especially important tool to evaluate for hybrid and virtual fundraising is your payment processor. You might be using a generic payment processor like PayPal, but there are other options available for nonprofits that can add more value to your cause in the long run. Plus, as we detail in the Donately guide to nonprofit PayPal alternatives, this generic option can have some serious drawbacks that are worth avoiding.
2. Offer engaging and intuitive online experiences. 
You may be planning to host events for the year-end giving season, but your organization's website will remain your central hub for virtual fundraising. 
You'll want to make your website the best it can be and ensure it is ready to receive increased traffic and can offer an engaging, intuitive experience for all visitors. This will help encourage site visitors to give and move you closer to meeting your year-end goals.
If you're working with limited time and resources, you should at least create a campaign-specific page for your year-end campaign on your website. It should include a few essentials: 
An easy-to-use donation form

Engaging imagery that catches the eye

Concise text explaining your mission and how year-end donations help to drive it forward

Links to other relevant sections of your website that donors might want to visit
A dedicated page will make it easier to track progress on your campaign goals since all traffic and incoming donations will be flowing through a single source. For more intensive year-end campaigns and events, it might be a good idea to create an entire microsite rather than a single page. A microsite can house all of the digital elements of your campaign, including donation forms, image galleries, blog posts, and event livestreams.
Whether you go with a dedicated campaign page or a complete microsite, you should stick to a few web design best practices. Your page or site should: 
Be well-designed.

Use an engaging and bold design that's easy to understand. Pay attention to fonts and imagery. Remember that your website should be more than pleasing to look at–it should also be easy to read and navigate. 

Include interactive elements.

Get visitors engaged with the site itself! Try including social media feeds or fundraising thermometers that are updated in real-time. This can establish your site as a reliable place for updates on your cause and campaign. 

Be clear.

Explain your mission and showcase your donors' impact. Share the story of your organization in a humanizing way, and make sure your text will keep visitors reading. 
One more thing: You'll also want to implement a system to help collect data about your donors so you can use it for thank-yous and future campaigns. Make sure you have a secure system to collect this data and a plan to review it. 
3. Pay special attention to events. 
If you do decide to host events during the year-end season, they'll likely look a little different this year. Your event might be hybrid or even totally virtual, depending on local COVID-19 guidelines and/or your donors' preferences. 
Though these types of events are more complex to plan than in-person events, there's no reason they can't be just as effective. For example, donors can still enjoy a concert virtually or participate in a wine pull online. You'll just need to use a little tech and creativity.  
So, how can you plan effectively for a hybrid or virtual event in advance? 
You might have already hosted a virtual event during the pandemic and may already have the necessary virtual event tools at your disposal. Review those tools and make any changes if necessary.
It'll also be important to make the most of the virtual or hybrid format on the day of the event. During the planning process, think through how you can keep your supporters engaged and participating online. 
Try these strategies: 
Create a microsite.

Again, creating a

microsite

is a great option for a virtual or hybrid event because it serves as a central location for accessing all relevant information, instructions, livestream feeds, and more. 

Find ways to communicate with online participants throughout the event.

Whether through a chat box or a social media posting contest, get them talking about your cause and the activities at the event. 

Use interactive elements at your event.

In the case of hybrid events, it's vital that your online participants feel just as involved as in-person participants. Make them feel like they're there! At a concert event, for example, you could ensure virtual participants have the same opportunity to request songs that in-person participants do. 

Gamify your event.

Appeal to your participants' competitive side. Use an auction leaderboard or award ceremony to get people excited about giving more to your cause. 
As you find ways to use technology to your advantage and get all your supporters involved in virtual and hybrid events, you'll create lasting connections that will benefit your cause in the long run. 
4. Offer donors easy ways to stay engaged. 
Additionally, remember that the giving doesn't have to end with the year! You'll want to offer different ways for donors to continue supporting your mission into the next year and beyond. Maintaining engagement is already difficult, but is even more difficult in this virtual fundraising era. 
Despite this, it's always best practice to encourage supporters to stay involved. You'll also want to make it easy for them—the easier you make it, the more likely supporters are to continue championing and funding your mission.   
For example, you could: 
Include easy ways to sign up for your newsletter and to give recurring donations right on your donation form. 

Provide information about

matching gift campaigns

on your site or campaign page to encourage donors to maximize their impact with the help of their employers. 

Create an engaging peer-to-peer element for your campaign, giving it a human touch while expanding your online reach. People are more likely to get involved with your cause if they're introduced to it by someone they trust. (Hint:

Check out Donately's ultimate guide

to peer-to-peer fundraising in 2021!) 

Offer sneak peaks or discounted registration for your next event. Who doesn't love perks like those? 
Again, remember the key word here is easy. If your opportunities to engage are simple to follow-through with and don't take up a lot of time, you'll encourage longer relationships with supporters and ultimately retain more donors. This is much more valuable over time–instead of focusing on donor acquisition, you can focus on donor retention (which is more cost effective!). 
---
It hasn't been an easy year for anyone in the nonprofit sector, but the year isn't over yet. With the tips we've provided at your disposal, you have the information you need to put technology to work and make the 2021 year-end giving season a success. Happy fundraising!
Author: Jacob Spencer
I strive to make every step of our customer journey as enjoyable as possible. My goal is to turn everyone that trusts Donately into a raving fan! Raising funds can be daunting, but we know that with the right tools, it can and should be easy. Throughout my career, I've been able to help sales and success teams tackle new markets, grow and expand.