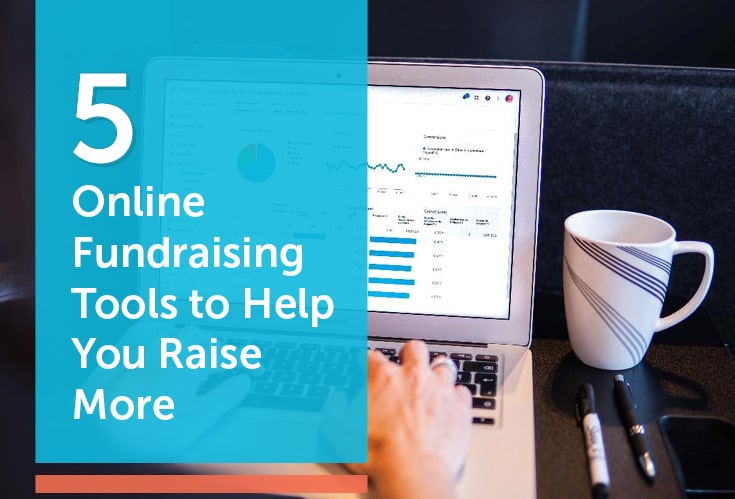 Thanks to modern technology, online fundraising is easier than ever! With a wealth of online fundraising tools and platforms to choose from, you can plan, and run online fundraising campaigns of any shape and size more efficiently. 
From tools that help you plan campaigns and events, whether they're in-person, virtual, or hybrid, to tools that keep you better connected to your network of donors and volunteers, you'll spend less time poring over seating charts and stuffing envelopes, and more time doing the work that matters.
Looking for the best resources for your organization? Here are a few you should keep in mind as you search for online fundraising tools to make the fundraising process easier.
Online donation forms
Online giving has been on the rise, and online donation forms have made it easy for donors everywhere to give to their favorite organizations whether they're sitting in their living rooms at home or on the go.
When you're searching for online donation form software, d
on't just settle for the first option you see. One of the features you should look for is recurring giving prompts. Statistics show that monthly donors give 42% more in one year than one-time donors. You don't want to miss out on those potential gifts, so give your donors the option to upgrade their one-time gifts to monthly donations easily with an online donation form that includes recurring giving upgrades.
Another feature that can help you raise even more is having the option to brand and personalize your donation forms. Donations made on a branded donation form are, on average, 38% larger than contributions made through a generic PayPal page, and donors are also about 70% more likely to give a second time if the first donation they made was through a branded donation form. To make the most out of your online donation forms, make sure you find software that gives you the ability to add your logo, use your brand's colors, and customize donation amounts.
Matching gift tools
Every year, an estimated $4 to $7 billion in matching gifts funds go unmatched, and in a survey of donors, about 84% of participants said they would be more likely to donate if their gift was being matched. If you're not taking advantage of this fundraising source with a matching gifts tool from a matching gifts database, you're missing out. Luckily, there are a wealth of matching gifts tools that can help your donors see if th
ey can double their impact and make it easier for you to collect those matching gifts.
With a matching gifts tool, donors can search to see if their company has a matching gifts program directly from your online donation forms and determine if their donation is eligible to be matched on the spot. Qgiv has a matching gifts widget that integrates with three of the most popular gift matching tools. These integrations can also help you monitor the status of your matching gift requests so you can stay on top of paperwork.
Email marketing software
Email is one of the most effective ways to stay in touch with your donors and has the highest return on investment out of any other marketing channel with a $40 return for every one dollar spent. However, it can be hassle to maintain mailing lists and subscriptions if you're manually tracking all of your data. With email marketing software, you don't have to do it all on your own.
When you're running a fundraising campaign, email marketing is a great channel of communication between your organization and supporters. During a campaign, you can share the impact your organization has on the communitie
s you serve to drive donations and provide your donors with updates on how close you are to reaching your fundraising goals. Once your campaign has concluded, keep the lines of communication open by letting your donors know how grateful you are for their support and how their gifts are making a difference.
With email marketing, you can also segment your donors. Email segmentation ensures the right messaging is being sent to the right supporters. You can send emails with information specific to existing donors to keep them engaged while also sending different emails to first-time donors to increase your retention and turn them into recurring donors.
Nonprofit event software
Hosting an event requires a lot of organization, but with event planning software, you can raise even more at your events and find fundraising success. Today, with an increase in virtual events, it's vital to invest in flexible software that empowers users to participate how they want, whether in person or virtually, on a desktop or a smartphone.
Event registration software.

Make it easy for your supporters to register for your event and for you to keep registrants organized by investing in event registration software. In addition to basic functionality, you should be able to add your organization's branding to your registration form for better visibility. Conditional fields are another essential feature to make sure you're collecting the right donor data and avoid asking your supporters questions that aren't relevant to them.

Auction event software.

If your organization loves

hosting auctions

, it's best to find software that can virtually keep track of bids, so you don't need to keep track of sheets of paper. Some auction software will send notifications out to bidders so they can place another bid when they've been outbid.

Peer-to-peer event software.

Your

peer-to-peer fundraising

software should make it easy for your fundraisers to create their own fundraising pages so they can raise more money on your behalf. With this functionality, they have a home base where they can keep track of their fundraising progress and who has donated to their campaigns.
Nonprofit CRM software
The easiest way to manage your donors is through a customer relationship management platform. A CRM platform can help you better understand your donors' habits and raise money more effectively. Knowing metrics like your donors' giving histories, past event attendance, and email open rates can help you better market to your donor segments. Using donor data well can lead to higher donor retention and other fundraising strategy improvements.
If you're already using a CRM platform, invest in fundraising software that has CRM integrations. Manually entering information into your CRM platform after an event can be extremely time consuming, but with a CRM integration, you can seamlessly transfer information from your fundraising software to your CRM platform and vice versa. There's even a Zapier integration for custom integrations with hundreds of third-party software providers.
---
Fundraise better and smarter by investing in the right online fundraising tools for your organization. If you're looking for more resources to take your online fundraising to the next level, check out these links:
About the Author:
Tiara is a writer by trade and a passionate supporter of nonprofits by nature. When she's not typing away at her keyboard for hours, you can find her dancing (if you can call it that) at concerts, drinking copious amounts of English Breakfast Tea, and daydreaming about traveling the world.