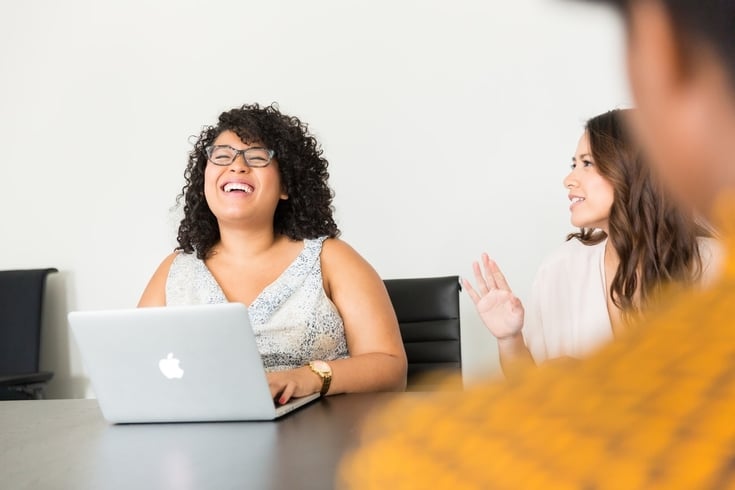 Even before the COVID-19 pandemic, digital fundraising was becoming increasingly popular. Now, mid-pandemic, with opportunities to interact in-person extremely limited, digital fundraising and even virtual fundraising events are likely a major focus of your nonprofit.
As so many ways to engage with your organization have shifted online, have you made sure your website is the best it can be? All the email blasts in the world won't matter if the website they link to is confusing, boring, or untrustworthy.
At Lumaverse, we're passionate about empowering nonprofits to succeed. That's why we've compiled three tips for optimizing your nonprofit's website for donor engagement. We'll walk you through the following tips to help you convert more site visitors into actual donors:
As you search for ways to maximize the impact of your virtual fundraising ideas, don't let your own website hold you back. Let's dive in.

1. Tell your story.
When a potential donor accesses your home page, your mission should be front and center. Visitors should easily be able to tell what your organization does and why your work matters.
Consider ways to communicate your mission to potential donors—multimedia approaches are more effective than walls of text. You want to evoke emotion in the audience and instill trust that you are doing the good work to accomplish your mission. You could do this in a variety of interactive ways:
Images. Your home page should have some image(s) to create visual interest and reflect your brand. Your images should both convey information and evoke emotion in the viewer. For example, if your organization offers tutoring sessions and educational support to disadvantaged children, a picture of the students in class with one of your staff would be a good choice.
Videos. Videos can carry more emotional weight than images, but be careful—videos that auto-play (especially with sudden, loud audio) have the potential to turn some donors off. You could consider putting together some informational videos about your organization, your community, or the problem your organization aims to solve.
Testimonials. Your nonprofit's constituents have powerful voices. They can serve the dual purpose of explaining what you do and providing evidence for your efficacy. Because testimonials are by nature personal stories, they might connect with potential donors in a more salient way than statistics.
Statistics. Statistics deliver information quickly and visually, emphasizing concrete, measurable outcomes. They can reinforce trust in your organization as a driver of change.
Blog posts. A dedicated blog page on your website is the perfect place to collect stories about the impact of your organization and keep your site visitors and supporters up-to-date about the work you're doing.
If you run your nonprofit's website through WordPress and encounter issues embedding links and multimedia features, you may want to learn more about troubleshooting for WordPress websites.
Making sure all of these features are up and running will ensure your mission is clearly communicated to everyone who sees it!

2. Be clear.
Clear communication is always key to getting your point across. The same goes for websites —clear navigation ensures your users always know what they're getting when they click around your site. Make sure to:
Have a prominent navigation bar visible on the top or left side of your home page. The components of the navigation bar are up to you, but they should be logically organized and direct users to all of the most important pages on your site. We'll talk more about how to steer your audience to high-value pages in the next section.
Present information cleanly so you don't overwhelm the viewer. While visual interest is important, an avalanche of images, GIFs, videos, and buttons will just serve to confuse potential donors. A well-designed website not only makes navigation easy, but carries an air of professionalism and organization that instills confidence in your audience that you actually accomplish what you claim to.
Keep up with site maintenance and correct any broken links or forms as possible. Consider using a site performance analysis tool (like the free one from Google Analytics) to regularly audit your site for broken links. Links that lead to 404 pages tend to decrease confidence in your website in the eyes of users and search engines alike.
The last thing you want to do is turn off potential donors with a confusing, cluttered, or broken website—even if it's slightly less than obvious how to get from one page to the next, a potential donor may decide it's not worth the extra effort. Meanwhile, a smooth experience will make the user more likely to trust and engage with your organization.

3. Emphasize calls to action.
A beautiful website is just that—a beautiful website—unless it propels the audience to take one or more specific actions. A truly effective nonprofit website actively guides users to the most valuable places on the site using calls to action or CTAs.
Calls to action are links, buttons, or phrases that ask the user to specifically do something to get engaged with your organization. Some examples are:
Donate Now
Get Involved
Sign Up
Register
Join Us
Share
Become a Member
Your calls to action should be thoughtfully placed with maximum visibility in mind and should present themselves on multiple pages. Your "Donate Now" button should be visible from every page on your site to make the donation process as easy as possible. At the same time, you want to keep a balance between engaging, educational information and direct calls to donate. Remember, your passion for the mission is what inspires people to donate, so you want to make your story the focal point of every page. The donation buttons are simply there to make it easier for them.
Of course, your calls to action should link to the appropriate places. For calls to donate, users should be taken to your donation form, while volunteers should be directed to a volunteer signup form like this one.
Make sure these donor-facing tools integrate with your CRM of choice—that way, data will automatically report to your database for the most up-to-date and accurate analysis. Explore the Lumaverse platform to get an idea of the range of built-in features to look for in a CRM.
---
If there's ever a time to revamp your nonprofit's website, it's now! With so many ways to fundraise online, like crowdfunding campaigns, virtual auctions, and viral challenges, it's essential that you put your best foot forward when it comes to your online presence.
After all, the days of hand-delivering or mailing checks to a brick-and-mortar location are over; many of your donors will likely never see your actual establishment in person. For those donors, your website is the closest they will get to seeing your "headquarters."
That's why it's so vital to make sure your website represents your mission accurately, conveys professionalism, and propels your audience to engage through donations, volunteer signups, and social media shares. Best of luck!