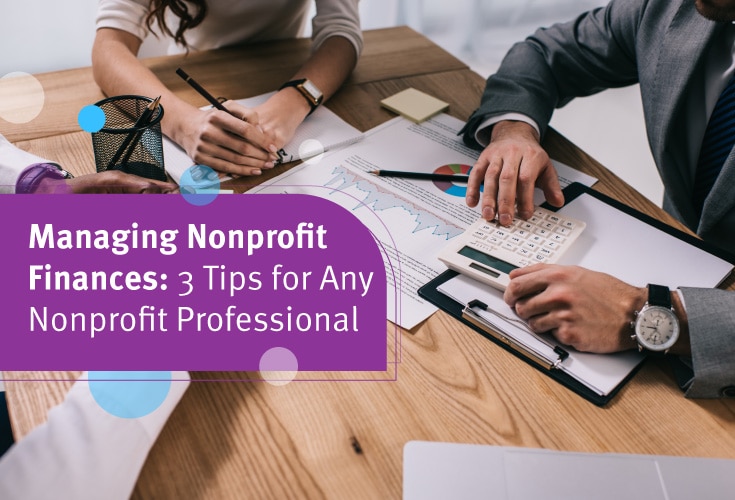 It's pretty rare that you find someone who joins a nonprofit team to crunch numbers and analyze finances. More than likely, you joined the nonprofit sector because you want to see a difference in the world and be a part of it.
However, number crunching and financial analysis are a necessary part of the nonprofit world that need to be completed by someone. That someone (or team of someones) plans out the annual budget for the organization, compiles financial reports for various teams, balances transactions, and helps with other financial needs at the organization.
Even if you're not the one actually completing financial analysis and working directly with the numbers, that doesn't mean you're off the hook when it comes to nonprofit finance. Understanding the basics will help you complete other tasks and better understand how your organization functions as a whole.
To help you get started, we've compiled these basic tips that anyone can use to better understand how nonprofit finances work. These tips include:
While you may dedicate much of the year to helping nonprofit professionals build and develop greater connections with valuable supporters and community members, as a new year approaches and gets its start, most people really dive deeper into their finances. Take advantage of this drive to learn more about how your finances will work.
1. Research the basics of nonprofit accounting.
One of the first steps to become more financially adept is to do some basic research about nonprofit accounting. This might seem like a small change, but it can go a long way!
Here's how Jitasa's nonprofit accounting guide defines nonprofit accounting:
"Nonprofit accounting is the unique process by which nonprofits plan, record, and report upon their finances. While for-profits primarily focus on earning a profit, nonprofits focus more on the accountability aspect of accounting. They follow a specific set of rules and procedures that help them stay accountable to their donors and contributors."
Therefore, when you conduct your research, focus on the way that your nonprofit plans, records, and reports on finances:
Planning finances. The most obvious way to learn about nonprofit financial planning is to analyze your organization's budget. This document is put together each and every year by your finance team, approved by your board, and (hopefully) referenced often by other members of your team. To better understand this document, try discussing it with a member of your finance team. They can help you understand how the calculations were used to create the plan and how to use it most effectively.
Recording finances. Keeping regular daily records is a part of your nonprofit bookkeeper's duties, according to this resource. However, reviewing those entries, analyzing them, and taking the appropriate next steps are all part of your accountant's responsibilities. To get a feel for how finances are recorded, talk to your web development team about what happens when a donation is processed through your website. Then, follow a donation's journey from the time it enters your nonprofit's system to the time it's spent.
Reporting finances. There are several reports that nonprofits create to track various aspects of their financial health. We've briefly discussed the budget already, but others include the statement of financial position, statement of activities, statement of functional expenses, statement of cash flow, and the annual tax Form 990. You may not need to know the ins and outs of all of these forms, but generally understanding how they work is crucial for gauging your financial health. Research each of the forms and its purpose, then compile a list of questions to ask an accountant.
If you're familiar with general accounting practices, these concepts may look familiar to you. However, it's important to keep in mind that nonprofit accounting differs from for-profit accounting in a pretty drastic way.
Nonprofits use a system of accounting known as "fund accounting," allowing them to separate their money into a variety of funds in order to stay accountable to donors. Because this system of accounting is so different from the usual, some fresh research on the subject of nonprofit-specific accounting standards can help you understand the intricacies of this system.
2. Reference your organization's budget regularly.
As we discussed briefly in the last section, your nonprofit's budget is one of the key planning documents created by your financial team. It's what outlines the projected revenue and potential expenditures for your organization.
Even if you're not a part of the budget-creation process, you should make sure to reference the document often in your regular activities. If you were to just set a budget and forget it, what's the point in creating a budget to begin with?
Instead, you should reference your budget often, see where you stand in your planned revenue and expenditures, and collect data that can be used to help create future plans and strategies.
For example, consider a mid-sized dog shelter. The fundraising coordinator at the organization recognizes that the pandemic has made raising donations even more difficult, and during the first quarter of the year, revenue was very behind an already tight schedule. Simultaneously, the program director wonders if there's room in the budget to purchase new leashes and collars for 30 new dogs that arrived from a puppy mill.
Chances are, the two people will run into conflict if they don't reference the budget and understand how it works. Plus, they run the risk of spending money that doesn't exist because they're working with an outdated budget!
When you analyze your budget frequently, you'll start to see trends and opportunities for improvement. For instance, you may find that:
Your organization relies too heavily on a single revenue source and needs to work on diversifying its income sources.
If your organization frequently overspends or underspends on overhead expenses or other operational aspects, you need to reevaluate your expenditures in order to put more focus on programming and accomplish more.
In the example of the dog shelter that we referenced in this section, we explain the issue that the fundraising coordinator and program director don't reference their budget. This creates problems and discord at the organization, potentially overspending and racking up debt.
3. Make sure teams sync up regularly.
In the last section we provided an example where two staff members of a dog shelter organization would've done well to stay up-to-date with their budget. However, another practice they should've considered is maintaining open communication between departments. Communication between teams is vital to ensuring an effectively run organization, and it's crucial for effectively analyzing and working with financial data.
If the struggling and likely overwhelmed fundraising coordinator had discussed finances with the programming director, they would've realized that there was no room in the budget to make a major purchase and take on additional animals. This brings us back full circle to our first tip in this article: research.
When you understand the basics of accounting and the various reports that you can create to represent finances, all individuals at the organization can "speak the same language" as they discuss finances.
These discussions lead to more impactful and effective conversations that can be used when strategizing for the organization. Salsa's guide to fundraising strategies provides a whole list of potential strategies that nonprofits can draw from, all touching on various departments at the organization.
For example, let's revisit the animal shelter we discussed earlier.
The development director at the nonprofit decides to host a digital pledge drive to help the dog shelter through the difficult times brought about by the pandemic. In their mind, pledge drives tend to work well during times of crisis. When the pledges start pouring in, the development director logs them as donations in the system and compiles reports to show the executive director.
Meanwhile, the financial director also compiles financial reports to bring to the meeting with the executive director. However, the financial director is concerned because the revenue doesn't match the amount of funds recorded by the development team. In the accounting processes, the financial department doesn't track revenue until it actually hits the nonprofit's account, so the pledges raised by the development team haven't yet come through the system.
The result of this situation is that the executive director is confused and concerned about the reports from the development and finances teams not matching up.
This issue could've been resolved if the finances and development teams communicated before the meeting, explained the circumstances, and compared reports.
While this is just one example, it can happen between any of the teams at your organization. Make sure to encourage open communication between team members, especially when potential discrepancies are on the horizon.
Conclusion
Nonprofit finances aren't easy. That's why there are professionals available to help organizations when they need to troubleshoot various issues. When you run into points of accounting, reporting, or budgeting that you don't understand, don't be afraid to ask questions.
Simply asking questions is one of the best learning tools for professionals. If your organization has a finance team on staff, go to them with any questions you may have. If you don't have a dedicated finance team, then ask an accountant who specializes in nonprofit finances for help.