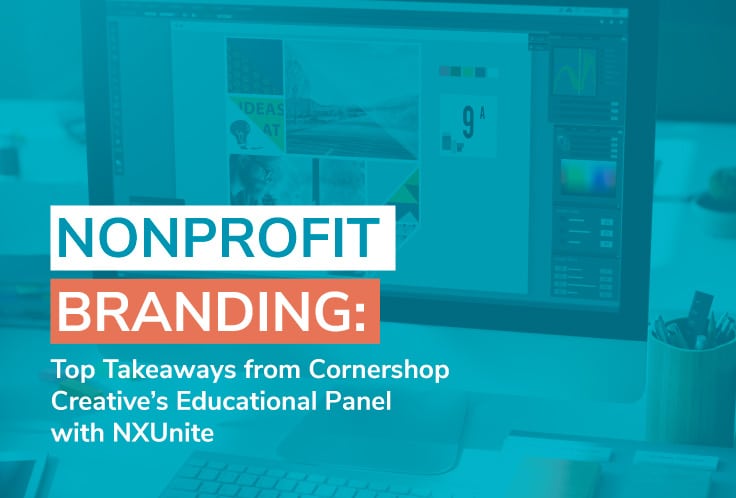 Ira Horowitz, Founder of Cornershop Creative, joined NXUnite's "A Signature Style: Building Your Nonprofit's Brand in 2022" with nonprofit professionals Taylor Shanklin of Barlele and Alyssa Conrardy of Prosper Strategies to discuss the importance of branding and its key strategies for nonprofit organizations. 
Branding: What is it? 
A brand is most commonly associated with a name, a term, or a design. While these assets are certainly part of branding, a brand is more specifically defined as everything an individual conveys about what their organization does and why it matters. "A brand is an experience. It is what catches someone's attention in the first place," said Taylor Shanklin, CEO and Founder of Barlele. When you first begin building a brand, remember that an organization's brand should inspire trust and evoke emotional responses.  
Essential Elements for Your Brand 
An organization's main goal should be to engage their supporters, regardless of the organization's size or mission.
According to Alyssa Conrardy at Prosper Strategies, "It is about what you do with the brand, not necessarily how much you spend." 
Contrary to popular belief, an organization's size and budget should not be the deciding factors for how a brand is created. It's about what an organization chooses to do with their brand, not necessarily how much money is spent creating it. A compelling brand can be created with a small budget, and it's important to remember that investments are not necessarily defined as something physical. You also want to pay attention to your investments of creativity, time, and more. 
The following assets are key components of an organization's brand and visual identity: 
Name and Tagline 

Logo, Fonts, and Color Scheme 

Key Messages 

Brand Style Guide 
Using Your Brand to Bring In More Revenue  
If you are wondering if rebranding is worth the cost, remember that a brand carries more benefits than just representing your organization's identity. 
As Ira Horowitz of Cornershop Creative states, "A good brand will convey trust and invoke emotional responses. A brand is part of the experience." It is difficult to directly measure the relationship between a good brand and the revenue it inspires, but it is important to remember that a good brand experience creates a journey for engaging new supporters and can result in revenue growth, including increased funding from donors. 
The Future of Nonprofit Branding 
As nonprofit organizations continue to grow and digital tools become more advanced, nonprofits will have to consider the best ways to balance digital strategies with in-person strategies. As your nonprofit organization continues to grow and innovate your branding strategies, leverage educational resources set like these nonprofit podcasts on strengthening your brand.