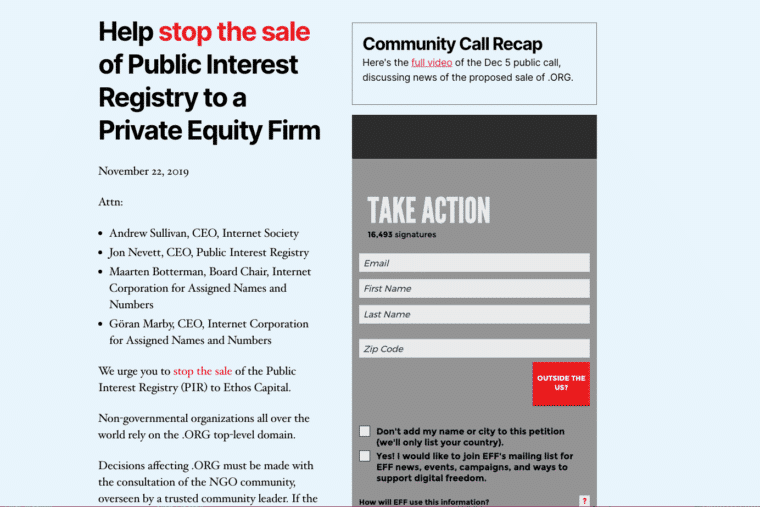 Update: As of April 30, 2020, the organization that oversees internet domain names has rejected a proposal to transfer management of the .org top-level domain from a nonprofit to a private equity group! Read more. 
A big change in the management of .org Top Level Domains (TLDs) is in the works, and you should be paying attention.
The Internet Society (which previously ran .ORG) sold .ORG recently (and plans to sell .NGO, and .ONG as well), leaving these TLDs open to privatization, rate hikes, and profiteering. A private equity firm named Ethos Capital has already acquired .ORG.
You might think that it's strange that the TLD exclusively for non- and not-for-profits is now being run by a firm whose sole job is to maximize profit. You'd be right: it is strange, and smells rather fishy.
Among the implication of the sale are:
Price increases, because the previously-enacted price restrictions were removed by ICANN on June 30, despite public opposition, and because an equity firm's job is, after all, to increase equity (not necessarily to shepherd valuable resources for future generations). 

Lost revenue for the nonprofit industry, which currently makes $94 million dollars each year from .ORG alone. Instead of this money going to support nonprofits, it will go into the pockets of private industry.
What you should do today
Sign the petition


Join NTEN and the Electronic Frontier Foundation (EFF) in signing this petition to protest the sale:

https://savedotorg.org/

. Don't cede your influence – raise your voice and demand better for the millions of nonprofits that rely on .org.

Check your domains


Look up your domain expiration date. It only takes in 5 seconds:

https://whois.domaintools.com/

Buy extensions while rates are low


To hedge your bets against a potential steep price hike, buy a 10 year extension on critical .org domains. Your nonprofit isn't going anywhere, but your current domain registration rate could increase sharply after the sale – this is your insurance policy.
Learn more
To really appreciate how sketchy this whole deal is, read up on the recent shady dealings of ICANN, PIR, and Ethos Capital. It'll make a good white collar backroom deal movie someday, but until then, this deal has the potential to harm millions of organizations and the people they serve.