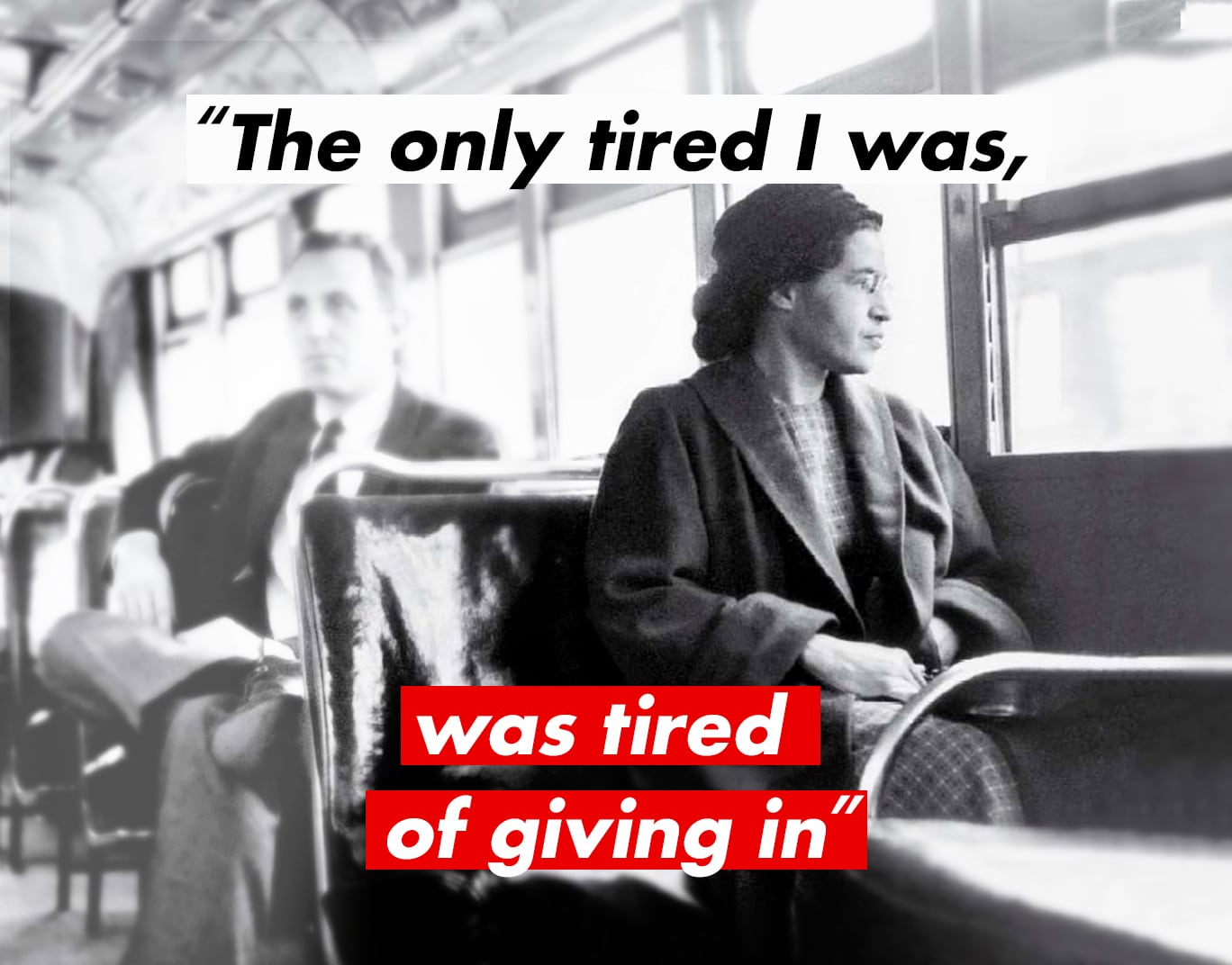 So… how are you?
If your days are anything like ours have been, it's been a rough new year. While pondering ways we can stay outraged, we're celebrating the birth and legacy of Rosa Parks and seeking some inspiration in fresh advocacy tactics. 
Thanks to Rosa, we know how ceaseless courage and organized action can change conversations and the world. Looking for new ways to rise up or sit in protest? Here are some of our recent favorite advocacy sites.
Resist definition: Share stories
If we listen too closely to our egotistical president, we start to worry there will be just one accepted way to view the world, but these organizations remind us that for every issue, there are numerous and powerful perspectives and experiences:
WeTestify resists definition by supporting individuals who choose to tell their own stories. There's no one way to experience abortion, and these stories remind us how important it is to stand up for everyone.
Interfaith Alliance counters conservative Christian myths about our country and works to present a diverse perspective on religion in the United States.
The Victory Fund works to further political conversation by hosting local events and electing  more LGBT political leaders.
Even Rosa Parks' story is a nuanced one: many said she stayed seated because she was "tired," but she countered: "The only tired I was, was tired of giving in."
(And Rosa's story isn't the only one of defiance on the bus. Nine months before Rosa's choice sparked the Montgomery Bus Boycott, 15-year-old Claudette Colvin was arrested for refusing to go to the back of a bus, too. Don't forget her story.)
Defend facts: Provide resources
In a whirlwind of "alternative facts", these organizations work persistently to ensure that their audiences have real, truthful, and objective resources to grow and improve in their work.
Innovating Education in Reproductive Health provides resources to train healthcare workers in how to better counsel and provide services to patients who need abortions.
FoodCorps works to create healthier schools for healthier children no matter where they live, providing them with real information about the importance of fresh, natural foods.
Our Bodies Ourselves provides resources to communities around the world, working to ensure that we all have the real facts on reproductive health and sexuality.
Uplift community: Invite conversation
Open dialogue grows movements.
Black Lives Matter integrates social media, live events, and their network to uplift activist voices and shift narratives.
Save the Children Action Network trains high school and college students to advocate for and work with children.
Generation to Generation works to bring older and younger people together to build community across generations.
Can't Stop, Won't Stop: Nothing's impossible
As we celebrate Rosa this February 4, we look to the future and dream of what we'll overcome.
Whether we're opposing cabinet nominations with Alliance for Justice or working to impeach the president, no issue is too challenging when you're working with an empowered advocacy framework.
WhiteHouseInc.org decided to route calls to the President right where he really works: through his companies.
Access Now targets companies, countries, and councils as they advocate for fair and equal access to technology.
Raise a banner, organize a march, or identify a new way to target decision-makers, and change is attainable.
Tell us: what advocacy tactics inspire you? Share your favorite examples with us through Facebook or Twitter.