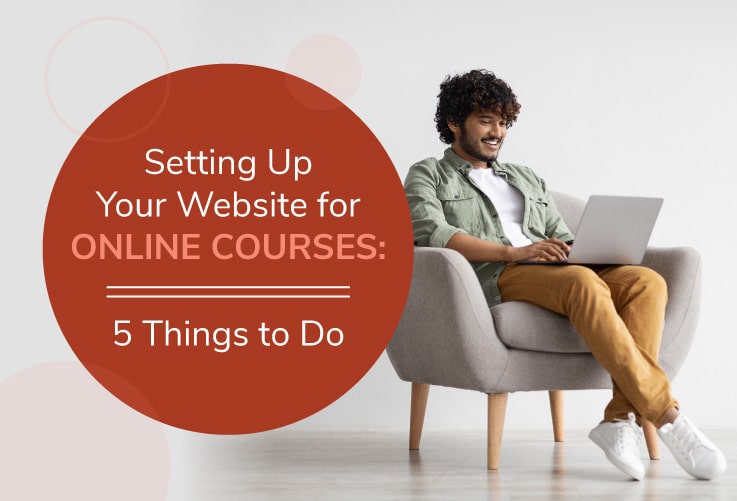 Among your nonprofit's many digital fundraisers, you may have considered offering online courses. Online courses can provide your organization with a new revenue stream, while also offering your supporters learning opportunities, a chance to improve their skills, and another way to further their engagement with your nonprofit.
After you create your course content but before you can jump into promoting your online courses, there is one important step to take. You'll need to get your website properly set up to help your course participants learn about, sign up for, and attend your courses. Fortunately, with the wide range of course software options and web design tools available today, you don't need to be a coding expert to create a website that supports online courses.
To get started preparing for your courses, this article will review five ways you can make you can make your website more friendly to an online learning experience:
Research course registration software tools.
Create an optimized registration page.
Consider building a microsite.
Set up analytics.
Practice routine maintenance.
These tips aim to help facilitate your new courses, while also maintaining your website's overall health and usability. If you do end up needing help to prepare your website or get your software working correctly, don't hesitate to reach out to your software provider or web design consultant for further assistance. Let's get started.
1. Research course registration software tools.
There is a wide range of course registration software for your nonprofit to explore. While many of these options offer similar basic features, each solution has its own strengths. Your nonprofit will want to find a software solution that focuses on the features that matter the most to your specific online courses.
When reviewing course registration software tools, you can find the right solution for your nonprofit by:
Choosing an industry-specific solution. Course registration software is designed for a variety of industries, from nonprofits to business training programs to after-school and community education programs. While most solutions will come with the same base features, there are some differences. For example, you'll likely want to avoid sending your course participants to a registration solution designed for elementary school students.
Examining all platform fees. Before investing in any software, be absolutely sure you understand its price model. Most solutions will be subscription based, but some may have additional features that require buying a more expensive software package.
Ensuring there are branding and customization options. As mentioned, your participants will want to be sure that your registration portal is connected to your nonprofit. You can assuage their fears by choosing a customizable solution that lets you add your brand elements. As Getting Attention's guide to nonprofit branding emphasizes, maintaining consistent branding across all of your programs will help establish trust with your supporters and distinguish your nonprofit from organizations with similar programs.
To find the right solution, start by getting referrals from colleagues, well-researched internet articles, and your own experiences signing up for online courses. Then, look up these providers online to see what features they offer and how they compare to your must-have needs. Once you've narrowed it down to your top few choices, begin reaching out to providers to ask specific questions and request demos.
2. Create an optimized registration page.
According to Regpack's online registration software guide, 90% of applicants prefer to complete registration online. However, these individuals are quick to judge how useful a page is, as it was also found that 27% of users will abandon a page if they are redirected to a third-party site.
For your nonprofit, these statistics mean that you should offer your course participants a streamlined method for registering online that is hosted on your website. This means you'll need to create a registration page. Here are a few ways you can ensure this form will hold your applicants' attention until they hit submit:
Make your form accessible. An optimized registration form should be available for everyone to use without issue. Ensure your forms are accessible by adding text directions to each information field, creating an adequate color contrast between your fields and page background, and testing if your page is navigable by keyboard.
Ask only necessary questions. If your participants start to think your nonprofit is just fishing for additional information unrelated to your courses, they may exit out of your form. Show your visitors that you appreciate their time by only asking questions relevant to the specific form they're filling out.
Offer several payment options. There's nothing more frustrating than completing a registration form and then running into payment issues. You can avoid this situation by providing your users with a variety of payment options such as credit and debit card, ACH payments, Google and Apple pay, and PayPal.
Remember, if you feel limited in your options while designing your forms, visitors who fully complete your registration form will set themselves up for further communication with your organization, leading to more interactions and opportunities to gather their information.
3. Consider building a microsite.
Your courses may take up a considerable amount of real estate on your website. For instance, you'll need to include information about your courses' content, your course schedule, information about how to sign up, and additional marketing materials such as testimonials from previous learners.
This means nonprofits marketing online courses should consider building a microsite. Microsites are smaller websites that tend to be highly focused on one or two subjects. There are a variety of benefits to creating a microsite, such as:
Reducing clutter on your main website. As mentioned, you will likely have a lot of information to communicate to visitors about your online courses, and this information is only likely to grow alongside your program. You can prevent your main website from being unfocused or overrun with information about your courses by moving all content related to your courses to your microsite.
Showing off a new side of your organization. A new microsite is also a new opportunity to expand your nonprofit's brand. When discussing your courses, you may want to use a different tone than you normally do when presenting your nonprofit's programs. With a microsite, you have more flexibility to change up your tone and style without confusing your audience.
Improving your SEO. While microsites are still connected to your main website, they are also separate and have their own SEO rating. For your nonprofit, this new domain can be another place to backlink your main website to. However, be sure to do so naturally to avoid being penalized by search engines like Google.
However, there can also be some negatives to microsites to keep in mind before deciding if you really need one. Microsites do require upkeep in addition to your main website's maintenance and will need to be fully designed and set up as a new, functional website before going live.
4. Set up analytics.
Before your courses get started, you'll want to decide how you will determine if your courses were a success and what tools you will use to measure that success. This will mean choosing which key performance indicators (KPIs) you will track and setting up analytics tools to do so.
Many course registration and management tools will come equipped with reporting features that allow you to track a variety of metrics. When combined with your reports for your support communication tools and website analytic tools, you should be able to track:
Total course sign-ups
Sign-ups by course
Course attendance
Participant retention
Additionally, you should also monitor qualitative data, such as overall course satisfaction. While this data will be less uniform, it can provide specific insights into your course participants' experience, which can lead to important improvements in your courses' content, structure, or registration process.
Try finding course management tools that allow for custom reporting, as well. This allows you to get specific information about data that is uniquely relevant to your nonprofit. For example, let's say you are partnering with a business and offering courses as part of their employee engagement program. You would then want to filter your participants based on employer to discover how successful this partnership is.
5. Practice routine maintenance.
Before and while you run your online course program, be sure to keep your website working well with routine maintenance. Regularly running through a checklist of potential technical issues can help prevent problems before they happen, leading to a better user experience for your course participants.
For example, you should practice submitting your registration forms to check if all information is correctly flowing from your registration page to your course management tools. If the data isn't or you see errors in the data, you will need to take immediate action to resolve the problem in order to avoid losing potential participants who may encounter this issue.
Additionally, don't forget to check for old and outdated information as you update your courses. The longer your program runs, the more likely it is that you will need to regularly update information about your courses' content, schedule, and access method. Errors will eventually crop up, such as broken or outdated links.
If you encounter more serious technical issues that you cannot resolve on your own, don't hesitate to reach out to either your software provider or web consultant, based on what is causing the problem. This is especially important for issues that may interfere with your participants' routine activities on your website.
---
Online courses are an exciting way to expand your nonprofit's offerings. Before getting started, make sure your website is ready to offer your visitors a positive user experience by creating an optimized registration process that is straightforward and technical issue-free. Good luck!