We built a flexible, interactive intranet for this large, distributed nonprofit. The WordPress-based intranet serves a varied and widely dispersed staff, giving everyone a central location for training and HR resources, a shared calendar and discussion board, and a feeling of belonging.
Harlem Children's Zone (HCZ) is a unique nonprofit committed to ending generational poverty in the 97 blocks that comprise Harlem, New York. The organization seeks to help kids as early in their lives as possible and to create a support structure of adults around those kids and help ensure their success through various programs throughout Harlem.
We helped HCZ replace a dormant, outdated Joomla intranet with a dynamic new WordPress intranet to match the organization's newly redesigned public-facing WordPress site.
The biggest challenge to serving this organization was its footprint and reach: staff are distributed over 20-some locations, so the intranet site needed to be not only accessible but also secure for the employees who might otherwise feel disconnected from the others.
Reinforcing the organization's mission and vision through the intranet was a key goal of the project. At its core, the organization seeks to create a college-bound mindset and develop non-cognitive social-emotional skills among the youngsters it serves, so the intranet needed to underscore and support these important values. HCZ staff are young and active, and they like to see frequent updates, so we worked to keep the site content active and diverse by feeding automatic updates to the homepage, for example.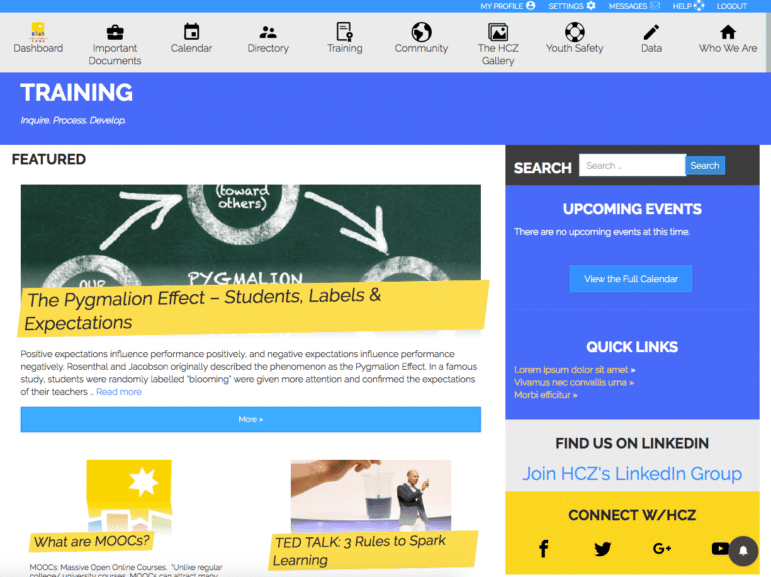 We used Ultimate Member to manage staff like members, and integrated it with bbPress to provide forums where diverse staff can now feel a sense of belonging to this cohesive online community.
On the new intranet, staff members are able to manage their own profiles, update HR information like their address and contact information, easily find the employee handbook, start conversations in the organization-wide discussion forum, share art and photography in the organization-wide gallery, and contact the Intranet administrator to provide feedback on the intranet.
The success of an intranet ultimately has to do with the content that is available on it, and this one is set up for success. The new intranet is warm and friendly, and gives administrative staff the ability to easily interact with HCZ staff via a community forum. Announcements and resources are now easy to share with the organization's hundreds of staff.