We customized a WordPress template to create a light and airy site that's easy for the campaign staff to maintain. The site highlights the campaign's great photos, and gives visitors clear calls to action, especially when it comes to joining the email list (which is the campaign's main goal).
In 2015, Cornershop had the pleasure of working with the Bay Area Open Space Collective and Lightbox Collaborative to create the online presence for a new engagement-focused effort. The objective for this project was clear: Engage people in the Bay Area to advocate and protect parks, open spaces, and farmlands.  
Starting from scratch, we worked with Annie Burke, Executive Director, to create an attractive, effective platform that this organization turned into real-world engagement. Here's how it happened:
Strategy
After conducting focus groups to learn from our target audience with our strategy consultants (and so much more) at Lightbox Collaborative, the Bay Area Open Space Collective selected the name Outdoor Voice for the project. We developed a simple yet engaging and active logo that would serve as an excellent "stamp" on countless, gorgeous photos of Bay Area citizens enjoying the outdoors.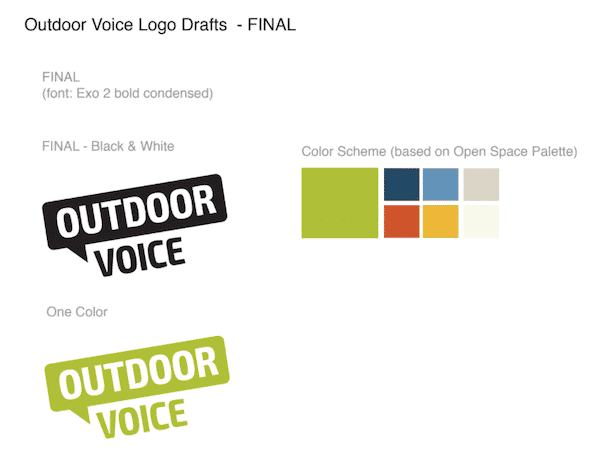 With the logo nailed down, we built a website to tell the Outdoor Voice story. We filled it with simple, easy calls to action (Sign up to "preserve the Bay Area's natural wonders for future generations") and large slots for photos that would show rather than tell site visitors why they should care.
Because we knew Outdoor Voice was trying to reach folks across all communications channels, we made the site mobile friendly and added social media integrations.
We customized the Social Stream plugin for WordPress to provide a dynamic, multi-column social media feed to emphasize the social nature of these parks, and inspire people to add their voices. We also set up a branded MailChimp campaign to enable the campaign to reach out to supporters.
We also built the site using a Jupiter theme so Outdoor Voice organizers could easily add and highlight content as the campaign took off.
From the beginning, a crucial foundation of Outdoor Voice has been its partners — local and regional organizations committed to deepening individuals' connections to the place they love. We knew that page needed to grow in content and to impress visitors so we used a beautiful parallax image and custom tables. 
Results
After just seven months, Outdoor Voice engaged 2,903 people across its social media platforms, for folks all over the Bay Area who care about parks, open spaces, and farmlands. And that number is growing every day through targeted social media outreach and through partnerships with people like you.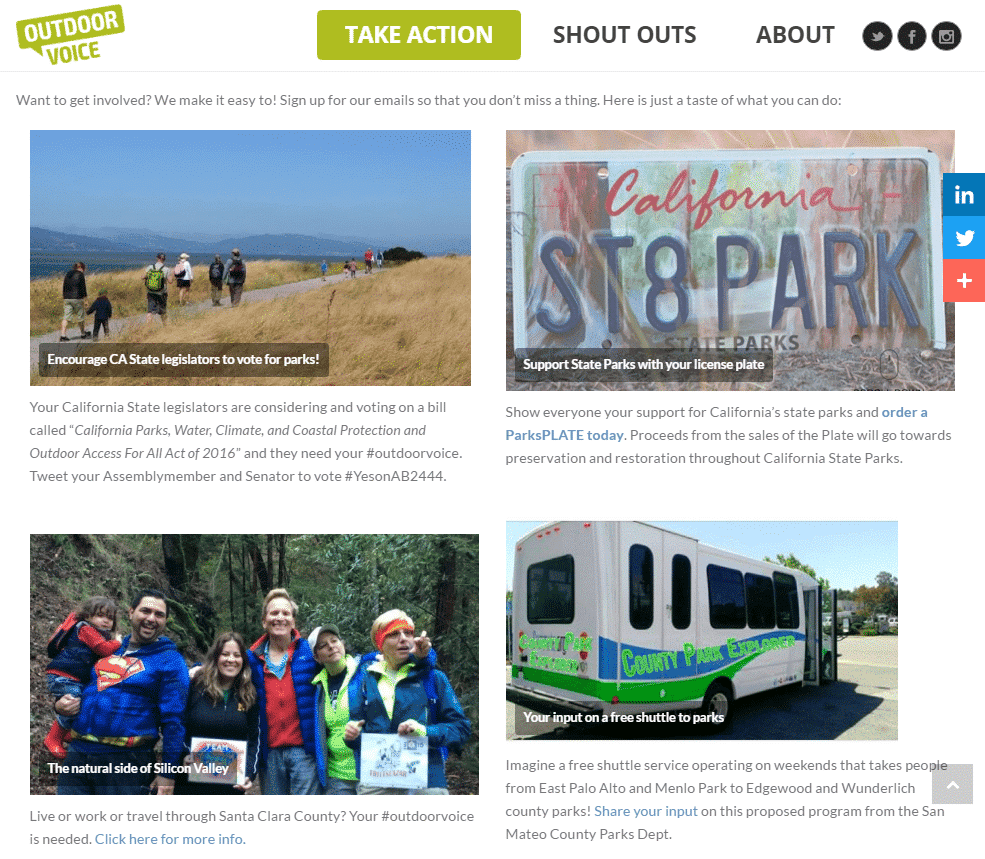 Cornershop was amazing to work with. Their project management skills are top notch, and their products are on time, on budget, and spot on.

Annie Burke, Deputy Director