We built a beautiful but deceptively complex WordPress site with lots of content and use of taxonomies for landing pages.
Access Now, an international human rights organization that advocates globally for universal access to open internet as a basic human right, had outgrown its Expression Engine and Blue State Digital integration and needed a beautiful but very secure alternative that would also allow for complex tagging and content relations.
The organization had already done a lot of thinking about their new site: they had a Project Overview document that outlined functionality, and they had already created several detailed wireframes and design mockups to convey their vision.
They sought an agency that would regard them as a partner in the design and development process, a company with people who would take and extend their vision into a powerful platform for change. They chose Cornershop Creative.
Strategy
There were a lot of goals for this site: improved design, improved navigability, and improved security. Here's how we at Cornershop addressed these important goals:
Design & Content
Access had already set a great foundation with wireframes, designs, and requirements outlines, so we wanted to be sure that everything we did supported their work and vision.
We started with an in-depth discovery session to understand what we were working with: Access' goals for the new site, the site's various audiences, as well as the already-outlined and any not-yet-discovered functional requirements. We supplemented all of this discovery work with a content audit to better understand their existing content and how to improve search and discoverability of content.
Finally, we ran the design mockups through an online first impression usability test to ensure the new design made sense to folks outside of Access and Cornershop's teams. Together, we updated the design mockups to create user-friendly and accessible designs that were later translated through development into this powerful WordPress site.
Improved Browsing and Search
Access has a wealth of information on many varied topics, so we needed to ensure people could easily find what they needed and also new content.
We used taxonomies to develop landing pages and built a complex tagging system that allows Access staff to connect content items' using mandatory tags and optional tags.
We rigged up a related content engine to not only provide suggestions of recently-edited and most-relevant content, but to also allow the Access staff to manually relate items on the fly.
Custom content types support campaign materials, blog posts, press releases, statements, resources, and publications, and a powerful search engine indexes all of the site content, making full use of the tagging system we established.
Engagement
Engaging Networks offered a healthy advocacy platform which allowed us to build a robust and engaging Action Center that directs site visitors towards current actions.
Supporter information is saved securely and automatically, and email, donation form, and advocacy templates are synced with the new site design so that supporters have a consistent experience as they move between the website pages and the third-party forms.
We ensured a careful integration of social media sharing to protect the privacy of Access users while still allowing them to share content with their friends and family.
To ensure maximum reach, we utilized WordPress' powerful multilingual support that allows content to be displayed in various languages for site visitors, and we configured custom taxonomy options to ensure users can filter by content in specific languages.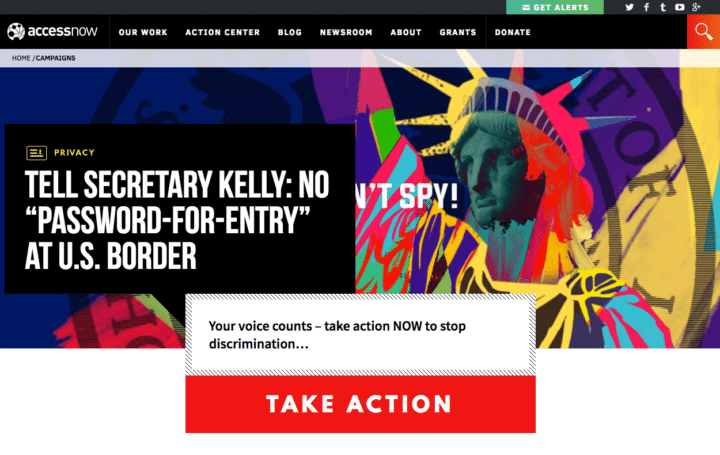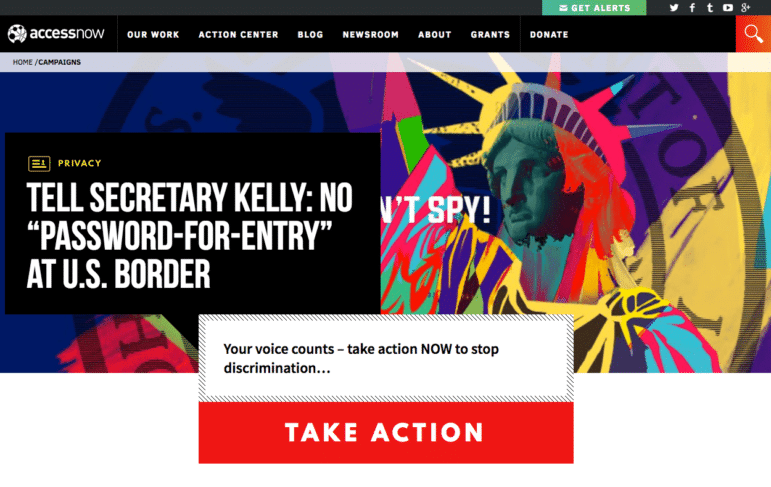 Secure Hosting
Because Access Now is obviously very security-oriented, we made extra sure to lock down and fortify their site.
We worked with specialty host SilkRoad to ensure that the site passed several security audits before it went live, and we enabled HTTPS throughout the site to increase security and privacy.
Results
According to Josh Levy, Advocacy Director at Access, the new site has brought more awareness to the breadth of the organization's work, and the flexibility of the site has allowed the team to put out more and better-quality content much faster than ever before.
Also, since the site is now also better integrated with the organization's Engaging Network account, rapid response actions and long-term campaigns have been easier to create and support.
Cornershop is a nimble and attentive shop that was crucial to Access Now's site and branding relaunch. They've become trusted partners who not only know how to get the job done, but care about the mission of organization.

Josh Levy