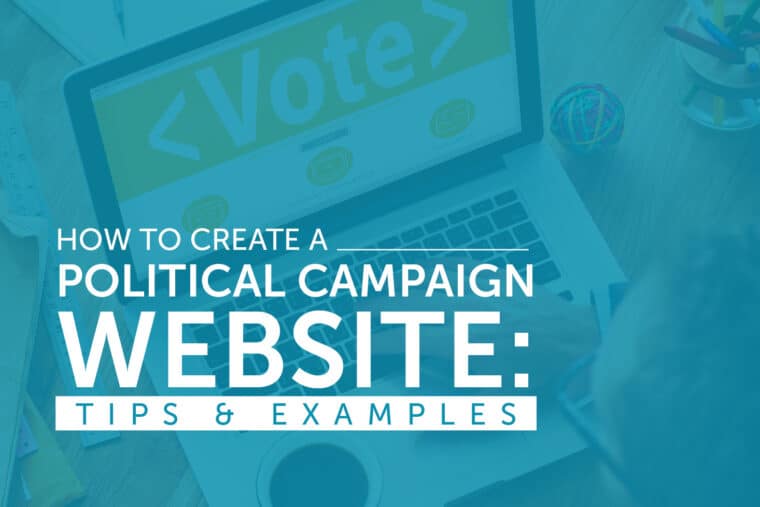 As you're thinking about how to create a political campaign website, keep one main goal front and center — educating constituents. Your political campaign website design should present your values and your campaign promises to constituents through deliberate imagery and design choices.
Acting as the face of your campaign, a well-designed political website tells your constituents everything they need to know about your campaign, your stances on key issues, and how they can support you.
Creating a strong design for your political campaign website takes research and expertise. Without that expertise on your team, delegating the website design to a third-party professional is often the best route.
However, whether you learn how to create a political campaign website yourself or work with a consultant, you'll need to know what makes a political website effective. With this knowledge in hand, you can work with your team to create a political campaign site that accomplishes all of your goals.
To help you get started, we'll cover:
A website is an investment of time and resources, so do your research to understand what you need before committing to a design or plan. This requires knowing what makes a political campaign website attractive to potential voters, how your voters should interact with your website, and why you have a website in the first place.
The Importance of Creating a Political Campaign Website
When voters hear your name, they'll head to the internet to find out more about you. Your political campaign website will be their first impression of your entire candidacy. Today, a modern, tech-savvy website is the norm for political candidates, and even at their bare minimum, political campaign websites need to meet a certain level of design quality.
A quality website will enhance your candidacy by presenting your campaign as well-funded, sophisticated, and up-to-date with current technology. Outside of just your candidate's brand and image, your website's design will invite visitors to learn and interact with your campaign, converting potential voters in the process.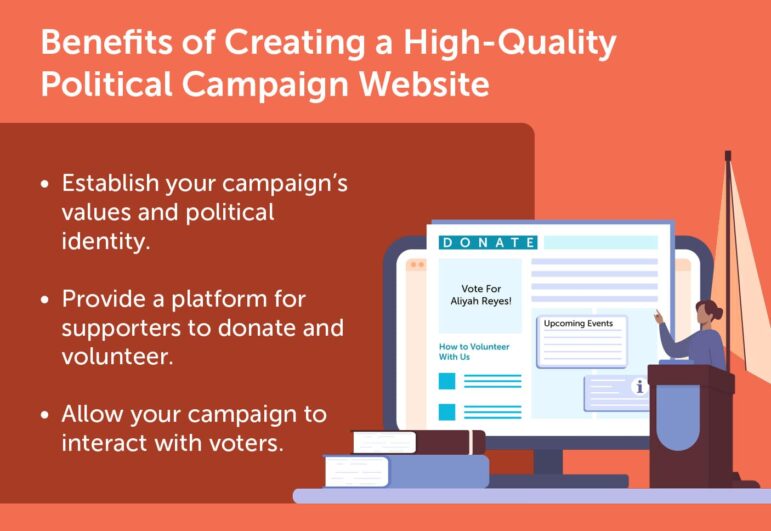 Establish your campaign's values and political identity.
Your website should inform visitors about your platform and stance on key issues. Ensure your political website's design provides clear navigation that will direct visitors to a dedicated issues page. The best campaign websites provide comprehensive, jargon-free information on your plans paired with images that demonstrate your past engagement with the issues that matter most to your voters.
Your website's design can also impact how voters will perceive your campaign. Consider your campaign's brand identity as you start designing your website. Candidates who want to show their dedication to their community will feature images of them interacting with volunteers, while a candidate invested in environmental issues might frame their website around images of the candidate participating in environmental protests.
Provide a platform for supporters to donate and volunteer.
As your campaign grows, you'll need to attract a constant stream of donors and volunteers. Since your campaign website serves as a portal for supporters to contribute time and money, forms to sign up and get involved should be front and center on your homepage.
Modern fundraising form design is especially important for accepting donations. Outdated designs and information can make donors wary about sharing their financial information, causing your campaign to miss out on vital donations.
Allow your campaign to interact with voters.
Your website helps you connect with voters by providing a space for news updates, campaign progress, and even live Q&A sessions. Some political websites also integrate chat features, allowing voters to interact with volunteers answering questions about your campaign on your behalf.
Use both your social media pages and your website to connect with more supporters and establish a comprehensive outreach strategy that makes sure your campaign stays on top of news updates.

Political Website Builders: 4 Features to Look For
If your campaign needs help with design or tech support or just doesn't have the time to dedicate to creating the website your campaign deserves, take advantage of political website builders.
Not all political website builders offer the same services, so make a checklist of the must-haves for your own website before choosing a service. However, there are a few essential features to look for in any website builder tool or service:
1. Pre-Configured Web Pages
No matter the exact design choices you make, your website needs the following core pages: About, Issues, Newsfeed/Blog, Contact Us, and a donation form. Almost every visitor to your campaign website will be looking for at least one of these pages.
A website builder that provides these well-designed pages for you will cut your work in half. Your team will still need to customize the content on these pages, but the technical heavy lifting will already be taken care of, letting you focus on communicating your message.
2. Social Media Integration
Your homepage should provide links to your social media web pages, but your campaign website also needs to go one step further. Find a web builder that integrates your social media posts into your website, allowing voters to scroll through your most recent posts without navigating off of your website.
This feature can be invaluable for generating more engagement between your site and social media profiles, perfect for showing the community the buzz that your campaign is generating.
3. Donation Page Integration
Donations fuel your campaign, and giving should be as easy as possible for your supporters. Navigating to a third-party page for donation payments can scare away potential donors as they become unsure about who they are really giving their money to if the URL suddenly changes.
Integrate payment forms into your website and encourage more donations while also keeping visitors on your website to engage with other features and content.
4. Mobile Optimization
Mobile users can't be ignored, and a website that doesn't accommodate mobile users will seem outdated and potentially insecure.
Check with potential web builders to make sure they're choosing themes and design choices that automatically format pages in mobile-friendly ways. As you add and customize new content, proactively check that they load quickly and work well on mobile devices.
Our Favorite Campaign Website Builder: WordPress
In our experience, WordPress is the best choice for building a website, and political campaign websites are no exception. Its robust library of plugins and customization tools will help your campaign shine and can accomplish whatever features and functionality you need on the site.
WordPress offers the ability to customize nearly every aspect of your website to present your content exactly how you'd like. Plus, WordPress's extensive support network of plugin creators and design consultants ensures that a beautiful, dynamic website is possible for everyone — even without coding knowledge.
Other Top Political Website Builders
WordPress is not the only option for building your campaign website. Other popular website builders for political sites include Squarespace, Wix, Weebly, and more. All of these options will include basic website features to get your website off the ground and supporting your campaign and constituents' needs.

8 Tips for Designing a Political Campaign Site
As you review political campaign web builders and design consultants, you'll find examples of past clients. While most of us recognize strong web design when we see it, articulating what makes it strong is trickier without knowledge of web design principles.
To understand why some designs work and others appear to be missing something, look for these five features of strong web design for political campaigns:
1. Use high-impact pictures of people.
The images on your website create your first impression as our eyes are naturally attracted to brightly colored pictures over text. Strong designs employ images that create a consistent brand identity, support nearby text, or illustrate abstract concepts.
Political websites require a specific approach to choosing images. Pictures of people attract attention and sympathy from website visitors. Given that a political campaign website aims to help voters identify with a candidate, nearly all political website designs feature images of people.
One of the key images of a political page is a hero image, or the top, main image that first greets visitors. Hero images have the following elements:
Take up the entire space of the webpage above the fold. Hero images are big. Smart web designers know how important it is to draw a visitor's eye, and a hero image gives visitors no place to look besides a navigation bar and a bold eye-catching image. This means hero images establish the website's identity and provide a visitor's first impression. For political campaigns, the hero image should be a picture of the candidate smiling, taking action, or conveying professionalism.
Here's an example from a nonprofit website: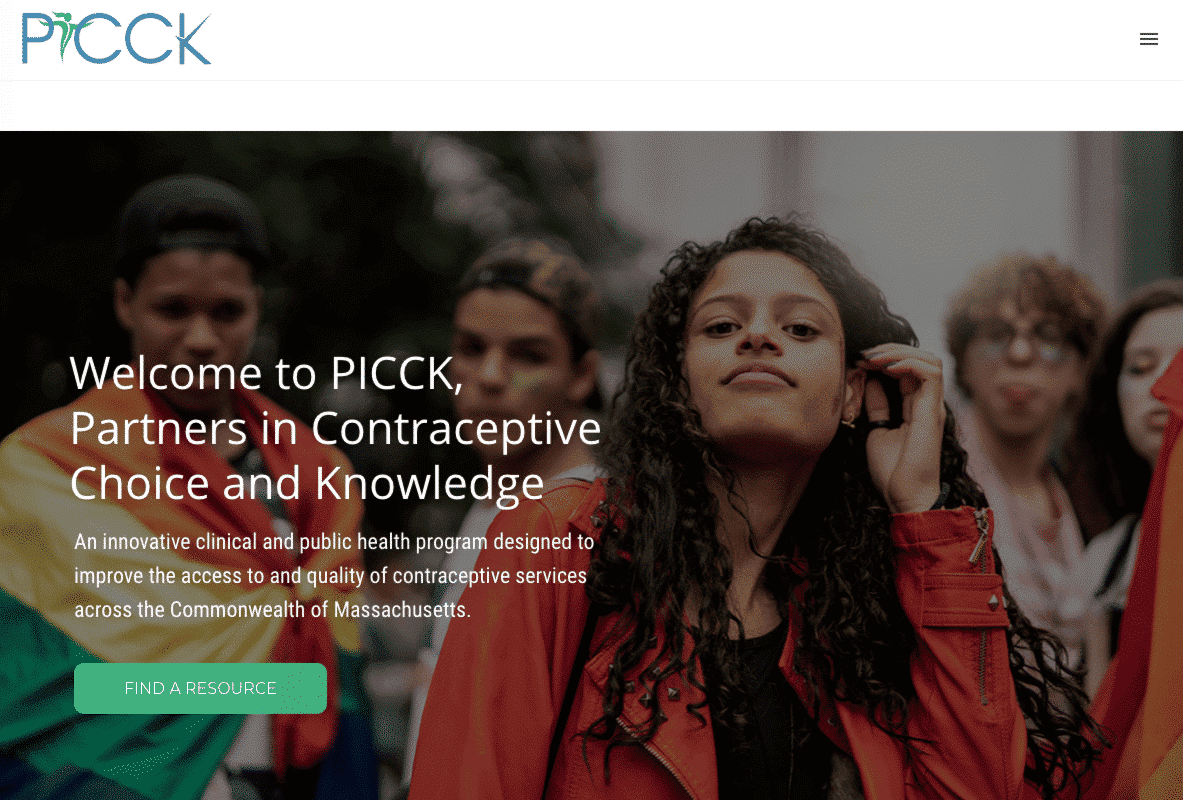 PICCK's hero image accomplishes several things: the eye is drawn to a person, key text is highlighted, and a call-to-action button receives added prominence for being the only clickable element without scrolling. 
Simplicity. Despite taking up so much space, hero images should not be too busy, since too much clutter or activity in the image can distract the eye. Images with simple backgrounds or one key focal point are most effective at capturing attention and conveying your website's intentions.
Check out Canine Companions for Independence's homepage for how to move the central part of your hero image into focus: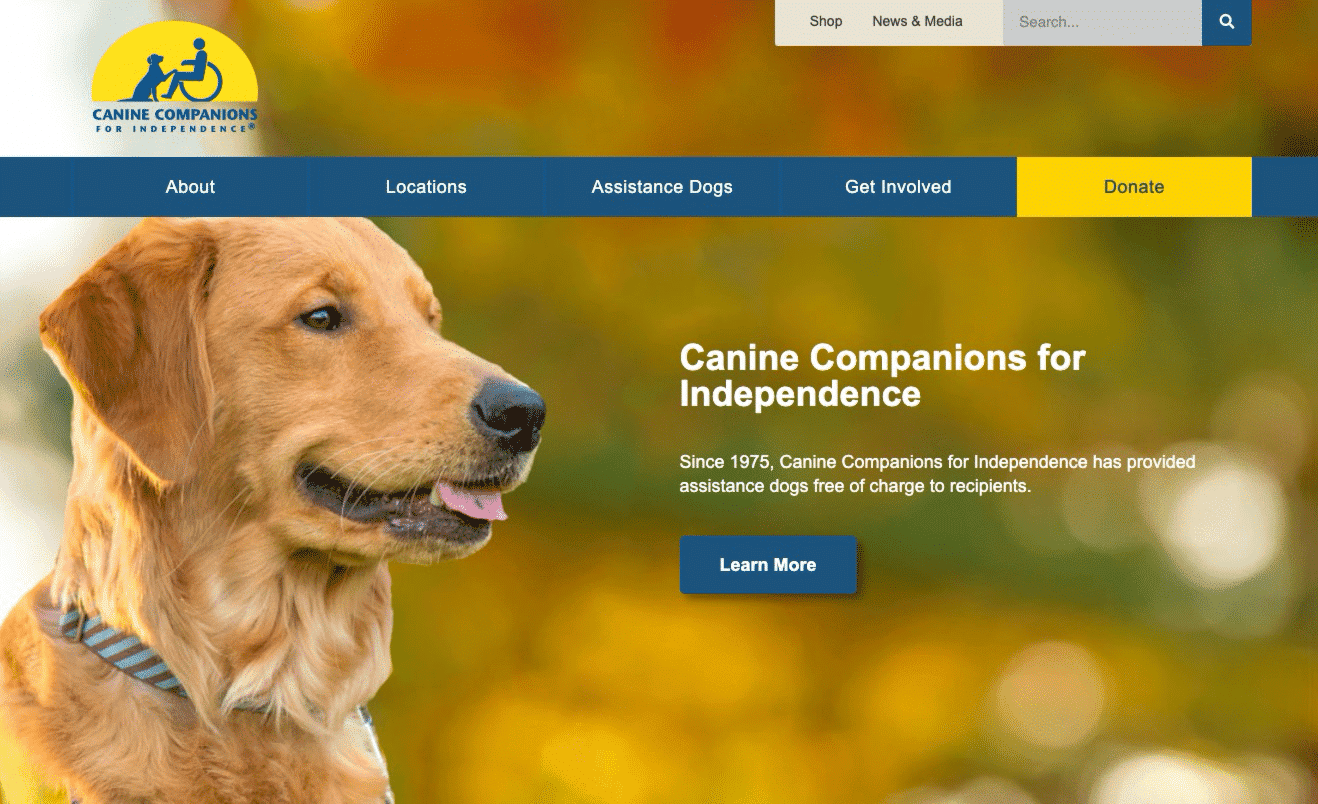 You should aim to draw visitors' eyes to a picture of your candidate the same way this homepage draws visitors to its main attraction. 
Evoke emotion.

  As mentioned, hero images are meant to draw the eye and attract attention. However, they should attract attention to something specific and important for the website they're featured on. For political campaign websites, hero images should evoke positivity, confidence, and other emotions that correspond with a candidate's brand identity.
For an example of how to inspire awe, look at the American Air Museum in Britain's homepage: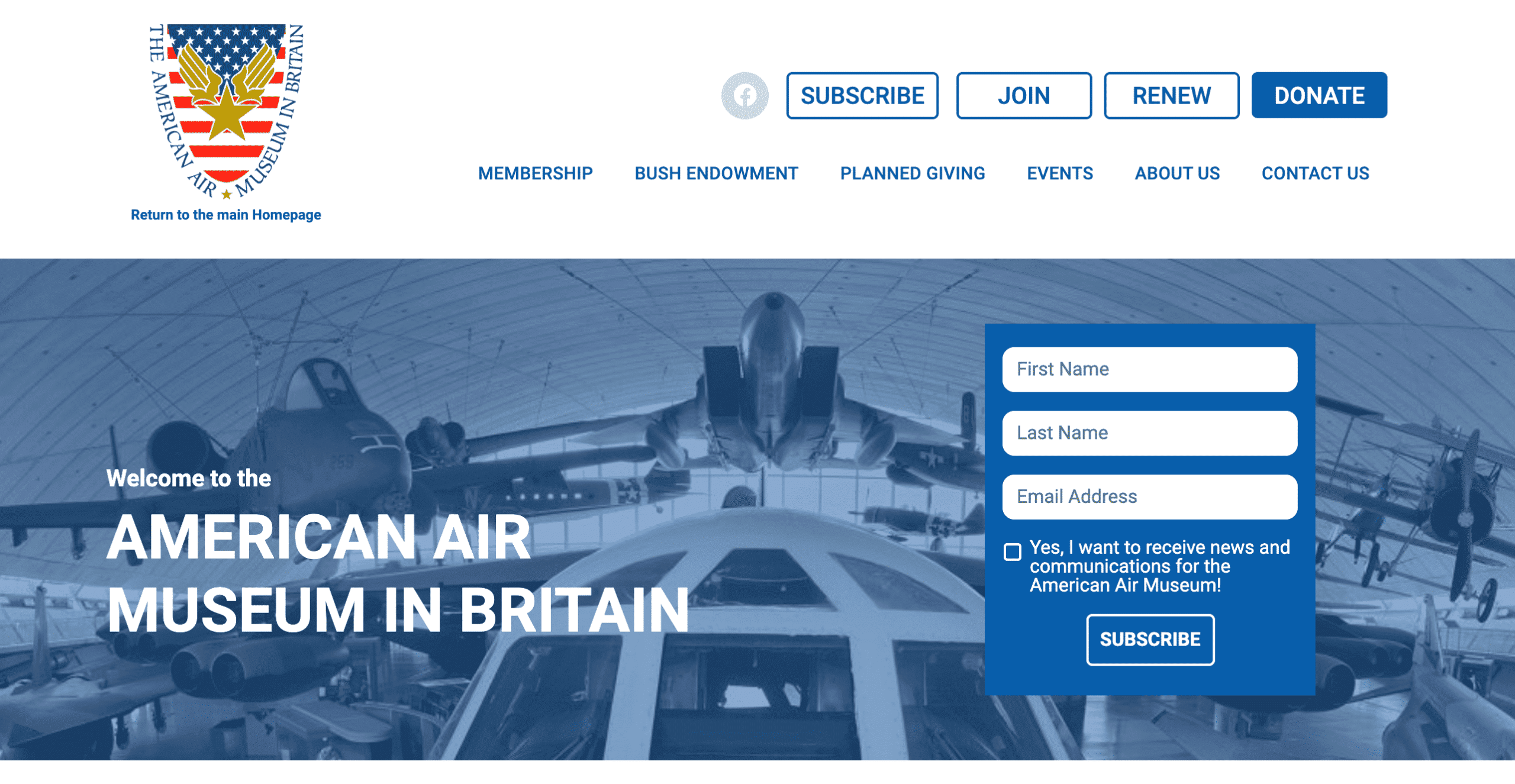 The bold angle and subject matter of the image give context for what the page is about while also inspiring a sense of wonder. Using a gradient overlay on images can also help with consistency and will brand your images to match your campaign's colors.
All the images featured on your website should be high quality and professional. In some cases, this may require hiring a photographer to help collect photos that convey what makes your candidacy special.
2. Educate without overwhelming.
Political campaign websites need to lay out a candidate's platform in enough detail for voters to understand without bombarding them with information. Even if you have a lot to say about key issues (which you should!), create a better reading experience for your website users by:
Keeping line lengths short. While we are perfectly capable of reading lines of text that stretch across an entire page, our brains prefer shorter line lengths, usually between 45-75 characters. Short line lengths encourage us to read through an entire page, which can make your information pages seem less dense.
Using appropriate headers. Headers help your website's visitors navigate to the issues that matter the most to them. For single-issue voters, locating your stance on a specific issue is their number one goal, and clear headers will help them find what they are looking for in seconds.
Balancing text and images. It can be difficult to entice someone to read a block of text. Images should serve to create interest in what the text next to them says without distracting from the content. Choose images that support or provide additional information about your stance on issues so they will encourage readers to learn more by reading.
Be sure to apply other key tenets of informational writing such as avoiding jargon or overly technical language. Some of your voters may be experts, but a lot of them rely on your website to tell them everything they need to know.
3. Incorporate white space.
It might sound counterintuitive to include less information on your website, but white space is a necessity to prevent websites from appearing cluttered or overwhelming.
Political websites need to communicate a lot of information quickly, such as campaign updates, how to get involved, and the candidate's platform. Remember, information is easier for site visitors to comprehend when there are white spaces separating sections of text. That's why websites, books, and other reading materials have margins. The white space gives our brains a moment to pause and process what we just read before moving on.
Using color consistent with your brand's color scheme can also help to break up sections or signal a change of content. However, white space is still the best tool available to a political website designer trying to break up complex, nuanced passages of text that your website's visitors will need a minute to process.
4. Keep the navigation simple.
While your political website's design should be creative, its navigation is not the place to experiment. Your website should follow standard navigation practices, using a prominent menu bar at the top of your site with links to important pages.
For political campaign websites, your design should allow easy access to informational pages such as your About and Issues page, as well as a bold "Donate" or "Get Involved" link. Many political websites use a bright red donate button at the top of their page to draw attention to their fundraising form.
Also consider the order of information on your campaign website. Some design choices (such as placing the menu bar near the top of the page) should almost always be adhered to, while others can be adjusted based on your campaign's priorities. For example, some campaigns place their contact or subscription form at the top of their home page while others choose to feature the form near the bottom or even on a separate page.
5. Create consistent branding.
Branding is a necessity when it comes to informing voters about what your campaign stands for. While your campaign likely has several issues that you want to prioritize, a well-designed brand is most effective when it's focused and simple. Choose one or two major images to emphasize in your design.
Images, colors, and symbols act as visual shorthand. Be deliberate about your visuals since they communicate just as much (and often even more) than words alone, especially on a medium like the web where people judge your design and develop opinions about your candidacy in seconds.
Some politicians use symbols of their state or community to align their brand with local culture, while others aim to seem larger than life by using stark, elevated imagery and limited color palettes. Your marketing team should help you form a solid brand identity to use with your political website design.
Identifying brand unity in design requires a careful eye. Use dedicated campaign web builders backed up by designers or consultants with experience translating political branding to the web.
6. Prioritize accessibility.
Web accessibility is important for all websites. But when you're running a political campaign, the last thing you want to do is leave out a portion of your audience by ignoring accessibility standards.
You want all of your future constituents to be able to use your website as intended — no matter their abilities. If constituents are not able to access or take in your website content, that sends a message about who you'll be as their representative. And it's not a good message to send.
Prioritizing accessibility as you're creating the campaign website will ensure that your entire audience will have a good experience on the site, be able to take in all of the information that you're sharing, and take action by supporting your campaign.
7. Create useful content.
Your constituents come to your website to learn about your political campaign, your stances on key issues, and get a sense of what type of representative you'll be. This is all accomplished through the content on your website. Content helps you get your name out there and direct supporters toward involvement opportunities.
Whatever information you want your constituents to know should be on your website. That means creating content to share information about your campaign or candidate's story and background and important issues; a blog to share news updates, information on attending events, donating and volunteering; and any other content that supports your political campaign.
Rather than sticking to text-only content, make sure that you're using powerful visuals to keep your audience engaged. A few videos can also go a long way so that visitors can see and hear your candidate tell them the difference they can make directly.
8. Work with a website design company.
Partnering with a website design company to build your political campaign website allows your team to focus on their specialties and running the campaign while web design experts handle the technical elements of the site.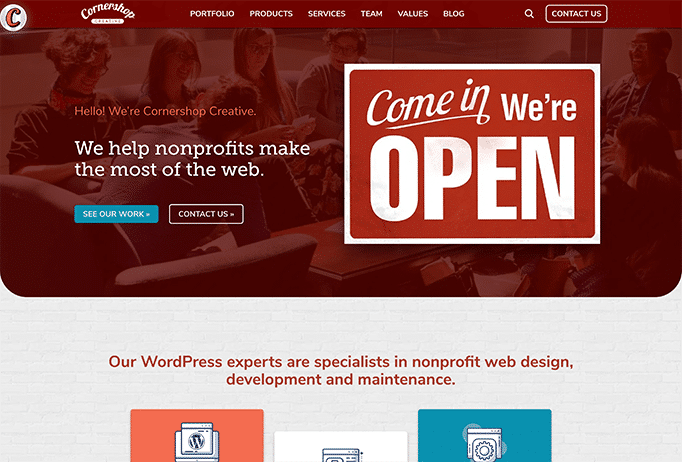 At Cornershop Creative, we've built plenty of websites for political campaigns and politicians. We know how to create a political campaign website that works to accomplish your goals, and we'll work with your team to make sure that the website serves as a tool for constituents to interact with your campaign.
But how much does it cost to make a website for a campaign? While that answer depends on the features and functionality that your site will need, there are affordable options available for campaigns with simple needs. Like any other tool in your campaign's arsenal, your website is an investment and will be key to your campaign's success.
Examples of Well-Designed Campaign Websites
As you're thinking through how to create your political campaign website, don't neglect to look to other campaign websites for inspiration. Having a few websites that you love (or don't love) and notes on why to share with your designer will help them get a sense of your preferences and needs as they design your site.
These campaign website examples are awesome for a range of different reasons. Explore each one to gather inspiration for your future political campaign website.
Jackie Goldberg for Los Angeles School Board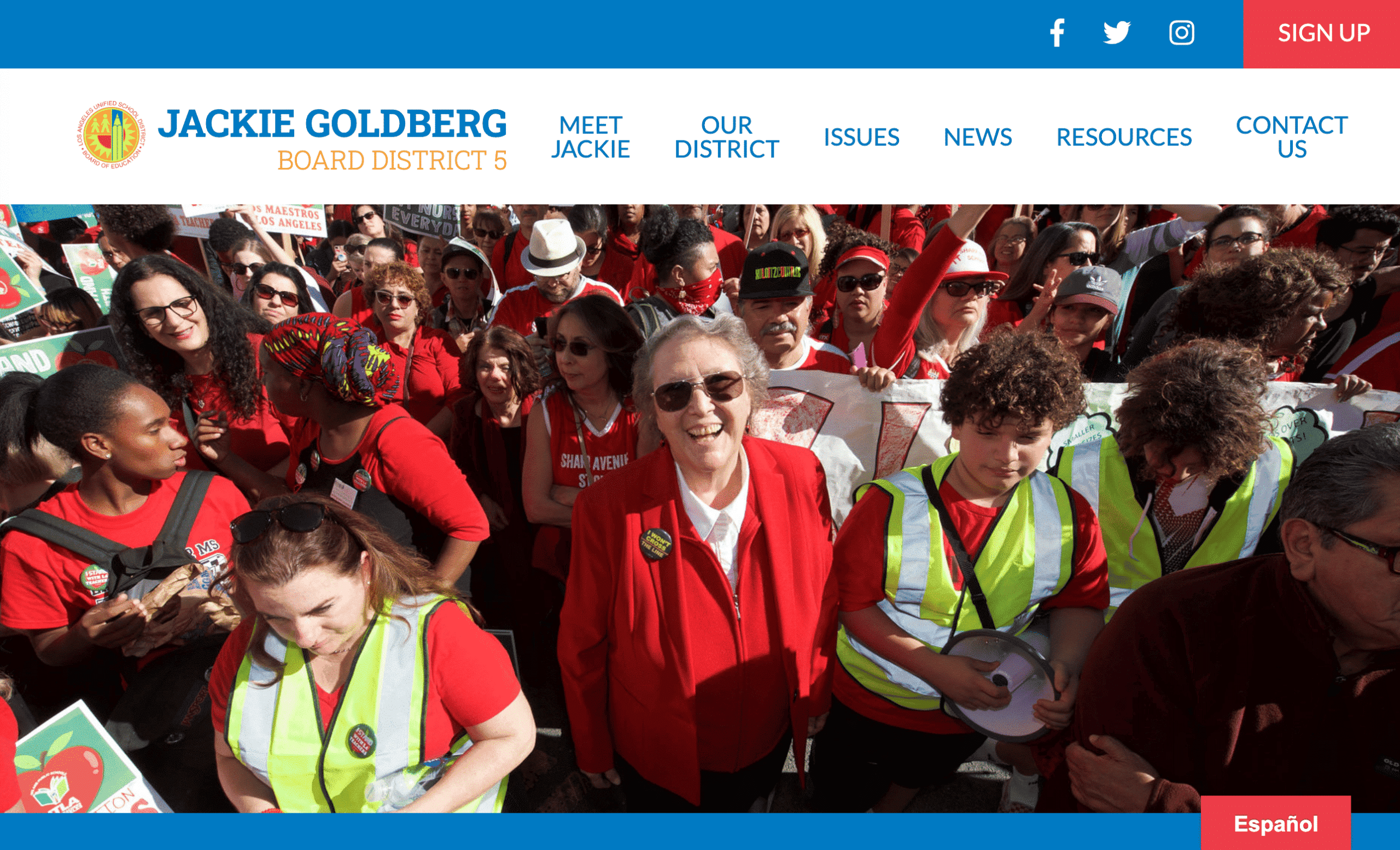 Jackie Goldberg's campaign website opens in a burst of color that draws the eye straight to her in her bold hero image. The use of a limited color palette allows the design to feel bold without overwhelming, giving the entire page an inviting appearance.
Her news page is especially well done, laying out blog posts with a mix of graphics and well-chosen photographs that provide variety without seeming inconsistent. This page also makes good use of white space, which can be especially difficult to accomplish on news pages due to the sheer amount of updates that political campaigns need to publish.
Mark Ridley-Thomas for Los Angeles City Council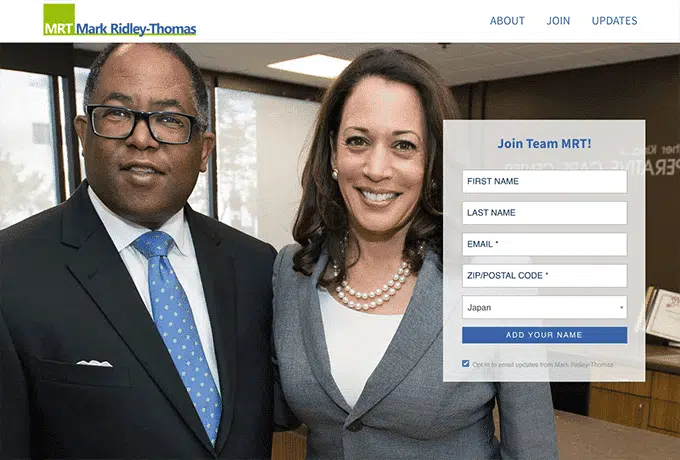 Mark Ridley-Thomas's homepage gets his message across even without scrolling an inch. With his support form overlaid atop his hero image, this campaign page is a good example of how to organize information to get the response you most need from supporters. Scrolling down, it's nearly impossible to miss the prominent social media icons, providing yet another opportunity for supporters to connect with his campaign.
Ridley-Thomas's issues page also uses helpful navigation tools so that visitors can jump to the issues they're most interested in. Each section makes use of text hierarchy strategies so that the content is skimmable. Bullet points, short paragraphs, and white space help voters quickly find information on the issues they care about.
Congressman Brad Sherman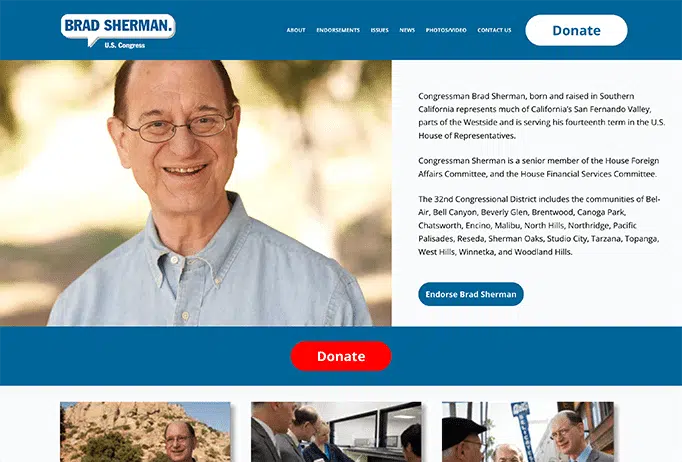 Congressman Brad Sherman's website greets visitors with a friendly photo of the congressman, along with an explanation of who he represents. The two most important calls to action — to endorse the congressman and donate to his campaign — are also front and center, visible to users immediately without needing to scroll for ways to get involved.
The simple website gets all of the congressman's most important information across, including his story, issues, endorsements, news, and contact information. Most importantly, it's easy for his team to use and update as needed to share the most up-to-date information with constituents and donors.
---
As you think through how to create a political campaign website, keep your goals for the campaign front and center. Making strategic use of design essentials can help you build a modern website to catch (and keep!) voters' attention.
Political websites follow the same principles as most websites: they should have clear navigation, consistent branding, and eye-catching high-definition images. However, as you design your political campaign website, consider how you will handle core elements such as your issues page, your donation forms, and your candidate's identity.
Your new website can serve as your campaign hub with all of the information that voters need to make their decision and get involved, but only if it's designed with those goals in mind!
Looking for additional resources on creating websites? Check out these blog posts.