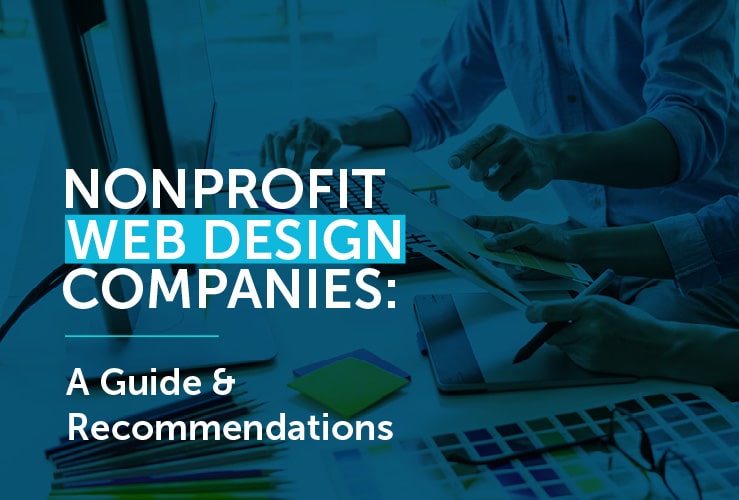 As a nonprofit professional, you likely have a few nonprofit websites you admire.
Perhaps you find yourself inspired by the powerful and evocative imagery on the ASPCA's website, or the easy-to-use, front-and-center donation form on charity:water's homepage. Or, maybe you look up to the American Cancer Society because of the wealth of educational resources it offers site visitors right off the bat.
But what about your own nonprofit website?
Is it engaging, informative, and user-friendly? Do you update it regularly? Is it a reliable marketing and fundraising tool for your mission?
If you're feeling a little iffy about your answers to these questions (or if your organization doesn't yet have a website), you're not alone. Many nonprofits aspire to create a website that serves as the ultimate online hub of their work and mission… but struggle to do so on their own.
At Cornershop Creative, we understand that your expertise as a nonprofit professional lies in areas like connecting with beneficiaries and supporters, planning fundraising campaigns, and facilitating programming. This is why we recommend working with a nonprofit web design company that can provide you with the tech know-how to get your nonprofit website up and running (or revamped).
We believe that nonprofits like yours should have great-looking and functional websites that get results—whether that means more donations, better event attendance, more membership sign-ups, or increased awareness for your work.
In this guide, we'll walk you through everything you need to know about working with a nonprofit web design agency—from the services you should look for as you're picking a partner to the design companies (and providers with related services and tools) we recommend. Specifically, we'll cover:
Your nonprofit works hard to affect positive change in your community, and your organization deserves an amazing website that actively helps you move that mission forward. A web design company focused on nonprofits can help you get there. Without further ado, let's dive in!


Working with a Nonprofit Website Design Company: An Overview
Is working with a nonprofit website design company right for your organization? Let's take a close look at some commonly asked questions.
What does a website design company do?
Typically, a web design company assesses a client's website needs, conceptualizes the look and feel for that website (based on what the client envisions), and designs the website. This is done using from-scratch code or a website building tool (think WordPress). During this process, the web design company will work out the structure and informational architecture of the site, incorporate your visual brand into the overall look, and push the site live—once you give it the green light!
The best web design companies won't just stop there. They'll have your back beyond the initial creation of your site, offering regular, preventative maintenance and tune-ups to ensure everything continues to run smoothly.
Why should I work with a nonprofit-specific web design company?
There are thousands of web design companies out there that do great work. But not all websites are created equal. An agency that does nonprofit-specific work will bring to the table the expertise and understanding necessary to build a successful nonprofit website.
Here are three reasons why you should seek out nonprofit-focused firms:
Nonprofit-specific web design companies respect the nature of nonprofit work. Specifically, these companies are run by professionals who truly care about the organizations they work with. They want to see your mission succeed, and they understand that a well-designed website is a critical tool that can help you accomplish that goal.
A nonprofit web design company recognizes the constraints you're working within. These professionals know that time and budget aren't just words nonprofits throw around to get better rates on design services. Nonprofit web design agencies understand the nonprofit sector's unique needs and will be willing to work with you to make sure your needs are met and your bottom line is top-of-mind.
Nonprofit web design agencies will seek to understand your perspective as a nonprofit professional. Each nonprofit website is as unique as the organization it represents, and your organization will need a different website approach than a small business or an individual. From donation forms to fundraising event landing pages, a nonprofit-specific web design company can make sure your site is equipped with tools your nonprofit actually needs. Plus, they'll value your perspective on your work

—including your specific audience's needs, timelines for campaigns, and more. 
Can't I just design my nonprofit's website myself?
Sure!
If you decide a DIY approach is the best route for your nonprofit, you'll want to get started building your website using a website builder. There are plenty of options to choose from, from free, open-source platforms to nonprofit-specific tools.
With the right website builder, you can create the site of your dreams without having to reach out to a web development professional. Plus, once your website is all set up, you'll be able to build out your content and update your site using a visual builder instead of writing out code.
However, there are some drawbacks to designing your own nonprofit website using just a website builder, including:
Many website builders out there have a steep learning curve that can prevent some users from getting the most value possible out of the tool.
You'll gain access to a number of pre-built templates and themes for your site, but you won't have a truly customized look for your site.
When something breaks or needs updating, you could be stuck without a dedicated support team (and may have to resort to digging through support forums for answers!).
If what you're looking for is a custom-made website built just for your nonprofit's specific needs, you'll want to invest in working with a nonprofit website design company.
How much does a nonprofit web design company charge?
Most design companies will either charge a per hour or per project rate, with additional fees for things like support, maintenance, and other services.
The best designers know that web design is anything but "one-size-fits-all." Therefore, it can be difficult for a company to give you a firm price until they have all of the necessary information about what you're looking for and expecting from the final product.
Here's our advice for staying within your budget and getting pricing information up front:
Ask about pricing up front when reaching out to potential web design partners. This will establish early on that your bottom line is a priority.
Submit a request for proposal (RFP) to potential partners with all the information your organization has to offer about your budget, website needs, and audience. When the company gets back to you with information about how they would approach the project, they can provide you with educated estimates of the total cost.
Reach out to your colleagues in the nonprofit space that have worked with web design agencies before! They'll be able to give you recommendations and share what their experience was like with their specific design company's pricing model.
Again, a nonprofit-specific web design company will understand how important it is for your project to stay within your organization's budget. Make sure you're giving strong consideration to partners like these who will keep your nonprofit's needs in mind.
How do I know which nonprofit website design company I should work with?
As you begin looking for a web design company to work with, you'll likely be doing Google searches, reading through lists of recommended agencies (like the one below!), reading reviews online, and getting recommendations from your colleagues in the nonprofit sector.
As you're conducting your research, you should be looking for a design agency that: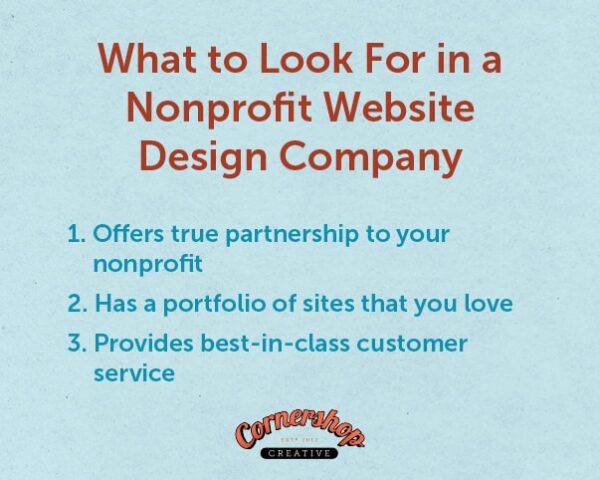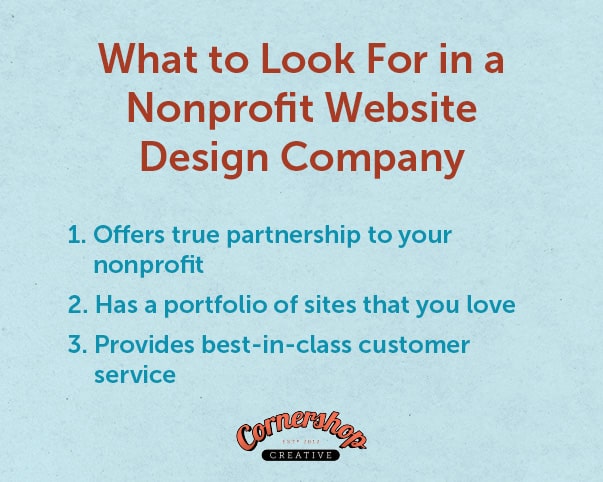 Offers true partnership to your nonprofit. The company you choose to work with should be flexible and willing to take your feedback into account as they're designing your website. After all, you know your supporter base and your mission best. You want to work with someone you can trust to help you bring your vision for your nonprofit website to life, not someone who takes the reins on the entire operation and declares, "It's my way or the highway." 
Has a portfolio of sites that you love. To get excited about working with a website design company, you have to love the work they've done in the past. If you're exploring different companies' portfolios and see one in particular who has created out-of-this-world sites for their clients, they're definitely worth reaching out to, because you know they'll likely design a website for you of the same caliber!
Has best-in-class customer service. The company you're considering should have excellent customer reviews. (Hint: Ask for a list of customers to speak to before committing to a contract!) The last thing you want is to be left in the lurch by your designer, watching deadlines pass by and wondering "When is my website going to be ready?" Your partner should also be willing to provide maintenance and support so your website is always running like a well-oiled machine.

12 Top Nonprofit Website Design Companies
Now that you know the basics of what it means to work with a nonprofit web design company, check out these 12 top companies that we recommend. Each company has a different specialty, so look for one that will meet your specific organization and project's needs.



1. Cornershop Creative: Best Overall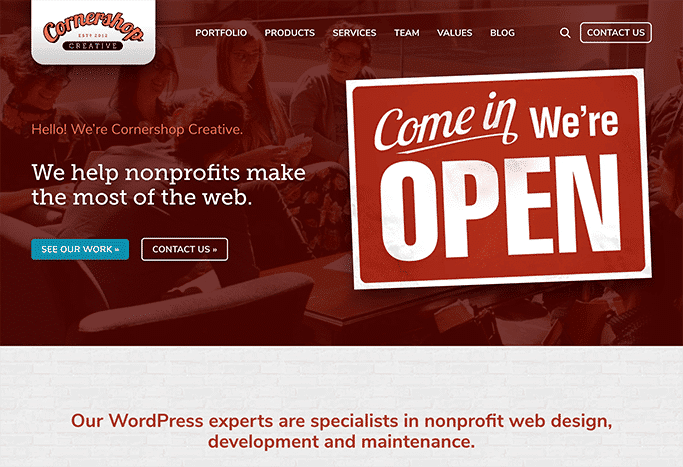 At Cornershop Creative, we help nonprofits change the world by offering unique, customized, full-service web design and support. We've worked with hundreds of nonprofit clients (check out our portfolio!), and we pride ourselves on the careful listening that translates into incredible finished products designed just for your audience.
Why This Web Design Company Made Our List
Our talented team offers a variety of services, including:
WordPress-based website builds (with all the features your nonprofit could ever need, like eCommerce, custom maps, forums, membership management, accessibility, and more)
Web application construction
SEO content creation and optimization
API customization
Coordinated campaign design
Backup and update services
Ongoing support
Here are a couple of examples of our services in action:
1. Live Out Loud: Website Update
Live Out Loud, a nonprofit that connects LGBTQ youth to positive role models in the community, contacted us to get a fresh look for their website. We gave the site a modern style upgrade, optimized the site for search engines, and built them a brand new, user-friendly donation form.
Read more about our Live Out Loud project!
2. Polar Bears International: Customized WooCommerce Shop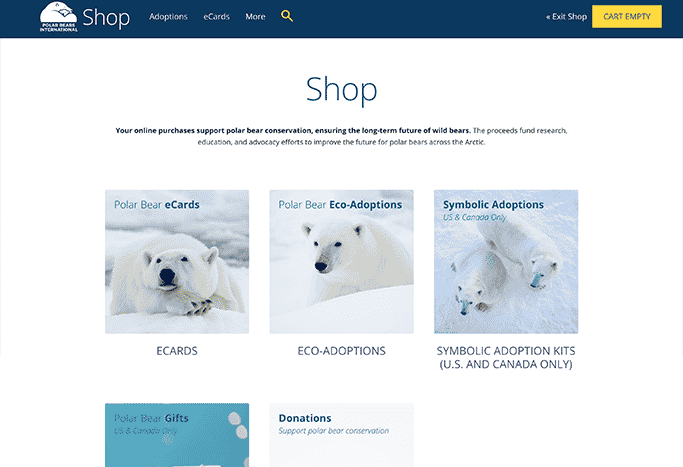 Polar Bears International is dedicated to securing a future for polar bears in the arctic, and they reached out to our team to create an online fundraising shop. We set them up with a customized store that offers eCards, symbolic adoptions, and polar bear-themed gifts.
Check out the specifics for this Polar Bears International project.
3. Penny Appeal USA: Full Website Overhaul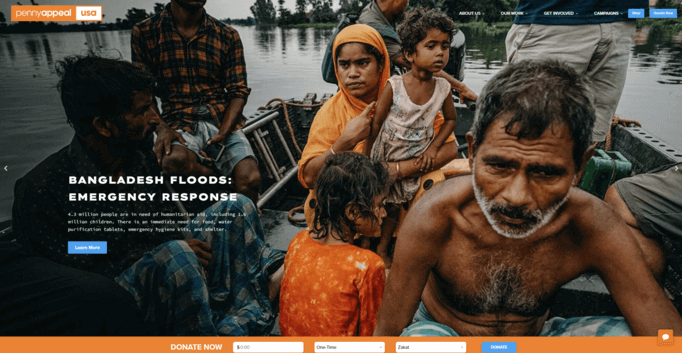 Penny Appeal USA has a mission to eradicate poverty, and they recruited the Cornershop Creative team to help them build a new website they could more easily manage and update. We assisted them by creating a new site on a builder that helps content creators quickly make and share content, building a new volunteer form, and setting up a custom widget that could be easily connected to Penny Appeal USA's donation forms.
Get the details on this Penny Appeal USA project!
Additionally, since we're experts in working with WordPress, we also offer our own WordPress plugins. Here are a few that are specific to nonprofit work:
WordPress Annual Report Builder: This plugin will help you get a jumpstart on creating your annual report. With seven reusable blocks that include content prompts and animations, you'll be able to create annual report content that can be exported to a PDF and printed.
eCard Campaign Builder: Use this plugin to offer eCards to your supporters so they can show the world that they love your nonprofit's work. With unlimited image options, optional payment processing, and flexible supporter data fields, you can offer an unforgettable donation experience.
WP Congress: With this plugin, your supporters can stay informed about federal legislation that matters the most to your cause, whether they're checking out district boundary maps or tracking bills through the legislative process.
How To Get Started With This Design Company
Ready to work together and make the most of the web for your nonprofit? Fill out our contact form to submit an RFP or kick off a conversation about your needs.



2. Wired Impact: Best For Small Budgets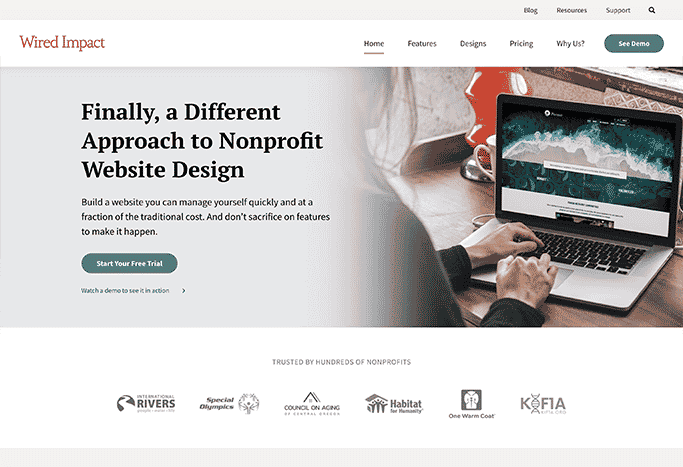 Wired Impact advertises itself as "your happy place between custom and DIY nonprofit web design." This agency recognizes the need for a middle ground in web design services and offers a transparent pricing model to match. For example, newer nonprofits can tap into Wired Impact's standard features for just $69/month. If you're faced with a tight web design budget, Wired Impact could be the partner for you!
Why This Web Design Company Made Our List
On top of great prices for growing nonprofits, Wired Impact offers powerful, nonprofit-specific features like:
Embedded donation forms (for single and recurring donations)
Volunteer and event registration capabilities
Streamlined resource organization
Easy integrations with other marketing platforms, payment processors, and CRMs
Mobile-responsive design
How To Get Started With This Design Company
To get started with Wired Impact, watch a demo to see their work in action or dive into a free trial.



3. Kalamuna: Best For Show-Stopping Design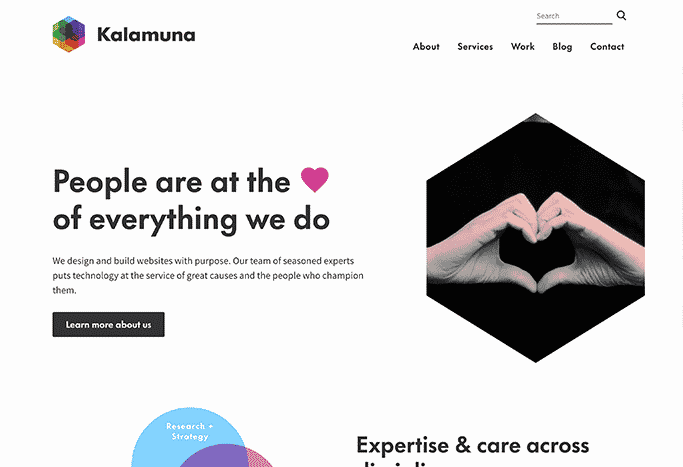 Kalamuna is a digital agency that works with mission-driven organizations to satisfy both nonprofits' and their audiences' needs. Their work reflects a commitment to intuitive and beautiful design. If your nonprofit is looking for a website with a unique visual feel, Kalamuna may be the nonprofit web design company for you!
Why This Web Design Company Made Our List
Kalamuna offers a variety of services for nonprofits to create impactful digital experiences, such as:
Website design and development
Accessible and user-centered experiences
Brand storytelling
Research and strategy development
How To Get Started With This Design Company
Fill out Kalamuna's contact form to get started. You can even sign up for their newsletter in the process!



4. 4Site: Best For Dynamic Video Content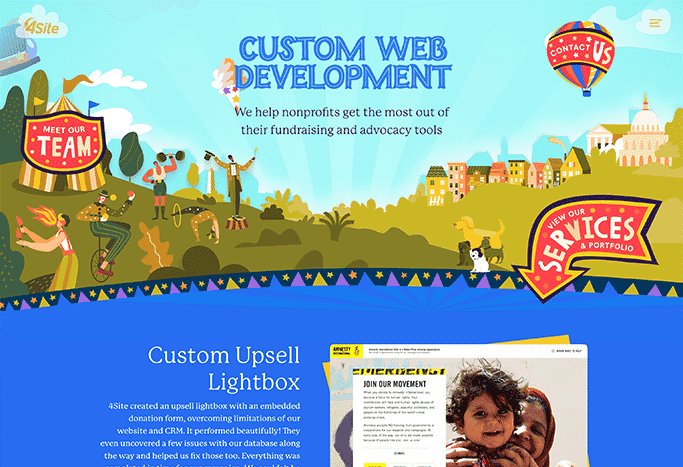 4Site strives to help its nonprofit clients get the most out of their fundraising and advocacy tools. One of the most exciting approaches they take to meet this goal is through the production of branded feature video content for websites and events. If you're looking to incorporate video into your supporter engagement strategy, 4Site can help!
Why This Web Design Company Made Our List
4Site offers a number of services to nonprofits looking to solve technical, creative, and strategic challenges. These include:
Website development
CRM customization and integration
Branding and design
How To Get Started With This Design Company
Ready to find out if 4Site is the right partner for your nonprofit? Fill out their contact form!



5. Kanopi: Best For Building Websites with Drupal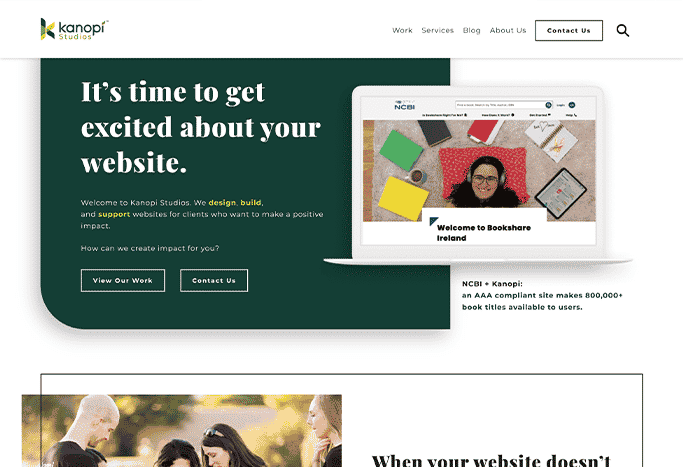 Kanopi is a web design agency whose differentiating offering is Drupal website construction. With years of Drupal experience and as a supporting partner to the Drupal Association, Kanopi is an excellent choice for nonprofits looking to build their websites on or migrate their sites to Drupal.
Why This Web Design Company Made Our List
Kanopi offers the following services to nonprofits looking to make the most of their Drupal-based sites:
Website design services (including interaction design and user testing)
User experience strategy
Custom module and plugin development
Staff augmentation
How To Get Started With This Design Company
To get started with Kanopi's services, fill out their contact form.



6. ThinkShout: Best for Website Development on Open Source Tools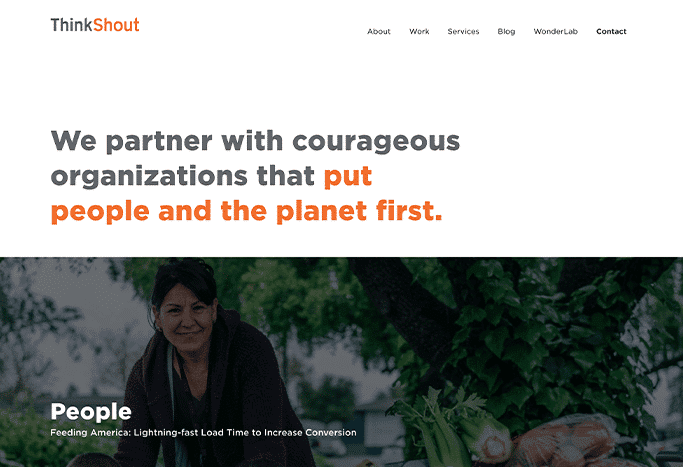 ThinkShout is a full-service digital agency that helps organizations focused on helping people and the planet make the most out of open-source platforms like Drupal, GitHub, and WordPress. In particular, this company is an active participant in the Drupal community and has even developed original modules for and provided regular fixes to the platform.
Why This Web Design Company Made Our List
Here are a few of ThinkShout's many services:
Drupal expertise
Audience research and insights
Responsive, interactive, mobile-first website designs
Accessibility and usability testing
Content migrations
How To Get Started With This Design Company
Thinking about partnering with ThinkShout? You can use their contact form to jump-start the process!


7. DNL OmniMedia: Best for Nonprofits Using Blackbaud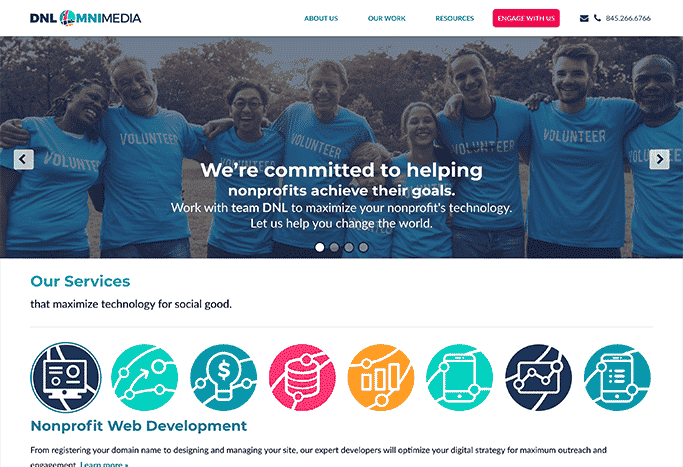 In addition to building websites, DNL OmniMedia helps its nonprofit clients leverage technology solutions that help them move their missions forward, like Blackbaud's nonprofit CRM. DNL OmniMedia is an implementer, integrator, and customizer of Blackbaud Solutions. So, if you're interested in getting assistance with the software, analytics, and data that your nonprofit has access to, DNL OmniMedia may be the perfect partner for your team.
Why This Web Design Company Made Our List
DNL OmniMedia provides a wide swath of services to its nonprofit clients, like:
Website development
Blackbaud CRM solutions
Fundraising strategy development
Marketing strategy development
Data analysis and web analytics services
How To Get Started With This Design Company
To get started with DNL OmniMedia, you can fill out their contact form or submit your RFP.



8. Cathexis Partners: Best for Nonprofits Who Want to Tap Into Peer-to-Peer Fundraising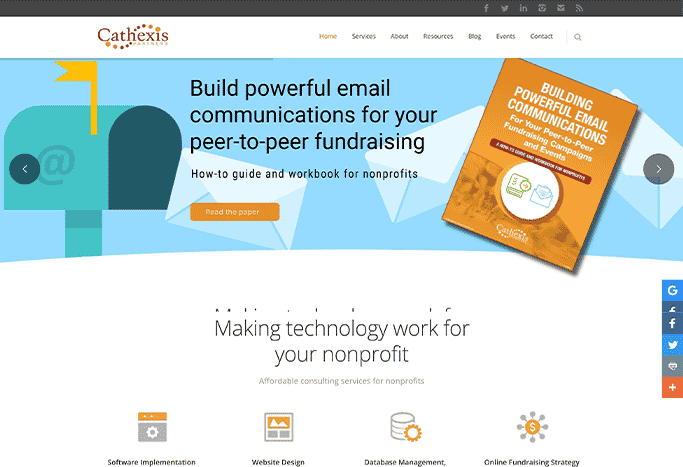 Cathexis Partners is a design agency that can not only help you design and create an eye-catching site, but can also assist you in harnessing the power of different fundraising technologies, like peer-to-peer fundraising solutions. If you're ready to involve your supporters more fully in peer-to-peer fundraising, Cathexis Partners will be a great company for you to consider working with.
Why This Web Design Company Made Our List
Cathexis Partners offers a variety of affordable consulting services for nonprofits, including:
Peer-to-peer fundraising solution set-up and management
Website design
Database management, reporting, and analytics
Online fundraising strategy and campaign execution
How To Get Started With This Design Company
Give the Cathexis Partners team a call or fill out their contact form.



9. Yeeboo Digital: Best for Canada-Based Nonprofits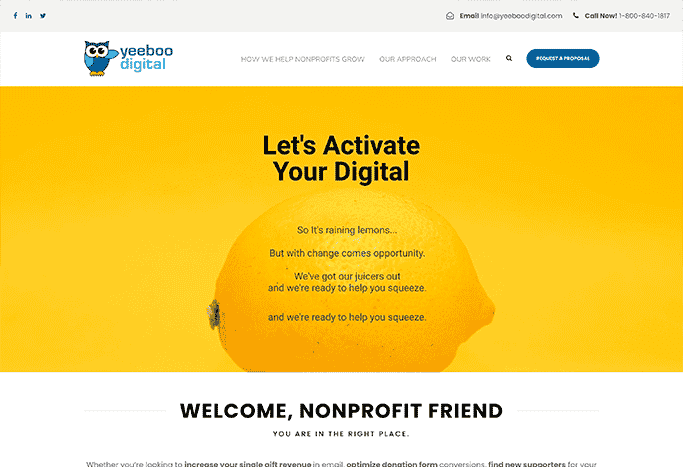 Located in Ontario, Canada, Yeeboo Digital is a full-service digital fundraising and technology agency. Their goal is to help nonprofits leverage technology and direct response to boost nonprofit growth. Although they work with organizations all across North America, Yeeboo Digital is a great organization for Canadian nonprofits to consider, specifically, as their team will be familiar with the unique needs of Canadian organizations.
Why This Web Design Company Made Our List
Yeeboo Digital offers services in three core areas—digital fundraising, websites and technology, and ongoing support. Specifically, they can help you with:
WordPress website design and management
Full-service email marketing
New donor acquisition
Google Ad Grant management

10. ShulCloud: Best for Synagogue Websites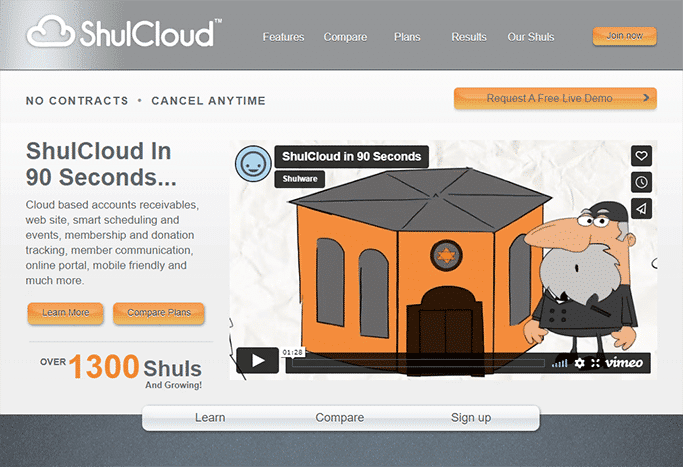 If you're looking to create a website for your synagogue, ShulCloud is the partner for you. The ShulCloud team understands the unique challenges synagogues face, and offers a user-friendly, cloud-based platform for all things synagogue management.
Why This Web Design Company Made Our List
ShulCloud stands out for its specific synagogue focus, and offers the following features:
Elegant, public-facing and mobile-friendly website design (with photo galleries and online member portals)
Newsletter creation capabilities
Membership and donation tracking
Easy-to-use scheduling tools
How To Get Started With This Design Company
You can take ShulCloud for a spin before jumping in. Request your live demo!



11. Loop: Best for Creative Branding
Loop is a full-service creative agency that can help you design an immersive website that is accessible and optimized across all devices. But Loop also stands out for their specialization in helping you create a brand identity.
Why This Web Design Company Made Our List
Loop helps nonprofits create websites that match their brands and help them maximize their web presence, which is reflected in the services they offer. Here's what you can expect from Loop:
Brand audit and naming
Brand story development
Logo, typography, color scheme, icon, and graphics devices design
WordPress website design
Training and ongoing support
How To Get Started With This Design Company
Think that Loop would be a great fit for your nonprofit? Fill out their contact form to get started!



12. Squarespace: Best for Beautiful Templates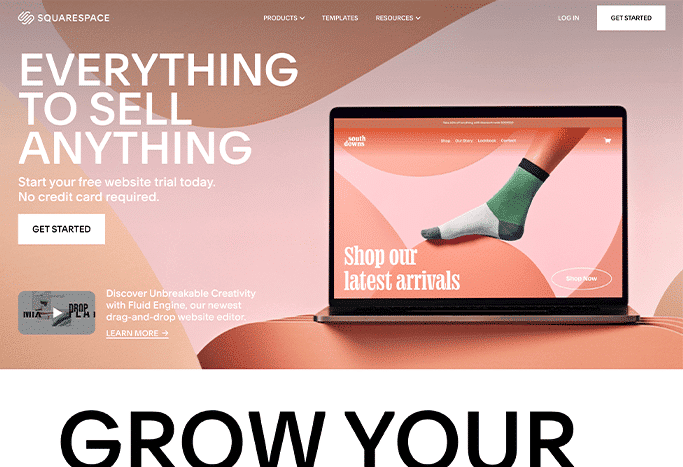 No, Squarespace isn't a website design company. It's a site-building platform that is great for nonprofits looking to take a DIY approach (no designer needed). We especially love their great-looking templates. If you're ready to take your web design into your own hands, consider using Squarespace.
Why This Web Design Company Made Our List
Squarespace can help you get your online presence up and running in three easy steps:
Create a website using the platform's jaw-dropping templates, fonts, and color palettes.
Set up your website to pull in donations.
Create on-brand emails and social media campaigns that will help you market your mission.
How To Get Started With This Design Company
The design journey with Squarespace begins with you choosing your favorite template. Start exploring (and designing)!



Bonus Nonprofit Website Tools and Services
Once you've worked with a nonprofit web design company to build a site that truly helps you stand out from the crowd, you should start looking into the myriad of services and tools available that can help you get the most mileage out of your site. In this bonus section, we'll explore a few of our favorite companies that offer the bells and whistles that can take your website to the next level—from niche management software to branding services and more!

1. See3: Best For Affordable Website Video Services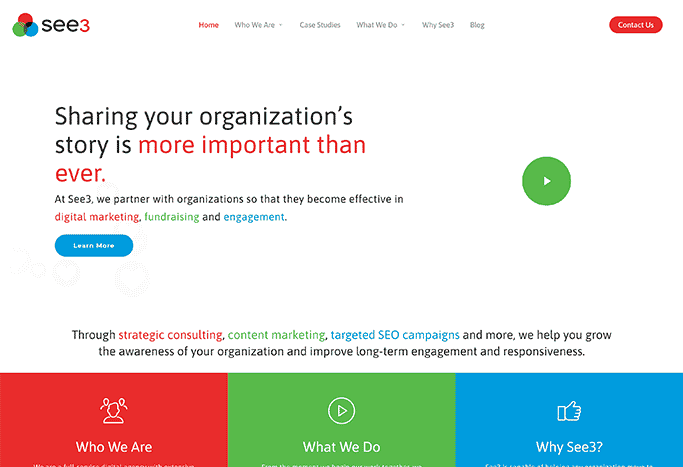 See3 works with organizations to help them improve their digital marketing, fundraising, and engagement. This design company also stands out because of its focus on producing high-quality videos that can help your nonprofit spread the word about its cause without going over budget.
Why This Company Made Our List
See3 offers the following services to nonprofits, with the aim of helping you move to the next level:
Strategic consulting
Content creation and marketing
Video content production
Creative and design services
SEO services
How To Get Started With This Company
Fill out See3's contact form to learn more about this company's services and how they can help your nonprofit!



2. RoundTable Technology: Best for Nonprofit IT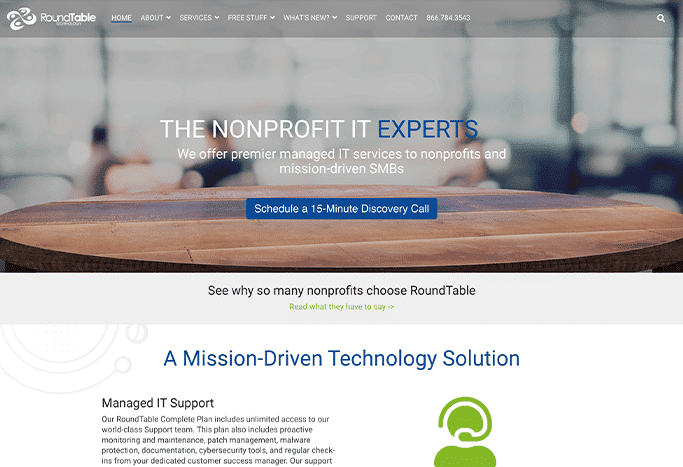 RoundTable Technology's premier managed IT services can help your nonprofit maintain the security and safety of its website and other tech. By hiring RoundTable Technology to help you manage your technology infrastructure and keep all of your nonprofit's information secure, you'll be able to get back to working for your cause faster!
Why This Company Made Our List
RoundTable Technology has a unique set of services available to nonprofits. These include:
Managed IT support (so your nonprofit doesn't have to hire a full-time IT staff member)
Cybersecurity services
Virtual CIO services
Project delivery services (such as website redesign and SEO support)
How To Get Started With This Company
To get in touch with the Roundtable Technology team, fill out their contact form!



3. Lightbox Collaborative: Best for Establishing Your Nonprofit's Brand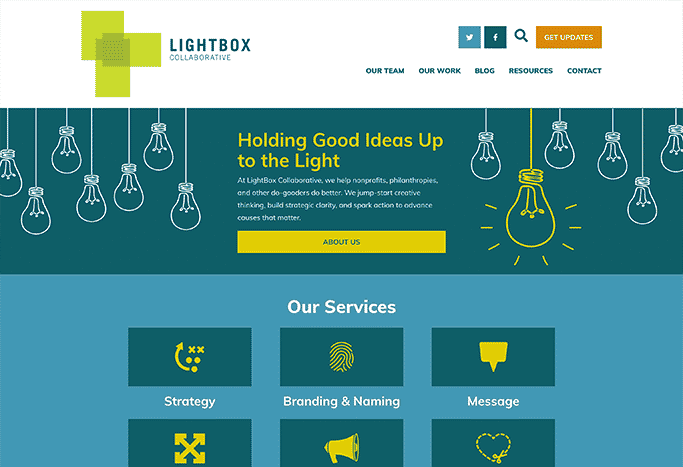 Lightbox Collaborative is a design agency that can help you get started on your website building journey with its branding and naming services. So, if your organization is still striving to find its voice and look before diving into web design, Lightbox Collaborative is the partner for you!
Why This Company Made Our List
Here are some of the services Lightbox Collaborative offers to the nonprofit community:
Naming and branding
Message development
Capacity building
Campaign development
How To Get Started With This Company
To begin working with the Lightbox Collaborative team, visit their contact page to email them or connect on social media.



4. Moonsail North: Best for Marketing and Communications Services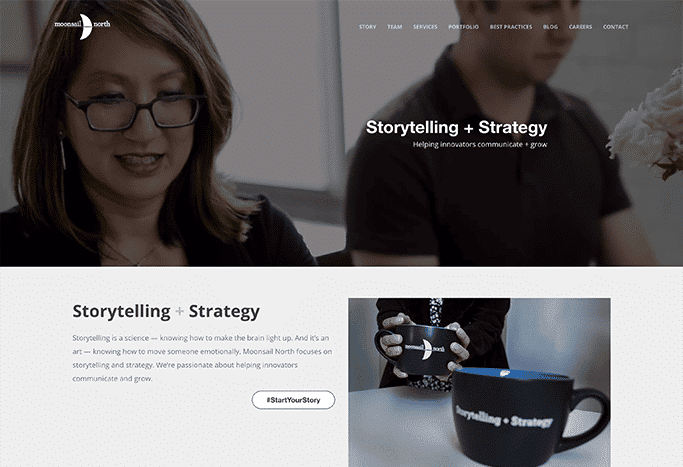 Moonsail North is a marketing communications company. In other words, they're a great company to work with to get the most out of your digital tools (like your website). Plus, they'll help you hone your approach to telling the story of your cause so it resonates with more people!
Why This Company Made Our List
Moonsail North offers a full spectrum of marketing and communications services, like:
Branding
Advertising and design services
Paid and organic social media campaigns
How To Get Started With This Company
Check out Moonsail North's contact page to get in touch and to sign up for their monthly newsletter!



5. CIRCUITREE: Best for Summer Camp Management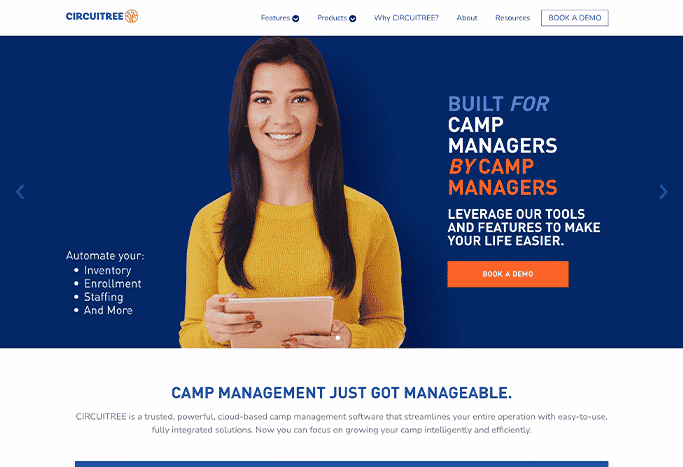 Does your organization offer engaging and memorable camping experiences? Then CIRCUITREE may be the partner you need on your side for managing all of your camp's operations—from your website to camper transportation.
Why This Company Made Our List
CIRCUITREE's services can support what you're trying to accomplish with your camp website. For example, CIRCUITREE offers:
Customizable online camp registration tools
Partnership with Bunk1, a powerful camp parent portal app
Camp staffing tools (such as online job applications and automated reference mails)
Camper prospecting tools for increased camp reach
How To Get Started With This Company
Kick off your work with CIRCUITREE by requesting a free demo with their team of solution specialists.



6. CommunityPass: Best Registration Tool for School Districts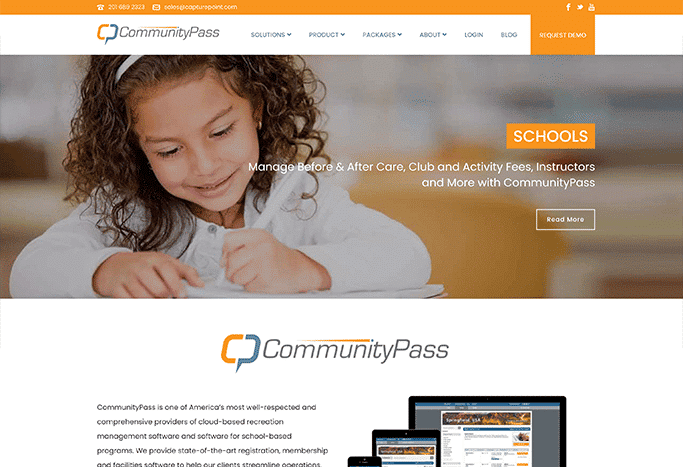 CommunityPass offers online registration and payment software for schools (as well as recreation-based organizations).
Why This Company Made Our List
CommunityPass offers a wealth of school management tools that can enrich any school district or individual school website. Some of its features include:
Instructor site creation
Student information system (SIS) integration
Attendance tracking, check-in and check-out tools, and capacity limit capabilities
Fee and membership dues management tools
School fundraising tools
How To Get Started With This Company
CommunityPass is another solution that you can see in action before investing in it. Book a demo.



7. DanceStudio-Pro: Best Management Tool for Nonprofit Dance Studios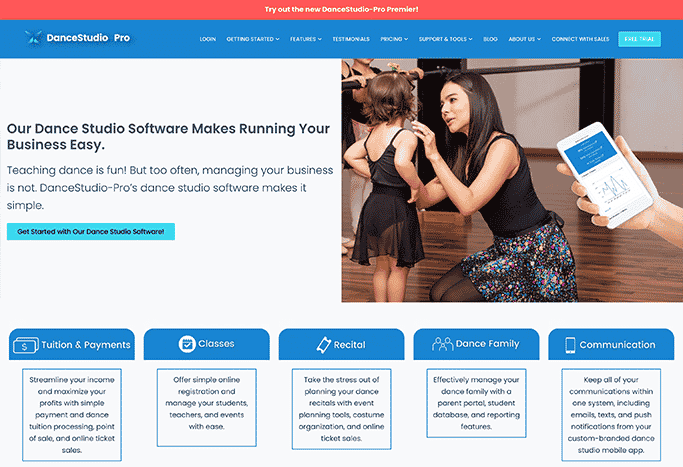 DanceStudio-Pro specializes in dance studio management software, which can help your organization streamline everything from class schedules to recital ticketing! If your nonprofit fits into a very specific community niche (like dance studios, museums, arts centers, etc.), it's helpful to look for solutions like this one that fit your unique needs.
Why This Company Made Our List
DanceStudio-Pro offers a wealth of studio management features, all of which can help you use your studio's website to its full potential. Here are some of DanceStudio-Pro's features:
Tuition, registration, and ticket purchase processing
Automated email, text, phone call, and app notification capabilities
Studio parent portal
Dance recital management tools
How To Get Started With This Company
You can try out DanceStudio-Pro's tools for free for thirty days. Find out how.
---
Remember, as you're embarking on your journey to create an engaging, functional nonprofit website, it will be critical to partner with a web design company that has your needs and interests in mind throughout the process. Look for a partner who can get excited about your cause and help you bring it to life online!
There you have it—our full guide to working with a nonprofit web design company and our top recommendations. Want to keep reading about boosting your nonprofit's web presence? Check out these recommended readings: