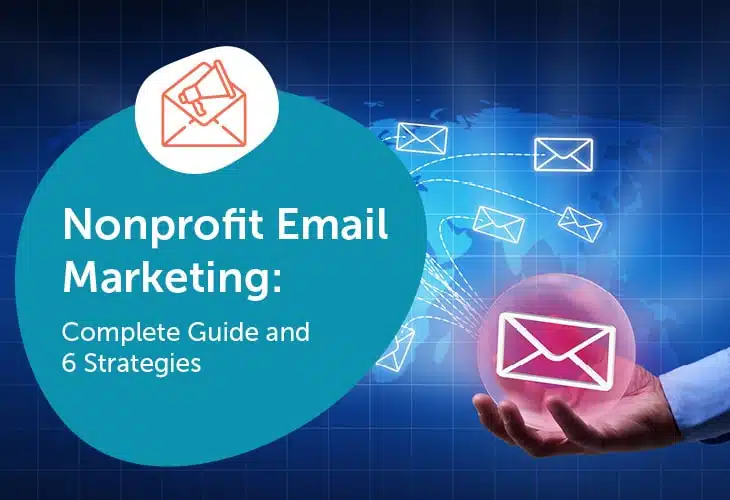 In a perfect world, a great cause would automatically have the support needed to right the wrongs and make things better for everyone. But sadly, we don't live in a perfect world and your nonprofit organization needs donations and supporters to make a difference! That means you need to do a lot of work to get the support you need.
Luckily, one of the best tools you can use to reach those supporters is one you already use every day — email. Yes, even in this world of Zoom and instant messaging, email is still one of the strongest marketing channels. That also means email is one of the best ways for you to reach out, tell your story, gain support, and collect those all-important donations. In fact, research suggests you can expect a return of $42 for every $1 you spend on email marketing (DMA, 2019). So if you aren't including email campaigns as part of your nonprofit marketing strategy, you could be missing out big time!
Cornershop's email campaign implementation services are pretty popular, so you know we spend a lot of time looking at the numbers and figuring out how to build bigger and better campaigns for our clients. Since we want to help you get every bit of support you can, we've put together this nonprofit email marketing guide using all those tricks and tips we've gathered over the years.
In this guide, we'll start by answering some common questions, then give you plenty of strategies, examples and tools that you can start using right away to build or refine your email marketing campaigns. Of course, you can use the table of contents we've provided to skip around, but we recommend reading through everything just to make sure you don't miss any helpful informational tidbits.
Let's dive in!

Nonprofit Email Marketing: FAQs
One of the most important things we've learned is that anytime you are learning how to do something, you should take a minute to think about why you're doing it. Understanding the why will help you decide on the best strategies and help you avoid wasting time on campaigns that won't be a huge help to your organization.
Read through these frequently asked questions with your own organization in mind. What kind of results would you like to see?
Why should my nonprofit do email marketing?
There is no doubt that your nonprofit would benefit from including email marketing in your digital fundraising campaigns. Emails are the primary driver of customer retention for 80% of small to medium businesses (Emarsys, 2018) for a good reason —  it is one of the few marketing channels that can be directed specifically to an individual! Here are three great reasons to get your email campaigns started:
Personal Connection – In your work, you've probably already discovered that the best way to gain support for your cause is through a personal connection. Email allows you to create and maintain that connection indefinitely
Raise Awareness and Support – Email can also keep your organization fresh in the minds of your supporters. Even if they don't open each email and take action right away, they will still be seeing your organization's name on a regular basis. That makes it much more likely that when they are ready to give donations, volunteer, or get involved, they will choose your organization.
Meet Fundraising Goals – A survey by NonProfit Tech for Good showed that 38% of the organizations surveyed said they raised all the money they needed to by using email fundraising appeals. Many organizations said they received more than they were asking for, and only 29% said they made less.
How can I tell if my email marketing for my nonprofit is successful?
There are a lot of ways to measure success. The most obvious way to tell if your nonprofit email marketing campaigns are successful is to see if they help you accomplish your goals. Did you collect enough donations to fund a program or get enough volunteers to help run it? If so, then your email campaigns are paying off!
However, gauging the success of individual emails or comparing which overall campaign is more effective looks a little different. To assess this success, you'll need to know a little bit about the metrics involved, such as knowing which emails are getting the most love. We'll be covering strategies for making sure your email campaigns are successful below, but here are a few quick metrics you can use to see how each campaign is doing:
Click-through rate – The click-through rate (CTR) is the percentage of people who clicked on links in your email. CTR includes multiple clicks from the same person, as well as different types of links (i.e. videos, donation buttons, links to articles). Some email systems will offer a more detailed view that tells you which links got the most clicks, and which subscribers did the clicking.
Unsubscribe rate – The unsubscribe rate is exactly what it sounds like:  the percentage of people who unsubscribe from your mailing list in a given amount of time.
These metrics can tell you a lot about how people are responding to your emails, so they should be checked often and used together to find patterns in behavior. This will help you refine your campaign strategies. For example:
Look at the open rates of different emails to compare how well your subject lines are working.
Check the unsubscribe rate after each email and see how many people opened the email before unsubscribing vs. how many people unsubscribed without even looking.
Find out if certain topics or subjects are more likely to make people open the email, click, or unsubscribe.
Here's an example of an unsubscribe form that the Student Conservation Association uses, which helps them track what their supporters are most interested in and allows supporters to adjust their email alert preferences without unsubscribing completely: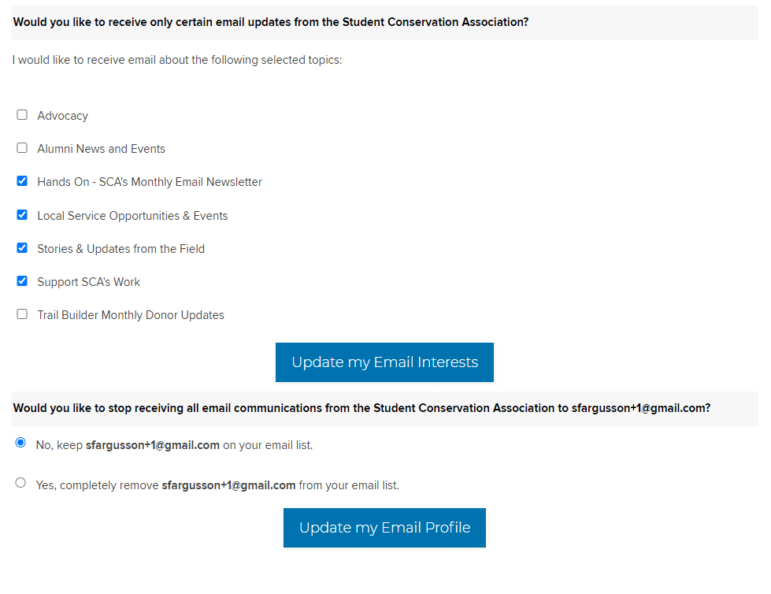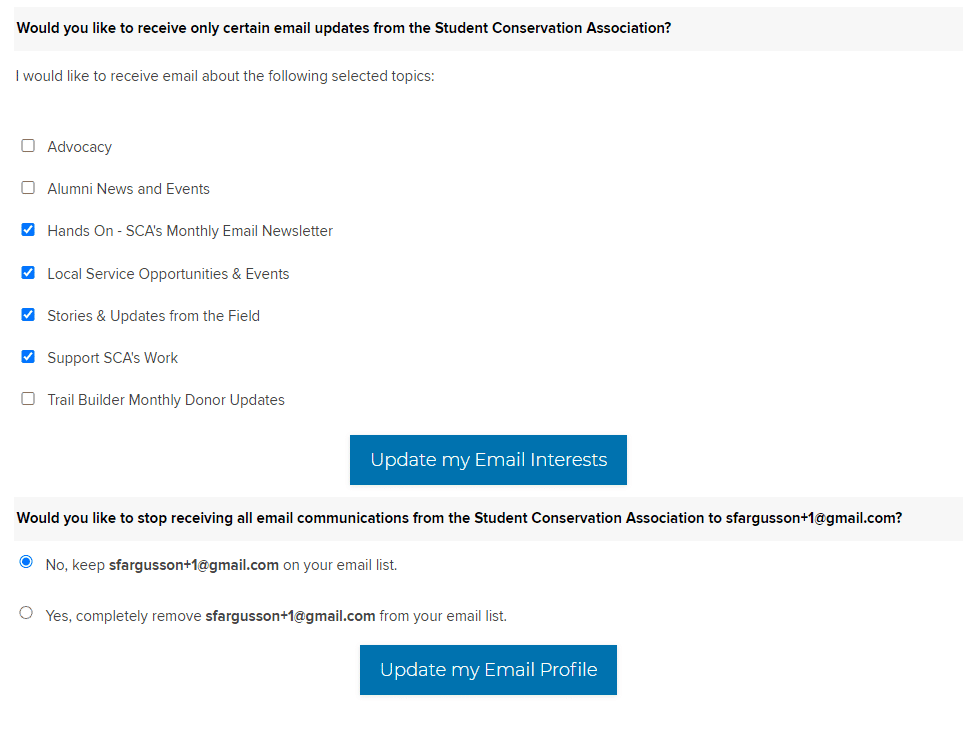 How often should my nonprofit send emails?
On average, nonprofits send between 2-5 emails per month. This appears to be the right amount since MailChimp and Who Is Hosting This? both found (in separate studies) that people were more likely to open emails when the nonprofits sent four emails in a month instead of one monthly newsletter. Don't make the mistake of sending emails just to flood inboxes though —  it is still better to send one valuable email in a month than a bunch of emails with thin or irrelevant content.
If you have a lot of news to share, but are concerned about over-sending, you should give your subscribers a choice about what they receive. You can do this by adding opt-in boxes to your subscription form that list subjects of interest or frequency options. If people have the choice up front to decide what information they want or how often they want to hear from you, they are more likely to engage with the emails when they come. Once your email campaigns have been running for a little while, you can use your open rates and CTR to determine the most popular topics and adjust your form to reflect this.
Coordinate your email campaigns with your website and social media channels for maximum results. You can easily do this by linking to quality website content or a customized donation form in the email and including social media share buttons. Research has shown that coordinating your campaigns this way can increase your click-through rate by about 158%. Here's one of our favorite examples from The Student Conservation Association's Giving Day:

6 Nonprofit Email Marketing Strategies
We've put together our six favorite nonprofit email marketing strategies to help you take your emails to the next level. For each one we'll explain what the strategy is, why you need to do it, and how you can start using the strategy right away. Most of these are pretty easy to implement, and all of them can be used together to make your email campaigns impossible to ignore.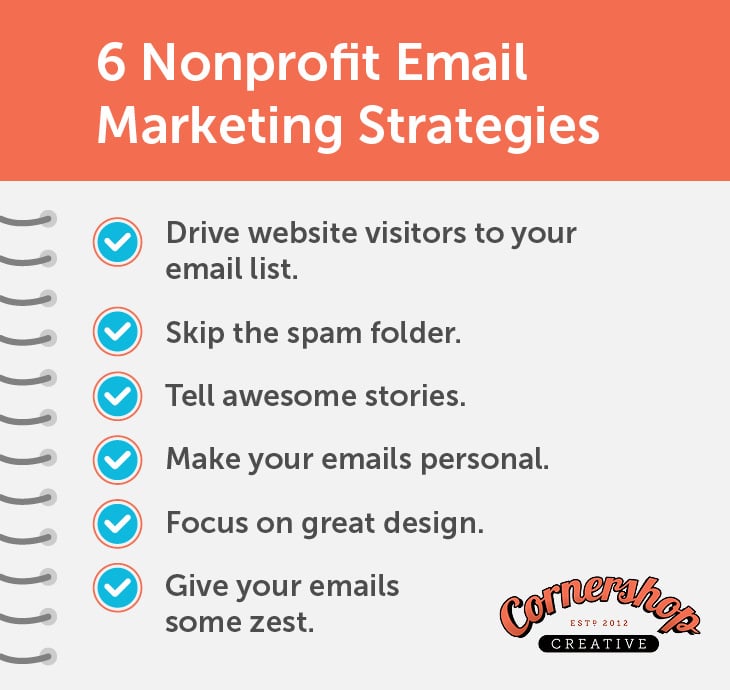 1. Drive website visitors to your email list.
Logically, somewhere in the back of our brains, we all know that most companies, and especially nonprofits, have a mailing list. But if you think about it honestly, have you ever thought about signing up for a mailing list without being asked to do so? If you have, then you are a rarity!
Most of us are willing to get emails. We would love to hear the latest news about a cause we believe in, or find out how successful the campaign we donated to was. The fact is, as much as we value this information, we aren't going to sign up to receive it unless we are directed to (or invited).
So the first thing you need to understand is that you aren't being rude or intrusive by putting that signup form on every page. The people who want that information will be grateful you made it so easy, and the people who aren't interested enough to sign up will just ignore the form and move on. It's that simple!
There are several great options for implementing this strategy on your website:
Put a signup form for your mailing list in the footer of every page.
Put a colorful button that links to your sign up page in the top navigation menu.
Create a pop up signup form that appears after certain actions, or when users have been on the page for a certain amount of time. Check out this email subscription pop-up from Meals on Wheels: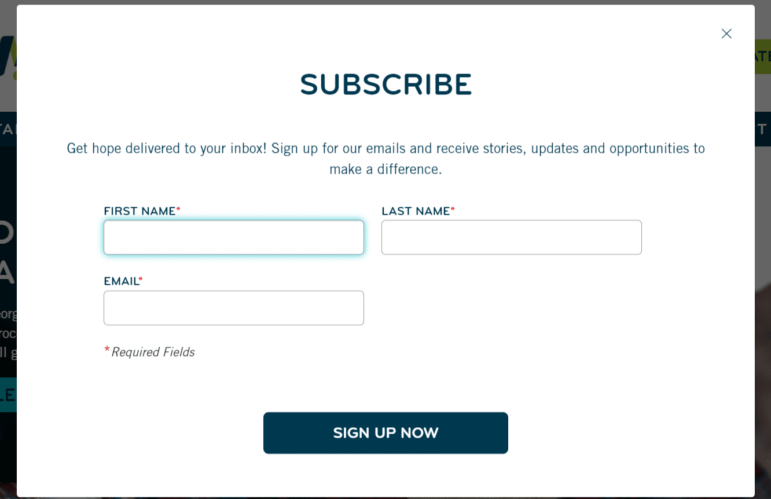 Only you know your audience well enough to know if you should do all three things together, but most audiences would not be bothered a bit by the constant presence of numbers 1 and 2.
2. Skip the spam folder.
Spam filters have gotten really good at filtering messages over the years. This is great for every person with an email address, but maybe not-so-great for the person responsible for launching an email campaign.
The last thing you want is for your messages to be labeled as spam. Not only does that mean that your most recent message got thrown in the online garbage dump, but it also means that other spam filters have been alerted of this and are adding you to lists to be filtered out in the future too.
There is no 100% guaranteed solution for avoiding that dreaded spam label, but there are plenty of things you can do to make it less likely, such as:
Verify email addresses on signup
It is illegal pretty much everywhere to send unsolicited marketing emails in bulk. You need permission to send your emails, which is why you have that opt-in form on the website. Since you're (hopefully) already gathering email addresses the legal way instead of buying them off some guy in a trenchcoat in a dark alley somewhere, you should go a step further and verify each email address on your list.
Most email managers offer this service with an easy click of a button. With verification, every new subscriber will receive an email as soon as they sign up asking them to click a link if they really are the owner of the email address and they really want to join your list. It's a win-win system —  you are assured that your subscribers are real people, and none of your subscribers are tempted to hit that spam button when they see your message in their inbox.
Learn the local email laws
And speaking of legalities: if you haven't already, it's time to look into the laws that govern email practices for your audience. Notice we specified audience? That's because it doesn't matter as much where you're emailing from. Rather, most of these laws are meant to protect the people receiving your messages, no matter where in the world they live.
A lot of these laws apply to your website forms as well as the emails you send out, so it's important to keep up with changes and make sure you are always in compliance. Learn more by checking the regulations for the most popular audience areas below:
Personalize emails
Personalized emails are more likely to make it past spam filters and ensure your subject line stands out, which means your email will be enjoyable for the reader. For some great tips on how to do this, check out strategy number four below.
Avoid overwhelming subscribers
No one needs to get three emails from your organization in one day. Send in moderation to avoid overwhelming your subscribers. (Hint: If you aren't sure how often to send, we addressed it in the FAQ above.)
Another way to avoid overwhelming your subscribers is to vary your ask. Don't use every email to make the same plea for donations. Instead, share some news, use different campaigns, and update people on changes in your cause (especially successes!).
3. Tell awesome stories.
People love stories, and your organization probably has some amazing ones. You don't have to wait until it's time to publish your annual report to share the cool stuff you do! Take the opportunity in each email to share at least one real story. Here are a few ideas to get you started:
Focus on a beneficiary – Who did you help? What did you help them do? People are more likely to respond to donation requests when they can associate a face with a cause, so share those smiles!
Talk about your impact – Are you meeting your goals of saving the monkeys or collecting shoes? Talk about it! Get specific and let people know how your organization is making a difference in this world.
Use statistics

 – People love numbers. They want to know how many children their donation can feed or what percentage of the rainforest is possible to save. It's very likely that people will want to share your statistics, so be specific and cite your sources so they can learn more.
Here's an example of powerful storytelling from WaterAid, a nonprofit focused on providing clean and sustainable water to communities in need: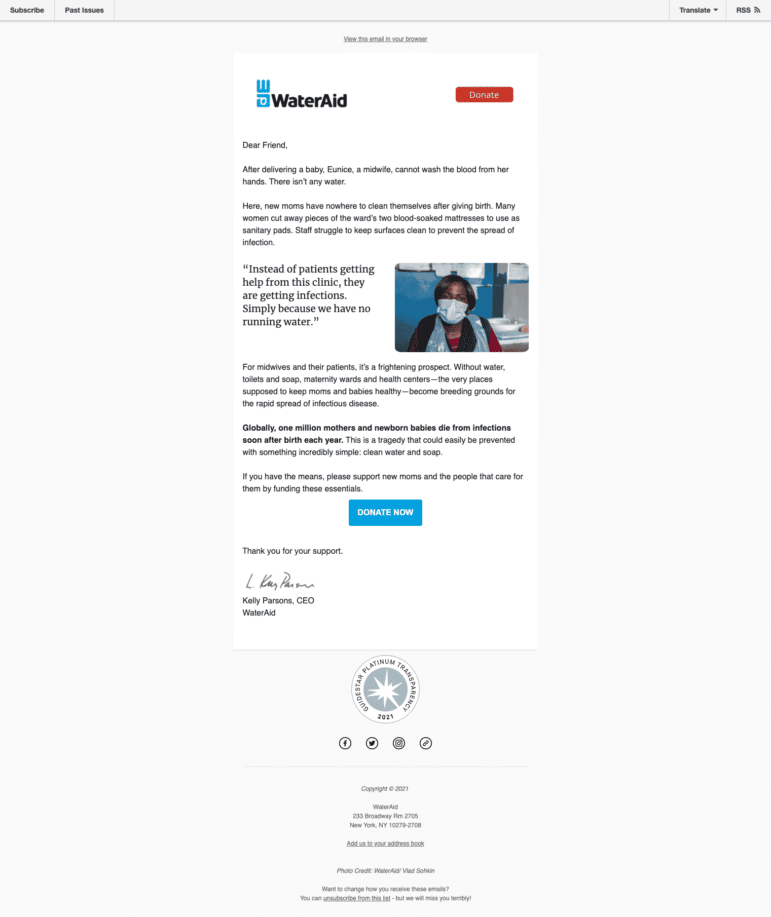 4. Make your emails personal.
Does your email signup form contain fields for collecting the first name of the people who sign up? If not, you need to go change that. Like, right now … Go ahead, we'll wait…
Why is that so important? Because this one simple thing can increase your open rate by up to 50%! Putting the first name of the person you are sending the email to in the greeting of the email (and sometimes even in the subject line) is the first step in personalizing your emails.
The second step is using a return email address that belongs to a person (or group) instead of a No-Reply form address. These "real" email addresses blend in better in the inbox and look just like messages from friends. Subscribers and spam filters can both tell the difference. The added benefit is that by allowing people to respond to your emails you are opening lines of communication that can help you gather feedback, find more touchpoints, and keep your subscribers engaged. Here's an example of what a personalized email might look like:
Another step in this strategy is splitting your email list into segments by subscriber interests. It's pretty obvious why this works —  people are more likely to read emails about things they are interested in. So how do you find out what your subscribers are interested in? Just ask! You can add options right on your signup form for people to choose what they are most interested in. Don't worry if you aren't sure how to do that. If you have a WordPress website, there are plenty of cool plugins that can help. Of course, you also have the team at Cornershop too, and we'd be happy to help you get set up!
5. Focus on great design.
The design of your email can have a huge impact on the number of people who read and interact with it. Emails that load slowly or are difficult to read will not perform very well compared to branded and engaging emails. Just look at this example from the League of Women Voters:

Your nonprofit can create well-designed emails by:
Using templates – Templates are an email best practice! You don't have to create a fresh design with every email. Instead, streamline your efforts by creating a template that matches the branding of your website. Then, all you have to do is change the content before hitting send.
Maintaining consistent branding – Make your emails recognizable at a glance. You can create different templates for each program area if you want, but make sure that they are similar enough for your audience to recognize your branding.
Ensuring emails load quickly – No one online has the patience to wait for an email to load. In fact, once people realize that your emails are slow enough to bog down devices, they will probably unsubscribe. Avoid this by making sure your emails are coded cleanly and not over-designed.
Including buttons rather than links – Buttons catch the eye and just beg to be clicked. Give your readers a push in the right direction by using buttons that are styled like your website.
If you're not sure how to follow these tips to design emails your audience will love, you are not alone. A nonprofit consultant that specializes in email design can set you up with easy-to-use templates that match your website's brand and resonate with your audience.
6. Give your emails some zest.
Great design can only take you so far. You need content that grabs readers and pulls them in. We already looked at the importance of storytelling, so let's take it a little further and make those stories sizzle. Here are some ways to add some zest to your emails:
Use a compelling subject line – You know what people really like? A question. It has a way of grabbing attention and keeping it. Using questions, statistics, and teasers in your subject lines will create a fun first impression and increase that open rate.
Keep them short and sweet – Most people check their email on the go, and they want you to get to the point quickly so they can keep going. If your content needs more space, then give a brief synopsis in the email and link to a full article on your website instead.
Make your content memorable

 – Memorable is sharable. Try to write content that compels people to say, "Did you know…" or, "I read the best story today…" to their friends.
To give your emails some extra zest, consider including a call-to-action that can help get your supporters more involved. Here's an example from the Virginia Hospital Center Foundation: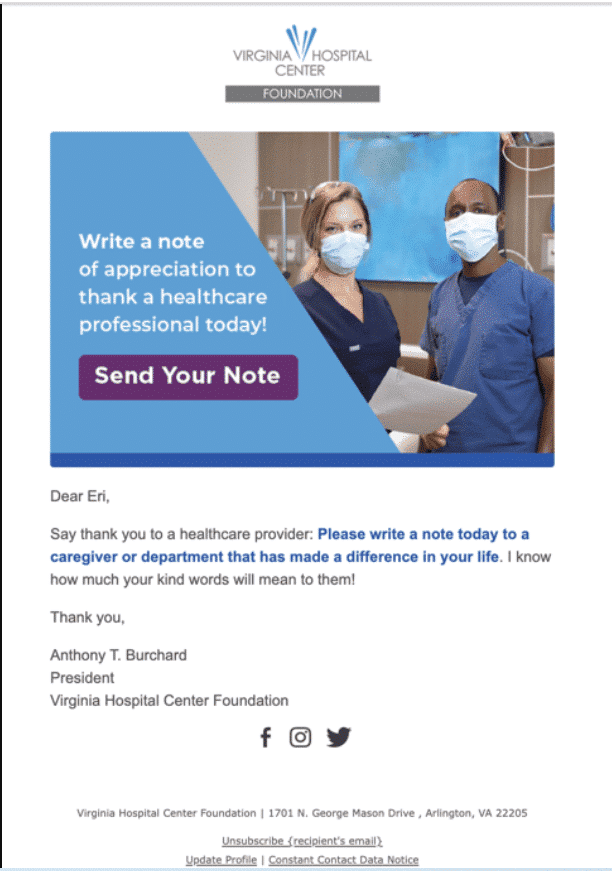 Nonprofit Email Marketing Examples
If you've been reading this guide in order, you now have all the best strategies to create a nonprofit email marketing campaign that is worth supporting. Before we move on to the tools we recommend for building your campaigns, we want to share some examples of different email campaigns that your nonprofit can launch.
Donation Appeals
A donation appeal is an email that asks your supporters to make a donation. There are a lot of ways to do this, so it doesn't hurt to create a couple different templates that you can use as regular features in your virtual fundraising campaigns.
One of our favorite examples comes from Saving Newark Wetlands. They suggested donation amounts and made it easy for supporters to click and give. Here are a few more tips for creating successful donation appeals:
Link directly to a donation page without any other distractions.
Keep the branding consistent so that people trust that their donation will be going to your organization.
Tell people what they are donating for and how (or who) they are helping.
Share the impact you've made with previous donations.
Say thank you!
Newsletters
An email newsletter is an opportunity for your nonprofit to share updates about campaigns and to provide educational information about your cause. Newsletters should be sent on a regular schedule so supporters know when to expect them. The Lymphoma Research Foundation sends out gorgeous newsletters regularly to help spread awareness and offer support to lymphoma patients and their caregivers.
Calls-to-Action
A call to action email encourages supporters to take action and get involved. You can send a call to action for a petition, event, phone call campaign, or anything else that would further your cause. Try to link your callout with a current need or campaign for best results.
LeftAction is great at sending regular call to action emails with polls and petitions, among other things.
Appreciation
An appreciation email should be a simple message of gratitude for any support your organization receives. Create templates for donations, volunteering, and other campaign efforts so you can send a thank you message right away when supporters get involved. Here's an example from Meals on Wheels:

Special Days
Whether your cause has a day of action or you just want to send a special email on Giving Tuesday, special days emails should catch your subscriber's attention right away. You can even create templates to be used each year. Check out the campaign we helped create for Black Lab Friday on behalf of Canine Companions.

Top Nonprofit Email Marketing Tools
We're often asked how to recommend our favorite email marketing tool… but we rarely answer the same way twice!
While we do work with a number of email marketing tools, it's close to impossible to recommend a specific one without knowing more about your organization's specific needs.
Here are some of our favorites and some notes to consider if you're looking into trying out some new email marketing tools:
MailChimp
MailChimp used to be one of the most popular and easy-to-use email campaign managers, but they have branched out a lot! They now offer the ability to manage email campaigns, build websites, and manage a store all in the same system. Their most notable features include:
Audience management
Creative tools including templates and drag and drop designs
Marketing automation
Insights & analytics
Constant Contact
Constant Contact is a popular email marketing service with powerful reporting features and hundreds of ready-made templates you can use. Some other features include:
Text-to-Join capabilities (which are great for fundraising events!)
Lead generation landing pages
Integration with Facebook, Instagram, and Google ads
Salsa Labs
Salsa Labs provides marketing software that is specifically made for nonprofits. Their system goes beyond email with additional tools for social media marketing and form building. You can use the Salsa Labs software to:
Manage donor profiles
Do A/B testing to find out which messages work best for the audience
Automate your marketing efforts
Check your progress with dashboard analytics
Track fundraising and advocacy actions
Engaging Networks
Engaging Networks is a robust CRM (customer relationship management tool) with next-gen email tools for you to use to reach out to your supporters.  With out-of-the-box templates and an easy drag and drop interface, this is a great option for enterprise level organizations that need email marketing tools and so much more (donation forms, advocacy, P2P…)!  Their most notable features include:
Audience management and segmentation
Creative tools including templates and drag and drop designs
Multi-variant testing
Conditional content to tailor your messaging to your supporters
Marketing automation
Insights & analytics
EveryAction
EveryAction is built for fundraisers who want to engage more supporters, across more channels and support more programs with a unified CRM.  Their digital marketing platform includes fundraising and advocacy, email, mobile messaging, online advertising and social media, with the added benefits of automation, predictive analytics and integrations with an extensive list of other software. Their most notable features include:
Audience management and segmentation
Drag and drop email editor
One-click donations
Conditional content to tailor your messaging to your supporters
Multi-variant testing
Marketing automation
Insights & analytics
Wrapping Up
There are a lot of ways to do a nonprofit email campaign right. You know your supporters and what they are passionate about, so reach out and share! You might be pleasantly surprised at how much more support and attention a great email campaign can bring.
Want to learn more about connecting with your supporters on a meaningful level? Check out these additional resources: