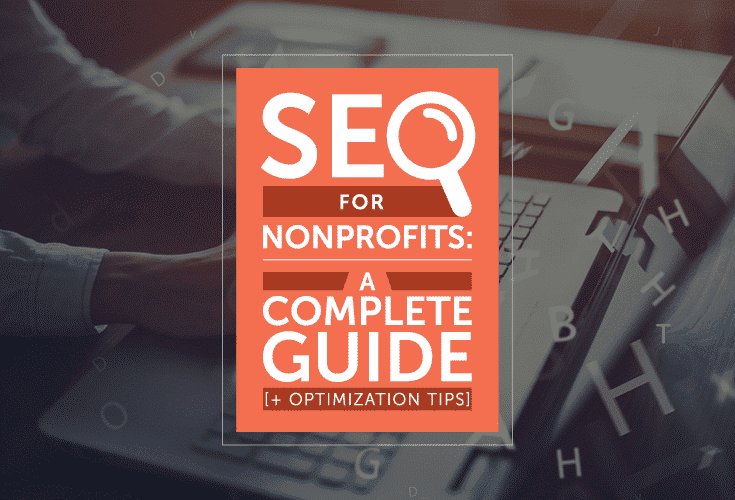 After you've put in so much work creating a beautiful website for your nonprofit, you'll want to drive as much traffic to it as possible. You can accomplish this by optimizing your website for search engines. A website with strong search engine optimization (SEO) can gain more attention, meaning more potential supporters will discover your nonprofit.
SEO for nonprofits works the same way SEO does for most organizations. However, SEO is constantly evolving as search engines change their formula for how rankings are determined. This means your approach to SEO will rarely be a "one-and-done" update. Instead, maintaining high page rankings requires routine maintenance and a little strategic thinking. 
To help improve your nonprofit's online presence, this guide will cover SEO for nonprofits in depth. We'll cover:
There's one more factor required for nonprofits interested in SEO: Patience. The hype around SEO for nonprofits might lead you to believe that improving your pages will lead to instant results on Google. The truth is that SEO requires strategy, consistency, and time to start driving traffic to your website.
However, once you are committed to applying SEO strategy to your website, your nonprofit has the potential to see significant benefits in the future. Let's get started.

Nonprofit SEO FAQ
As a modern nonprofit professional, you probably have some familiarity with terms such as "organic traffic" and "search engine optimization." A first glance at the more technical side of these terms might make them seem too complicated to anyone who doesn't work at Google.
Thankfully, the truth is that most organizations, like your nonprofit, can gain a solid understanding of what these terms mean and apply them to their websites with a bit of research. 
What is nonprofit SEO?
SEO for nonprofits are standard web optimization practices designed to help nonprofits improve their content's page rankings for target keywords on search engines like Google. Large search engines like Google use many factors to determine SEO, some of which are kept secret from the public.  
However, through deduction, many elements of what makes a page rank highly have been discovered, allowing organizations like your nonprofit to create optimized content that will help drive traffic to your website. 
Do nonprofits need SEO?
Organic traffic are visitors who find your website by searching for something in a search engine and decide to click on a link to your content. SEO for nonprofits raises the position on the search results page your content is placed in, increasing the chances someone will see it when scrolling through their page results. 
What does this mean for your nonprofit? More visitors means more opportunities to raise funds online. 
Need a little more proof? Consider why people use search engines to look up keywords that might relate to your nonprofit. If someone searches for "nonprofits near me," we can assume they're interested in getting involved with local groups, like yours. 
What SEO practices should nonprofits avoid? 
Google and other search engines take many features into account when determining what pages rank for keywords. The exact formula Google uses is kept secret to prevent individuals from trying to cheat the system and create content with minimal value but high optimization scores.  
Google also goes a step further to discourage dubious SEO and will lower the rankings of websites caught engaging in negative SEO practices. While it might be tempting to try and find a shortcut, doing so will ultimately hurt your nonprofit in the long run. To prevent this scenario, avoid these negative nonprofit SEO tactics: 
Keyword stuffing.

Targeting keywords is essential for content to get picked up by search engines. Overusing a keyword to the detriment of your content lowers your pages' overall value and causes them to rank lower. 

Invisible keywords.

Search engines take note of how many times a keyword is used on a page. Some websites add keywords that are the same color as their pages' background to trick search engines. However, search engines are getting better about also taking into account the context around keywords, resulting in this strategy doing little besides lowering your page ranking. 

Linking schemes.

Your website will need to accumulate a backlink profile of links from reputable websites for your content to rank highly. Link schemes attempt to mimic this by spamming links, buying links, or engaging in link trends with websites unrelated to their content. 
All of these, and other unethical SEO practices, make for content with limited value. This means that even if these practices do manage to drive more traffic to your website, you'll see a high bounce rate, with people clicking only on a single page on your website before navigating away, which is not helpful to your organization in any way. 

Factors that Impact SEO for Nonprofits
As mentioned, organizations like Google are secretive about exactly how they rank websites. However, many factors have been determined through observation and a little knowledge about how search engines "read" websites. 
For your nonprofit, some factors will matter more than others, but here are three that can have a dramatic impact on your SEO performance:
Competition.

There are certain keywords your nonprofit is extremely unlikely to ever rank at number one for. For example, if your nonprofit wanted to explore

Facebook fundraisers

and wrote an article to encourage your supporters to host them, even the most well optimized page won't unseat Facebook.com as the number one result for the keyword "Facebook." 

Location.

Have you ever noticed that when you google something like "pizza" or "cafes," your search results often bring up locations nearby serving those items? Search engine results vary by location, and your nonprofit can attract more local supporters by registering with Google and sharing your address. 

Technical SEO.

Search engines use programs called crawlers that visit websites and index their content, allowing them to start ranking. You can help crawlers find your content by creating an organized map of links between pages, allowing the crawler to navigate through your content by going from link to link. 
Of course, the exact mechanics behind SEO can get pretty complex. For most nonprofits, the most important things to know about SEO are why it matters and how your organization can leverage it to increase the number of visitors to your website. 


10 Nonprofit SEO Optimization Tips
To help your nonprofit create content that search engines will determine is valuable, we've compiled a list of ten tips that follow SEO for nonprofits best practices. These tips will help you write content for your website that is as appealing to search engines as they are to your audience!
Nonprofit SEO Tip 1: Improve User Experience
Your website's long-term goals may be to increase your audience, gain supporters, and collect donations. To achieve this, your immediate goal should be to give your audience the best user experience possible. Plus, a great user experience also sets your website up for SEO success. 
All of the advice in this article aims to boost your user experience, and these tips get straight to the point about how to improve your website for users:
Make sure your website is easy to navigate and has a clear site map.

Websites grow and change over time. This means you might end up with extra pages that are only linked from one parent page, or your categories and content areas start to get muddled. As you add content to your site, update your main navigation menu with new content, and keep an eye on that navigation to ensure that it is always clear and applicable to your website's content.

Optimize your website to have a faster loading time.

Slow loading times can turn away visitors, and the main culprit of slow load times tends to be images

. Optimize your images for online use by ensuring their file size is less than 1MB. The

TinyPNG plugin for WordPress

can help a lot with this. Additionally, sort through your media library to remove duplicate and unused images that may be bogging things down. In WordPress, the

Media Deduper plugin

does the sorting for you.

Write shorter paragraphs.

Long line lengths and blocks of texts are major turn offs for readers. Keep paragraphs to about two or three sentences. Short paragraphs are easier for readers to digest and will format well on mobile devices. Also, mix up the length of your sentences to keep things interesting.
You can evaluate your website's user-friendliness by asking volunteer users to complete a few basic tasks on your website, such as making a donation or signing up for your newsletter. Then, ask them about their experience and thought process while doing so (many user experience tests work best if volunteers are asked to narrate their thoughts while navigating your website aloud during the test). 
Nonprofit SEO Tip 2: Create a Blog
While every page on your website should follow standard SEO for nonprofits guidelines, implementing strong SEO practices on your blog can help drive traffic to your entire website. Your blog is one of the best SEO tools in your website's toolbox. Regularly updated blog content signals to search engines that your website is up to date and relevant, resulting in your site getting indexed more often. 
Your blog also allows you to target keywords that you would like to rank for that don't exactly fit on your other pages. By creating valuable, search engine optimized blog posts, potential supporters will have more opportunities to discover your nonprofit. 
Nonprofit SEO Tip 3: Add External and Internal Links
With very few exceptions, all of your pages should link to other pages on your website. These help users navigate your website and can increase the amount of time spent on your website as a whole (which then might lead to users taking an action like donating!). 
Not to mention, including internal links to other content on your site has multiple SEO benefits: 
It shows search engines how pages correlate on your site.

It gives search engines a better idea of what your page is about.

It assists search engines in finding new pages on your site.

It helps reduce the bounce rate and keep visitors on your site.
While you can clearly see the value in keeping visitors on your website with internal links, you might hesitate to navigate them away from your content with an external link. However, outbound links lend your content credibility, making them valuable for SEO. 
Think of it like social interactions: You know the saying, "You are who you hang out with?" Well, the same is true for websites. If your website is associated with another website that Google has deemed high quality, then linking between the sites benefits both of you. But keep in mind that this is also true if your website hangs with the wrong crowd, so be careful which sites you link to.
Nonprofit SEO Tip 4: Provide Socialization Opportunities 
If you're looking to increase your engagement rates, then remember that people love to be social! Google knows this, and includes social proof as part of its ranking algorithm. Here are a few ways to make your website more social:
Include social sharing buttons on your pages so that people can easily share your content with their network on social media.

Invite your audience to follow your content by including links to your social media profiles.

Link to other websites that contain content and resources that your audience will find useful. Remember to only link to other high-quality websites. Linking to any site that Google deems spam will hurt your rankings.

If your website is monitored and secure, allow users to leave comments and have conversations about your content.
Be sure to perform regular maintenance on your comments sections, forums, or any other part of your website that lets visitors leave public messages. Real comments from real supporters generate positive engagement and help to build an online community. By contrast, spam comments make your website look untrustworthy to both visitors and search engines, potentially harming your SEO. 
Nonprofit SEO Tip 5: Optimize for Mobile 
Since 2018, over half of internet traffic comes from users on smartphones and other mobile devices. This means you need to be conscious of your mobile site's SEO in addition to your main website.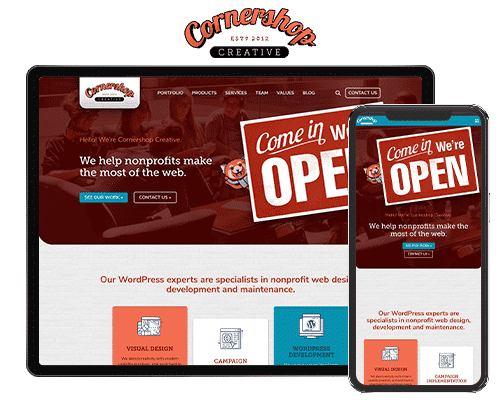 For the most part, the mobile and desktop versions of your website should have near identical page rankings with one major differentiating factor: mobile optimization. Google has previously rolled out updates that rewarded websites that were optimized for mobile by boosting their rankings. 
Check to make sure your CMS supports mobile responsive design and can generate mobile-friendly versions of your page. Fortunately, most modern website builders do this automatically, though some available themes may not. Make sure to preview potential themes on both desktop and mobile to find a solution that will support your mobile optimization efforts. 
Nonprofit SEO Tip 6: Create High-Quality Content 
Search engines ultimately use SEO rankings to try and find high quality content. So, make sure your content is high quality and valuable for your audience. Most people are familiar with the phrase, "Content is King," and so is Google! Google does not publicly release every detail of their ranking algorithm, but they are very clear that they prioritize meaningful content that meets users' search intent.
The good news is that as long as your organization has a lot to say, providing high-quality content should come naturally. Just keep your messages clear and directed. Answer common user questions with your content and in your blog posts. Talk to your current audience to find out what they want to know, then write content about it. It also helps to link to other useful content on your website so your audience (and the search crawlers) can see how the content is connected.
Nonprofit SEO Tip 7: Target Specific Keywords
Choose keywords that your target audience are likely to search for to find organizations like yours. However, chances are that the first keywords that come to mind are too competitive for most nonprofits. For example, a nonprofit hoping to attract attention to their new advocacy initiatives will likely end up competing with high ranking websites like Wikipedia and government websites if they target keywords like "grassroots activism."
This doesn't mean you should give up on implementing SEO for your nonprofit. Instead, tailor your words more closely to your content to appeal to your specific audience and avoid competing with high authority websites.
Take that same nonprofit hoping to further their mission through advocacy. By targeting more specific keywords like "environmental grassroots movements in Boston," they'll see a lower search volume for their keywords but also rank higher and attract people interested in their specific cause. Plus, users who live in their area are more likely to see the nonprofit appear on their search results page. 
Nonprofit SEO Tip 8: Optimize Page Content for Keywords
Take your chosen target keywords and pair them with pages on your website. To optimize a page for a keyword, you'll want to use the keyword in a few key places.
Within headings on the page
Within the copy on the page
Within the meta description
Within the page title
Within the URL
When it comes to using your keyword in headings and copy, you can and should use the keyword more than once. But you'll want to be careful to avoid the keyword stuffing that we mentioned above. There is such a thing as using the keyword too much, but if you're writing conversationally (as you'd speak) and creating quality content, that's not typically an issue for SEO on the page.
Nonprofit SEO Tip 9: Maintain Heading Hierarchy 
Headings do a lot more than make your content look good. They guide search engine crawlers through your page so they know how to index your content. Each page should have one H1 heading as the title that uses the primary keyword or phrase. Then, subtopics should begin with an H2 heading. Subtopics within those sections should have an H3 heading, and so on.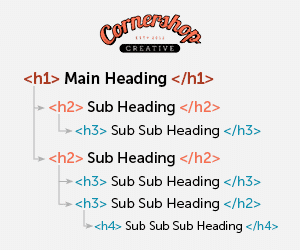 Each heading should provide a preview of the text below it. Most people scan articles by looking at their headings, meaning that instructive headings can act as a roadmap for them to find the most relevant information. Then, they'll stop and read, increasing their time spent on your page. 
Nonprofit SEO Tip 10: Make Your Links User-Friendly 
Gone are the days of "click here" links that don't actually tell users what they're clicking on. These types of links limit your website's accessibility as visitors using screen readers won't be able to tell easily where the link leads. 
Additionally, search engines take anchor text into account when reviewing a page's link profile. User-friendly text that contains the keyword or other related phrases give search engines more information about what they should associate your links with. Unclear text doesn't do this, causing your pages to potentially miss out on positive link building opportunities. 
Wrap Up
As you begin using these tips to improve your content, it is important to remember that SEO of any kind should not be viewed as a quick fix for any website issues. Instead, SEO is a strategy that you commit to as you develop and grow your website.
Tracking relevant keywords, building linking opportunities, and updating your content are all necessary for improving your SEO rankings slowly over time. So be patient, think strategically about how users are finding your website, and create high-quality content that visitors will want to interact with and share. 
SEO for nonprofits may take time, but it doesn't need to be complicated. To learn more about how you can leverage your nonprofit's website to reach an even wider audience, check out these resources:
Contact Us Today