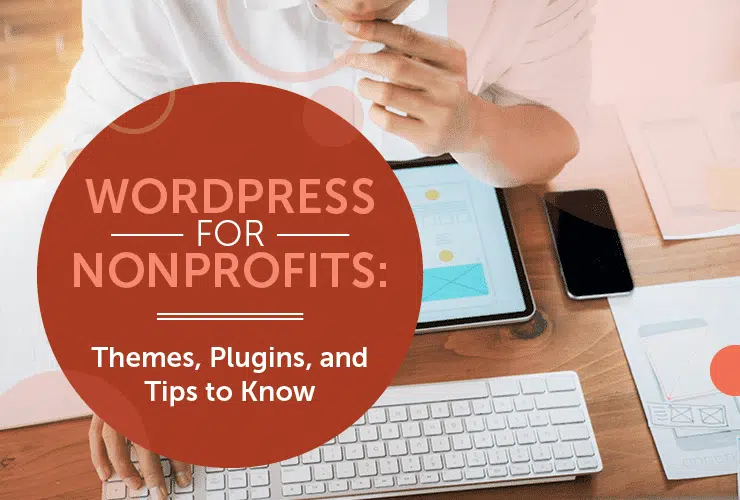 Now that your nonprofit is up and running, you're ready to launch your first website. Luckily, you have several website builders, also called content management systems (CMS), to choose from — some good and others, well, not-so-good. But why sift through all of those options when you can get the very best from the top web builder on the internet?
WordPress is the most popular website builder, not just among nonprofits, but among all CMS online. And for good reason! With WordPress, anyone can build a custom, easy-to-update website that suits their unique needs. However, with so many choices, building your first WordPress website might feel overwhelming, like getting thrown into the deep end.
Fortunately, with a bit of research, nonprofit leaders like you can begin building websites with confidence. To help kick off your new web project, this guide takes a close look at tips and tricks for using WordPress with your nonprofit:
As you build your WordPress website for your organization, remember that building and maintaining your site should be an ongoing activity. There's a whole world of possibilities you can unlock with WordPress. Whatever amazing work you do, WordPress will help you bring your personality, mission, and meaningful work to your supporters. Let's get started!

WordPress for Nonprofits FAQ
Before getting into the nitty gritty details behind themes and plugins, let's go over some of the basics. Whether you're a WordPress newbie or a tech wizard, reviewing some of these fundamentals can ensure you make the right investment and create the website of your wildest dreams.
Why should nonprofits use WordPress?
WordPress isn't the only game in town but at Cornershop Creative, we know it's the best. If you don't want to take our word for it, just look at how many media and tech giants use WordPress today, such as BBC America, Sony, and Microsoft!
With WordPress, your nonprofit has access to many of the same benefits that attract all kinds of organizations to this web builder. Some of these features include:
Customizability. Millions of websites use WordPress, but they don't need to all look the same. WordPress's extensive customization options makes it so every one of those millions of websites can be completely unique while still deploying nonprofit web design best practices.
Extensive support. WordPress has a vast community support network of web developers, consultants, and experts in troubleshooting technical issues. If you run into any trouble while building your website, know that you're not alone! In many cases, help is just a Google search away.
Minimal coding knowledge required. If website code looks like hieroglyphics to you, don't worry! You don't need a background in web development or coding to create a stunning WordPress site. While savvy designers and developers can add their own spin on their websites, those without coding skills can still enjoy everything WordPress has to offer.
Nonprofit websites have unique needs, and WordPress's flexibility provides organizations like yours with opportunities and resources to create a website that truly reflects your mission and drives meaningful engagement with visitors. Plus, with a bit of research, you'll have access to tools for building campaign pages, donation forms, and other website elements specific to nonprofits.
Is WordPress free for nonprofits?
WordPress is open source and free to download, which allows anyone to build a website at no cost. Certain costs such as hosting and domain registration may vary depending on the service you use, but WordPress itself is free.
However, if you're interested in expanding WordPress beyond its basekit, you may need to make a financial investment. Some plugins and themes are free, but many need to be purchased.
What WordPress resources are available for nonprofits?
The short answer: A lot!
As we mentioned, WordPress has a huge community of developers and contributors, which means there is a wide variety of services available that cater specifically to WordPress users (and many to just nonprofits using WordPress).
When choosing a platform, you should consider both what the web builder has to offer and its available resources. With WordPress, you'll be connected to an extensive network of themes, plugins, web hosting services, integrations, web consultants, custom software developers, WordCamps and local WordPress meetups, online forums, and more!

WordPress Themes and Visual Builders for Nonprofits
Clearly, we're fans of WordPress. But we haven't even gotten to one of our favorite parts: all the glorious themes.
A WordPress theme is what shapes the overall appearance of your website. The theme is the underlying code that will let you, as administrators of the website, add content and images, and also provide the code to display your content in the accurate way. If your website was a house, the theme would be the wooden structure itself.
WordPress's pre-built themes allow your nonprofit to get its website up and running fast, and can be a big help to nonprofits who only feel so-so about their eye for web design.
Themes aren't all that WordPress has to offer. You might have also heard of WordPress's visual builders, which is how content is visually laid out on your site and how less tech-savvy creators can create beautiful pages without coding knowledge.
Those new to WordPress tend to get laser-focused on finding the perfect theme. While well-built themes definitely are important, don't forget to also consider the visual builder, as that is how you'll primarily interact with your site in the long-run, as a web administrator. Here are a few of our favorite themes and visual builders.

WordPress Themes for Nonprofits
1. Blocksy
Blocksy is a free WordPress theme, which might be the right choice if your nonprofit is on a budget. Being free though doesn't mean Blocksy lacks in features. This theme is fast, flexible, and works well with popular WordPress visual builders. Our favorite thing about Blocksy is how it is built for performance. It doesn't have bloated features, and loads quickly. It uses the default WordPress builder, Gutenberg, so it minimizes the need for additional plugins. This theme is a winner for WordPress users in all types of organizations.
2. Jupiter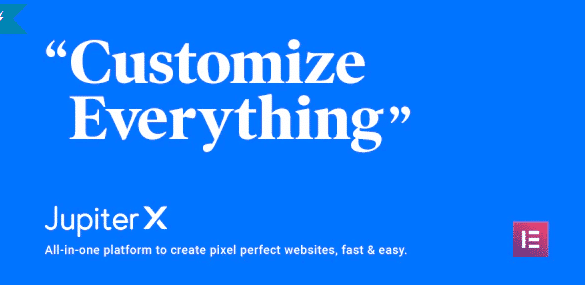 Jupiter is a popular WordPress theme (used by over 100,000 sites!) and comes with Elementor, a premium visual builder. Each Jupiter site can pull off a unique look, too, as nearly every aspect of the theme is fully customizable. If you need a website fast, Jupiter has over 300 ready-made templates, and the developers release new ones every month. Install the ready-made templates, add your content, and tada! You have a new site.
3. Icelander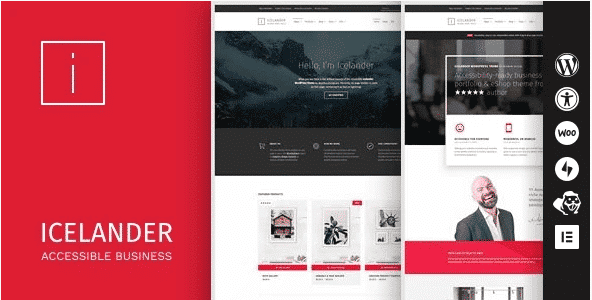 Our last theme of the day is Icelander, which prides itself on accessibility. Icelander aims to be user-friendly, both to your front-end visitors and your staff working behind the scenes. With no coding knowledge required and multiple online tutorials available, many nonprofits may find that Icelander lives up to its motto: "it just works."

WordPress Visual Builders for Nonprofits
1. Gutenberg


Gutenberg is the default visual builder for WordPress, and many nonprofits will find that it's more than enough for their needs. Gutenberg is a modular, block-style editor, meaning headers, paragraphs, and images are all treated like their own elements and can be rearranged and edited to fit your own unique look. It's still one of the newer visual builders but is quickly becoming engrained in all aspects of WordPress. Why add another builder, when this already exists?
2. Elementor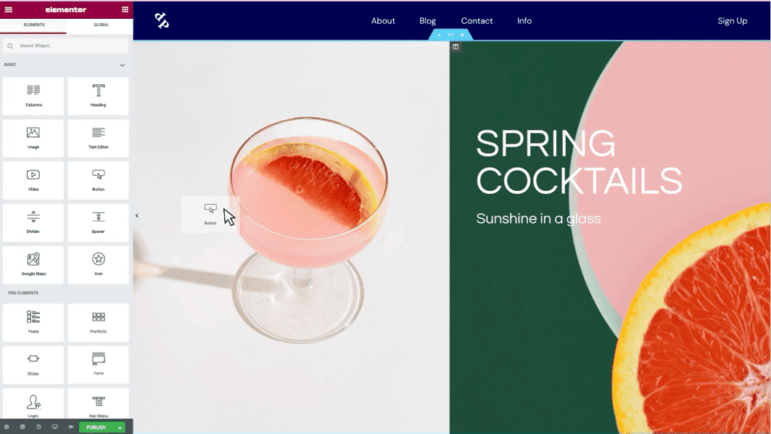 With over eight million users, Elementor is one of the top website builders to use with WordPress. Elementor offers a mix of user-friendly tools and advanced website creation options. If you're interested in adding a stylish flair to your nonprofit's website (say hello to dynamic layouts, custom typography, and advanced animation effects), Elementor might just be right for you.
3. WPBakery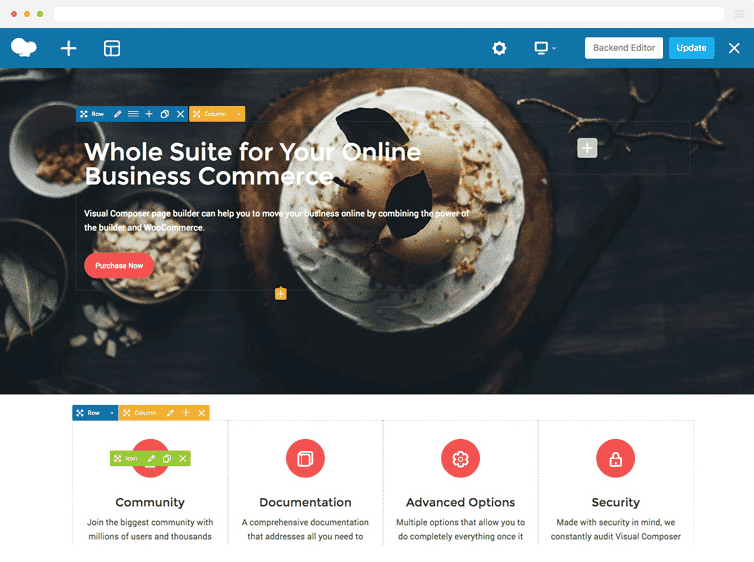 Like Elementor, the makers of WPBakery also claim to have the number one visual builder around, and just like Elementor, they make a decent case for themselves. WPBakery provides users with drag-and-drop tools for both the front and backends of their website, allowing them to quickly build new pages and view their designs exactly how their website's visitors will before going live.
4. Oxygen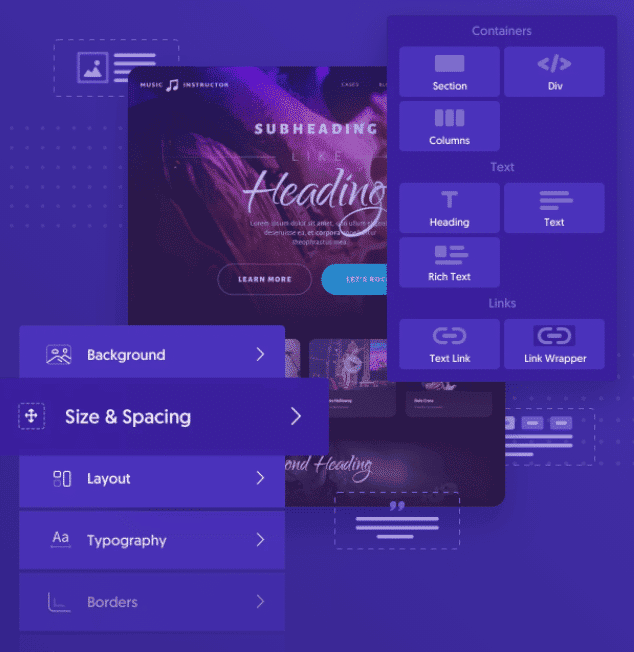 If you're looking for something a little more advanced than Gutenberg, but aren't ready to say goodbye to the visual builder just yet, you should consider Oxygen. With its own filters, responsive control elements, and logic-based layout creation, Oxygen is a fantastic builder that allows you to use more advanced features very easily, including animations, stacking columns, and more.
5. Beaver Builder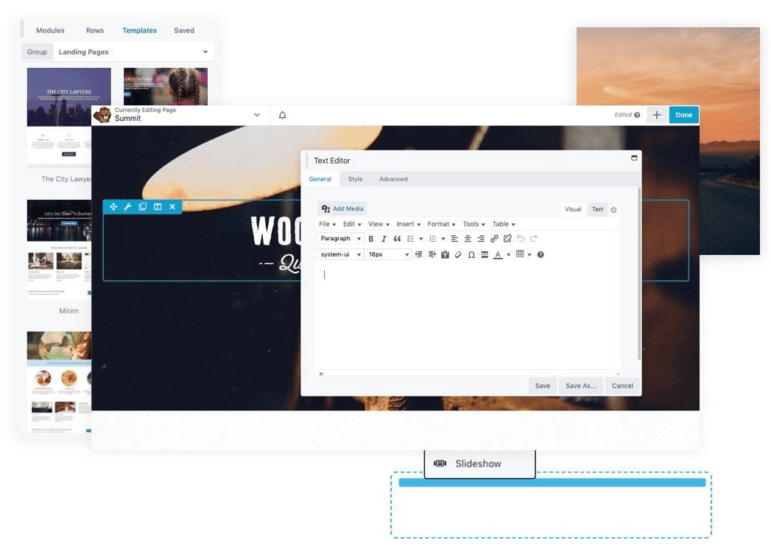 With a combination theme and visual builder, Beaver Builder has more to offer than just a cute mascot. Together, Beaver Builder's theme and visual builder create a customizable framework for users to explore and develop, all without needing to know any code. Plus, Beaver Builder comes with a variety of integrations and developers guides, providing even more options for those launching their first website.
6. Brizy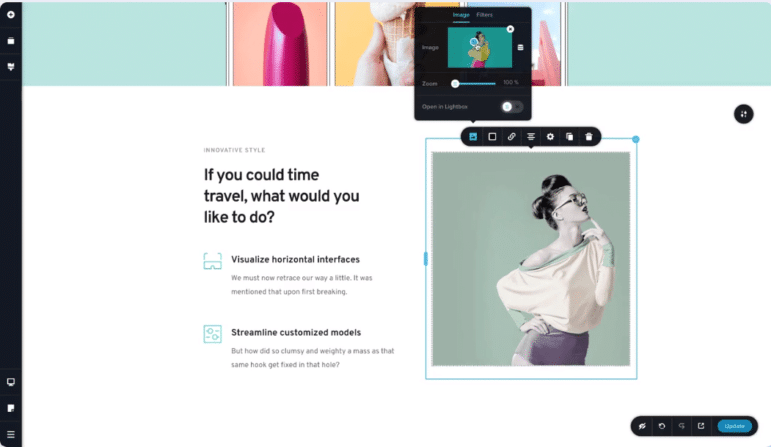 Brizy aims to be as easy-to-use and intuitive as possible, making web design easy-breezy. This doesn't mean that Brizy is overly simplistic. Instead, Brizy prioritizes convenience, allowing users to simultaneously adjust multiple elements at once, easily change block types, and restore previous save states without issue.
7. Avada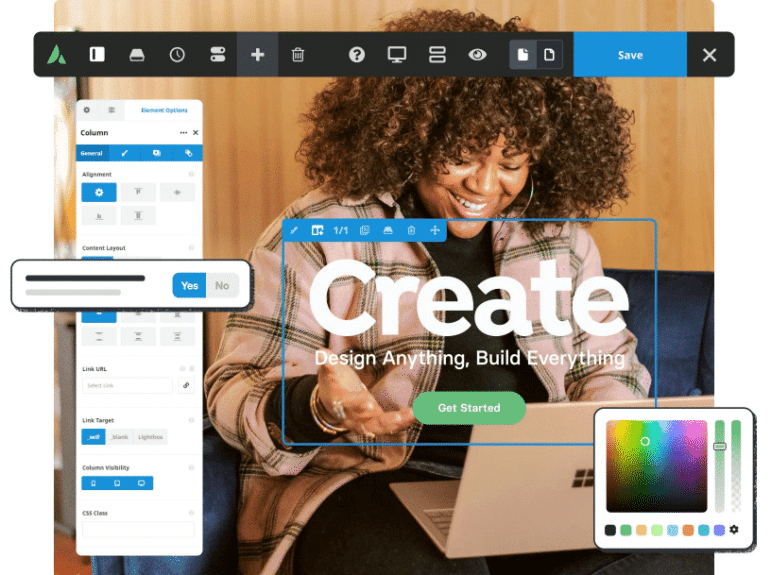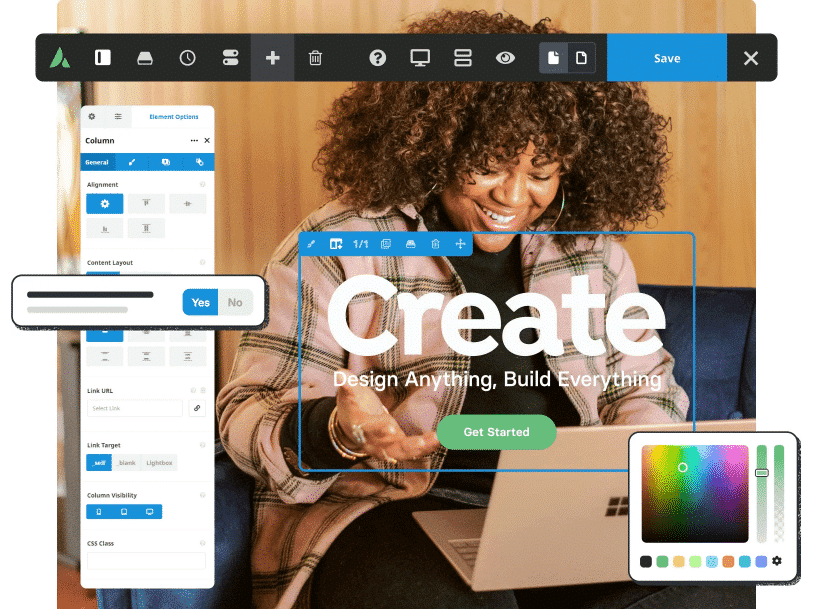 Created by ThemeFusion, Avada is an all-in-one website builder that aims to be user-friendly for beginners and professionals alike. Those new to web development can use one of Avada's 84 pre-built themes and trust that it will be mobile-friendly. Meanwhile, professionals will enjoy the streamlined workflow and critical CSS.

5 Top WordPress Plugins for Nonprofits
Modern websites engage visitors not just with intuitive layouts and beautiful designs (though those definitely help!), but also interactive, dynamic content. So how can you bring modern functionality to your nonprofit's site? Easy: with plugins.
WordPress plugins are downloadable features you can add through your website's admin to provide additional functionality. Plugins can create all sorts of things from interactive maps to pop-ups to backend organizational tools. Coming back to the house metaphor, if the theme is your structure, then plugins are your accessories, like a couch or curtains.
WordPress has a lot of plugins to choose from. However, make sure to look before you hit download, and research each plugin before adding it to your site. Sometimes there is a better, faster way to accomplish what your website needs without a plugin, and some plugins, unfortunately, are scams in disguise or are no longer supported and don't work.
But don't swear off plugins for good! They can do a lot to make your site more engaging and valuable. Be sure to read reviews carefully and look for plugins that come highly recommended, like these:
1. Better Section Navigation Widget


Navigation is key to a successful website. After all, your users need to know how to get to your content, forms, and donation page in order to interact with them! The Better Section Navigation plugin does exactly what its name suggests and improves your navigation by:
Creating a sidebar navigation menu.
Allowing you to decide which subpages get displayed under headers.
Enabling you to display pages in any order.
Before getting too far into your website navigation setup, consider your users' needs so you can prioritize high-value pages. For example, you might decide that your "About" page needs to be a menu item, but that your visitors may also want a direct link to your current programs. In this case, it would make sense to display the link to your "About" page and a link to your programs page under it.
2. Media Deduper

You might think of plugins primarily as flashy frontend engagement tools for your visitors to play with. However, backend plugins can be just as exciting when they save you time, clean-up your files, and make your website easier to manage.
The Media Deduper plugin has a simple purpose: delete duplicate and unused images. Images are great, but they can seriously slow down your website, especially if your library is bursting at the seams with image files you're not using. With the Media Deduper, these images can be easily identified and removed.
Deduper also has features to help with accessibility. It will identify all images on your site without ALT tags, allowing you to quickly and easily update that content.
3. WP Popup


Popups get a bad rap for being annoying or full of spammy, promotional content. But, like any other website element, popups are tools that can be used for bad or (in your nonprofit's case) for good. With great popup power comes great popup responsibility.
WP Popup doesn't just throw popups at your visitors before they know who you are. This plugin gives you control over who sees it, where they see it, and, more importantly, when they see it.
With a plugin like WP Popup you can create strategic popups to drive engagement. Here are a few scenarios where a popup might be just what you and your website's visitors want:
After a donation is made. Donation forms should be kept short to prevent form abandonment. However, this means you may not be able to ask all the questions you wanted. But if you schedule a popup to appear after a donation is already completed, your supporter will definitely see it and it won't interfere with their initial donation.
When a visitor scrolls to the bottom of your programs page. When does a visitor decide they want to donate? While it differs for each person, you can probably guess that many will make their choice after reading through your programs, initiatives, or other information about all the fantastic work your organization is doing. In this case, a popup to donate might just be the timely call to action they need.
When a visitor checks for new events. If a visitor navigates to your event calendar, they likely want to see what's coming up. In this case, your popup will show them exactly what they need and provide directions on how to get their ticket.
The WP Popup plugin has a few other benefits, such as the ability to customize the popup's design, determine if a visitor should only see a popup once or multiple times, and prevent popups from appearing on your mobile view, which can hurt your site's search enging performance.
4. Widget Menuizer


WordPress comes with menu tools to help your website's visitors navigate your page. However, these default tools can be a little lacking, only allowing plain text and often become a long, long list of links. If you want to spice up your menus with images or even dynamic content like your most recent blog post, consider the Widget Menuizer.
After adding this plugin to your website, you'll be able to view an updated menu management screen under Appearance > Menus that features new tools such as the ability to create a new element. From there, you design your menu options and them to your navigation the way you would any other item.
5. Gravity Forms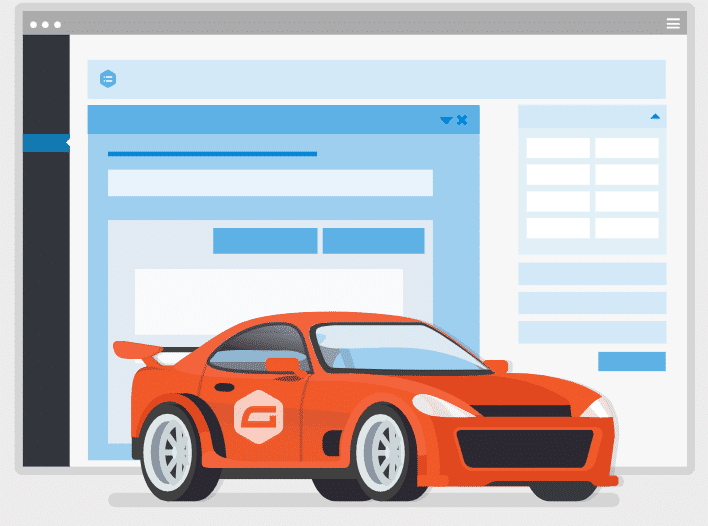 You already know forms are a key part of your nonprofit's website. After all, how else will you collect donations or get volunteers to sign up for your programs? On WordPress, Gravity Forms is a popular plugin because it makes form building super easy for all organizations, including nonprofits. Once downloaded, Gravity Forms allows you to:
Build custom forms. Gravity Forms comes with a drag-and-drop tool and many basic, default information fields. From there, you can move page elements around to create a custom form.
Make the most of your forms' space. Gravity Forms' column layout is designed to save space, allowing you to add more page elements without increasing the length of your forms.
Add integrations. You aren't just limited by what comes with Gravity Forms. The plugin integrates with many popular and must-have web tools such as MailChimp, Paypal, and Signature. Here at Cornershop Creative, we've built our own integrations with nonprofit-specific applications, such as Luminate and Salsa.

Gravity Forms is such a useful plugin that many professional web design consultants recommend downloading it as a base for creating all of your forms. From there, you can customize your form pages further, but Gravity Forms creates an unbeatable framework.

WordPress for Nonprofits: 4 Tips
With your theme, visual builder, and plugins at the ready, you're ready to get started on your site. But before you go, we've put together some of our top tips for how you can start your website off on the right foot:
1. Consider a custom theme.
Pre-built themes have their pros and cons. Among the pros, you will get your website built quickly, and, when compared to a custom theme, they are relatively cheap. However, for many nonprofits, a custom theme can be pretty compelling, especially when they include:
Website structured around your exact needs. Most pre-built themes tend to be a one-size-fits-all situation. By contrast, a theme built just for your website will include all of your must-have features, branding elements, and other design choices.
SEO-friendly by default. Maintaining SEO (search engine optimization) best practices is a continual responsibility, and more advanced WordPress plans come with their own arsenal of tools. With a custom website, you can make sure you're technically SEO-friendly right out of the gate.
Long-term support. Ideally, your theme designer won't just be a one-off exchange of a website for payment. Most website developers (at least the good ones!) will be long-term partners you can rely on for continual maintenance and updates, giving you a resource you can fall back on again and again. Plus, they'll get to know all of your needs and can take a personalized approach to designing your site.
When choosing your custom theme developer, research what kind of organizations they usually work with and try to find one familiar with nonprofit web design. Then, check out their client portfolios to see what kind of work they've done in the past. If you like their style, it might just be a perfect match!
2. Assess plugins and themes for security risks.
Not every plugin is legit, and even some that are real may do more harm than good. Before downloading a plugin, ask yourself the following questions:
Is the developer still updating this plugin? Developers need to release regular updates of their plugins to fix bugs and maintain the plugin's security. If a developer is no longer supporting their plugin, it might be out-of-date, making it a potential security risk.
Does my website need this plugin? Sometimes there are easier ways to add a feature to your website than a plugin. Plugins can change your website in unique, helpful ways, but some of them can also slow down your website or even make it harder to use. Research your options thoroughly, and make sure that getting a plugin is the right choice.
Are there reviews and ratings for this plugin that seem real? Often, reviews and star ratings are your best bet for determining if a plugin is a scam. If a plugin has no reviews or reviews that seem suspicious, such as repeating copy-and-pasted spam messages, you'll likely want to try something else.
Think of this as just a precaution. There are plenty of good plugins out there, but like all elements on your website, plugins are a tool that requires research and careful application to perform successfully.
3. Get inspired by other nonprofit WordPress websites.
When you start designing your nonprofit's site, don't be afraid to look at other sites in the sector! Check out your favorite nonprofit websites and look for resources that compile particularly effective nonprofit websites that use WordPress.
From there, take a closer look at key features both from the perspective of a nonprofit leader and as a supporter trying to accomplish a specific goal, such as making a donation. Doing so will allow you to see how they are facilitating their users' experience, why their page layouts are effective, and if there are any other design strategies they are using that you might not have initially considered.
4. Partner with a web designer.
Nonprofit web designers understand the unique needs of organizations like yours. If you need help developing your website, a company that specializes in nonprofit websites can provide insights relevant to your current problem and become a long-term partner.
The right company will be a resource you can rely on over and over again. They'll understand the nuances of your website and nonprofit's goals and work alongside you to troubleshoot problems, make recommendations, and discover new opportunities for improvement — all of which are our goals here at Cornershop Creative.
---
Wrapping Up
As the most popular website builder on the internet, WordPress has an extensive ecosystem of helpful resources and plenty of tips and tricks for putting them to use. However, keep in mind that what works with for-profit organizations may need a few adjustments to fit with the unique goals of your nonprofit's website.
If you want to learn more about WordPress for nonprofits, you can get started with these resources: