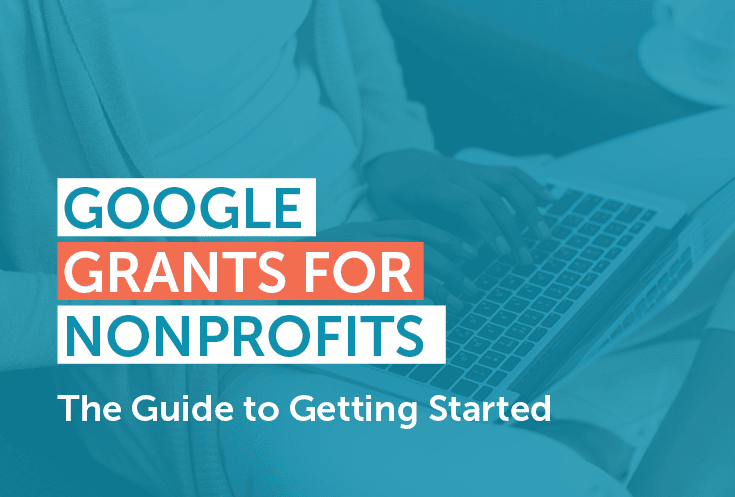 There are lots of recommended ways to increase the visibility of your nonprofit organization online. You can drive traffic to your website with email and social media campaigns, and you should already be working to improve your SEO. These methods are effective, but nothing comes close to the visibility that ads on a Google search page can offer—and did you know you can get those ads for your nonprofit for free?
It's true! Google offers grants that provide eligible nonprofits with $10,000 in advertising each month! 
To help you make the most of this opportunity, we've created this guide to getting started, which will tell you all about the Google Ad Grants program. Read on to learn about the following:
Since we like to go above and beyond at Cornershop, we're also including plenty of tips for creating your ads, tracking their effectiveness, and maintaining your eligibility for the program. Let's jump in!

What are Google Ad Grants?
Google Ad Grants are an in-kind donation from Google that gives the grantee a $10,000 Google Ads (formerly Google AdWords) budget each month. The grant money is used to bid on relevant keywords that are used in ads to promote your nonprofit.
The ads created through Google Ad Grants show up on the top or bottom of the page in search results, so it is a great opportunity to get your nonprofit campaigns noticed.
What are the benefits of Google Grants for nonprofits?
Google Ad Grants make it possible for any nonprofit, even those with tight budgets, to place ads and compete for attention on search engine results pages. Here are just a few of the awesome benefits for your organization:
Free advertising: Qualifying nonprofits are automatically given an advertising budget of $10,000 a month.
Increased engagement: By setting up targeted ads for your most important campaigns and issues, you can catch the attention of more potential donors and volunteers when your ad comes up first in their search results.
Help supporters find you: When people perform a search using the term you have targeted in your ad with your Google Grants budget,

they could see your organization listed among those results

. This is a great benefit to you and to the people who want to be a part of what you do, but wouldn't otherwise know your organization is out there.
Track campaign progress: Each advertising campaign you set up in your Google Ad Grants account can be separately tracked, monitored, and refined. You can use this data to improve your ads, and also to refine the wording on your website to improve SEO.


Google Grants Eligibility: Who is eligible for Google Ad Grants?
Most 501(C)(3) nonprofit organizations are eligible for the Google Ad Grant, since the main requirement is to have a valid charitable status in the country you are applying from. You'll also need to be registered with Google for Nonprofits and TechSoup, and agree to follow all of the Program Policies.
There is also a Website Policy, so your organization has to have a functional website that meets the following requirements:
The domain of the website must be owned by the organization.
You need a high-quality website that provides a good user experience.
The main purpose of the website cannot be commercial activity. This means you can still sell things on your website as a fundraiser; it just can't be the main reason for the website.
Unfortunately, some types of organizations are not eligible for Google Grants. These include:
Can your nonprofit lose Google Grants eligibility?
Organizations can lose their eligibility for Google Ad Grants if they do not keep their account in good standing. This means you have to meet the minimum standards listed above and:
Stay active and monitor the account for performance.

Keep the account active by logging in at least once per month and updating your campaigns at least once every 90 days.
Maintain a minimum 5% click-through rate for your Ads account.
Set up conversion tracking in Google Analytics and link the data to Google Ads to prove you are getting at least one conversion a month.

Create an ad structure that meets these minimum requirements:

Two ad groups per campaign
Two ads per ad group
At least two sitelink ad extensions per account. Sitelink extensions are

text links to your website that can appear below ads

.
Create relevant ads that are geo-targeted, which gives you a better chance of reaching your audience.

Choose high-quality keywords and share performance data with Google.

Avoid overly broad keywords by choosing keywords with more than one word. The one exception to this rule is branded terms, like the name of your organization.
Set your Ads account to automatically pause keywords that have a quality score of one or two. You only want to use words that score three or more.
Complete the annual performance survey when it is emailed to you.
There are a few other rules about the types of pages you can link to, limits on political activity, and an absolute ban on hate speech of any kind. Read the full Ad Grants Policy Compliance Guide for all of the details.


How to Apply for Google Grants
To apply for a Google Ad Grant, you'll first complete the application for the Google for Nonprofits program, which requires verification through TechSoup. You will also need to verify your Google account and offer specific information for your organization. The information you provide will be verified, and a decision will be made and emailed to you.
Once accepted into Google for Nonprofits, you can apply for a Google Ad Grant. Since Google Ad Grants has specific requirements for approval, and these requirements are so well documented, the best thing you can do is put in some prep time before you apply. Here are the steps you need to follow: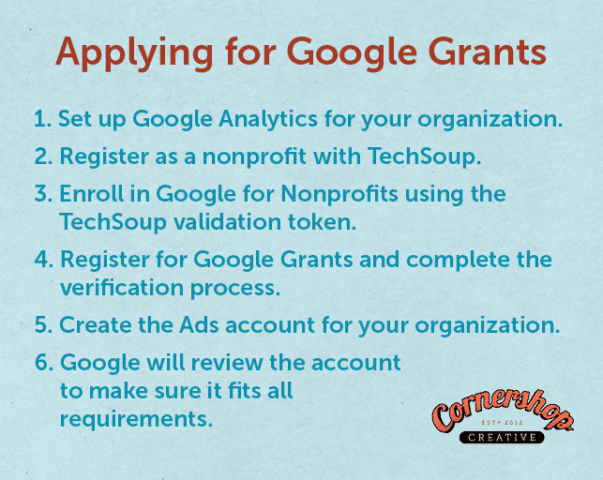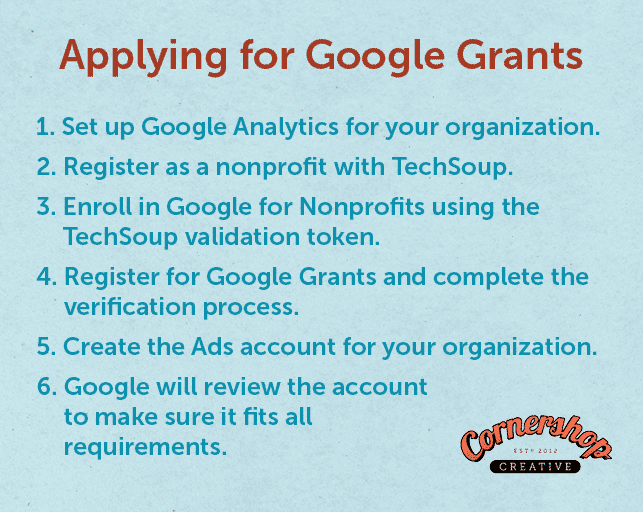 Set up Google Analytics, including conversion tracking, for your organization. This is really something you should do anyway!
Register as a nonprofit with TechSoup. You will need to provide the verification token from TechSoup when you apply for Google Grants.
Enroll in Google for Nonprofits using the TechSoup validation token. This is done as part of the application process as well.
Create the Ads account for your organization

, but do not enter payment information into the new account

. Remember you will need at least two campaigns, each with two ad groups, and two ads in each group (six total) to start.

Register for Google Grants and complete the verification process.

Google will review the account to make sure it fits the requirements.


Getting Started with Your Google Ads Account
It takes a lot of work to set up a great Google Ads account, but it's worth the effort to do it right since quality ads will increase the visibility of your organization. Make sure you set aside plenty of planning time, and don't hesitate to call in an expert to help you get it just right.
Create Ad Group Campaigns
To keep your Google Ad Grant eligibility, you need at least one campaign with two add groups in your Ads account, but why stop at the bare minimum? Most organizations have large goals, like upping the enrollment in certain programs, getting more volunteers, growing your mailing list, and of course, collecting those all-important donations. You should create an ad group for each of the major goals in your organization so that you can really take advantage of your Google Ad Grant advertising budget.
Define Your Audience and Choose Keywords
Once you decide what campaigns you want to advertise, you need to really think about who you want to advertise those programs to. If you've clearly defined the audience for each campaign, it will be much easier to choose keywords that are a good fit for that audience.
To choose your keywords, think of the terms that the people will use to search for organizations like yours. Remember that one-word keywords or keywords that are too broad or generic are not allowed for Google Grant accounts (and they aren't going to help you much anyway), so you should be very specific with your keywords.
For example, people aren't likely to open up a browser and just search "volunteer." We all know by now that those search results aren't going to show us what we actually want! Instead, people are more likely to search for specific things like "outdoor volunteer opportunities near me."
To create the ad groups, sort the keywords you have chosen for the campaign so that only highly-similar terms are together. Now each smaller group of keywords is ready to become an ad group! Assign a primary topic title to each group to create a label for the ad group and you're done.
Write Ads for Each Ad Group
Finally, after all of that sorting and planning, it is time to write the ads.
Be sure to include exact keywords from the list you created. Draft your ad using simple language and a single call to action. Don't overthink it—try to grab your searcher's attention first, then follow with a clear message about what it is you're offering or asking.
Use the Responsive Ads ad type to make the best use of Google Ads algorithm. A responsive ad contains variations in headings and descriptions that Google can mix and match to display the match they think the individual user will respond to. They are a great way to increase that click-through rate.


6 Tips to Make Most of Your Google Ad Grant
To have a really effective ad campaign, you will want to use all of the features available and make sure you are totally set up for success. We put together these six tips to get you going.
1. Prepare your landing pages to successfully convert site visitors.
An ad can only help you if the landing page it takes your audience to is set up for success. At the very least it should have a relevant headline that matches the wording in the ad, a high-quality image, a form to capture information, and details of your campaign.
But why stop there? You can really capture the attention of your audience by going a little further with:
Rich multimedia. People love great visuals, so videos or slideshows are big attention grabbers. Let people see your impact by showing them the work they can help you do by getting involved.
Social sharing buttons. Remember to make it easy to share and promote your campaign!
Proof elements that decrease giving anxiety. Do you have testimonials from people you have helped or great images of the work you do? Show them off.
Remember to keep your messages brief and easy to read. Write carefully for your audience and watch out for spelling errors and typos that could hurt your credibility. Make sure you also update your landing pages regularly and perform routine maintenance checks to keep them functioning right and looking great.
2. Use ad extensions.
Ad extensions allow you to put more information into your ads, which can help increase conversions. Here are some of our favorites:
Sitelink extensions: Add more links to your ad to help direct people to different pages of your website.
Callout extensions: Add more text to your ad to give more details about your organization, campaigns, or impact. This text is displayed under the main ad text and is often similar to a call to action.
Call extensions: Put a phone number next to the URL at the top of the ad.
Location extensions: Put your address at the bottom of your ad.
There are plenty of other extensions that might be a great fit for your campaigns, so spend some time getting familiar with them.
3. Maximize conversions.
Google Ad Grants have a bid threshold of $2, which sometimes makes it difficult to get the exact keywords and placement you were hoping for. Luckily, you have the option to choose to maximize conversions! Setting a campaign to maximize conversions allows keywords within the campaign to exceed the $2 bid threshold which means it will cost more, but will also help your organization be more competitive in the bidding process.
4. Create different types of ads.
One of the best ways to connect with your audience is to vary your ad types so that your messages are structured to fit the searcher's needs. There are quite a few different ad types to choose from, and you should vary your ads often.
Responsive search ads (RSA): With RSAs, you write lots of headlines and lots of ad copy variations, and Google will choose the best combination to display based on what aligns with the individual searcher's interests.
Video ads: These ads will display on partner websites and Youtube, allowing you to expand your reach and catch the attention of new people.
Call-only ads: These ads are only run on mobile devices. Instead of trying to get people to click a URL, the main purpose of these ads is to get people to call the number in the ad.
5. Track meaningful conversions.
Once your ads are all set up you will want to spend time tracking conversions. Knowing how many people are responding to your ads and how they are responding is the key to refining your campaigns.
Set up conversion tracking in your Ads account and Google Analytics to get a complete picture of the effectiveness of your campaigns. Make sure you are tracking all of the actions people are taking on your landing pages and around your website as goals.
Of course, you will want to track donations since that will help you refine your fundraising strategies. We also recommend you track inquiries that come through in contact forms, mailing list signups, and any other actions that signal audience engagement.
You should review this information often, at least once a month, and use it to decide which ads to continue with and which ones to change. You should also look for new ad ideas and keep adding to your campaigns and ad groups.
6. Partner with a Google Ad Grant agency.
It takes a lot of time to plan, create, track, and refine ads. We all know that sometimes there is just not enough time to do all of this on top of your other duties within your organization, not to mention the time it takes to learn everything! You can reduce this strain and still take advantage of this great Google Grants opportunity by partnering with a Google Ad Grant agency.
Here at Cornershop we have an entire team of people who already know how to refine website pages, do keyword research, and set up ad campaigns. We can help you get started by making sure your website fits all the requirements, planning and setting up your campaigns, or even running the entire "ad-venture" from start to finish!
---
So now you know how Google Ad Grants work, how to set them up, and the rules you need to follow to keep it going. By now you're probably brimming with ideas about how Google Ad Grants can help increase the visibility of your organization. We hope you can use this information to take advantage of this fantastic opportunity, and that it exceeds your expectations!
Need more ideas for getting your nonprofit noticed online? We have lots! Check out these resources: