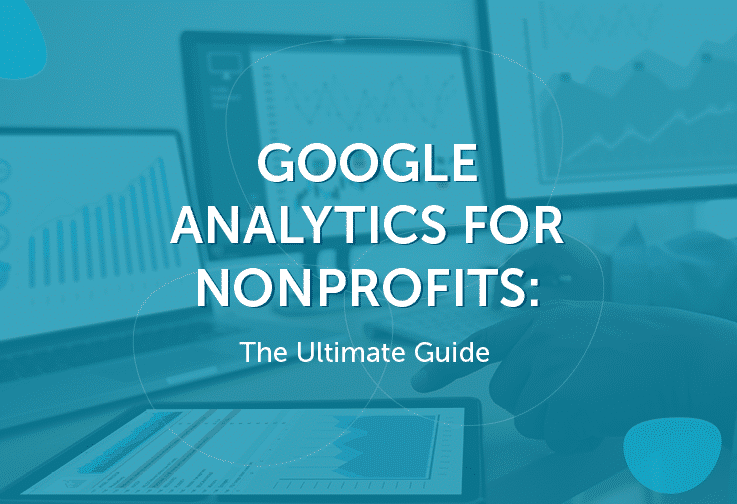 You may have heard that Google Analytics is a powerful tool for gaining insights about your website and digital marketing strategies. But Google Analytics for nonprofits? How can Google Analytics work for your organization and its website?
While Google's Universal Analytics, the previous rendition of Google Analytics, is being phased out in 2023, Google Analytics 4 (GA4) is alive and thriving! So we'll focus on this current version of Google Analytics throughout this guide. Let's get into it!
Google Analytics: An Overview
GA4 is a robust tool that provides a plethora of information about who is visiting your nonprofit website and what they're doing once they land there. But most importantly, it is easy to use, customizable, and allows for real-time, automated data collection.
What is Google Analytics?
Google Analytics is a data collection and analysis tool. When connected to your organization's website, it collects information about the people who visit your site, including things like the channels and sources that they come from, the pages that they view, and the actions that they take on your site.
Within the tool, all of this website data is available to see in tables or line graphs, and you're able to use filters to dig down into numbers about more specific facets of your audience. For example, you could see what pages donors viewed before making a donation.
How can Google Analytics help nonprofits?
Google Analytics can provide insight into who is visiting your nonprofit's website and how you can optimize your site for the people actually using it. More specifically:
It encourages you to set and track goals for your website.
It helps you understand how effective your online marketing efforts are.
It empowers you to make data-driven decisions to effectively maintain your website.
It helps you measure ROI.
It's a free tool!
Understanding Google Analytics Terminology
Half the battle in becoming acquainted with Google Analytics is learning the terminology. Once you've mastered certain metric names and what they mean, you'll be able to more easily navigate and understand the Google Analytics dashboard. Here is a quick glossary of the ones you'll find most helpful (or check out this much more comprehensive glossary):
Dimensions: Attributes or characteristics of your users and their interactions with your site. Examples include Browser, Exit Page, Screens, and Session Duration.
Metrics: Similarly, metrics are individual elements of a dimension that can be measured as a sum or a ratio. Examples include Pageviews, Users, and Pages/Session.
Events: A custom interaction (or attribute) on your website. For example, tracking plays of an embedded video or clicks on a link.
Conversions: Conversions let you measure how often users take or complete specific actions on your website. For example, subscribing to your email newsletter, submitting an inquiry, or registering as a member.
Goal setting is one of the most helpful ways to use Google Analytics beyond its many built-in tracking tools because it allows you to customize the types of conversions you want to track.
Universal Analytics vs. Google Analytics 4
As we mentioned previously, Universal Analytics is being replaced by Google Analytics 4, the newest version of the tool. In July of 2023, Universal Analytics properties will stop collecting new data so you'll want to be set up with your new GA4 account well before then.
But what's the difference between the two? Google Analytics 4 was created to enable users to track data on both apps and websites within the same tool. With Universal Analytics, you'd need to track app data and website data in separate places.
In addition, Google made some improvements around user journeys with GA4, allowing you to see a more complete picture of a user's actions across sessions, and added new metrics and reports. GA4 also offers more data privacy for website users.



Putting Google Analytics to Work for Your Nonprofit
As with any digital tool, the first step is to sign up, after which you can customize your GA4 setup to prioritize your organization's most important goals.
How to Get Started with Google Analytics for Your Nonprofit
To get started, create your Google Analytics 4 property, take your account structure into consideration, and follow the Setup Assistant to build out your account.
Once that initial setup process is done, there are a few customizations you can make to increase the value of the data for your organization: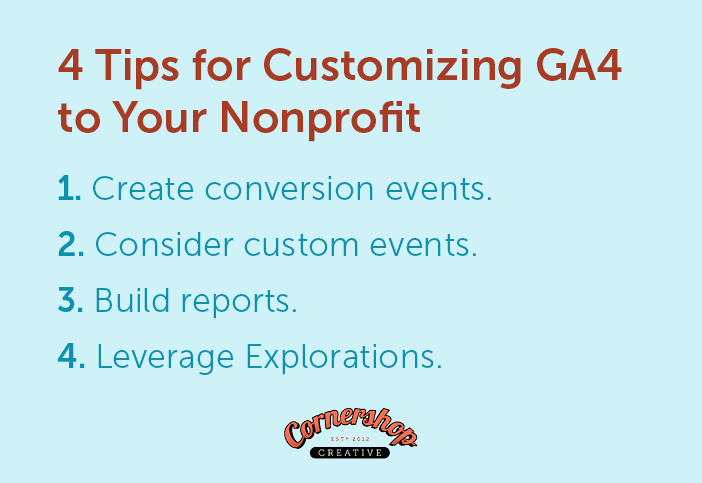 The sky's the limit when it comes to customizing your organization's data in GA4, empowering you to base your strategies on real results.
For example, you could create a conversion event for donations to your annual appeal donation form and a custom event for views of that specific form. An Exploration could then show an easily digestible picture of your full annual appeal campaign, including information about supporters who donated and those who saw the form, but opted not to give.
Using Insights from Google Analytics to Improve Your Site: 4 Tips
There are plenty of insights you can gain from Google Analytics to steer your marketing strategies and improve your site for the people in your community that are actually using it:
Make your site more engaging by pinpointing pages with low engagement rates and adding elements to snag visitors' attention.
Level up your SEO strategy with data about visitors who are coming to your website from search engines, including popular landing pages that can be replicated for other important keywords in your plan.
Optimize landing pages by analyzing pages with high conversion rates and replicating that success on popular landing pages.
Boost donations with insights from e-commerce tracking, optimizing your donation flow based on donation conversions with the highest values for your organization.
Essentially, if you have a question about your website that can be answered with data—from "How many people actually use this tool we put so much time into?" to "How did the campaign promotion go?"—Google Analytics can help you answer it.



Other Google Products Your Nonprofit Can Use to Succeed
Aside from Google Analytics, there are other Google products that your organization can use to move your digital marketing (and mission!) forward. And since these tools are all freely available through Google, they can be integrated with your website and Google Analytics property to work together and make the most of your efforts within each individual tool.
Beyond Google's own tools and programs, aim to connect as many of the tools that your organization uses for marketing and communications purposes to your Google Analytics account to streamline and organize all of your data. You can learn more about what's possible with Google Analytics integrations.



How Cornershop Creative Can Help Nonprofits Use Google Analytics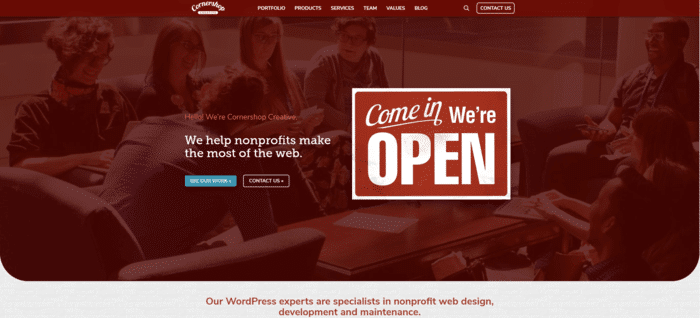 Need some help making the most of Google Analytics on your nonprofit website? So much is possible with Google Analytics, but it all depends on setting up your account in a way that prioritizes your nonprofit's most important goals.
If you're feeling intimidated by the set-up process, our team can help you strategize and implement a Google Analytics setup to easily find answers to your wildest data questions.
And after the setup process is complete, our team can also step in to prepare reports, analyze results and make website recommendations based on those results.
If you want to use data to inform your nonprofit's strategies, we can help you do that with Google Analytics.
---
Google Analytics can be a bit of an intimidating tool, but spending some time learning about the tools and techniques to get the most out of it is time well spent. There are many trainings out there, but Google Analytics offers its own free Analytics Academy that goes over all the basics you'll need. Plus, they have an advanced course to help you become a pro!
By following the tips outlined in this guide, you'll be well on your way to not only getting Google Analytics up and running on your site but also using that data to help identify improvements you can make to your site to increase traffic and engagement from your users.
To learn more about how you can improve your nonprofit's website with data, check out these resources: