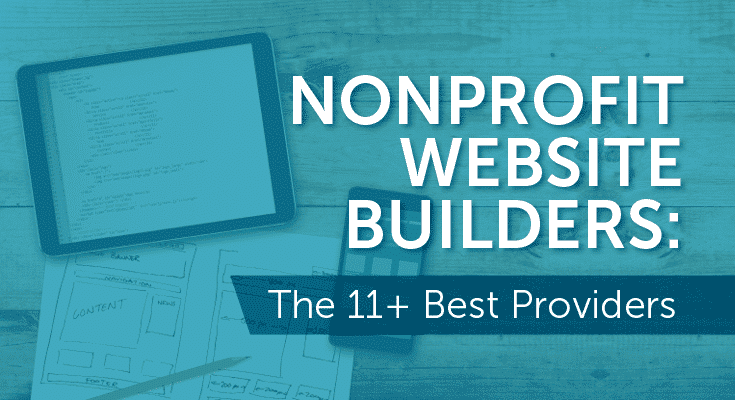 Modern and accessible websites have become a must for nonprofits hoping to engage with supporters online. While few of us are web design experts, your nonprofit can still have an engaging, dynamic website with assistance from the right nonprofit website builder. 
Online platforms such as WordPress, SquareSpace, and Wix allow nonprofits and other organizations to build their own websites. Each of these website builders focuses on different aspects of website creation and has their own style they'll bring to your website's design. 
To help your nonprofit compile a short list of potential website builders and evaluate your options, this guide will answer foundational questions about nonprofit website builders and recommend eleven of our favorite options:
As you explore your options, consider the pros and cons to each service. For example, a free nonprofit website builder may save your nonprofit upfront costs but have limited features. Explore other nonprofit websites to have a solid idea in mind of what you want from your nonprofit website builder, especially in terms of functionality, before you start reviewing your options.
Nonprofit Website Builder FAQ
On the surface, it may be difficult to understand how website builders differ from one another. While each website builder can provide answers to questions about their specific services, it's a good idea to enter these conversations with foundational knowledge about what a website builder does and what you should be looking for before making your selection. Doing so will help you differentiate each website builder, so you can make the best selection for your nonprofit.
Here are a few common questions about nonprofit website builders you should know the answers to:
What is a nonprofit website builder?
Website builders are content hosting platforms that allow your nonprofit to present, arrange, and manage your content for an online audience without needing to use HTML or any code. Website builders are also commonly referred to as content management systems or CMSs.
What services do nonprofit website builders offer?
Most website builders that nonprofit use are general website builders, meaning they offer all the basics most organizations would need for creating a new website. 
Beyond basic content organization and management, website builders diverge in offered services. Some offer additional security and maintenance, and others even provide design consultation and website creation services.
What are the benefits of using a nonprofit website builder?
A modern website design helps leave a positive impression on potential donors, and the right nonprofit website builder can help you create an online presence that does just that, without needing to know code. Plus, most nonprofits will need to construct a website in order to receive online donations, meaning that some kind of website builder and content hosting platform is a necessity. 
Website builders also make updating and managing your content easy. With the right website builder, your team can construct a website without needing to reach out to a developer or learn how to code. Then, once your website is built, your nonprofit's website builder will allow you to edit your content and make updates with a visual builder rather than writing new code.
Additionally, website builders have more robust security and technical support services than small organizations can reasonably procure on their own. Platforms like WordPress continually update their services and security measures, ensuring your website is never left vulnerable.
What are the drawbacks to using a nonprofit website builder?
While theoretically your nonprofit can use just a website builder to create a website, users with no web design expertise will likely have trouble building an effective website. By contrast, professionally designed websites made by nonprofit website consultants will be custom-made for your nonprofit, fitting both your specific needs and unique brand voice. Any good nonprofit website consultant will design a beautiful website and ensure that you can edit all aspects of the website, without needing to come back to that developer.
What features should you look for in a nonprofit website builder?
Most nonprofit website builders have essential features all nonprofits need to create a successful website. However, there are a few you should take note of for each potential website builder you assess. Here are three must-haves for all growing nonprofits: 
User-friendliness.

Your own website shouldn't be a mystery to you. Examine each nonprofit website builder's backend user interface to choose an option that allows for customization without sacrificing usability. 

Scalability.

Massive updates, rehauls, and switching website builders all take considerable time and energy, and each of these problems can occur if your website builder isn't equipped to scale with your nonprofit's content output. Make sure you select a builder that not only serves you now, but will serve your organization well into the future.

Multimedia support.

Images, videos, and interactive content give your website a bit of extra flair that can help your nonprofit stand out. Website builders often take unique approaches to what kinds and how you can display media on your website. Explore the respective advantages and restrictions of multimedia content on each website builder you evaluate. 
As you compile a list of potential nonprofit website builders, determine both your budget and must-have features ahead of time. Then, make sure to write down whether each candidate meets your nonprofit's needs. That way, you'll be able to quickly assess multiple website builders without needing to remind yourself why a candidate did or didn't make the cut.

The Best Nonprofit Website Builder

WordPress 
Overview
WordPress is the most popular website builder with more than 42% of websites on the internet using the platform and for good reasons. With WordPress's extensive library of plugins and customization tools, no two of those billions of websites are exactly the same.
For your nonprofit, WordPress offers the ability to customize nearly every aspect of your website to present your content how you want to. Plus, WordPress's extensive support network of plugin creators and design consultants ensures that even nonprofits without coding know-how can still build a beautiful, dynamic website. 
Features
Nonprofits using WordPress can look forward to the following features: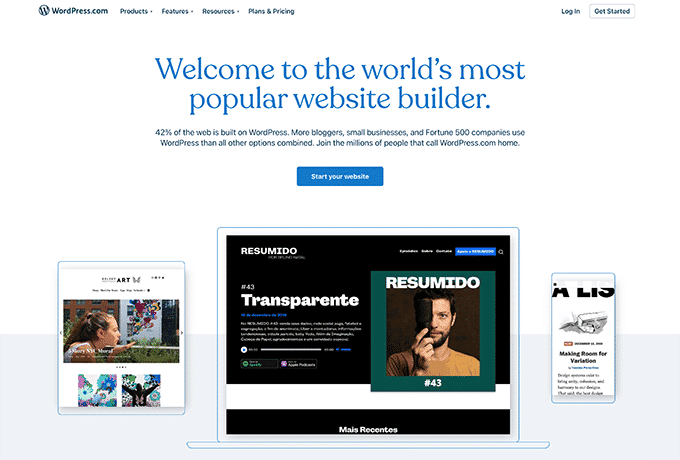 Customizability.

WordPress's block editor provides simple customization tools for less tech-savvy nonprofits, allowing them to tailor their pages to their unique needs. 

Widespread support.

With millions of active users, WordPress boasts one of the largest online support communities among website builders. Both web consulting firms and dedicated individuals make and upload new content for WordPress websites daily. 

Wide range of themes.

WordPress has hundreds of themes, and new ones are added to their catalogue every week. 

Visual Builders.

The large selection of WordPress visual builders is one of the reasons why every website is unique. Gutenberg, the default block editor, will meet most nonprofits' needs, but you can explore your options with builders such as Elementor Pro, WP Bakery, Beaver Builder, Oxygen, Brizy, FusionBuilder, and more.
Among nonprofit website builders, WordPress offers unbeatable customization options and support, making it one of the best. 
Price
WordPress is a free open-source platform that your nonprofit can get started with quickly though you will need to pay for hosting, plus possible premium themes and plugins (that usually cost less $50 each). WordPress.com, the hosted version of their platform, also offers a wide range of plans from their free solution to their eCommerce plan for $45/month.
Free Nonprofit Website Builders
While WordPress is the best nonprofit website builder available, there are other builders for nonprofits interested in researching all of their options. These solutions are available for nonprofits looking for a free CMS plan, though some of them might have limited features when compared to their paid plans. 
Nonprofits interested in having a greater web presence may need to look elsewhere to find their perfect solution (like WordPress), but feel free to explore the free solutions out there!

Weebly
Overview
Weebly is a free nonprofit website builder that offers comprehensive ecommerce support to organizations using their platform. As part of the Square product suite, nonprofits using Weebly won't need to look for external payment processors to start raising donations through their website. 
Features
In addition to its payment processing features, Weebly offers nonprofits: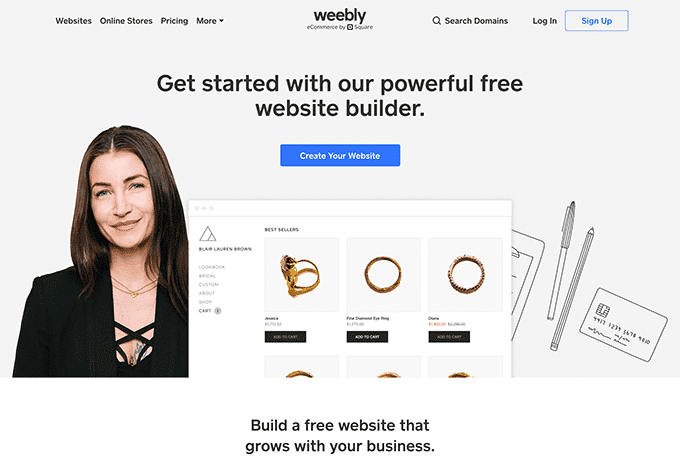 Drag and drop editor.

Weebly's user-friendly drag and drop editor allows nonprofits to design and customize their websites without any technical or coding expertise. 
Video backgrounds.

Nonprofits looking to make truly dynamic websites can use Weebly's video backgrounds to add motion to their pages. 

Custom headers.

Make your headers stand out by accenting them with videos and slideshows. 
Nonprofits looking for a user-friendly, comprehensive website can find what they're looking for with Weebly. 
Price 
Weebly's packages include the website builder, eCommerce tools, marketing, and support. The prices range from a free option to their $26/month Performance plan. 

Wix
Overview
Wix aims to help nonprofits using their website builder grow their organization. Alongside basic website features, Wix equips nonprofits with growth tools to help increase their traffic, with customized Facebook ads to live chats and other lead capture features.. 
Features
Wix provides nonprofits with a variety of tools, including:
Logo maker.

If your nonprofit is still brainstorming potential logos, consider using Wix to create a professionally designed logo to showcase on your new website. 
SEO toolkit.

Wix's site structure is optimized for search engines, putting your website in a strong position to rank higher in search results. Plus, Wix also gives users full control over meta tags to make sure you're targeting the right keywords for your nonprofit. 

Free web hosting.

Wix's reliable web hosting has a 99.9% uptime rate and automatic back-up features, meaning you'll never need to worry about losing access to your website. 
Plus, Wix provides organizations using their website builder with a variety of templates, allowing your nonprofit to create a professional website that's ready to help grow your organization. 
Price 
Wix's website plans have a free plan, as well as a $14/month Combo plan, $18/month Unlimited plan, a $23 Pro plan, and a $39/month VIP plan. 

Drupal 
Overview
Drupal is a scalable, open-source website builder for enterprise-level nonprofits. Used by hundreds of nonprofits, Drupal is a robust website builder that requires a lot of setup and configuration to build your custom website. Drupal's community has created a vast network of themes to quickly build a site and modules that expand functionality with just a few clicks.
Features
Drupal provides nonprofits with a variety of features, including: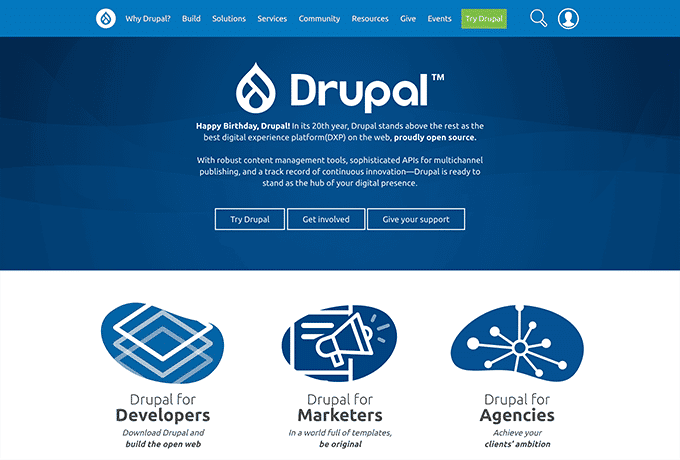 Marketing automation.

Drupal easily integrates with automation tools. Use Drupal's modules to assign automatic messaging triggers and capture more leads than before. 
Multilingual.

Drupal can help your nonprofit connect with people all over the world by using users' IP addresses, browser settings, and more information to detect their presumed preferred language. Then, Drupal provides an automatic full translation of your content. 

Content authoring.

Durpal was designed with web publishing in mind and provides users with a variety of digital marketing tools. Manage your content across email, social media, and other software, while staying organized by using Drupal as your content repository. 
Drupal also has a vibrant support community of creators building new tools and integrations that can help your website grow with your nonprofit. 
Price 
As an open-source platform, Drupal is free to download, though you are required to pay a third-party hosting service, which will often require a fee starting at $100/month.

SITE123
Overview
SITE123 focuses on being as user-friendly as possible. With their three-step website design process, nonprofits can get their website up and running in under an hour. Whether you're building a simple homepage or an online store, SITE123's efficient platform can provide a solution, fast. 
Features
SITE123 helps nonprofits streamline their web development process by offering: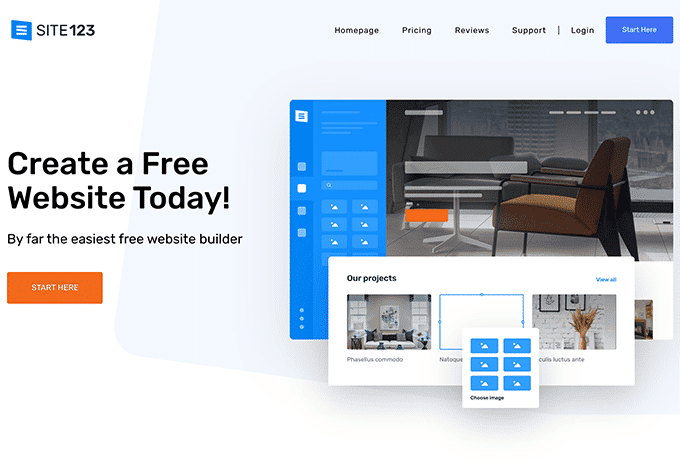 Free domain registration.

Unlike other services above that require a paid account for your domain registration, SITE123 offers it for free.

Not sure if your preferred domain name is available? Use SITE123 to look it up and register it free for one year when purchasing an annual plan. 
Free image and icon library.

Need additional image assets for your initial launch? SITE123 provides access to their library of royalty-free stock photos and icons. 

24/7 website support.

SITE123 provides help for their users at any time in a variety of formats. Use their live chat, email support, or browse video tutorials on their YouTube channel to find the help you need. 
SITE123 also makes security a high priority, providing their users with a free SSL certificate when they register. 
Price
SITE123 offers two plans: their free option and a $12.80/month Premium plan. 

Jimdo
Overview
Jimdo is a website builder created for small businesses and self-employed individuals, making it a good solution for small nonprofits just getting started. Made for an audience with limited resources, Jimdo focuses on making building a website as easy as possible by allowing users to pull their business information from their social media accounts to speed up the process. 
Features
Jimdo's nonprofit website builder offers a suite of web design features, including: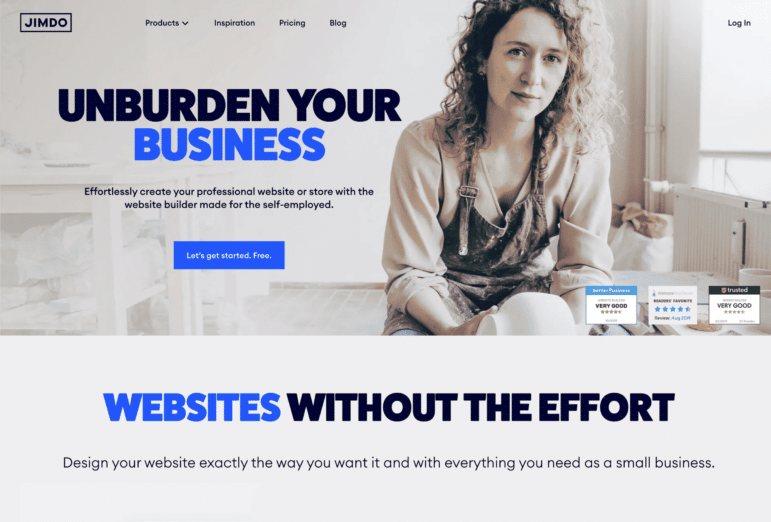 Automatic color matching.

When you upload your photos and content to Jimdo, their website builder will automatically tailor your website's colors to match, creating a professional design. 

Social media integration.

Use your social media profiles to make setup even easier by pulling your business information and photos straight from your accounts to your website. 

GDPR-compliant legal pages.

Build out your legal pages such as your terms of service using Jimdo's legal text generator. 
With Jimdo's emphasis on convenience and quick setup, your small nonprofit can design a professional website with minimal effort. 
Price
Jimdo offers multiple plans, including a free option, a $9/month Start plan, and a $15/month Grow plan.
Other Nonprofit Website Builders

Morweb
Overview
Morweb has their own proprietary CMS crafted specifically for nonprofits. With their easy-to-use platform, even the least tech-savvy nonprofits will have no trouble maintaining a dynamic and beautiful website.
Features
Morweb's unique CMS provides nonprofits with a variety of features, including: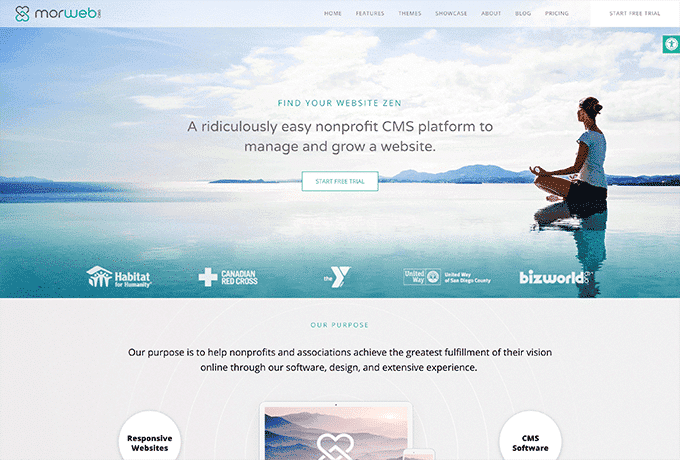 Easy content updating.

After building your website in Morweb's CMS, you'll never have to worry about sorting through code to make an update. With frontend drag and drop capabilities, you can make updates directly on your web pages, hassle-free. 
Custom form builders.

Morweb's CMS allows nonprofits to develop custom forms, allowing you to pick and choose the information you collect from your guests. Additionally, Morweb's forms can be embedded straight into your website, creating a seamless experience for donors. 

Optimized loading speeds.

Morweb understands how important it is that your website minimizes loading times. Between their optimized images and focus on scalable technology, each website designed by Morweb makes efficiency a priority. 
If you're ready for a new website, consider checking out Morweb and their user-first CMS.
Price
Morweb offers three packages, including their basic Start plan for $99/month, their Grow plan ($149/month), and the Engage ($199/month) plan. 

Squarespace
Overview
Squarespace's nonprofit website builder can help your nonprofit create an online store and market your programs and initiatives. But where Squarespace really shines are their blogging features, including a professional dashboard just for monitoring your blog's publishing data and analytics. 
Features
In addition to their blogging capabilities, Squarespace also offers nonprofits the following features: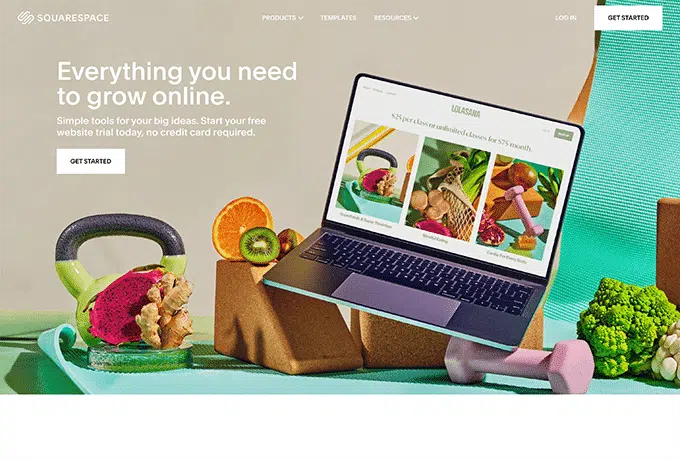 Beautiful Templates.

Squarespace stands apart from others with beautifully designed templates out-of-the-box.

Custom CSS.

Squarespace offers a variety of customizable templates and allows those with coding knowledge to personalize every page of their website even further. 

Squarespace app.

Update your website and track your analytics while on the go with Squarespace's mobile app. 

Integrability.

Squarespace connects easily to a variety of third-party platforms, including social media, scheduling, and ordering tools. 
Squarespace also has comprehensive eCommerce tools, allowing organizations to sell their services, subscriptions, and digital content.  
Price 
Squarespace has a variety of plans, starting with their $12/month Personal plan.

Wild Apricot 
Overview
If you're interested in a do-it-yourself option but still want the backing of a trusted nonprofit website builder, consider Wild Apricot. Wild Apricot's membership and nonprofit website building platform allows nonprofits to choose from a selection of pre-built templates to get their website up and running fast. 
Features
Wild Apricot's easy-to-use website builder offers nonprofits: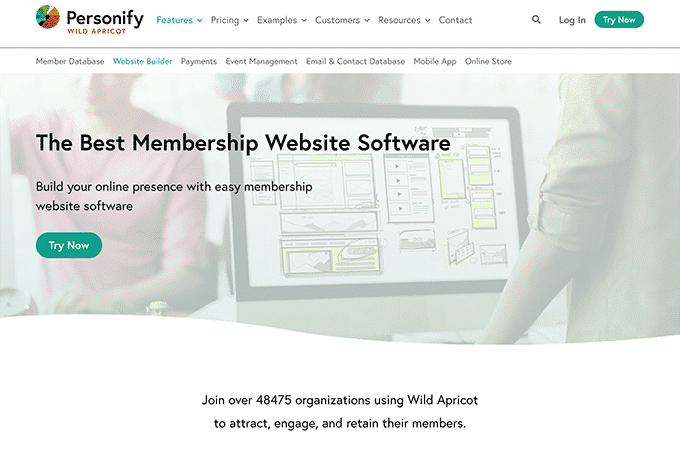 Widgets.

If you already have a website on a separate platform, there's no need to start from scratch with Wild Apricot. Copy and paste just a few lines of codes to add widgets from donation forms to event calendars to your website. 
Blogs and forums features.

Stay up-to-date with your supporter base by adding a blog to your website. Plus, nonprofits with membership programs can encourage a greater sense of community by engaging with members on public forums. 

Advanced customization.

Tech-savvy nonprofits can get outside of the box with Wild Apricot by accessing the HTML and CSS code of each theme and editing them to customize their website. 
Nonprofits with membership programs can benefit from member-focused website builders like Wild Apricot.
Price
Wild Apricot offers a range of packages based on your nonprofit's size and preferred contract length. If your nonprofit just needs the basics, their free plan includes their nonprofit website builder.

Sitebuilder
Overview
Sitebuilder is an easy-to-use website builder for nonprofits looking for a simple website. Using Sitebuilder's unique A.I. builder, nonprofits can get their website created in a manner of minutes. Then, they can add the finishing touches by tweaking their design templates to meet their organization's needs. 
Features
Sitebuilder's nonprofit website builder offers the following features: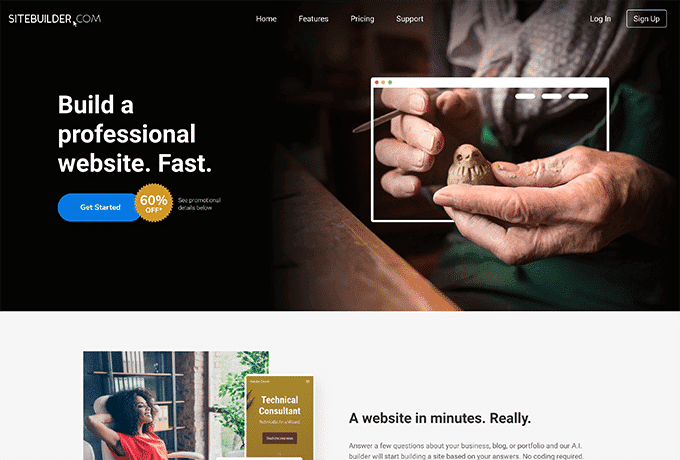 Professional eCommerce stores.

Nonprofits with merchandise can quickly add and edit products on their eCommerce stores using Sitebuilder. 
Fast load times.

Sitebuilder automatically sets up content delivery networks for their websites, meaning your website will load fast for all of your users. 

Easy-to-use builder.

Select a template, then start designing with simple drag-and-drop features to create your website. 
If you're looking for a simple, user-friendly website builder for your small nonprofit, consider Sitebuilder. 
Price
Sitebuilder has three plans, starting with their $5.20/month Pro plan.

PageCloud
Overview
As a relatively new website builder, PageCloud has picked up a following by focusing on creating a highly intuitive website building platform that still allows for comprehensive customization. 
Features
PageCloud offers a variety of features, such as: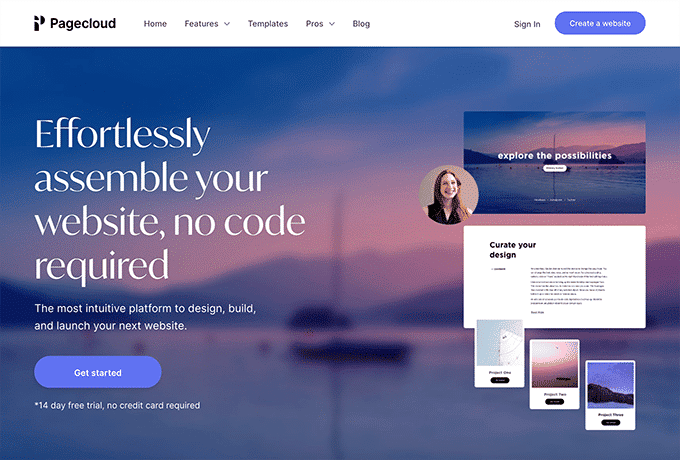 True drag-and-drop editor.

Move your page elements anywhere you want on your page with PageCloud's drag-and-drop editor. Plus, their smart guide will help you align your content to create professional designs. 

DOM inspector support.

PageCloud uniquely offers users the ability to save the changes made in your browser's website inspect and use them on your website. 

Image optimization.

When you upload images, PageCloud automatically resizes them to load as quickly as possible while maintaining high quality resolution. 
In addition to their suite of features, PageCloud also comes with hundreds of integrations, allowing you to fully customize your website. 
Price
PageCloud has two price models for websites. Their Small Business plan costs $19/month and their Business plan costs $29/month. 
Creating a Custom Design for your Nonprofit Website Builder
After selecting your website builder, you'll still need to take the steps to design and build a website for your nonprofit. While theoretically you can build your website from scratch, seeking out a nonprofit website design consultant to create your website will ensure your organization has a professional design with modern usability best practices supported by a functional website structure. 
In addition to building your website for your organization, nonprofit website consultants can also provide your nonprofit with: 
Custom app development.

Sometimes you can't find the plugin or integration needed for your website. In these cases, a nonprofit website developer can

build new applications and features

specifically for your nonprofit's exact needs. 

Professional design assistance.

If you're unsure what you want your website to look like, your nonprofit website consultant can help you brainstorm design ideas. With their years of experience, they can offer insight into what makes a design effective and what will be easy for your nonprofit to maintain long-term. 

Long-term partnership and consulting services.

Your nonprofit website consultant shouldn't be a one-time service. Find a consultant you can form a lasting partnership with so your nonprofit will have a valuable resource your team can turn to if you ever need to redesign your website or experience technical difficulties. 
Just like nonprofit website builders, there are a variety of nonprofit website consultants out there ready to build a custom website for your nonprofit. Discover your options by comparing their price models, browsing their portfolios, and researching their previous clients to make sure you find a web consultant that understands the nonprofit sector's unique needs. 
Wrap Up
The nonprofit website builder you choose will determine the direction of your website for many years to come. While it's not hard to find a proficient website builder, the available features, design style, and technical support will vary with each option. 
Some nonprofits may have a clear image for their website in mind, while others might need more help figuring out exactly what they want. Take note of some of your favorite nonprofit websites to get inspired. Doing so will help you understand what you want in your own website, and might lead you to tracking down the nonprofit website builder that was used to create the websites you admire. 
To help kickstart your research, here are a few resources on the ins and outs of nonprofit website development and design:
Contact Us Today