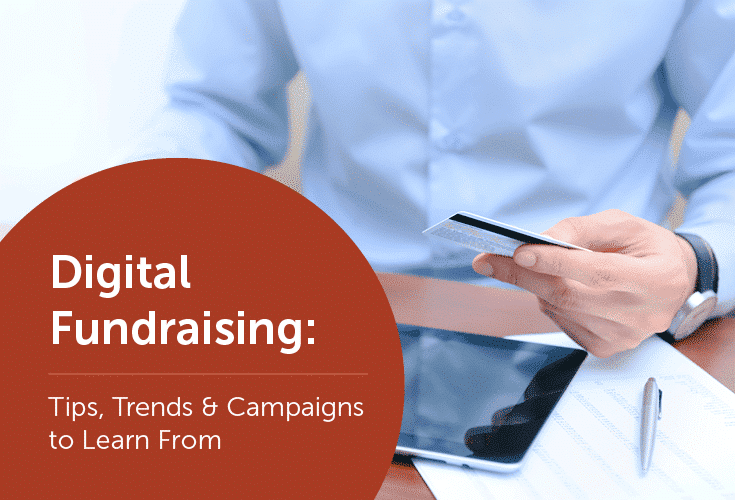 Digital fundraising is one of the largest overall trends evolving in the nonprofit space today. And although it has been rising steadily for years, the outbreak of COVID-19 has certainly shifted online operations into overdrive.
More than likely, your organization has already begun to explore this phenomenon on your own—you may have a basic online donation page on your nonprofit website, for example.
However, an organization that is truly optimized for digital fundraising knows that the process tends to be much more involved. Luckily, our team at Cornershop Creative is here to help!
We've put together this comprehensive guide for nonprofit professionals like you to dive deeper into the world of virtual fundraising engagement. Here, we'll cover the following key topics:
Feel free to skip around to the sections that most interest you. However, we suggest reading along from the top to get a more extensive understanding of the subject matter at hand.
Without further ado, are you ready to learn more about digital fundraising, and how your nonprofit can benefit from a carefully curated plan? Let's get started. 

Digital Fundraising: A Crash Course
Before we jump into our favorite digital fundraising campaigns and top tips for maximizing revenue, it's important that we cover the basics.
What does digital fundraising include?
Digital fundraising can include a vast array of tactics, ranging from relatively basic online donation forms to detailed and strategically planned virtual events. In other words, any online transaction that allows nonprofit supporters to financially contribute to the causes they care about can be considered digital fundraising.
That being said, almost all digital fundraising efforts are built out from, and lead back to, an optimized nonprofit website.
Why is digital fundraising important for nonprofits?
Digital fundraising allows nonprofits to expand their reach beyond geographical boundaries, build relationships with new supporters, and raise awareness and funds for their campaigns.
From the donors' perspective, digital fundraising provides unique and convenient ways to support the charitable missions they care about. Gone are the days when a donor must make a physical cash drop-off at a nonprofit's headquarters, or walk through the tedious steps of cutting, signing, and mailing a check.
Not to mention, the recent coronavirus outbreak has made digital fundraising a necessity in order to continue engaging with donors and collecting gifts amid a rocky circumstance. All of that being said, if your organization has yet to invest in a digital fundraising strategy of your own, now is the time to do so!

Digital Fundraising Trends to Watch in 2020
Digital fundraising itself is a significantly rising trend in the nonprofit sector. In order to best cater results to your own fundraising needs, it's a good idea to keep an eye out for smaller trends within the overall industry as well. Here are three things that we've taken note of so far this year.
Social media advertising
More than likely, your organization already has an account or two on major social media platforms. What you may be neglecting, however, is the opportunities available with paid social media marketing.
While many nonprofits fail to implement this strategy because it does, of course, cost money, it has the power to bring your digital fundraising to the next level. Each platform offers its own unique opportunities:
Facebook: With nearly 3 billion monthly active Facebook users, this is a marketing opportunity you definitely don't want to miss. Sponsored Facebook posts provide you the space to include photos and videos alongside text descriptions with links sending the users back to your nonprofit website and/or donation page.
Instagram: Instagram has two choices for paid advertisements: sponsored stories and sponsored posts. Both work similarly, in that content will show up for targeted users regardless of whether they follow your accounts or not. Plus, both rely on a highly visual concept for success! The differences lie in the location (Instagram story vs. feed) and size (9:16 vs. 1:1 ratio) of your advertisements.
Twitter: Twitter is known for its brevity and shareability—two key components of a successful digital fundraising strategy. With a 280 character limit in Tweets (both promoted and otherwise), you have just enough space to quickly encourage donations to your cause and send users directly to your digital fundraising page. Then, be sure to ask supporters to "retweet" your content, thus widening your audience even further.
While these three are certainly the biggest social media giants across the U.S. today, it's important to consider more niche platforms as well. For example, TikTok is great for targeting younger donors (specifically Generation Z), while Pinterest may be a good choice for other audiences.
Google Grants
You've likely noticed that whenever you conduct a search on Google, the first several results provided are set apart as paid advertisements. And while Google typically sells that premium ad space (and for good money, too!), they're willing to donate prime real estate on the SERP (or Search Engine Results Page) to nonprofits through their charitable program called Google Grants.
Google Grants provide nonprofit organizations with up to $10,000 worth of in-kind donations in the form of Google advertising space each month. To be eligible for this unique type of grant, nonprofits must be recognized as official 501(c)(3) organizations, registered with TechSoup.org, and have a functional nonprofit website registered with Google.
Once you've received your Google Grant funding, you'll be able to promote your organization and specific digital fundraising endeavors on the world's most popular search engine—for free!
One thing to consider when leveraging this powerful digital fundraising strategy is that in order to accomplish much through a Google Grant, it's crucial that you must first have a solid website in place. We'll talk more about enhancing your nonprofit website in a later section.
Crowdfunding for nonprofits
Crowdfunding is a unique fundraising strategy that has become increasingly popular with individuals and organizations alike. While certain fundraising campaigns attempt to solicit hefty donations from a few major contributors, crowdfunding takes an entirely different approach.
In short, a crowdfunding campaign utilizes the power of social media and peer-to-peer sharing to collect a large number of smaller donations from a wide range of supporters.
Here's how it works:
Start a crowdfunding campaign with a dedicated nonprofit crowdfunding platform.
Set your fundraising goal, add photos, and describe the goals of your campaign.
Publish your fundraiser and begin promoting it to your digital supporters.
Encourage your supporters to interact with and share your campaign via social media.
The point of crowdfunding is to maximize the power of small to mid-sized donations. You might be surprised at how quickly they can add up! Plus, due to the difficult economic circumstances, smaller donations might be all that your donors are able to give at the time being.
eCard campaigns
eCards are similar to the traditional postcard, only distributed and consumed digitally instead. You might send a postcard to a family member or friend when you've done something exciting that you'd like to share, or simply to let them know that you're thinking of them.
For a nonprofit eCard campaign, the idea is to provide your supporters with the opportunity to share the love with their own personal networks. Here's how the process works:
A supporter decides to participate in your eCard campaign.
That individual selects from a set of images and sayings to include on their eCard.
The individual customizes the card with their own subject line and message.
Then, they input their friends' or family members' email address(es).
Finally, the individual fills out the payment information and any other required fields and submits the eCard.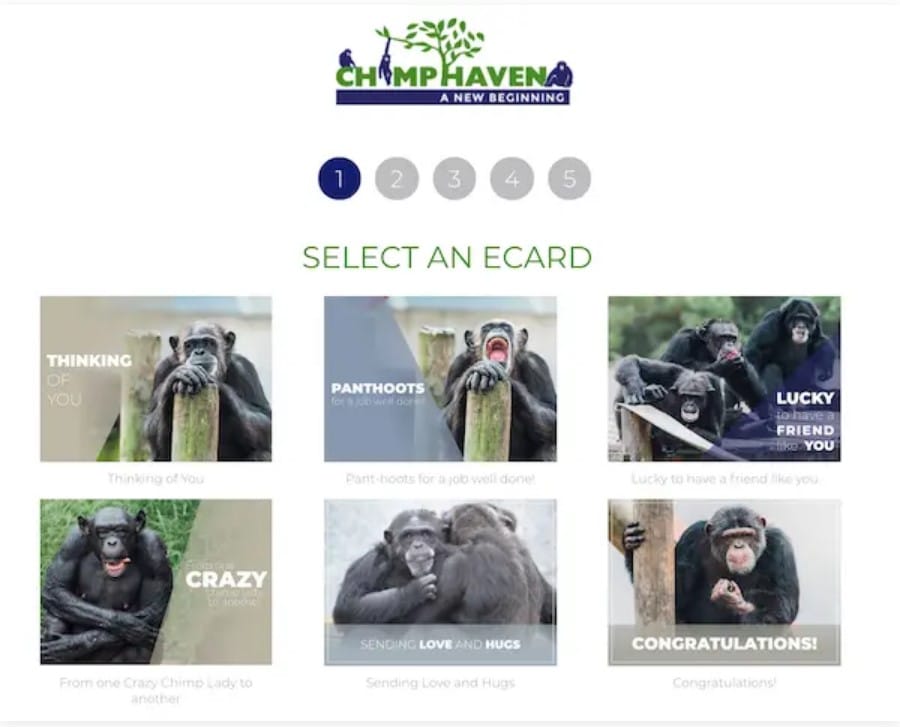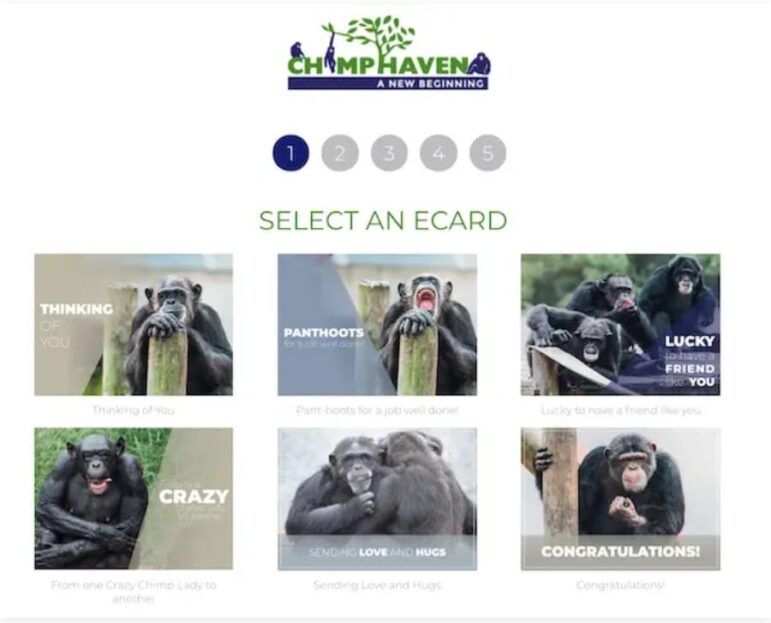 As you can see, an eCard campaign is both a fantastic digital fundraising idea and an opportunity to expand your base of support to reach new potential donors. Not only do you receive the payment for each eCard, but you also receive the intangible value of your current supporters spreading the word on your behalf. It's a win-win!

5 Stellar Digital Fundraising Ideas
While there are surely thousands of effective digital fundraising ideas to choose from, we've narrowed it down to five of our favorites here.
1. Update your website
Regardless of the type of digital fundraiser you choose to host, it should always link back to your nonprofit website in one way or another. That being said, it's of utmost importance that your website should be well-designed and up-to-date with all the latest trends (as discussed above).
Here are a few things to consider implementing on your website (if you haven't already):
A consistently updated blog: Charitable organizations and for-profit businesses alike have found blogs to be an excellent tool for sharing relevant information with dedicated audiences. For instance, you can use your nonprofit blog to tell powerful stories about the impact that your organization has had on your community, including tales of specific constituents (with their permission, of course) and how their lives have been changed.
A user-friendly navigational structure: Increased traffic to your nonprofit website won't be of much assistance to your fundraiser if users are unsure of how to navigate your site once they've arrived. To avoid this conundrum, be sure to include a detailed and organized navigation bar on the top or left side of your pages. Prominent pages should be linked to from the menu at all times, including an eye-catching "DONATE" button to lead users directly to your online donation form.
A visually pleasing design: While your website's content is surely a crucial element, it's not the only thing to consider. Instead, it's a good idea to balance the informational copy with visually appealing design in order to draw in users and push them further down the conversion cycle. But don't overdo it! For example, a few images can add value to your site, while an overwhelming number can actually detract from the main content.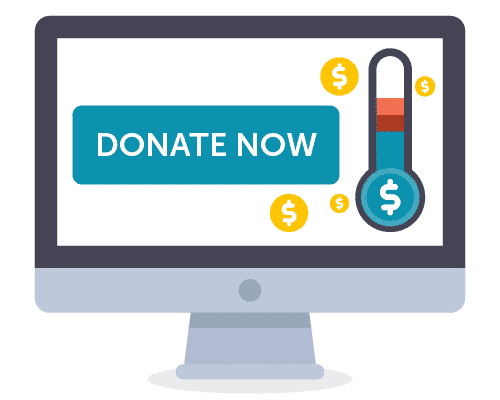 These three elements will provide a solid foundation from which to build out your modern website. However, because internet trends are so constantly changing, it can be difficult to stay on top. That's why we suggest investing in a nonprofit consultant that specializes in digital fundraising and web design.

2. Create a hashtag
Whenever you host a digital fundraiser, it's a good idea to encourage your supporters to contribute and promote your campaigns on their own social media platforms. In order to do so most effectively, be sure to come up with a trendy hashtag.
In case you need a brief reminder, a hashtag is a predetermined word or phrase that, when paired with the symbol (#), is used to identify and group messages on social media. When choosing a phrase for your hashtag, it should be:
Unique: Make sure your hashtag is unique to your nonprofit fundraiser. If another organization or mission is already using that phrase, your messages will get all jumbled together, essentially removing the purpose behind a hashtag.
Memorable: When you assign a hashtag to your digital fundraising campaign, it should be simple for supporters to remember. That way, whenever they see the phrase (including across any of your other marketing materials), they can immediately associate it with your organization and that specific fundraising campaign.
User-friendliness: If your hashtag is too complicated, you run the risk of users making even the smallest typos that will separate their post from the rest of your nonprofit messaging. If your hashtag is composed of more than one word, it's a good idea to begin each new word with a capital letter. For example, take a look at the differences between #SaveTheTurtles and #savetheturtles. The first one is easier to read, right? That means it's also easier for users to type on their own.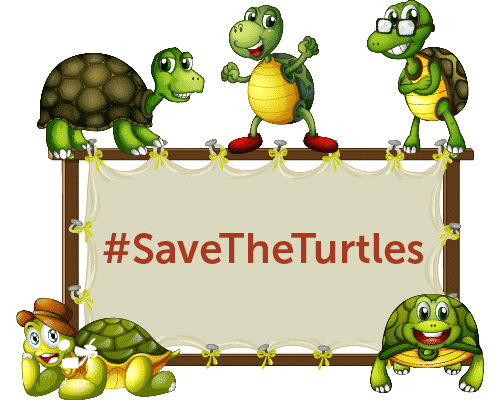 So when should your supporters use your hashtag? Whenever they post about your fundraiser online! If they purchase one of your branded t-shirts or baseball caps, encourage them to post a selfie on their favorite social media platform with your hashtag. If they complete an online donation form, encourage them to use your social sharing buttons alongside the hashtag.
3. Create videos and other engaging content
You've heard that a picture's worth a thousand words. The same can be said for videos and other visual content! That being said, you might want to put some extra effort into the visuals you produce for your website, marketing materials, and other components of your digital fundraising strategy. Overall, the idea is to effectively convey the impact that donations make by demonstrating the purpose of your mission with visual aids.
The exact type of content will vary drastically depending on your organization and your overall mission. For example, if your team works to build homes for charity, you might want to take a few photographs of a home in progress, including before, during, and after shots. That way, your nonprofit supporters can see a visual demonstration of the way you use your funding.
Alternatively, you might decide to conduct recorded interviews with individuals who have been previously impacted by your organization. For instance, if you're fundraising to provide a local school with the funding and/or supplies they need to operate, you might want to consider an interview with a previous teacher or student who had been a recipient of such supplies in previous years.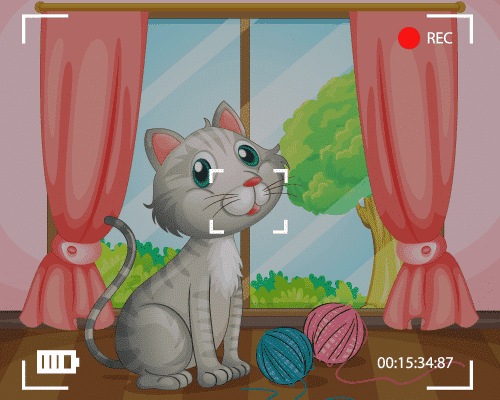 Another tip? If your mission has anything to do with animals (i.e. wildlife conservation, local animal shelter, etc.), you have the perfect subject matter at hand—because everyone loves animal content!
4. Lean into segmented email marketing
More than likely, you have some sort of email marketing system in place. After all, email is one of the most popular methods of communication between nonprofits and their supporters. However, you might (rather, should) be asking yourself how you can take that strategy even further.
And to that, we say: segmented email marketing.
Did you know that marketers who employ email segmentation strategies see more than a 760% increase in revenue? In other words, email marketing campaigns that are targeted directly to various segments within an audience (as opposed to campaigns whereas each recipient sees the exact same message), see significantly higher conversion rates.
As far as nonprofit marketing, and, specifically, digital fundraising, goes, there are a few different ways to segment your audience. For example, you may create segments based on:
Demographics: location, age, gender, parental/marital status
Donation size: small, mid-sized, or major gifts
Donor type: new, repeat, recurring, or lapsed
Communication preference: email, text, phone, direct mail
Giving method: cash, check, online, mobile
When you take these characteristics into account when crafting marketing emails to your supporters, it ensures that each individual receives the message that is most applicable to themselves. The more relevant a marketing message to a recipient, the more likely the individual is to connect with your fundraiser on a deeper level. And we all know that effective fundraising is all about making those connections!
5. A/B test your donation page
A/B testing is one of our favorite ways to ensure the maximal performance of any web page or form. In short, A/B testing involves creating two very similar pages that function in largely the same way, making only one change between the two. That way, you can form conclusions about which version performed better and why.
Here are a few examples of elements you might adjust for an A/B test:
The wording of your fundraising ask
Suggested donation amounts (sizes and/or presence/absence of suggestions)
The number of required fields
Any images or visuals
Multistep vs. one-page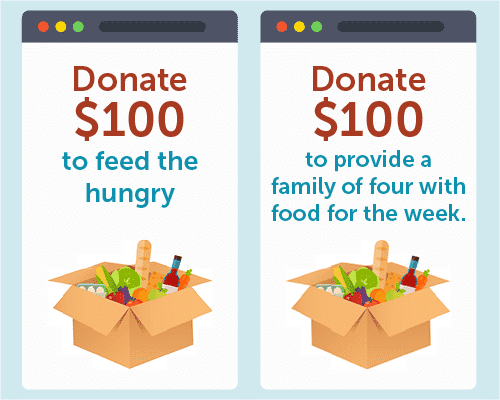 While these are several good ideas for A/B tests, it's important that you only adjust one factor at a time. That way, you'll know with a higher degree of certainty what actually resulted in a change. Then, going forward, you can implement changes to maximize revenue for future campaigns.

Digital Fundraising Campaigns to Inspire Your Own
If you're still not sure where to start, feel free to draw inspiration from one of our favorite nonprofit websites and their subsequent fundraising campaigns below. These are three successful digital fundraisers that our team at Cornershop Creative helped to create, each with their own unique digital strategy:
FINCA International, which stands for the Foundation for International Community Assistance, is a nonprofit dedicated to alleviating poverty. More specifically, this team works to provide long-lasting solutions to impoverished communities by offering financial services and technological advancements.
We worked with the team at FINCA for several years to create a powerful fundraising campaign promoting recurring gifts and encouraging their supporters to take that next step in an engagement.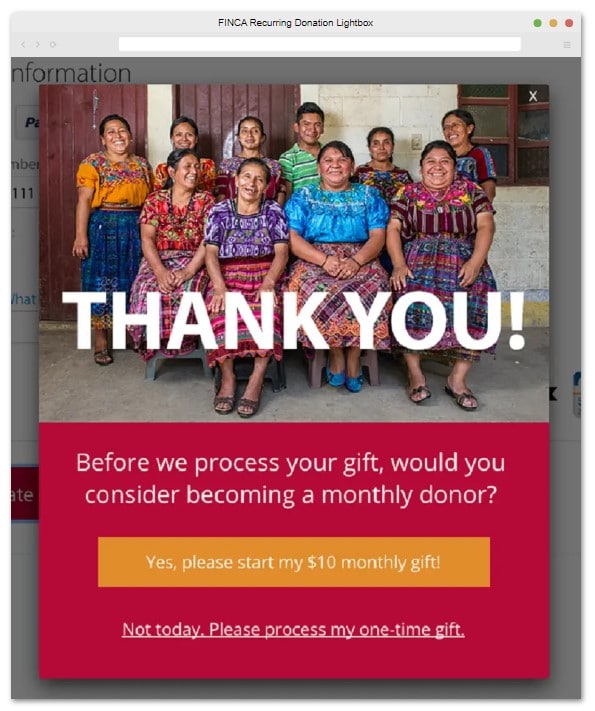 What we did:
FINCA already had an online donation form in place on its website. Our team took it even further by incorporating an automatic lightbox that appears after an individual submits their first gift. The lightbox essentially appears to be a quick "thank you" screen which also works to drive donors down the conversion funnel toward becoming a monthly sustainer.
When the lightbox appears with the question, "Before we process your gift, would you consider becoming a monthly donor?" the user is presented with two options: "Yes, please start my $10 monthly gift!" and "Not today. Please process my one-time gift."
Why this works:
At this point in the donation process, you know the individual involved is already interested in your cause (due to the fact that they've already submitted a gift). Further, their payment information has already been entered, meaning it's hardly any added effort to make the jump to monthly sustaining donor.
That being said, you might be surprised at how often a donor might make the upgrade simply because it's presented to them in such a simple and user-friendly manner.
Disability Rights New York is a nonprofit organization based out of New York that works to provide free legal services, advocacy, resources, and other crucial support to individuals with disabilities.
We took on a project with the DRNY team to implement a multi-step donation form on their website.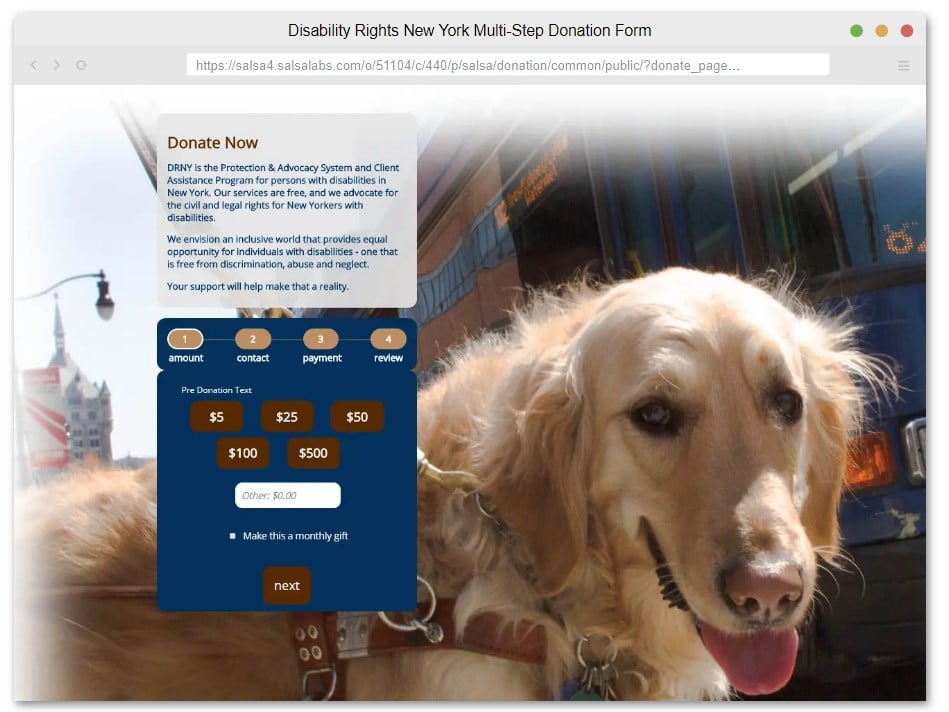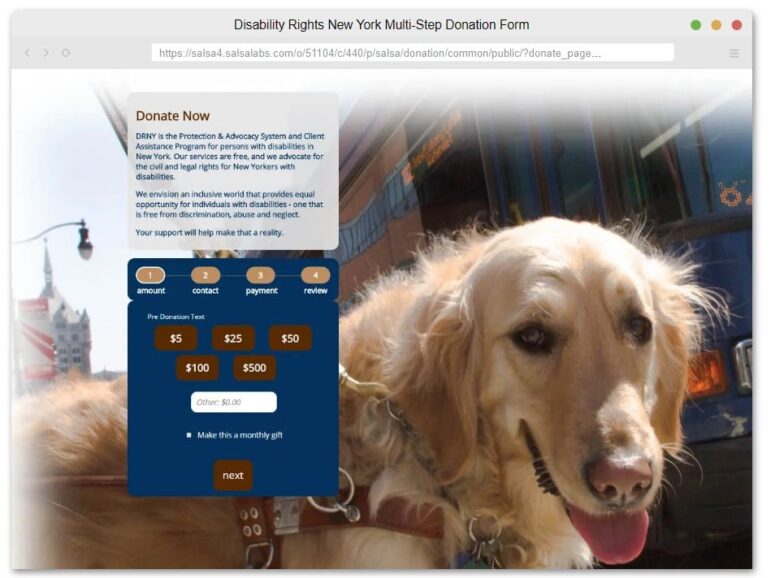 What we did:
Our updated, multi-step donation form on the DRNY website breaks the donation process into four simple steps: amount, contact, payment, and review. As opposed to a traditional, single-page donation form, this sleek and modern look is more likely to bring in maximal completed donations.
Plus, as you can see, the "amount" page on display even offers suggested donation amounts and the ability to become a monthly donor in just a few clicks—thus further simplifying an already streamlined process.
Why this works:
Any optimized donation form should be simple to complete and avoid overwhelming the user with too many steps and/or required fields. Otherwise, too many donors will likely click away from your donation site without ever completing the form. Sometimes, a single page with multiple questions can come across as too much. That means tons of missed donor opportunities.
With this multi-step design, users are only asked to answer one or two questions at a time, thus simplifying the process and encouraging donors to continue on to completion.
The League of Women Voters is a political advocacy group founded in 1920 to bring women a larger role in the U.S. political landscape. To this day, the group works to encourage female participation in political affairs through education and advocacy.
Our team had the opportunity to work with the LWV to improve their digital fundraising strategy by incorporating eye-catching email templates in their email communications and designing custom-build landing pages for their fundraising appeals.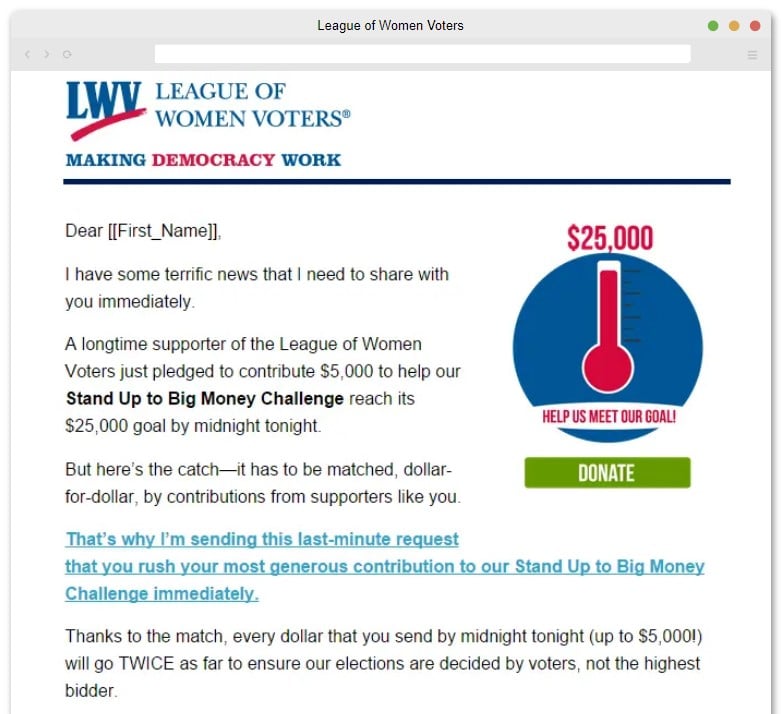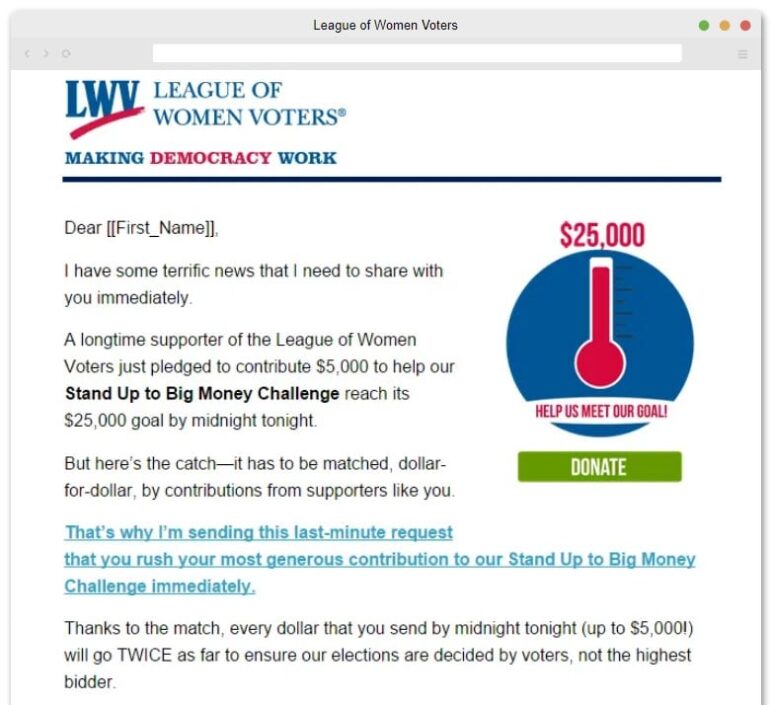 What we did:
Our updated email communications process has allowed the team at the League of Women Voters to build and retain effective relationships with every supporter. Plus, our carefully crafted email templates allow their team to save time and effort on email marketing that can be reinvested in other areas of their mission.
Additionally, we set up the framework for segmented outreach such as to adjust a recipient's suggested donation amounts based on previous gift sizes.
Why this works:
Every fundraiser knows that your job isn't over once you've secured the first donation. In fact, an emphasis on retaining donors through long-lasting relationships is much more cost-efficient than having to constantly be on the lookout for brand new support.
Through our strategically designed email campaigns, the LWV is able to ensure more personalized relationships with each donor, thus increasing the likelihood that a repeat donation will occur.


Work with a Digital Fundraising Consultant
It's hard doing anything alone, but online fundraising can be particularly tough.
At Cornershop Creative, we offer combined dozens of years of fundraising and campaign implementation experience to provide powerful insights into what resonates with donors online. Not to mention, we can connect you with copywriters, designers, and other fundraising experts to help create everything from carefully-crafted campaign messages to breathtaking visual designs.
Clever and unique campaigns are the most successful, and a strong nonprofit fundraising consultant can make sure you have the best campaigns for your supporters.
Then, we can continue to provide our support by offering detailed reporting and analysis on your campaigns that will help guide your future fundraising endeavors.
Are you ready to take the next step in your digital fundraising strategy? Contact us here.