The Oblates of the Virgin Mary (OMV) are a group of Catholic priests and brothers working to bring about a rebirth of spirituality in today's world. In the United States, their work and ministries include a seminary to educate new members, spiritual direction, online and in-person Masses, and feeding their community's spiritual hunger in a variety of different ways.
Each year, OMV hosts a gala to support their seminarians working to become OMV brothers and priests. In 2022, the organization turned to Cornershop for support with promoting the in-person and online event to an audience that spans across the United States and around the world. Our team built and implemented a strategy that resulted in the most money raised at a gala for the organization yet!
The promotion strategy included an event landing page as the information hub, as well as supporting subpages on the site for specific needs like detailing sponsorships and watching the online event. To spread the word to their widespread community, we used the following tactics and more in a detailed promotion plan:
Series of 15+ emails promoting the event to their entire list, as well as specific segmentations of it
Fundraising appeals encouraging donations to their seminarian fund in honor of the gala
Blog post highlighting the theme of the gala
Pop-up on targeted pages throughout their network of websites
Calls to action (CTA) throughout their websites, including both in-line and sidebar CTAs
Promotions within their YouTube channel, including a teaser video cross-promoted on the website and Facebook
Series of Facebook posts, some of which were strategically boosted
Analytics report after the event to determine what worked well and what could be improved for next year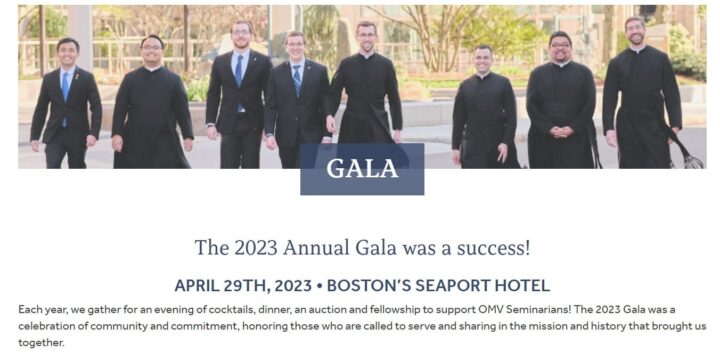 The strategy was built to spread the word about their event and encourage their entire community to participate, whether they could make it to the in-person gala in Boston or not. By creating and sticking to a strategic promotion plan, OMV pulled off their most successful gala yet, raising more money for their seminarians than they ever have before.
Email Content Sneak Peek
This Oblates of the Virgin Mary email highlights items available through the auction to encourage last-minute registrations and participation in the online auction.

This Oblates of the Virgin Mary email announced the upcoming Gala to supporters.