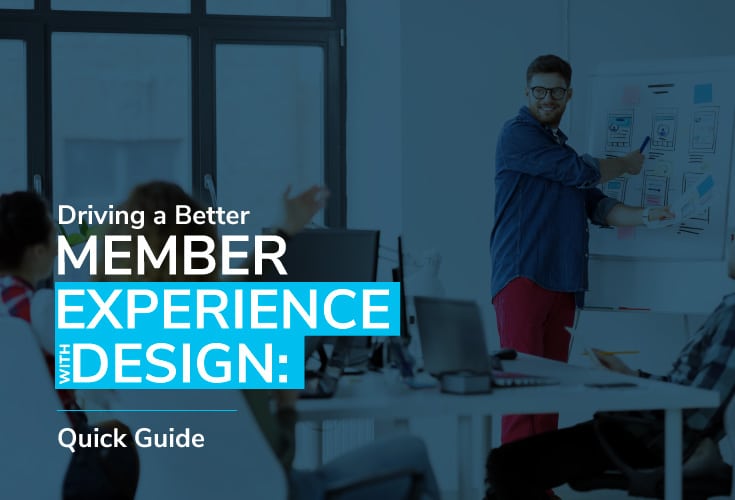 Membership programs are an excellent way for nonprofits to deepen relationships and build a sense of community. If your organization is an association, memberships are even more essential to operations.
But in order to be successful, memberships need to actually feel valuable! A huge part of that value comes from giving your members a positive experience with the membership program itself. No matter how good your perks or resources are, members are unlikely to use them if you have a clunky, inconvenient program.
This is where design comes in! If all aspects of your program include thoughtful member experience design, your members are sure to make the most of what you have to offer.
What is Membership UX?
Let's start with the basics: UX stands for "user experience." When a design team works on a project, the primary aim is to cultivate a positive user experience! If you're putting together a membership program, this is very important to keep in mind.
The ideal product should be:
Intuitive: Is it natural to understand and use?
Functional: Does it work?
Nice to look at: Is it aesthetically pleasing?
Meaningful to user desires: Is it giving your members what they actually want?
From the first point of communication to membership renewal, the entire member journey should be easy and enjoyable.
Membership UX makes all the difference in member retention! No matter how much your members support your mission, they likely won't feel encouraged to stick around if their membership experience is confusing or difficult.
Places where you want to apply quality member experience design include:
Membership structure
Benefits and perks
Tools of engagement
Long-term member experience
Positive membership UX isn't something that happens by chance! You can intentionally design all of these things to reinforce the value of your program.
Must-Haves for a Better Member Experience Design
Having better member experience design means keeping things simple and valuable. Whether your members are navigating your website for the first time or coming back for their favorite perks, their experience should be positive!
Here are your must-haves for boosting the quality of your overall member experience:
1. Your membership tiers
Multiple membership tiers let people choose how much they would like to contribute to your organization. Even more importantly, it lets them shape the exact user experience that they're looking for. Giving people choice around their membership experience keeps things relevant to their actual needs!
Every single level should have value, but the value should also progress as you get higher up the tiers. Be sure to make it easy to upgrade at any time!
2. Your membership website or portal
Your organization's website serves as the hub that your members keep coming back to. If they feel frustrated every time they log in, it's unlikely that they'll stay members for long! One of the best things you can do for membership UX is build a website that's nice to look at and easy to use.
If you're overwhelmed by the idea of web design, consider working with a membership website builder. This will let you focus less on how to make a website, and more on what you'd like to use it for.
3. The registration process
Registering with your organization is the first step in becoming a member! Think of that initial form as a first impression—if it's easy to sign up, then it will feel easy to stay involved. On the other hand, if hopeful members are confused from the very beginning, they might not even finish registering.
Build a straightforward form that's accessible to everyone and quick to fill out. The simpler the process, the sooner your new members can start exploring what your program has to offer. Also, make sure you have a secure payment processor that your members will feel confident using and will keep their data safe.
4. Perks and benefits
Looking for the trick to finding "the perfect perk"? Here it is: give your members something that they actually want!
Instead of spending time trying to reinvent the wheel, simply ask your members what they'd like to get out of joining your organization. Connect with them through surveys and events, and you'll save a lot of time trying to guess which benefits would be the most appealing. Plus, your members will always appreciate the opportunity to give their input.
5. Online content
Regularly post online content that's engaging and relevant to your organization. Your members have joined your organization because they care about your mission. Strive to give them content that aligns with what they are looking for!
Consider working with online content such as:
Blog posts
Videos
Podcasts
Remember to make sure everything looks as professionally produced as possible! The higher quality your digital media is, the more likely people are to engage with the content itself. You should also make sure your content is accessible to every potential member by including captions in videos, alt text for images, and high contrast colors.
Give Your Members the Experience They Deserve
By putting some thought into member experience design, your membership program can go from good to great. Remember to keep things easy to use and relevant to your members' interests. This will keep your members by your side for years to come!