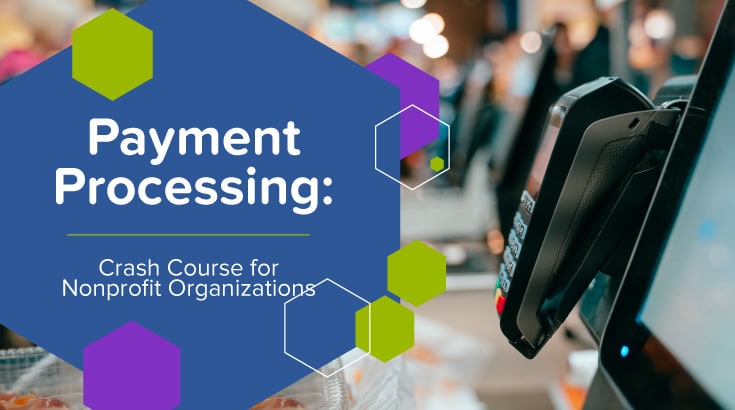 As we head further into a new year, it's always a worthwhile exercise to take stock of the strategies that have gotten your nonprofit to where it is today. Over the course of 2020, your organization undoubtedly rolled out a few (or many!) new online fundraising and virtual engagement tactics to reach your community while following social distancing guidelines. Along with these new strategies, you most likely discovered new tools and data tactics that helped you meet the moment.
While new fundraising software, marketing strategies, and other engagement methods have hopefully been effective at helping your nonprofit build stronger connections with supporters, don't forget about the behind-the-scenes processes that keep it all running smoothly.
With an ever-increasing reliance on online fundraising also comes an increased reliance on the backend processes and tools that turn clicks into revenue for your mission. 
Payment processing underlies all of your online fundraising operations, so it's important for your nonprofit to understand how payment processing works, how it impacts your bottom line, and the types of payment processing options that are available to your nonprofit. At Soapbox Engage, we develop fundraising and engagement apps to help nonprofits streamline their donor-facing and backend operations. We know how integral payment processing is for making the most of your efforts. We wanted to share a quick crash course for nonprofits of all sizes, covering:
How Payment Processing Works

Why It Matters for Nonprofits

How to Change Your Payment Processor
Simply put, payment processing plays a major role in your ability to accept donations online and can significantly impact the amount of incoming support that you're able to keep and put towards your mission. Let's get started.
1. How Payment Processing Works
From start to finish, the steps of payment processing can look a bit complicated at first glance. However, each step of the process plays a key role in ensuring the safety of your donors' payment information. Think of understanding these steps as part of your responsibility to steward your donors' generous support in a safe manner. Here's how it works: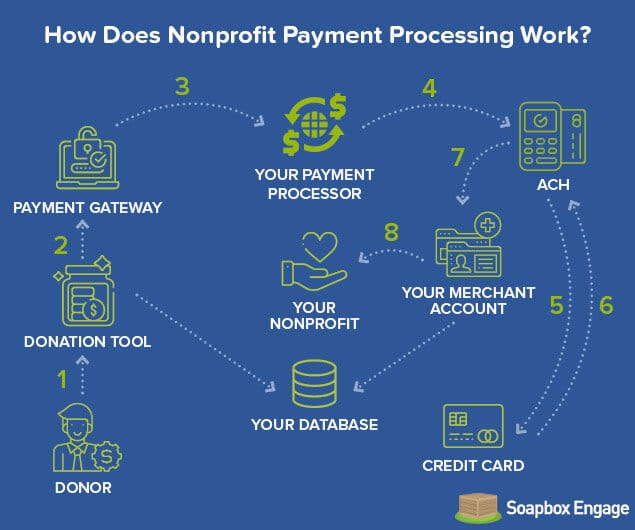 A donor makes a contribution using your

online donation page

. If it's integrated with your CRM, data about the transaction (but

not

the payment information itself, like credit card numbers) will be automatically saved to their individual donor profile.

The donation tool sends the request through your processor's

payment gateway

, verifying the transaction's validity and flagging any potential fraud.

Once approved by the gateway, the transaction is processed through your

payment processing service

.

The payment processor then submits the request through the

ACH (Automated Clearing House) network

, the online system that tracks and facilitates online fund transfers in the United States banking system.

The ACH then relays the request to the donor's

credit card company

, or, if paid with a debit card, the transaction is processed directly through the donor's bank account.

The donor's credit card or bank approves the transaction and allows the funds to be transferred back through the intermediary ACH network.

The donated funds are then deposited in the

merchant account

set up for your nonprofit by the payment processing service. If you use a

payment aggregator

(like PayPal), you'll use a large, shared merchant account with other users of the aggregator. If your donation tool doesn't integrate with your CRM, this is also the point when your payment processor should provide you with the transaction data to export to your database manually.

Your merchant account then begins the process of transferring the donated funds into your nonprofit's bank account.
For a deeper dive into these steps and a glossary of the key terms, check out the complete Soapbox Engage nonprofit payment processing guide. Looking at the big picture, though, payment processing is essentially a series of requests and intermediary checks, with each step ensuring safety and verifying the validity of the transaction. 
2. Why It Matters for Nonprofits
There are a number of reasons why payment processing matters for your nonprofit. Here are the most important to keep in mind:
Centrality to fundraising.

First and foremost, payment processing is integral to online fundraising. Without a dedicated and reliable payment processor to facilitate transactions, your donors' support can't translate into actual funds for your nonprofit's mission. With today's increased use of online and virtual fundraising, having an effective payment processor in place is more critical than ever.

Safety and reputation.

As outlined in the steps above, your payment processor, its gateway, and the ACH network all play important roles in guaranteeing the safety of your donors' financial information. Credit card fraud is a rampant problem online, and the last thing you'd want to do is risk exposing your donors' sensitive data. A security breach can have a massive, negative impact on your nonprofit's reputation, so it pays to understand the security features and options included in your payment processor.

User experience.

The design and fields on your donation form help to shape donors' experiences when making an online donation, but so can your processor. This is especially apparent if the only payment option you offer is using a payment aggregator that requires users to leave your website to complete a donation. This extra step and the potential lack of recognizable branding on the payment page can give your donors a bad experience. Plus, sending donors off your site to donate can make it difficult to

track conversion rates and other web analytics

effectively.

Recognizing your options.

Simply put, if you're unfamiliar with how payment processing works, identifying better options and opportunities as they arise can become a challenge for your organization. For example:

You'll likely need to explore new payment processing options if you decide to change your donation software or migrate to a new CRM, like Salesforce, Salsa Labs, Blackbaud, or emerging choices

like Microsoft Dynamics

.

You might be paying higher transaction fees than necessary. Fully understanding your payment processor's fee structure will make it easier to determine if making a switch is the right fiscal move.

You should be aware of additional options that some payment processors offer to consider whether you're missing out. Features that allow donors to cover their donations' processing fees and stronger security features are common examples.
Additionally, remember that your payment processor should play nicely with the rest of your nonprofit's tech stack. Whenever you're considering new donation tools, think about the payment processing options they offer and how they'll both mesh with your database. For example, if you use Salesforce, integrated donation apps (like these rounded up by iATS Payments) will help ensure a tidy flow of data between your payment processor, donation software, and CRM.
The main idea to keep in mind is that your nonprofit's payment processor plays important roles both behind-the-scenes and in the broader contexts of user experience, safety, and your bottom line. By understanding how it interacts with and impacts these other elements, you'll be in a better position to choose the ideal processor for your organization's unique needs.
3. How to Change Your Payment Processor
Nonprofits might decide to switch to a new payment processor for several reasons, including:
Lower processing fees

More robust security features

Better options, like a "cover my fees" choice for donors

Integration capabilities with other software
Whatever your specific reasons for changing, there are a few key steps you'll need to follow when getting set up with a new payment processor. This process can vary greatly by vendor, but to give you a sense of what you might expect, here's how we support our nonprofit customers when making the switch to a new processor:
Encrypt and export your historical transaction data from your old payment processor. It should offer an administrator interface that allows you to do this safely and efficiently.

Ensure that your new processor of choice will be able to import and properly decrypt the incoming data.

Fill in a few blanks by providing some additional information to your new vendor, particularly around recurring donations. For instance, we ask for data on recurring donors' names, the gift amounts, frequencies, and ID numbers. A tidy CRM should make it easy to pull and export this information to share, which we then use to fully onboard the new payment processor and ensure that nothing's fallen through the cracks.

We then migrate both pools of data (the encrypted data from your old processor and the additional information provided in Step 3) to your new processor.

Finally, we double-check that any complex data on subscriptions and recurring donations have been properly synced to your new system.
In general, you'll need to consider this migration process any time you consider changing your donation tool. 
Depending on the exact context of the switch, organizations without full in-house tech teams might not be able to handle this entire process safely on their own. Therefore, it's essential to work with donation software vendors who can provide this level of one-on-one support. Plus, not all donation tools work with the same processors. Some vendors give you the option to choose your ideal processor, while others might be locked into partnerships with particular services. 
Note: While there are plenty of free fundraising tools available to nonprofits today (especially amid the pandemic's challenges), don't commit to any new software before considering the steps you may need to follow to start properly processing donations. Additionally, check that your new donation software works well with your website and CRM. It might be worthwhile to work with a tech expert who understands the ins and outs of your CMS platform, like WordPress, rather than troubleshooting it on your own and potentially risking serious mistakes.
While an unfamiliar and often confusing process for many organizations, nonprofit payment processing is a critical part of your online fundraising strategies. It underlies every way that you raise money online, so it pays to understand how it works!
By refreshing your team on the steps of payment processing and the types of options available to nonprofits, you'll be able to better recognize better options and potential pitfalls as they come up. Happy fundraising!
Author: Ryan Ozimek
As the founder of a software company serving the public sector, Ryan passionate about empowering organizations to "do good."  With a focus on effective and efficient technology solutions, he's constantly looking for ways in which the Internet can better serve the greater good, and more specifically the non-profit sector.  He leads up the Soapbox Engage team in our pursuit of affordable and accidental techie-friendly online engagement software, is a Salesforce MVP, and leads the NPSP Days around the world.  Ryan has a bachelor's degree in communications from UCLA, and a masters of public policy from UCLA's School of Public Affairs.  He's also a fan of burritos, so if you have any tips to finding the best taqueria in the world, let him know.