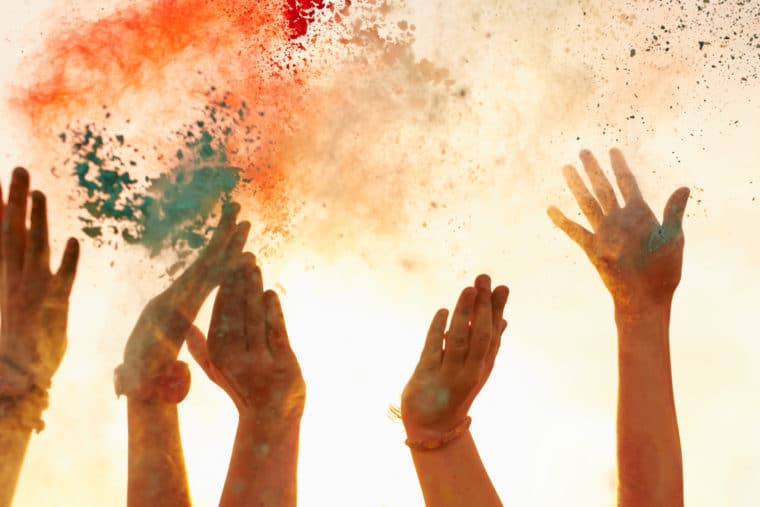 What does online engagement really mean? For those of us who spend a lot of time working with online campaigns, sign-up forms, and fundraising outreach, we're used to thinking of our most engaged supporters as the folks who click and donate the most.
But now that so many of us are spending even more time participating in online events, webinars, campaigns, and petitions, we know what it feels like to multitask our way through a webinar or lose interest halfway through an online concert.
Truly engaged supporters are valuable beyond measure. These aren't just the folks who are more likely to click, open, read, sign, or donate. They're also the folks who are most likely to feel fully connected to your mission and to you – and who will advocate and spread the word for your work!
Engaging supporters doesn't have to be complicated: Just remember your five senses! Besides thinking about what people will see or hear when they connect with you online, think about what they will feel, taste, and sure, even smell, and you'll probably come up with at least a few new ideas for improving your online activities.
Engage your supporters' senses with these tips:
Your content should be easy to read and digest. 
It's not just about the words you use, it's also about the design and display of your communications. Are your templates clean? Do you use interesting images? Have you made sure that your content is accessible?
Check out our recommendations for optimized, creative fundraising pages.
If you're planning slides for a presentation, make sure you're not using too many words, or even too many gifs (yes, this is possible!).
Supporters may feel overwhelmed if they're not sure where to look during a presentation. At the same time, if there's nothing interesting to look at, you're going to lose their attention.
Provide new online ways to connect with friends and family.
Your supporters are looking for new, fun ways to connect with their own friends and families, and provide new experiences that they can use on their own time. Here are some of our favorites:
The Human Rights Campaign shared a "Virtual Care Package" with poetry, playlists, and uplifting messages.
Jewish Women International uses our eCard Campaign Builder for their Mother's Day Flower Project campaign.
We participated in a GoatToMeeting event with the Woodstock Animal Sanctuary.
Make sure your supporters feel comfortable. 
When planning online events, you should also consider what attendees see from your presenters.
Is someone screen sharing from a laptop with a low battery? Are you okay if participants see your browser bookmarks toolbar with links to ESPN and your favorite cooking blog? Can you use a "grid" display if you're hosting a panelist discussion so that the "speaker switching" is less confusing for attendees? Is someone calling in from a moving car?
Make sure you're presenting in a way that will help your supporters feel comfortable and connected without feeling anxious, confused, or distracted.
A lot of the best practices for web accessibility come into play here.
Get started with best practices for accessibility with these tips.
You need to acknowledge current events. 
You don't need to rewrite all of your content, but you do need to take a look at what you planned last week and make sure it still resonates this week. This is an important practice for all seasons, but it's even more important when our online interactions are even more prevalent and frequent.
Looking for a place to start? Learn how to inclusively shape your organization's voice.
Create accessible and easy to understand presentations.
When presenting an event or webinar, make sure attendees understand the structure of the presentation, about how long it will take, and how you'll be sharing information with them.
Speak clearly and simply, and include captioning and other accessibility aids.
Follow these tips for planning a professional webinar.
Provide "in person" experiences alongside online events. 
Are there tactile ways that you can use to connect even more fully or memorably with your supporters? Both the Bridge and Netroots Nation conference teams are mailing tangible conference materials to their virtual event attendees this year.
Camps are mailing material boxes, so that campers have everything they need to complete activities. This makes the experience even more interactive and engaging, a tactic adults can also use for their online events.
We work primarily online with all of our projects, but we like to mail celebration gifts and annual Etsy shop treats to our clients and partners for extra fun surprises.
Not sure physical gifts will work for your event? Here are some fun virtual gift ideas, instead.
Encourage online sharing of offline participation. 
One of the biggest things people are missing during the covid-19 pandemic is human interaction and conversation (with someone other than your seven-year-old).
Provide ways for supporters who are social distancing to report back on their offline activities. These great campaigns can spark new conversations and help to show the impact of your work.
Here are some favorite examples:
Project Angel Heart encouraged their supporters to support local restaurants and "dine in" instead of gathering for a shared fundraising dinner.
Farmshed decided to try "virtual potlucks" in place of their usual, monthly community dinners and had participants share and comment on their meals through Facebook events.
The act of eating and sharing food isn't commonly something that we think of when planning virtual events, but it's a nice touch (erm. Pun intended, sorry).
Need some help sprucing up your online campaigns or events? Sign up for a free 20 minute consultation with Lesley – we promise she's super-engaging.