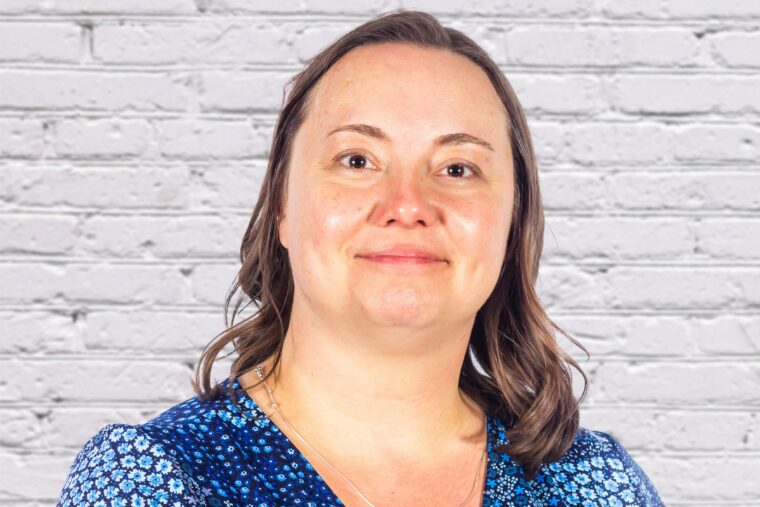 Heather Hopkins works as a freelancer with Cornershop, where as a front-end developer and graphic designer she camps out at the confluence of beauty and function.
Her award-winning designs have received stacks of gold Addys, three CASE awards, as well as several less cool sounding awards for Higher Education Marketing and Healthcare Advertising. Her most treasured accolade is a combat flag presented by a three-star general for her technology training course for transitioning service members.
Always up for a game, a sloth video or a story, Heather is ridiculously susceptible to poison ivy, avoids carbonation, has a deep, fundamental objection to casseroles and once hoped to adopt a fox.
Pronouns

she/her

Education

0ver 200 hours of undergraduate and graduate level coursework in Computer Science, Educational Technology, I/O Psychology and Non-Profit Leadership but only a BA in Psychology to show for it.

Superpowers

Exquisitely timed awkwardness, insatiable curiosity, and a debilitating case of Resting Nice Face make her the most approachable person of all time.

Zombie Apocalypse Survival Timeline

Survives only as long as it takes the zombies to find her, which makes her a good companion if you need a head start.*

Pets

A one-eyed cat, an ancient Rottweiller, and a Weimaraner/Basset Hound that shouldn't be.

Weapon

Unusually proficient with Nerf guns and sarcasm, she's able to use a one-two punch of disarming charm and distracting wit to subdue even the most difficult adversary; or, if the situation calls for it, she can just deliver a haymaker of debilitating reason and call an end to the whole thing.

Skills

Frontend development, graphic design, accessibility compliance, user experience, and problem-solving on a shoestring budget.

Last Known Location

Atlanta, Georgia