Bay Nature is a nonprofit, independent publication and website promoting and inspiring people to connect through and with nature, especially by visiting parks, trails, and events in the Bay Area.
Bay Nature liked a lot of things about their website. They had useful online tools and an abundance of content. However, they needed their site design to better match the branding of their print magazine, and they wanted to explore other ways they could refresh and highlight their online content. They needed a WordPress team that could not only build them a brand new site, but also retain and integrate a lot of the elements that they liked from their old site.
Understanding that Bay Nature wanted to keep much of the existing tools and functionality from their old site, Cornershop worked with their team to carefully plan a content migration process.
We then developed custom WordPress post types and page layouts, building an information architecture that better highlights articles, integrates their WooCommerce subscriptions, provides a robust events calendar, and that also integrates their photo and video galleries and social media activity.
After reviewing their original site, we identified and developed several custom features for ads, products, and multiple blog authors that needed to be replicated for their new site. As an added future-focused feature, we used WordPress' upcoming Gutenberg editor to structure drag-and-drop layouts that not only look great but are also easy to use.
We worked very closely with the Bay Nature team throughout the site build, ensuring that we could launch the new site without any disruptions to their live site nor subscription sales.
Trailfinder with Map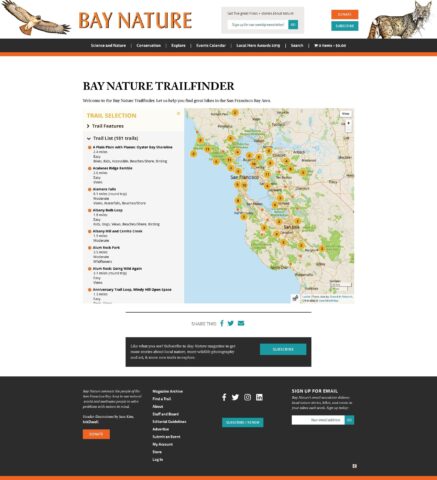 WooCommerce Subscriptions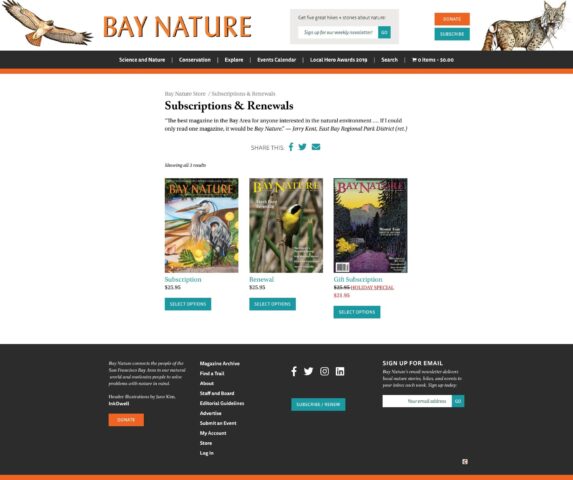 What impressed us most about Cornershop was how well they listened to us. They really took time to understand what mattered to our publication, what we needed from a redesigned website, and how we'd judge success. It felt like the finished product reflected their understanding -- we got what we wanted and more. We'd recommend them without reservation.

Eric Simons, Digital Editor, Bay Nature