The END Fund focuses on Neglected Tropical Diseases (NTDs) and delivering NTD treatments to those in need. Through their work, they engage local communities, manage strategic investments, and work with local government, NGO, pharmaceutical, and academic partners.
Our team at Cornershop is helping them build awareness about NTDs and get more eyes on their message and mission through a search engine optimization (SEO) retainer. We had worked with The End Fund on many web projects in the past, and were excited to help them get more visitors to their website. 
The END Fund's search visibility was relatively low before partnering with Cornershop. In addition, they would appear in results for search terms unrelated to their work, such as searches for treating parasites in dogs. While they do focus on intestinal worms, their focus is solely in humans — not dogs or any other animals.
Initial SEO Audit
The first step in any SEO project is to understand the current situation and get the website in better shape. Our initial work included:
A discovery phase to learn everything we could about their organization and the issues they'd experienced with SEO

Conducting keyword research to focus on appropriate keywords and optimize page content for those target keywords

Improving calls to action (CTAs) on key pages to increase conversions

Resolving technical issues that impacted SEO

Fixing important metadata issues, including meta descriptions, page titles, and SEO titles

Optimizing page content, headings, and subheadings for key pages

And many other small improvements that made a big impact on their SEO!
Goal-Based Strategy
Once the initial audit and optimizations were complete, we developed a long-term strategy rooted in measurable goals to improve END Fund's rankings in search results over time. Our goals were to:
Improve the number of keywords in the top 10 results by 10%

Increase search visibility by 10%

Increase website traffic from organic search by 10%
We built our strategy around those goals, and revisited it on a monthly basis to track our progress and weigh new opportunities as they presented themselves. We expanded on the work that we began through the audit, updating a wider range of pages across the site. Our strategy also included:
Targeting pages ranking in the 11-20 placements to gain big wins through incremental updates

Focusing on fixing critical crawler issues and preventing both visitors and search engines from landing on 404 Page Not Found pages

Drafting new content to better respond to searchers' intents behind focus keywords

Real Results
As a result, we have seen a consistent increase in The END Fund's search visibility, doubling their search visibility score from 1.49% to 3.49%.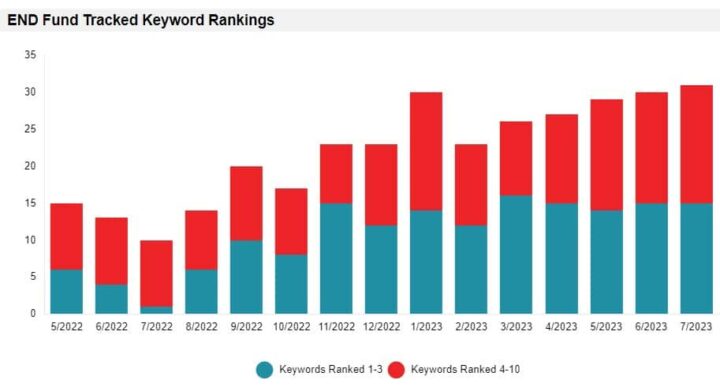 We also helped them rank for even more keywords, increasing the number of keywords that END Fund ranked in the top three results for from 6 keywords to 16.
SEO is a slow process, but it's clear that our work has provided The END Fund consistent growth over the past year. With more visibility, they've been able to reach new potential supporters looking for information on topics relevant to their work.