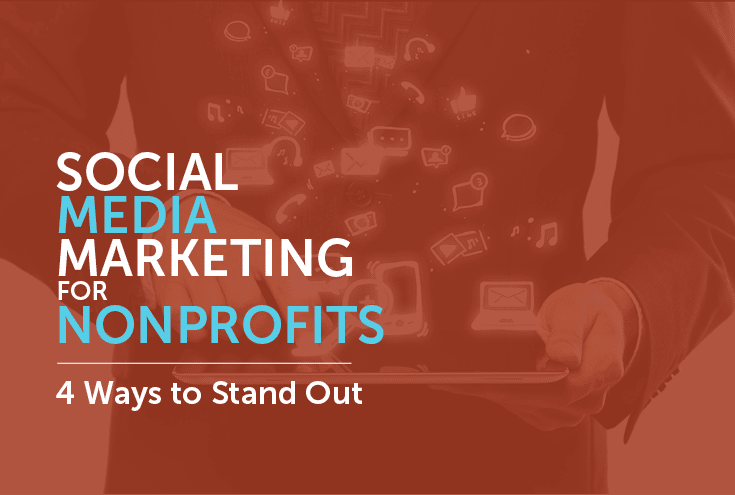 Cultivating an online presence has become a must-have for nonprofits looking to expand their audience. Digital fundraisers are accessible, relatively inexpensive, and adaptable. Their success also relies on your nonprofit's ability to market via social media.
Email, text, and other direct communication strategies are useful for getting in touch with your current supporters, but to expand your reach, your nonprofit needs to understand modern social media marketing strategies and how to leverage them. Plus, as more nonprofits market themselves on social media, your organization will need to do more to stand out from the crowd.
To help launch your marketing strategy, this guide will dive into four nonprofit social media essentials to make an impact and get recognized online.
1. Use a consistent branding strategy.
Digital marketing is successful when it builds brand recognition. If your nonprofit doesn't already have a solid branding strategy, devote time to determining what makes your nonprofit stand out, what your values are, and what you want supporters to associate with your organization.
From there, create versions of your brand elements that can be used across multiple social media platforms. This might include a smaller version of your logo or one with a transparent background that can easily be added to other materials. Keep in mind that content on social media is often reshared without the source, so adding brand elements like your logo directly onto content increases the likelihood that someone will link it back to your nonprofit.
If you have multiple team members and volunteers working on your social media strategy, create a style guide. This will keep track of all versions of your brand logo, colors, and language choices and outline the ways they should be used.
2. Create eye-catching visuals.
Visuals matter on the web! Your nonprofit's website has seconds to capture visitors' attention, and our brains take in visuals far faster than they do text. If those visuals are high-quality and intriguing, visitors are more likely to stick around.
On social media, attention-grabbing visuals are even more important since your nonprofit's posts will be placed next to those from a wide variety of organizations trying to catch your supporters' eyes. To stand out, design unique, bold visuals for your social media posts. Specifically, try adding:
High-quality photographs. Stock photos have their uses, but to make your nonprofit stand out and show the real work your team does, add high-quality photographs of your volunteers, staff, and constituents to your posts. Use photographs that have strong points of interest and ideally one person in focus. Supporters are more likely to notice a human face and connect with an organization that's represented by a single, relatable individual.
Graphics. Create various visuals for your social media posts. These might be additions to your photographs, such as frames and overlays or entirely new images. For instance, you might create an infographic explaining a complex process in an easy-to-understand format with bright visuals to help spread awareness about your cause.
Video. Video is the new dominant form of communication, and supporters appreciate having the option to watch rather than read your message. Record short videos sharing stories about your nonprofit's work, explaining core issues, or just showing off interesting aspects of your organization to entice supporters to learn more.
If volunteers are fundraising for your nonprofit, create visuals they can use in their campaigns. For example, during a peer-to-peer campaign, you might build a library of high-quality photographs fundraisers can use to show off your nonprofit's work.
3. Launch interactive content.
Social media is about social interaction, and a potential supporter is likely to remember an organization they personally interacted with. Various social media platforms offer different types of interactivity options, and your nonprofit should aim to interact with supporters in a way that's both convenient and memorable.
For example, to promote an upcoming event, your nonprofit might create various polls about what types of activities supporters would like to participate in at the event. Or, for a virtual event, you might ask supporters to shout out in the comments where they'll be attending from, whether it's the same town your nonprofit is based in or across the country.
Getting supporters to interact with you on social media can also be helpful for collecting marketing data. Make a note of your current supporters' social media account names in their profiles so you can invite them to groups, tag them in fundraisers, or just encourage them to follow your pages.
For your first social media campaigns, you may have limited information about your supporters' social media presence. In this case, a social media append can be helpful for getting initial account names and building up your first following.
4. Adapt to each platform.
Each social media platform has its own official rules and unwritten guidelines for how to succeed. When launching a new social media campaign, take time to research the platforms you intend to use and design your content strategy accordingly.
Consider types of content the platform supports, as well as what the audience on that social media site is likely to interact with. For instance, a fundraising idea that engages Facebook's slightly older audience will likely need to be adjusted before it can be posted on TikTok.
The platforms your supporters are active on will also change over time. Currently, some of the most popular social media platforms include:
Facebook. Facebook supports long-form written content as well as Facebook Fundraisers, which are independent campaigns supporters can run on behalf of a nonprofit. Use visuals to stand out from text-only content and share stories that evoke emotion and will encourage supporters to share them with their friends.
Instagram. Instagram is a primarily photo-based platform, though short videos are supported, as well. Nonprofits focused on causes that lend themselves to photogenic pictures, such as animal shelters or nature conservatories, can make strong use of Instagram to show off their work and connect with supporters.
TikTok. TikTok has emerged as the most popular social media platform for young people and a wide range of industries have noted its marketing power. For nonprofits, TikTok can be used to make and share quick, attention-grabbing videos that showcase specific aspects of your nonprofit. TikTok is interactive and users like to recreate content they see in other videos, so try creating a challenge or showing off an activity supporters can do themselves.
When deciding which social media platforms to use, assess your team's resources and availability to create marketing appeals for each platform. If your nonprofit can maintain an active presence on multiple channels, you can attract more attention overall, but having several inactive accounts may actually hurt your nonprofit's credibility. For small teams, try focusing on creating high-quality content for just one or two social media platforms.
---
Social media is an inexpensive but powerful tool for connecting with supporters across the world. To attract a following and spread your messaging, create high-quality, interest-grabbing content and adjust it to meet each platform's expectations. From there, continue interacting with supporters and posting regularly to establish your nonprofit as a highly engaged, active, and dynamic organization in your field.
About the Author
Kevin Penney has been working in digital media for over ten years. He's the CMO and co-founder of Bonfire, an online platform that's reinventing the way people create, sell and purchase custom apparel. He enjoys strategizing, working closely with his team, and hockey, exactly in that order.