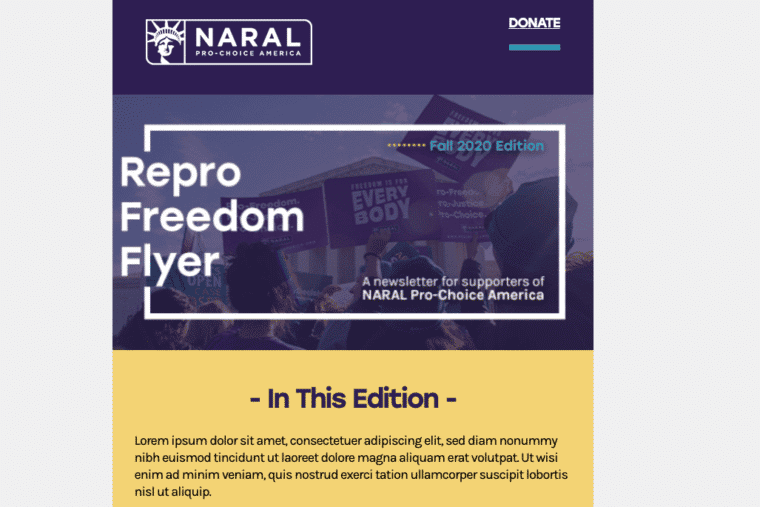 No matter what CRM you use: Engaging Networks, EveryAction, Blackbaud products, MailChimp, Constant Contact, Salesforce Marketing Cloud and more, we provide implementation and email design services to fit your fundraising needs.
When we work on a website redesign or CRM integration, we often make time to update the organization's email marketing and fundraising materials, too.
Here are some strategies and recommendations for improving your email marketing campaigns:
Connect with a fundraising expert.
It's hard doing anything alone, but email marketing and online fundraising can be particularly tough.
At Cornershop Creative, we provide our combined dozens of years of fundraising and campaign implementation experience into what resonates with donors online. We can connect you with copywriters, designers, developers, and other fundraising experts to help create everything from your campaign messages and visuals to fundraising email templates that you can use over and over again to drive results.
Clever and unique campaigns are always successful, and a strong email marketing consultant can make sure you have the best campaigns for your supporters. CCI's Black Lab Friday campaign is still one of our favorites!
Make sure your emails and forms are mobile friendly.
More than 50% of emails are opened on mobile devices. Considering there are so many ways to access and connect online, your donation forms, advocacy forms and other campaign pages also need to look great, from the smallest mobile device to the largest of desktop monitors. One of our specialties is making templates that are "WYSIWYG friendly" and easy to use.
We work hard to make sure the email designs that we create work well no matter what email service your supporters access!
Test your emails on all platforms and devices.
With new versions of smart phones coming out seemingly every day and email clients changing so often, the world of email can be difficult to navigate! Remember to test your email messages extensively to make sure no matter what devices or email client someone uses, your emails look great.
We have used both Email on Acid and Litmus email testing services, which let you select which platforms you want to test. We recommend running a list of your email addresses and separating out the domain. If very few people look at your email in AOL, for example, then you can possibly avoid testing on that platform.
Analyze your email results.
You're not done once you've launched your email campaign. Providing detailed reporting and analysis on your campaigns will help guide your future campaigns. Make sure you review open rates, click-through rates, and most importantly, conversion rates.
Before you even start creating your campaign, set goals for what you want out of the email campaign. And we strongly recommend performing an A/B test to confirm that your email design or message is optimized for your supporters and gather data around what works and what doesn't for your audience.
Think outside the (in)box.
Whenever you send an email, your website and other marketing profiles should be updated with similar and consistent messaging.
Add a lightbox on your homepage. Promote the same message and campaign on Facebook and Twitter. Write a blog post about the campaign and include call to actions in other popular content on your site. These tactics can be just as effective and will help expand the reach of your campaign.
Have a little fun with your content.
While websites and apps have grown tremendously in functionality over the last decade, email design and functionality has not changed substantially. But that doesn't mean you have to build your templates like it's 1998!
There are a number of fun, interactive elements that you can incorporate in your email content, including videos, gifs, and infographics.
Gifs can be especially powerful, as they provide movement and interactivity that users are drawn to. You can make a gif of a countdown clock to your fundraising deadline, or use a moving arrow graphic to point towards your call to action button. Litmus has a list of great interactive email examples.
Learn from examples.
Check out our portfolio for more email templates that we've created for our nonprofit clients.
NARAL
Here is a recent example of a WYSWYG friendly template that we worked on with our friends at NARAL.
First, we design a starting template. Then, they're able to use that template and add their own content and images whenever they need to send out an email newsletter.

While we have built many that are visually striking, we like this approach because: 
The template for the email design is bold and engaging.
The message is branded for the organization, including images, colors, and features.
The large image options create an emotional connection with readers.
A Donate link directly in the header of the email captures those who want to give immediately.
A vertical layout removes possibilities of issues or display errors with mobile devices or older, outdated email clients.
The template is flexible, allowing you to add whatever content you want in the body content
The footer is also simple and well organized. Even the unsubscribe is prominent (but not too prominent!) for individuals who want to leave the list.
League of Women Voters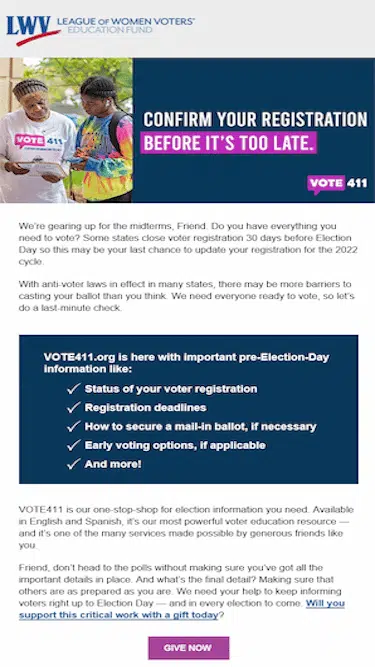 We partnered with the League of Women Voters to create this email template for one of the organization's annual campaigns.
This email template is nothing fancy, but we like the approach for a couple of reasons:
The template for the email design is simple and easy to follow.
The email is branded for the organization, including colors, images, and features.
The flexible template allows you to add multiple different types of content and calls to action to emails.
The beautiful and mobile-friendly template can resonate with their nation-wide audience — no matter what device or email service they use.
3 Tips for Creating Emails
But is a shiny new template all you need? Even when you have a great email template, you'll want to make sure you keep these tips in mind when creating your emails:
Microsoft Word is Not Your Friend
When writing and editing copy for an email, you're most likely using Microsoft Word or another rich text editor. But whenever we hear questions like "Why did my email content get so messed up?", it is nearly always because someone is copying and pasting from an editor like Microsoft Word.
The formatting used in rich text editors like this very often overwrites template formatting. If you plan to copy and paste content, we highly recommend you use a plain text editor like Notepad!
Check Your Image Sizes
Mobile-friendly email templates are now a given.
Make sure your emails are truly mobile-friendly by importing your image image files in the recommended sizes for your email template.
Then, set the template's header image width to 100% when adding the header image file to an email. This way, you ensure the header image will be as wide as whatever device you are using to view your email.
Test Across Email Platforms
Making changes to your templates and adding real content can upset the delicate balance that makes your emails look as uniform as possible across email clients. Here's some helpful information from Litmus about why and how these differences occur.
We suggest testing any email that you create through multiple inboxes. Signing up for a service like Email on Acid or Litmus to run tests across multiple email clients makes this kind of testing easy.
Use a well-built template and keep these tips in mind, and your emails will look awesome for everyone! Need a little help with your email design or campaign tactics? Contact us!