AAVS now has complete control over every aspect of their site, including beautiful Salsa templates and a flexible widget that lets them control what content appears in the left column of their site.
We're pleased to announce the launch of the new American Anti-Vivisection Society website, a powerful and flexible new WordPress customization, and a huge improvement over the organization's old site. Our friends at AAVS were using a proprietary CMS that presented challenges with updating and maintaining their site, which they wanted to update and improve navigation. After looking at other vendors, they reached out to us, and asked if we could turn around a high-quality custom design, architecture, and build in just three months. Challenge accepted!
We started off with a content audit, which revealed layers of unintentionally buried content that we were all eager to make more accessible. We asked hard questions about the content:
What do they think is the most important 

content

 on their site?
What 

content

 do they feel is currently buried or hard to get to?
Are they planning to add 

content

 to the site — 

content

 that we should plan for in the future?
Do they feel like any of their current site should be trashed? (i.e., are there any sections we should ignore?)
The answers to these questions helped set the stage for the new information architecture, but there were still a few uncertainties among the hundreds of content items we migrated, so we turned to a form of usability testing called tree testing to resolve them.
The results, which look a lot like subway maps, helped confirm some of our assumptions, and counter others. In the end, armed with hard data about how real people thought about AAVS's content, we moved forward confidently with a brand new sitemap.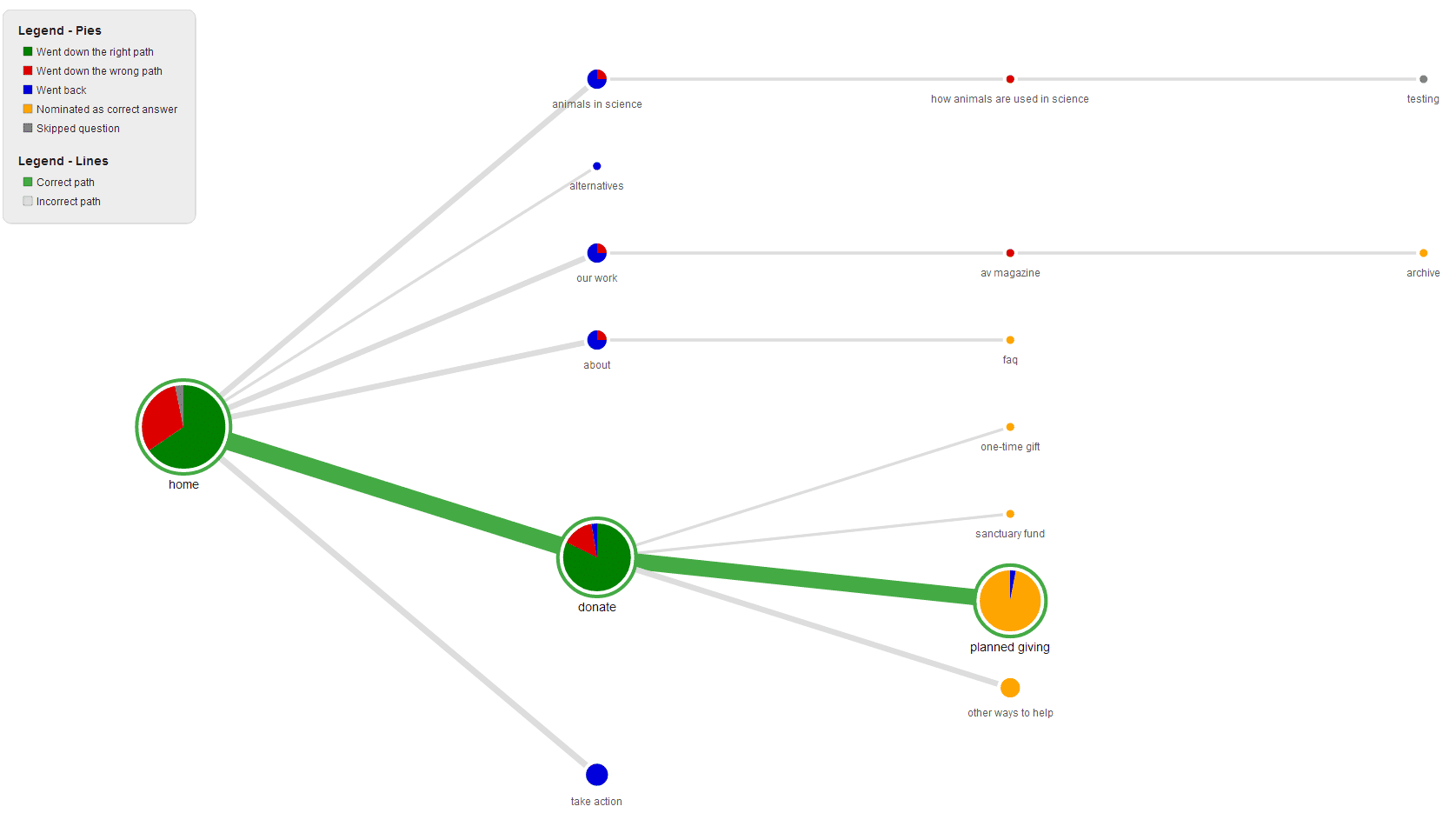 Next, we developed desktop and mobile platform wireframes and design comps to carefully identify the structure and look of the new site — what would go where? How would we balance the relative importance of each of the homepage elements? How would the interior pages support visitors who might not know much about this organization, and may never visit the homepage?
After several iterations, we were ready to move in to development, and turn all this hard conceptual work into reality! Our development was focused on building a highly maintainable site for AAVS staff. AAVS now has complete control over every aspect of their site, and we even built a custom plugin for the site: a flexible widget that lets AAVS control what content appears in the left column of their site on a page-by-page basis!
Next, we customized the organization's Salsa templates to match the beautiful new site and be beautifully mobile-responsive. Last, but certainly not least, we trained AAVS to make changes throughout the site.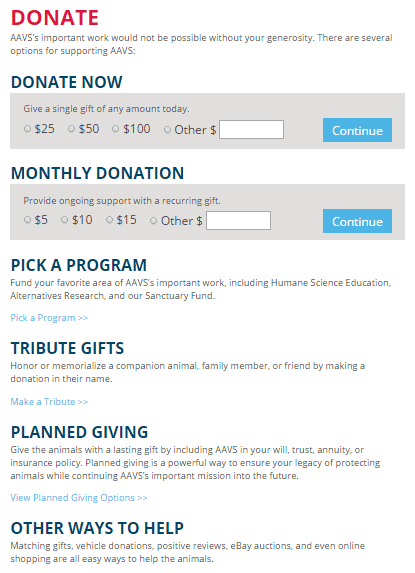 Working with Cornershop Creative on our website redesign was a wonderful experience! They really understood our challenges and delivered a beautiful website that met all of our functional requirements and exceeded our expectations. With excellent project management, skilled design and development, and a positive and encouraging spirit, Cornershop was the perfect partner every step of the way.

Kim Epstein, Graphic Designer & Website Coordinator