We worked with Cultural Vistas to improve their overall site and content organization and to best present their many study abroad programs. Our designs provide a variety of flexible layouts to ensure that their content is visually engaging, easy to digest, and easy to maintain.
Cultural Vistas offers students and professionals a wide variety of opportunities to work and study abroad. Every year, the organization offers more than 30 exchange programs that promote global understanding through the lens of career exploration, civic engagement, leadership development, and professional training. With so much going on, and so many exciting opportunities for so many different audiences, the organization's old website had gotten hard to navigate.
We worked extensively on their site organization, interviewing both internal and external stakeholders to understand pain points and plan for improvements that would make the most impact. Based on those conversations, we revised and re-revised site maps to create the best presentation of the organization's varying programs.
Once the content organization was nailed down, we focused on the design and layout options to provide a variety of flexible templates that help make their content even more engaging, easy to digest for site visitors, and easy to maintain for site administrators.
We migrated lots of content from their old site, taking advantage of both programmatic and manual migration to migrate their blog and the more complex program pages.
On the backend, an abundance of shortcodes and flexible fields provide layout options that support their many and varied programs, which vary depending on audience, location, duration, and so on. Backend content options are like a Swiss Army Knife of options: articles (both external + on site), embedded tile displays for posts, carousel display for posts, events, FAQ posts that are categorized and automatically added to program pages, related content options, customizable side columns for program pages… there's nothing the custom content on this site can't do!
We used Gravity Forms for several forms on the site, including a great short form signup that links to Mailchimp. The Events Calendar Pro came in handy for events, and we tagged events with program-specific categories so that relevant events (like recruitment meetings, for example) show up on related program pages.
Check out our favorite pages:
Our Programs is a dynamically-generated page: individual program tiles are pulled on to the layout by program categories: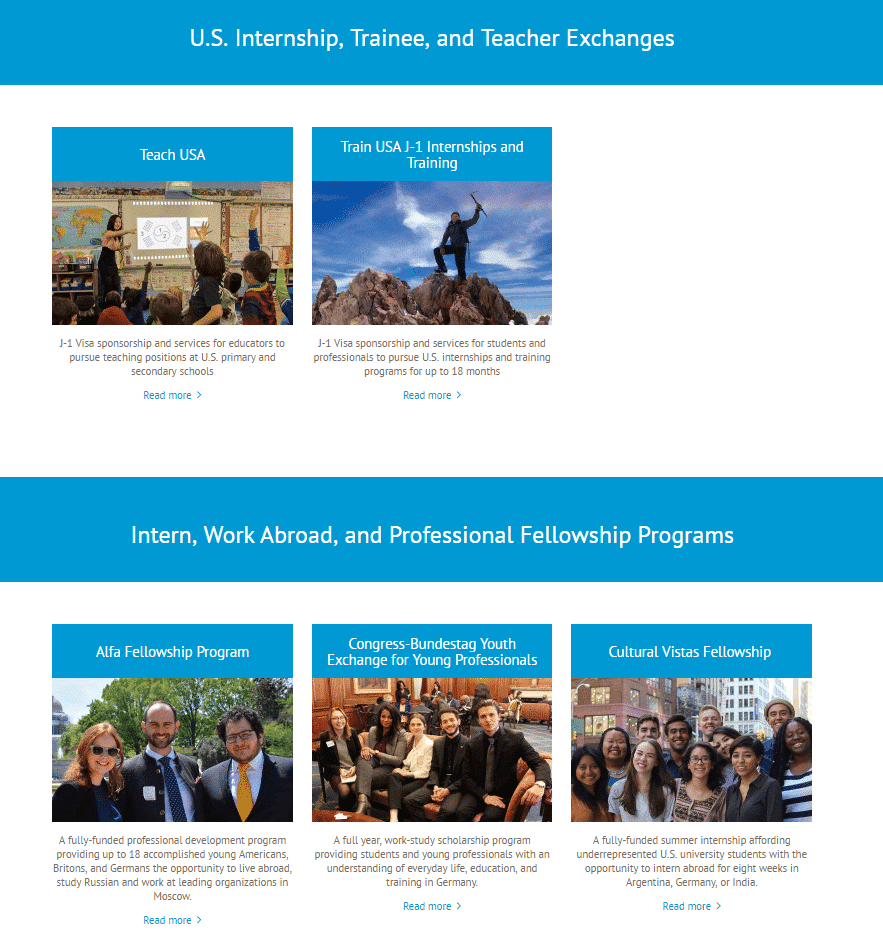 The flexible and powerful program pages give Cultural Vistas the ability to share and maintain a relatively simple program like the Cultural Vistas Fellowship and a much more detailed program like the Robert Bosch Foundation Fellowship in the same template, giving them the fields they need to choose which elements are needed on each page.
This infographic on the About Us page quickly tells the full full story of this dynamic organization: