A beautiful new WordPress site helps Generation to Generation recruit older adults to volunteer with kids, and fancy customization of the flexible VolunteerMatch API filters hundreds of thousands of possible volunteer opportunities down to just the *right* ones.
The Generation to Generation (Gen2Gen) initiative, a campaign from Encore.org, seeks to inspire adults over 50 to get involved in the lives of children and youth through mutually-beneficial intergenerational relationships. Each adult volunteer's goal is to help at least one young person bridge gaps in learning, jobs, meals and play.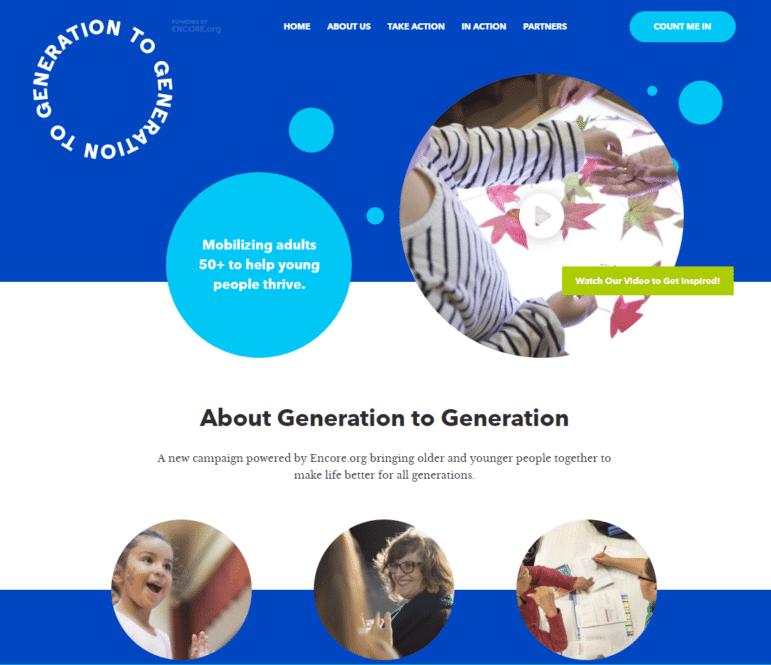 We started by building a quick pre-launch landing page to stir up excitement around the new initiative, and gather emails ahead of the launch. The Gen2Gen team was working on a very short timeline, but already had a great design team on board, so we hit the ground running and built a flexible WordPress site and custom theme.
Gen2Gen and VolunteerMatch are a match made in heaven: VolunteerMatch curates an awesome list of opportunities, and Gen2Gen cultivates a motivated list of potential volunteers. The site we built aggregates volunteer opportunities, specifically for older folks to work with young people, while allowing people to look for local volunteer jobs in or near their zip codes, thanks to a customized VolunteerMatch API call we created. VolunteerMatch is a great service that gathers all sorts of volunteer positions across the US, but Gen2Gen wanted to focus specifically on those that would match older volunteers with young people, and then present only those that were nearby a potential volunteer.
VolunteerMatch's API is powerful and flexible, and allowed us to display a few results at a time within the new Gen2Gen website (using Gen2Gen branding), but we wanted more, so we wrote a script that runs nightly and fetches every VolunteerMatch opportunity that are both "good for seniors" and have to do with "children + youth," and we maintain our own small, separate pool of opportunities. With those handy, we give Gen2Gen content editors the ability to display these opportunities using more sophisticated filtering – they can pre-filter results, so that for example, if they're adding the section to the California page, they can limit the section to only show opportunities in CA (optionally including "virtual" opportunities too). Visitors to the Gen2Gen site get much fancier filtering, like the ability to search opportunities' titles and descriptions, filter by organization, and search by proximity to a specific address/city/zip. So on the Gen2Gen site, both Gen2Gen admins AND their audience can filter the listings by location.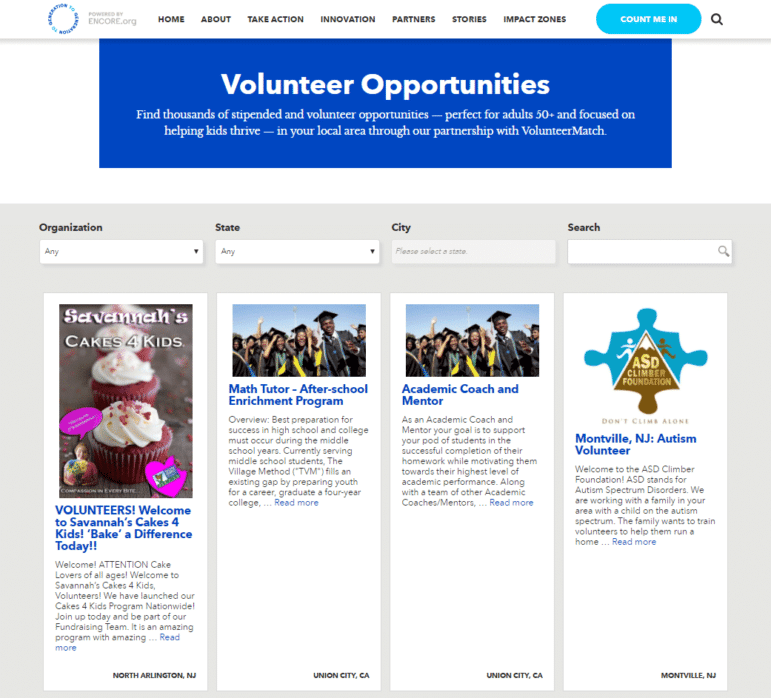 Blue State Digital powers the engagement component of the site, and the modals they provide are what makes the magic when you click on "Get Involved" under Mentor, Strive, or Big Brothers on the homepage. These modals provide optimal audience conversion using cookies and tagging — if someone has already signed up (via the "Count Me In" button, for example), the buttons take that person straight to the partner pages after they click, but they let Blue State Digital know which partner the person is interested in. If the person hasn't signed up already, they're invited to sign up for Gen2Gen and then taken to the partner's page.