The Humane Society for Huron Valley appreciated their new donation form so much, they asked us to create a contrasting version!
Whenever we update Luminate forms with new, branded templates, we first confirm exactly which types of forms we're working with, so that we can ensure the new wrappers are tested and work well for each type of form.
For this particular project, we built templates to suit a one-page donation form, a multi-step donation form, an event page, Luminate's Pagebuilder, and a survey form. Besides updating the wrappers with HSHV's logo and branding, we also worked carefully to ensure that we replicated their custom menu navigation on their events and survey forms.
We enjoyed one fun twist to the mobile display of their donation forms: When viewed through a mobile device, the background image changes to a different adorable animal. Because why use only one cute animal picture when you could use multiple?!
Before: One-Page Donation Form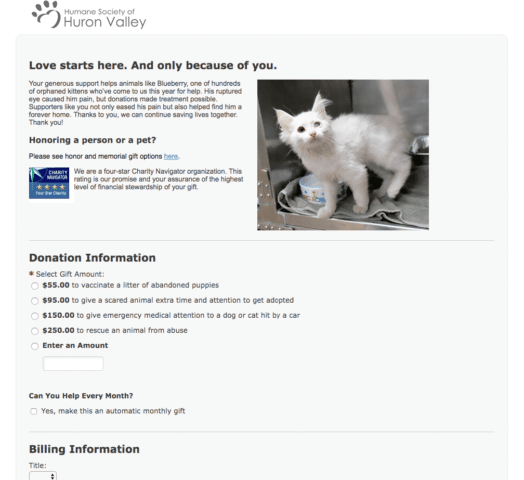 After: One-Page Donation Form