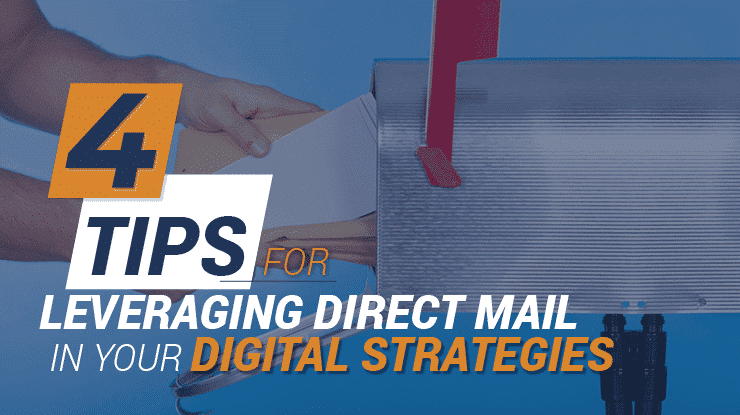 Fundraising is increasingly going digital with social media campaigns, email marketing, and virtual events. However, the shift to online marketing has made traditional mail a powerful tool to break through the virtual clutter, getting attention from donors who may have scrolled past online donation requests.
Your nonprofit doesn't have to choose between direct mail and digital marketing. Instead, it's more effective to leverage the two channels in tandem, creating a campaign strategy that builds momentum through multiple donor touchpoints. 
Our nonprofit fundraising team at GivingMail has years of experience working with a spectrum of nonprofits to launch direct mail campaigns. Our approach uses four key tips for a successful campaign that combines traditional and digital strategies:
Grab the reader's attention with direct mail

Send traffic to your online donation page

Outsource your fundraising efforts

Track results and analyze data points
These tips ensure both approaches inform one another to create an adaptable campaign that runs on data without losing the human touch. Direct mail and digital marketing both have their individual benefits and the proper combination can enhance their strengths while accounting for any weaknesses.
1. Grab the reader's attention with direct mail
Direct mail is an attention grabber. Physically holding an object encourages more interaction as supporters pick up an envelope addressed to them and have to make a conscious decision about what to do with it. Throw it away? Open and engage with it? This means that direct mail is an effective way to kick off your campaigns by sparking donor interest with documents they can't scroll past. 
Your traditional mail appeals can further encourage interaction through their presentation and contents. For example, grab a reader's attention by:
Using high-quality materials.

Given that direct mail's biggest strength is its physicality, using high-quality paper and envelopes further increases the likelihood of your supporters holding on to your letters. If your direct mail appeals are well made, supporters will hesitate to discard them, keeping your nonprofit in front of mind each time they walk past the letter in their homes.
Getting creative with your document types.

Fundraising letters are a classic standby for mail appeals, but you can stand out by sending thank you cards, postcards, calendars, and more. Documents that are decorated with images or have a practical purpose are likely to stick around in your supporters' homes, and donors are more likely to make a donation the longer the appeal remains relevant to them.

Telling stories.

Digital marketing doesn't lend itself to long-form storytelling, but direct mail appeals do. Welcome, impact, and fundraising letters are all opportunities to tell an emotional story about your nonprofit's work.
Once you gain your supporters' attention with your direct mail appeal, your digital marketing is likely to be even more effective. By connecting with supporters first with direct mail, they'll recognize your brand and mission, making them more likely to click and interact when they receive a follow-up email or notice a post on social media. 
Reaching out through multiple channels gives supporters a more comprehensive understanding of your nonprofit's campaign, increasing interest, and encouraging engagement. Subsequent marketing efforts will feel like updates on your campaign's progress after your letters announce its start, creating a sense of momentum and that can urge supporters to action. 
2. Send traffic to your online donation page
Some supporters will be happy to mail in their donations, but others will want to contribute through your online donation page. Direct mail is a secure way to donate, but some supporters may feel nervous about leaving their donation in a mailbox or decide writing and mailing a check isn't worth the effort. 
In addition to including a return envelope in your fundraising letters, include a link to your website and its donation page. Your supporters will appreciate being given multiple ways to donate, and an optimized donation page will encourage increased and recurring donations.
Your direct mail appeals should use one or more of the following approaches to guide supporters toward online donations: 
Online donation form URL.

Your donation form's URL should be present, allowing supporters to type it into their web browser to jump straight to your donation page. Ensure the URL is something easy to type such as "yournonprofit.com/give" to prevent typos and other entry errors. 
Text-to-give number.

As

Snowball's text-to-give guide

explains, text-to-give numbers are phone numbers to which supporters can text a keyword and a dollar amount and donate straight from their phones. Including a text-to-give number on your direct mail appeals can result in donors giving right when they receive their letter without any wait. 

QR code.

For supporters who have their phones on hand, QR codes can cut out the middleman of typing in a web address by directing them straight to your donation page after a quick scan. 
To make the most of the traffic you direct to your donation page, ensure it is well optimized by including only necessary information fields, suggested donation amounts, and the option to become a recurring donor. 
Offering multiple points of entry to your donation page gives supporters more options for how they donate, which should lead to more contributions. Convenience can be the difference between a completed donation form and an abandoned one, so minimize data entry and other hurdles once supporters make it to your donation page. 
3. Outsource your fundraising efforts
Nonprofit consultants exist for a reason. Advice from experts with years of experience in the nonprofit sector is a well of information that can help your campaign get off the ground and headed in the right direction. 
Consultants can help you create targeted outreach, plan your campaign's timeline, and more. Use a guide like this one to assess whether your nonprofit needs a consultant, what your options are, and how to approach a consulting firm with the right questions. 
Like consultants, direct mail service providers can also provide your campaign with invaluable insight into your fundraising approach. For example, in addition to handling the responsibility of managing your mail appeals, a direct mail service provider can advise on how to invest your direct mail resources, what appeals have the greatest impact, and how to better optimize your appeals. 
Assess potential consultants and direct mail service providers based on their past clients and experience. Be sure to ask what size nonprofits they've worked with in the past, what their specialty is, and what their current price model is. Reach out to your contacts to get referrals and do your own research to see which partners your competitors are working with. 
4. Track results and analyze data points
You'll only know if your campaign was a success if you track your direct mail engagement rates. Your campaign should be able to adapt to trends and changes in data in the middle of your fundraising effort. For example, if you discover a specific letter type has much higher engagement rates than your other fundraising letters, it will make sense to increase its output, especially as your campaign calls for final donations before its close.  
Use your nonprofit database or CRM to track what letters you're sending out and to whom. With proper tracking, you can expand your data gathering strategies by: 
Implementing A/B testing.

A/B testing involves creating two versions of the same document, an "A" and a "B." These two versions are similar except with one or two noticeable differences such as the order of information, stories told, or images used. By tracking engagement rates for both versions, you can determine whether one message is more successful than the other, which provides insight into how your marketing team should proceed with their outreach approach. 
Creating personas.

Personas are theoretical supporters that draw on common traits from your supporters such as their demographic information, income, and previous contributions. By creating a persona, your marketing team will be able to better tailor campaigns to one or two individuals rather than an unknown audience. Use your CRM to determine what kinds of supporters are interacting with your direct mail appeals to create other appeals that match their interests. 

Monitoring donation methods.

As mentioned, you should give your supporters multiple ways to donate. However, you should also determine how much engagement each approach receives. For example, you might notice that your reply envelopes have lower engagement rates than QR codes and text-to-give options. 
Data-driven digital marketing strategies can be applied to direct mail to further optimize your campaign as it goes on. You can also use the data you collect to inform your online approach by sending targeted emails based on what you noticed from your first round of direct mail appeals
Direct mail and digital marketing complement each other better than most nonprofits might first assume. Digital marketing allows for easy tracking and instant messaging, while direct mail creates a deeper connection that improves retention. However, when put together, you can track your direct mail campaign's results and offer instant donation options. Not to mention you can also send customized follow-up emails to supporters who received letters to build a sense of momentum!
---
Author: Grant Cobb
Grant Cobb is a fundraising specialist with over 6 years of experience in the nonprofit space. Currently the head of marketing and analytics at GivingMail, he is a huge proponent of data-driven decision-making and the push to bring high-level analytics and fundraising to all.