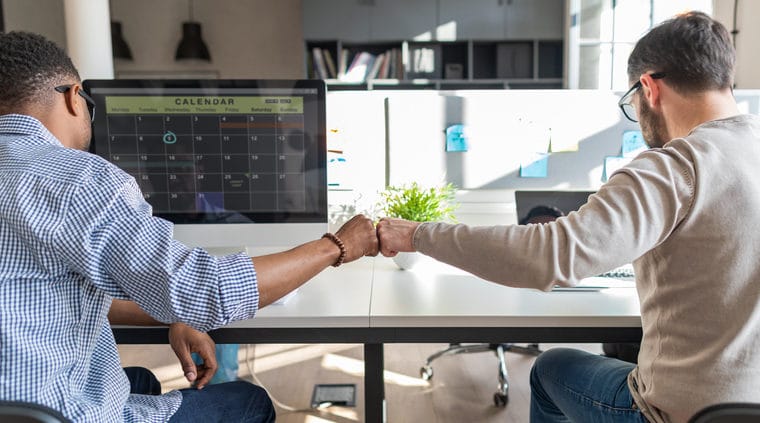 "Before we hang up, do you know any nonprofit consultants who do X?" I hear this all the time, especially on calls with nonprofits. That "X" could be anything like fundraising work, Salesforce development, or marketing optimization.
Whatever the need, nonprofits often don't even know where to start for getting help with technological or strategic projects.
Thankfully, there are a lot of great nonprofit consultant agencies. So what should you do when you need to work with a nonprofit consultant? First, check out our tips for finding a quality consultant.
How to Find a Nonprofit Consultant
Nonprofit consultants support organizations in various areas of expertise. Some consultants have specialties. For example, some might specialize in marketing strategy or web development. Some consulting firms support a little bit of everything.
If you've ever attended NTEN's Nonprofit Technology Conference or another nonprofit conference, you've seen the wide variety of agencies ready to help support your important mission.
When you consider working with a consultant, here's how to find a great agency:
Make sure you trust them!
Trust is the most important thing in any relationship, and your vendor relationship will be no different. Whatever promises an agency makes should be written down in contracts.
Also, your relationship with your vendor is not just about business processes and contracts. You should feel a strong connection to your consultants and how they communicate with you! Vendors that work exclusively with nonprofits have made an investment in social good, but you still want to make sure that they "walk the walk" when it comes to treating all of their clients well and with respect.
Compare prices.
Of course, price is an especially important consideration for nonprofit organizations. Ask for estimates and rates from multiple agencies, if possible. Make sure you are comparing prices to get the best rates. Also make sure you understand what you get with those rates. Some agencies may offer you a low hourly rate, but if it takes them twice as long to complete a task, that's not going to save you any money!
Make sure your requirements are clear.
You don't necessarily need to issue a full, formal RFP. However, you should be able to share a list of what services you're looking for. If you don't know or care about the technical solutions, make sure you have a clearly defined goal or a way to measure success when the project is over.
Gauge flexibility.
Flexibility is key in any project or vendor. Your consultant should be able to scale their work to your needs and desires.
Check on customer service standards.
The most common complaint we hear from nonprofits who have had problems with past vendors is that the vendor "disappeared" when they needed them. Make sure you understand your consultants' communication style. Also make sure that you have clear, specific options for reaching and speaking with a trusted human when needed.
Consulting agencies typically offer a variety of services for nonprofits. They can handle anything from web design to capital campaigns, depending on your specific requirements. Next, here's a list of some of our favorite consultants and their specialties.
Cornershop Creative | Nonprofit Consultants for Website Design, Custom Development, and Maintenance
Cornershop Creative
Yes, we're kind of cheating and putting ourselves at the top of the list! But simply put, we help nonprofits do great things on the web.
What really sets Cornershop apart is our team. We listen at every step to ensure that you get the best possible result. Our team is client-focused; We want to partner with you to create a vision and to deliver the very best results. We are also audience-focused; Our team feels as passionately about meeting the needs of your constituents as we feel about meeting your needs.
We don't just develop amazing projects. Our team also makes sure you know how to use and update your own content. And we're still around if you end up needing a little support!
We've worked with hundreds of nonprofit clients. We know how to listen carefully to ensure all of your digital needs are met – even when that means connecting you with one of our favorite partners for a specific need.
Services
Custom website development — especially in WordPress
Microsite and campaign site development
CRM integration — including Salesforce, Salsa Labs, Blackbaud's Raiser Edge, Engaging Networks, and EveryAction
Campaign implementation to help you raise more money through coordinated campaigns
Nonprofit Consultants for Messaging, Marketing, and SEO
Moonsail North
Moonsail North focuses on storytelling and strategy, and they're also passionate about helping innovators communicate and grow.
We worked with Moonsail on The Scott Foundation and saw first-hand how they create effective stories and digital strategy for nonprofits.
Services
Marketing Communications + Branding
Public Relations
Advertising + Design Services
Digital Strategies
Capacity Building
Trainings + Presentations
Lightbox Collaborative
LightBox Collaborative holds good ideas up to the light, helping nonprofits, philanthropies, and other do-gooders do better. They have skills and extensive experience developing brand strategies, messaging, and media.
We worked with Lightbox to create the online presence for a new engagement-focused effort with Bay Area Open Space Council.
Services
Strategy
Branding & Naming
Message
Capacity Building
Campaigns
iMarketSmart
Simply put, iMarketSmart helps you get more meetings with major and legacy donor prospects. Their Engagement Fundraising software-and-service-duo helps fundraisers get meetings at the right times with their most passionate and wealthiest supporters.
Services
Engage with supporters
Generate high quality leads
Qualify and prioritize leads
Cultivate relationships
Nonprofit Consultants for Salesforce Implementation
Percolator Consulting
The Percolator Consulting team are experts in technology for supporter mobilization and engagement. They deliver databases, integrated online toolsets, and the strategic support to wield them. From custom volunteer management platforms to sophisticated CRM and website integrations to tracking and measuring supporter engagement, they can plan and build the solution you need.
We worked with them on Yes! Magazine's subscription forms and also on the Center for Action and Contemplation's Shopify customization.
Services
CRM strategy
Salesforce development
Engagement strategy
Ongoing technical support
Bigger Boat Consulting
Bigger Boat Consulting is a mission-driven consulting firm. They are excited about working with organizations that want to change the world and their communities. They are also a Salesforce.org partner and a certified B-Corporation, a formal seal of approval of their desire to run a business focused on doing good in the world.
Services
Custom Salesforce Solutions focused on human services and affordable housing
Program and outcome management
Training and technical assistance
Managed package development for nonprofits
Nonprofit Success Pack management for Raisers Edge
Nonprofit Management Consultants
Astron Solutions
Since 1999, Astron has helped organizations across the country streamline their HR and improve the ways they engage and manage people. Their sole focus is on providing exceptional HR consulting services and talent management software to small and mid-sized nonprofit organizations. And their goal with every client is to help raise their employee engagement and retention levels while reducing the time, effort and budget required to manage HR.
Services
HR Consulting Services
Talent Management Software Solutions
Grants Plus
Grants Plus partners with organizations as their trusted advisors to identify funders, recommend grant strategies, write compelling proposals, and make long-term gains.
Services
Grant writing
Grant proposal review
Grants management consulting
Training & Coaching
Nonprofit Fundraising and Direct Mail Consultants
GivingMail
GivingMail is a nonprofit-specific direct mail marketing and fundraising firm that can help take any direct mail campaign up several notches. With an easy-to-use web-to-print design platform and fundraising experts available for assistance, GivingMail has spearheaded campaigns for nonprofits of all shapes and sizes.
Services
Fundraising Letter Templates
Visual Design Help
Donor List Rentals
Marketing and Communication Packages
Avalon Consulting
Avalon Consulting uses systems, strategy, and savvy to drive results for nonprofits so they can inspire people to help change the world. Since 1997, Avalon has partnered with progressive nonprofits and campaigns to raise millions of dollars to achieve their visions. They have helped small organizations grow and leading organizations reach new heights, and they've won awards for our groundbreaking work along the way.
We've worked with them on a number of projects, including campaign implementation for the League of Women Voters.
Services
Fundraising Strategy
Creative Development for Fundraising
Fundraising campaign management
Digital fundraising
Fundraising Analytics
Lautman Maska Neill & Company
Thought leaders. Creative strategists. Direct marketing gurus. LautmanDC.com is all of the above. And when it comes to direct response fundraising in the nonprofit world, they're a great ally.
Services
Direct Mail Fundraising
Digital Fundraising
Telefundraising
Cross-channel fundraising and marketing
ABD Direct
For over 30 years, ABD Direct has fostered dedicated partnerships. They work with nonprofit charitable and progressive advocacy organizations, pushing the boundaries of direct response fundraising. ABD Direct's long record of integrated programs and cutting edge direct response fundraising solutions pave the way for success.
Services
Integrated Fundraising
Direct Mail Fundraising
Digital Fundraising
Analytics & Planning
List Services
Production Management
Value Added Services
Schultz & Williams
Schultz & Williams is a national fundraising consulting firm that partners with inspiring nonprofit clients to make a difference in an ever-changing world.
Services
Integrated Development Strategies
Direct response fundraising
Strategic planning
Staff solutions
Digital campaign implementation
Data analytics
Marketing
Aly Sterling
Aly Sterling Philanthropy is a partnership-driven consulting firm powering fundraising, strategic planning and board leadership solutions for the well-positioned nonprofit.
Services
Fundraising solutions
Strategic planning
Board catalyst
Averill Solutions
Averill Fundraising Solutions is a full-service fundraising consulting firm. The Averill team has combined nearly 60 years of experience serving secondary and higher education, hospitals and medical centers, academic medicine, faith-based organizations, global health organizations, human service organizations, professional and membership societies, arts and cultural organizations, and civic and social groups.
Services
Campaign Direction
Campaign Planning & Feasibility Studies
Annual Fund Direction
Embedded Staffing
Leadership Learning
Executive Search
Contact a Nonprofit Consultant Today
Finally, don't hesitate to reach out to any consultants with your questions. We're always happy to chat and offer our tips for next steps.