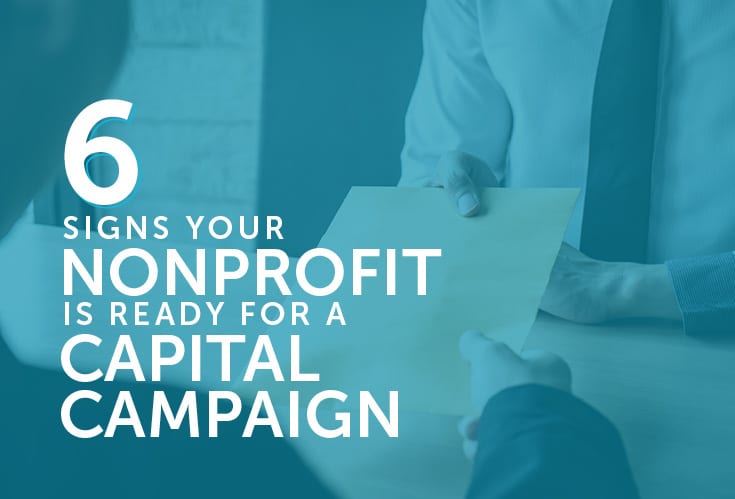 Odds are, if every nonprofit's staff and board were asked, "Are you ready for a massive influx of funds to further your mission? Say, $5 million? $20 million?" the answers would all be, "Yes!"  
While every nonprofit would be eager to work with increased funds, not every organization has the infrastructure in place to conduct the large-scale campaign needed to obtain those funds. 
To achieve these ambitious fundraising goals, nonprofits usually execute years-long fundraising efforts known as capital campaigns to raise money for a renovation, expansion, or other major investments to help grow their capacity and further their mission. 
Capital campaigns require extensive planning, a strong fundraising infrastructure, and plenty of research to be successful. It's important to make sure your nonprofit is ready for this kind of undertaking before getting started. 
We know what it takes to reach a capital campaign goal, and in this article we'll share the following signs that your organization is ready to start planning: 
Capital campaigns can massively increase the scale of what your nonprofit can accomplish, but it's important to honestly and openly assess your organization's readiness ahead of time. Let's dive in.
1. You have a need to expand. 
When nonprofits have more constituents than they're able to effectively serve, that's a sign that those organizations could benefit from an increase in structural capacity. If your constituents' needs have increased, are your current programs, facilities, and initiatives able to meet those new demands? 
Still, for a capital campaign, it's not enough to say broadly that your organization "needs to expand." You'll have to hammer out the details of the need for increased capacity. You might ask your team the following questions: Why do we need to expand? What do we need in order to expand? How will the expansion help us accomplish our mission or meet additional needs? 
For example, a food bank embarking on a capital campaign to raise funds for a new facility and equipment might articulate their needs in this way:  
What

: A new 5,000 sq ft building with five times the pantry space, commercial cooling equipment, and room for staff offices.

Why

: Our current 1,000 sq ft facility does not have adequate room to accommodate the number of annual food drives that we facilitate.

How

: The additional capacity will allow us to double our monthly meal distributions for existing pantry clients, serve up to 500 new families, and reduce wait times for all. 
If your organization can clearly articulate specific reasons for a capacity expansion, it's a sign that you may be ready for a significant fundraising effort like a capital campaign. 
2. You have a solid base of involved donors and supporters.
Because a capital campaign requires a significant amount of involvement from a wide breadth of players (i.e. donors, volunteers, members of the community), it's essential that your organization has a lively, committed base of supporters, both inside and outside of your organization. There's no magic number of donors your organization should have, but it's safe to say your donor base should be growing year-over-year. 
Moreover, these supporters should be engaged and involved in your organization's campaigns, initiatives, and programs. If your organization has trouble filling volunteer shifts and securing attendance to your fundraising events, your organization may lack the support it needs to see a capital campaign all the way through to the end. In this case, invest in the health of your outreach and engagement efforts before you dive into a capital campaign. 
Finally, even beyond your organization's own donors and supporters, the broader community should have some knowledge of and trust in your organization before you decide to launch a large-scale, years-long fundraising effort. Having the support of your neighborhood, city, or state (whichever is proportional to your organization's scope) will certainly help down the road! For example, perhaps your city's parks and recreation department volunteers to donate landscaping hours to your new facility, or a local HOA offers to host a neighborhood fundraiser on your behalf. 
3. You have involvement from your board. 
Considering your nonprofit's board is your organization's core decision-making body, you'll need their full participation and endorsement to have a successful capital campaign. You'll need your board to: 
Sign off on plans and goals.

A clear, shared vision for your capital campaign is essential for launching a cohesive, effective fundraising effort. Without collaboration and input from your nonprofit's board about key financial benchmarks and overarching campaign goals, you're unlikely to be able to proceed successfully. 

Make introductions to prospects.

Nonprofit board members are valuable team members because they have connections and relationships in the community that can benefit your organization. Board members should be willing to locate potential major donors through their personal or professional networks and begin the stewardship process with introductions to your fundraising team. Without these valuable introductions, your campaign is unlikely to locate the major donors it needs to accomplish its goal. 

Cultivate relationships with potential major donors.

Because board members likely already have relationships with some of your major donor prospects, their involvement in the stewardship process can greatly increase your chances of success. 

Contribute to the campaign.

It goes without saying that your board members should be willing to contribute to the capital campaign your nonprofit is planning, whether they give a monetary gift, volunteer their time, or provide some other form of help. If not, it likely indicates that they lack trust in its ability to succeed at its goal, or that there is a broader problem with board engagement, which are both red flags that could show that a capital campaign may not be viable at this time. These issues can be uncovered during a feasibility study.
You can take steps to increase board involvement by pursuing a future large-scale campaign. Boardable's guide to board engagement recommends evaluating your board's performance on a regular basis to hold board members accountable, plus implementing a mandatory volunteering and fundraising policy. Once your board's engagement is where it should be, a capital campaign is a much more feasible idea! 
4. You can identify lead gifts.
Say your nonprofit's capital campaign goal is $5 million. Before launching your campaign, it's essential to use your donor data to identify a handful of prospective major donations that will anchor your campaign. Many nonprofits seek out a "lead gift," or a single donation of about 15-30% of the campaign's goal, in order to confirm the campaign's viability. 
If your nonprofit has a sizable base of engaged major donors, a lead gift might be closer to 15% of the campaign's goal, while a smaller pool of major donors means your lead gift should be a more significant portion of your fundraising target. 
In place of the single lead gift, some nonprofits may also seek several 10-15% lead gifts to get their capital campaigns started. Either way, without a strong network of major donors, capital campaigns are much more difficult to complete. After all, major donors generally account for 60-80% of the revenue generated from these campaigns. 
Conducting prospect research
When you're attempting to identify major donors to your campaign, it's essential to take wealth markers into account by conducting prospect research. Some, if not most, of your capital campaign's major donors will likely come from your existing donor base, so determining their capacity to give can help focus your efforts and lead you in the right direction. 
Still, as explained in Donorly's guide to prospect research, it's important not to neglect affinity markers as well. A donor's past involvement on a nonprofit's board, significant political contributions, and volunteer history all indicate a donor may be likely, as well as able, to give a major gift to your campaign. 
5. You've conducted a feasibility study.   
A thorough feasibility study is an essential part of determining your organization's readiness to launch a fundraising campaign. Conducting a feasibility study involves bringing in an outside consultant or agency to collect data, interview stakeholders, and analyze other factors in order to assess the likelihood of a capital campaign's success. Some of the factors that feasibility studies analyze include: 
Fundraising history.

Have your

past campaigns

met or exceeded their goals? Do you have a list of potential major donors who regularly give to your organization? Are your fundraising solicitations usually successful? Patterns and key metrics from your organization's past fundraising efforts are likely to predict your future success. 

Opinions of key stakeholders.

A feasibility study will determine whether or not the capital campaign has support from key stakeholders in your organization, like board members, current or former major donors, community leaders, and veteran volunteers. These groups showing excitement about the idea and understanding the need is a good sign for the campaign's success.
At the end of a feasibility study, a campaign consultant will walk you through the results and present an objective determination of your organization's readiness based on the data they collected and analyzed. It may be that your organization is all set to move forward with your plans, needs to make some adjustments to your goals, or that it's just not the right time. In any case, a fundraising consultant can steer you in the right direction. 
6. You have resources to invest in the campaign's success. 
A capital campaign, regardless of its specific financial goal, is always a significant undertaking that requires years of time and effort. Such a large-scale project will require an injection of resources in order to effectively run the campaign. You'll likely need to bulk up your internal team and allocate resources for outside consultants, kickoff events, and high-quality marketing materials. 
It can be difficult to ascertain just how much additional support you'll need for a large-scale campaign. Fundraising consultants, especially those with capital campaign experience, can help your team determine how much you'll need to invest and if that investment is reasonable to expect of your organization. 
Resources like campaign calendars and fundraising plan templates can also be useful for helping your team conceptualize the additional capacity that will be needed to accomplish the campaign's goal. Understanding what resources you already have available and what you'll still need to properly execute the campaign on the front end will save your team a significant amount of time (and, potentially, trouble) down the road. 
---
Capital campaigns can be game-changing to kickstarting your nonprofit's growth. Before your organization embarks on this complex fundraising endeavor, be sure to objectively assess your nonprofit's readiness. Careful consideration and the help of outside experts can provide the perspective your organization needs to determine if it's the right time to launch a capital campaign.
About the Author: 
Founder and President Sandra Davis leads Donorly with 30 years of fundraising experience and leadership. Sandra has consulted on numerous capital campaigns, led strategic planning and feasibility study efforts, and managed board development and recruitment efforts, planned giving, special events, and annual giving programs. Under her leadership, Donorly has grown to support the fundraising efforts of over 75 clients to date.