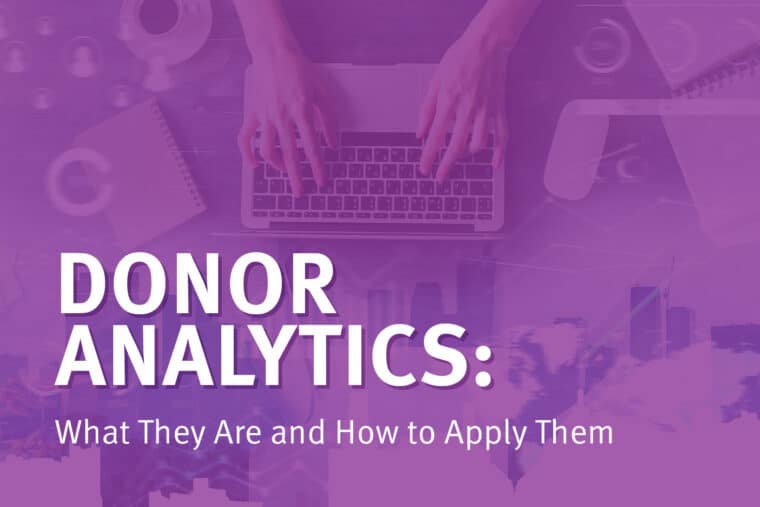 Nearly every nonprofit collects a wide variety of donor data. These data points come from donation forms, event registrations, volunteer sign-ups, major donor prospect research, and more. But if your donor data simply sits in your database without being examined, it remains a major source of untapped potential for your organization.
To unlock this potential, it's essential to understand and apply nonprofit donor analytics. Donor analytics are conclusions drawn from examining donor data in specific ways, which can then be used to inform your nonprofit's overarching goals, fundraising strategy, and financial management practices.
In this guide, we'll walk through four types of donor analytics that your organization can use and examine some of their applications. Let's dive in!
Types of Donor Analytics
Jitasa's guide to donor analytics names four main types of conclusions drawn from donor data: giving, engagement, demographic, and predictive analytics. Let's walk through each category in more detail so that your nonprofit can start benefiting from these analytics.
Giving Analytics
Donor giving analytics are helpful in understanding your supporters' donation habits. The data points you'll analyze to draw these conclusions are primarily located in your nonprofit's CRM, and they include:
Past donation amounts, including both the total amount a supporter has given over time and the average amount they give each time.
Frequency of giving, particularly whether they give sporadically or at regular intervals (such as monthly or during your year-end campaign).
Recency of giving, which helps show whether donors are still actively involved with your organization or if they are in danger of lapsing.
Lifetime value, or your total return on investment (ROI) per supporter.
By examining these data points related to donors' giving history, you can gain insights that help guide your fundraising asks. For example, if you notice that a supporter has given $200 each year for the past three years, you might suggest they join your recurring giving program starting at $20 per month. They may be receptive to the ask because they can give more conveniently through the program, and you'll receive an additional $40 from that supporter each year.
Engagement Analytics
While giving is essential to furthering your mission, remember that it isn't the only way supporters engage with your organization. For a complete picture of how supporters are contributing, examine data points such as:
Email open rates, showing which supporters are interested in receiving regular updates on your nonprofit's progress, as well as the effectiveness of your email marketing strategy.
Volunteer hours, which can be viewed as contributions of time.
In-kind donations, or donations of goods and services that have value to your organization (and need to be reported in your accounting system along with monetary gifts).
Event attendance, including both how many supporters attend and who among your donors attends. Look at the types of events donors participate in; knowing if your silent auction or bikeathon had more attendees will allow you to plan future events that interest your supporters.
Feedback provided, as supporters are most likely to provide feedback—both positive and negative!—when they care about your nonprofit and its mission.
When you know which supporters are most engaged with your organization, you can conclude which supporters you're most likely to retain long-term. Plus, analyzing each category of engagement data across your donor base can help you refine various strategies, from soliciting in-kind donations and supporter feedback to promoting events and volunteer opportunities.
Demographic Analytics
Understanding who your current supporters are helps not only with engaging them, but also with acquiring new donors who share similar characteristics. Some data points to analyze in this category include:
Age, which often correlates with donors' preferred communication channels. For instance, older donors may prefer direct mail solicitations, while younger supporters are more likely to be active on social media.
Location, which can help you make decisions such as whether to offer a virtual option for events or whether your fundraising solicitations comply with regulations in each state where your donors live.
Family status, which can help reduce marketing costs if you know you can reach out to an entire household at the same time.
Employer—according to NPOInfo, tracking supporters' employment information can help your organization leverage corporate philanthropy opportunities like matching gifts, volunteer grants, and sponsorships.
Relevant interests, which provide insight into how supporters might want to get involved with your mission.
Once you examine these data points, you can segment donors based on their shared characteristics and create targeted communications for each segment. For example, if an animal shelter were to use data on relevant interests to segment supporters, they might create one group of supporters who prefer dogs and one group of those who prefer cats. Then, they can send information about different adoption events and volunteer opportunities to the segment that would be more likely to participate in each one.
Predictive Analytics
In some cases, you can use existing information about your donors to predict their future involvement with your mission. Predictive analytics most often come after conducting prospect research to find potential major donors for your nonprofit, a process during which you'll examine two main types of data:
Wealth indicators, which include factors such as prospects' net income, real estate ownership, stock holdings, political donations, and giving history.
Philanthropic indicators, such as volunteer hours, event attendance, advocacy work, or board membership either at your nonprofit or at other similar organizations.
If during the prospect research process you discover several wealth and philanthropic indicators for a potential donor, they likely have both the capacity and affinity to make a major gift to your organization. It's estimated that 80% of individual donor revenue comes from the top 20% of supporters, so finding the right major donors by leveraging predictive analytics is essential to fund your mission.
Applying Donor Analytics to Nonprofit Financial Management
Now that you understand which types of donor data to examine and the conclusions that can be drawn from each one, you can apply donor analytics to many aspects of your organization's operations and big-picture planning. For the purposes of this article, we'll focus on a key subset of activities: managing your nonprofit's finances.
Applying donor analytics can help streamline several essential aspects of your financial management strategy, including:
Budgeting. Analyzing donors' engagement data can help you plan fundraising events and campaigns that are more likely to bring in revenue, which in turn will fund your programs and overhead expenses. You can also maximize your marketing overhead by focusing on the channels your donors interact with most.
Predicting revenue trends. When you can see the fluctuations in your supporters' giving history over time, you can make more strategic decisions about your nonprofit's upcoming activities. For instance, many nonprofits bring in more donations during the year-end giving season. If your data reflects this trend, you might choose to launch a new program early in the year when you're confident you'll have the funding to do so.
Planning for growth. Giving and predictive analytics can also provide insight into when and how to go about expanding your organization. By making data-driven fundraising asks, you can create additional financial flexibility for your organization that will allow you  to take risks associated with growth.
For many nonprofits, fundraising and donor engagement activities take up most of the organization's bandwidth day-to-day, and financial management takes a backseat. While furthering your mission should be your primary focus, ensuring your nonprofit's finances are organized and supported by data is essential to make a real impact.
---
Improving your financial management strategy is only one of the many ways your organization can apply donor analytics. You can use the conclusions you draw from analyzing donor data to build relationships with individual donors, grow your volunteer program, level up your marketing content and website design, and more. No matter how you incorporate donor analytics into your organization's activities, understanding them gives the data you collect a greater purpose and allows you to make more informed decisions for your nonprofit.
About the Author:
Jon Osterburg has spent the last nine years helping more than 100 nonprofits around the world with their finances as a leader at Jitasa, an accounting firm that offers bookkeeping and accounting services to not for profit organizations.