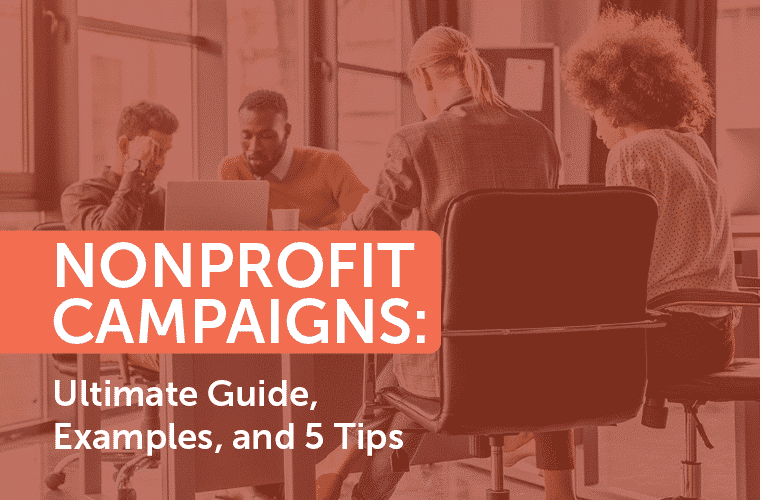 Most nonprofit organizations have multiple areas that need immediate attention. Maybe you need to raise funds for a new program, but also want to raise awareness for new research that is being done. Nonprofit campaigns are the ultimate multitasking tools for these situations! You can run various campaigns, each with individual branding and goals, so that you never have to choose just one area to get all the attention.
That may sound like a lot to juggle, and it can be. But with careful planning and a bit of creativity, your campaigns can be as varied and exciting as the programs they support.
This guide includes important definitions so you know what nonprofit campaigns are, some great examples of how they are being used by organizations like yours, and some helpful tips to help you get started creating your own. We'll cover the following points:
Let's get started.




Nonprofit Campaigns: Frequently Asked Questions
Nonprofit campaigns are a crucial part of building your supporter base. But what exactly is a nonprofit campaign and how can you design yours effectively? In this section, we'll answer some of the most common questions about nonprofit campaigns.
What is a nonprofit campaign?
A nonprofit campaign is any specific marketing action that helps the organization raise funds, engage supporters, and advocate for their cause. A campaign can include digital marketing like emails, social media posts, and specially designed website landing pages, or it can be more physically-based like having supporters hand out flyers and circulate petitions. Nonprofits can use campaigns to promote anything that's currently important or relevant to current goals, such as fundraising, an annual event, or raising awareness. Often, a great campaign will combine marketing methods to increase reach and be more effective.
Are there different types of nonprofit campaigns?
There are many different types of nonprofit campaigns. Your only limit is your own creativity when deciding how to implement each one. We've listed a few of the most popular campaign types below to help get some ideas flowing.
Awareness Campaign
Is there something happening with your cause that people need to know about? Maybe a new study just got released or a watershed is being polluted. If so, then an awareness campaign is what you need. This type of nonprofit campaign is all about spreading knowledge and encouraging supporters to share what they learn.
Engagement Campaign
Engagement campaigns are similar to awareness campaigns in that they seek to educate supporters, but engagement campaigns go a step further by (you guessed it) actively working to engage supporters and encourage actions.
Crowdfunding Campaign
Crowdfunding campaigns leverage supporters to help raise funds for your cause. Setup involves creating a fundraising landing page and sharing it with your supporter network with a request to donate. Ideally, your supporters will help spread the word so that your cause can be fully funded by crowd support.
Peer-to-Peer Fundraising Campaign
Peer-to-peer fundraising campaigns are kind of like crowdfunding campaigns, but they are different because each supporter gets their own fundraising page, sets a fundraising goal, and does the work to spread the word and gather enough donations to meet that goal. Peer-to-peer campaigns are effective because they encourage a deeper connection to the cause and they're an opportunity to be personally involved and active.
Online Fundraising Campaign
Online fundraising campaigns are extremely popular because they make it easy for supporters to give with the click of a button. There are many ways to set up an online fundraising campaign, so some creativity and planning are needed to help your campaign stand out from the rest.
Year-End Campaign
The end of the year is a magical time when corporations and individuals are more likely to give to worthy causes because they are wrapping up financial reports and know exactly how much money is available in the budget for charitable giving. Launching a year-end campaign is a great way to increase funds for the year and prepare for the new year to come.
Nonprofit Event Campaign
Events can include everything from a chili cook-off to a gala ball. They take a lot of careful planning but are worth it because they offer a great opportunity to fully engage supporters while collecting donations and spreading awareness. Great events can become an annual tradition that supporters will look forward to and talk about with friends.
 Which marketing channels should I use for my nonprofit campaign?
The beautiful thing about having so many choices in marketing channels is that you can customize your nonprofit campaign for your organization. There is no magic formula or general standard to follow, so you can use whatever channel has proven most effective in the past. Using multiple channels in a coordinated campaign offers even more flexibility and opportunities to bring in supporters!


Top 4 Nonprofit Campaign Examples
As a nonprofit web design company, we have seen (and helped with) a lot of awesome campaigns over the years. There have been so many cool ideas that it was hard to narrow down this list to only five! But, after careful consideration, here are our top five examples of nonprofit campaigns. We included different types of campaigns to give you plenty of ideas, so get ready to be inspired!
Lymphoma Research Foundation
Overview
This interactive story website from the Lymphoma Research Foundation (LRF) is a great example of an awareness campaign done right! After 25 years of work, a nonprofit is bound to have a lot of stories to share.  LRF tells the story in style with timelines, pictures, and a great call to action.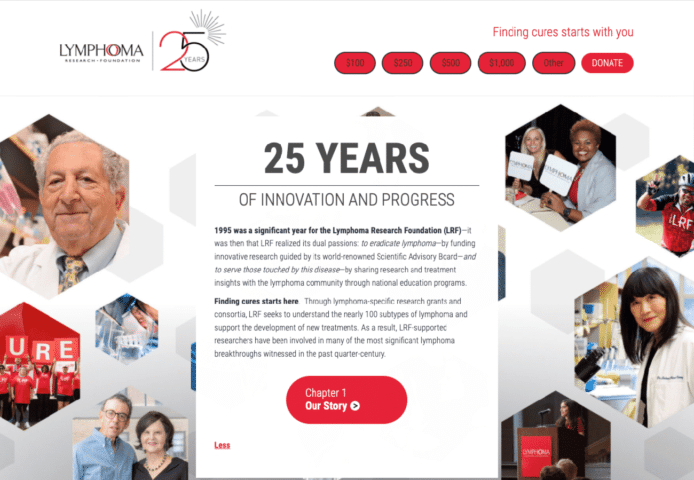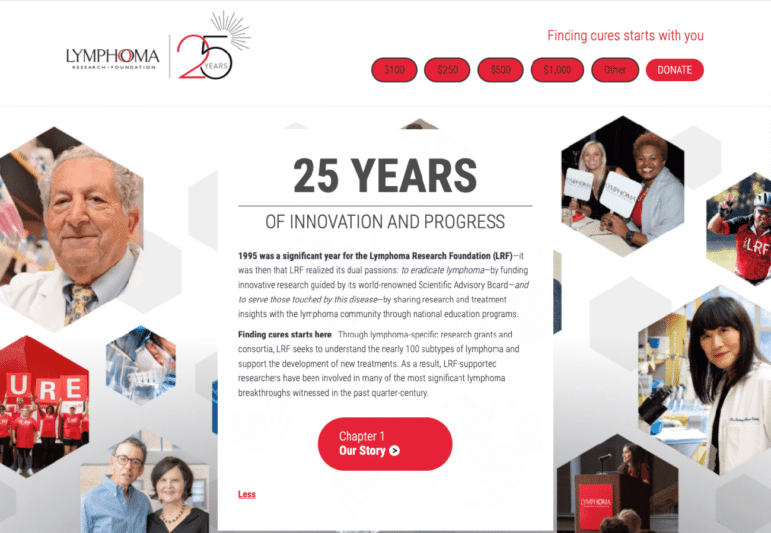 What We Love About This Campaign
The interactive timeline is engaging and provides a clear framework for the information.
The images are personal without being unprofessional. They really help to tell the story of the organization!
The donation form at the top of the page makes it easy for supporters to imagine how they can be a part of future stories by giving today.
League of Women Voters
Overview
League of Women Voters puts a lot of effort into their fundraising campaigns! Each one has a lot of different elements that all work together to keep the organization funded. They work with Avalon Consulting to stay on top of trends and develop new strategies, then turn to Cornershop for the technical support needed to make each idea a reality.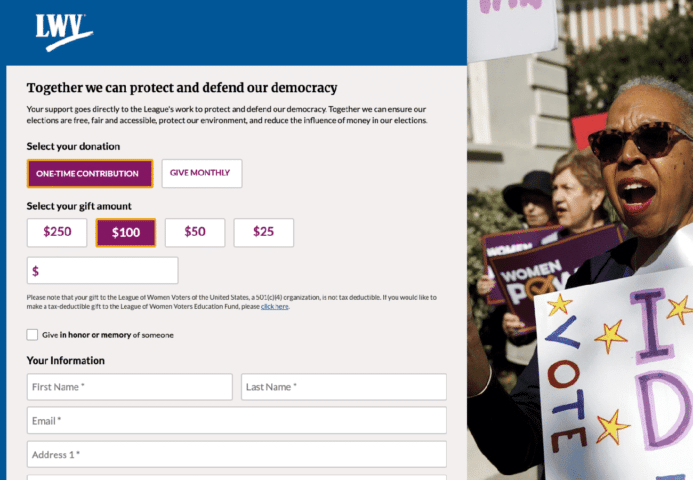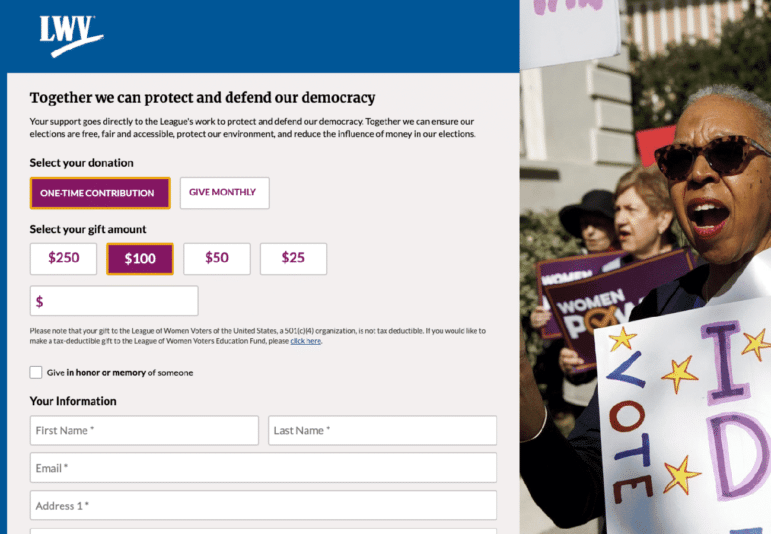 What We Love About These Campaigns
Each campaign goes all-in with custom email templates, landing pages, and auto-responders.
Custom graphics make the campaigns easy to recognize and fun to share.
The emails are mobile-friendly so they can be accessed from any inbox.
Interactive elements, like survey forms, encourage engagement and really help supporters feel involved.
Saving Newark's Wetlands
Overview
Save Newark Wetlands is a great example of an effective engagement campaign. This action-oriented microsite was organized by the Citizens Committee to Complete the Refuge. The website's goal: to drum up more support for permanent protection and restoration of the spectacular Newark Area 4 region of the San Francisco bay.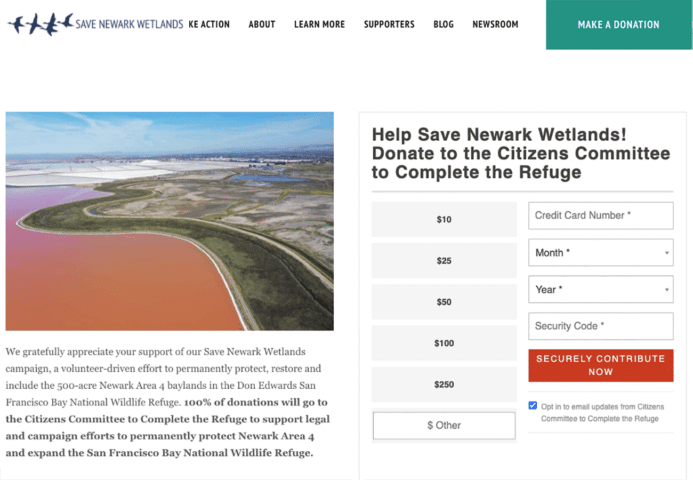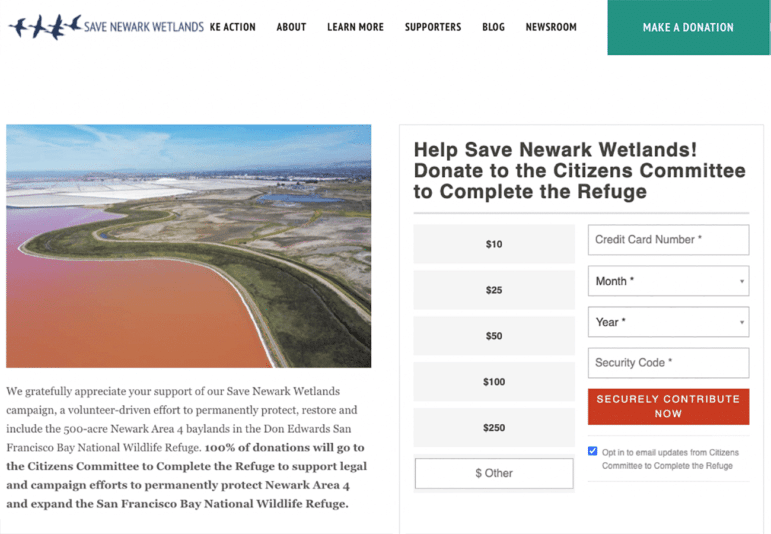 What We Love About This Campaign
We love the idea of leveraging a microsite to raise awareness about an important environmental issue and teach people why they should get involved.
The visuals are specifically chosen to motivate action.
The campaign is multi-faceted with email, donation, and action templates to quickly reach supporters and help them take action.
Food Forward
Overview
Food Forward's LA Fruit Share is an event campaign that is tasty all around! A lot of people in and around LA have flourishing fruit trees in their yards—so much so that a lot of fruit was going to waste since the property owners had too much fruit for their families to consume. Food Forward decided to help distribute that extra fruit with an event called LA Fruit Share.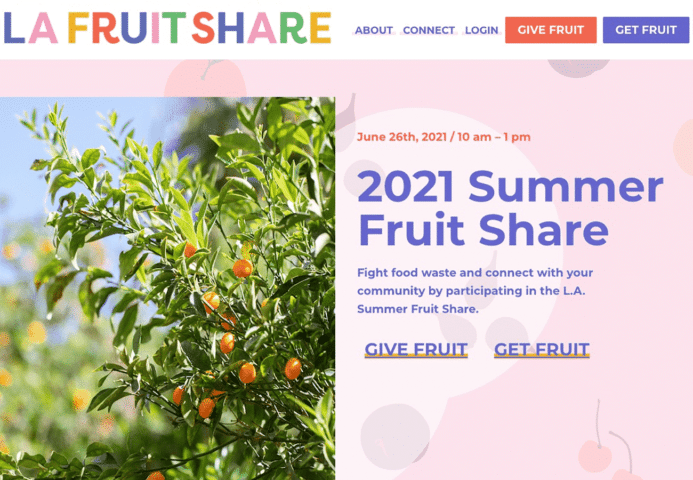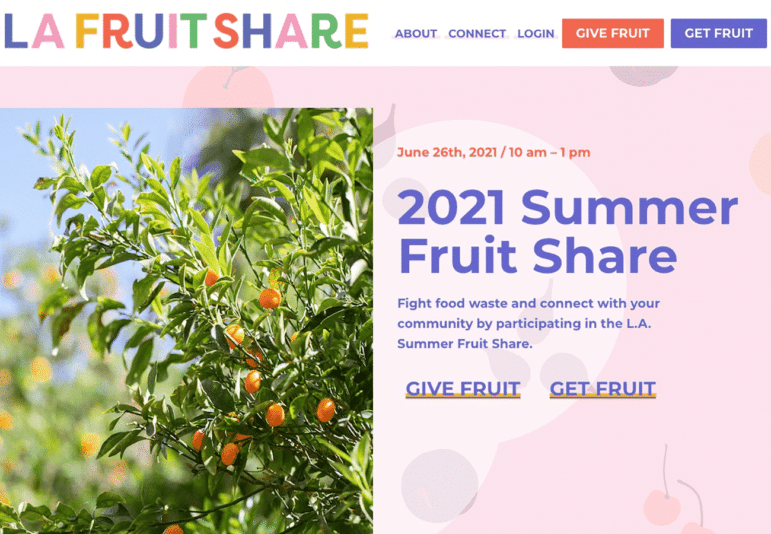 What We Love About This Campaign
The event is promoted and monitored through a fun, branded website that's optimized for mobile.
The website features an interactive map to encourage participation and engagement on the day of the event.
This event campaign can be repeated as often as needed and has room to grow since all of the technical elements were planned in advance.


Nonprofit Campaign Best Practices
So far we've covered what a nonprofit campaign is, and seen some pretty great real-life examples. By now, you're probably brimming with ideas! Keep all of those brilliant ideas in mind as we take a look at a few best practices so that you can launch your best campaign yet.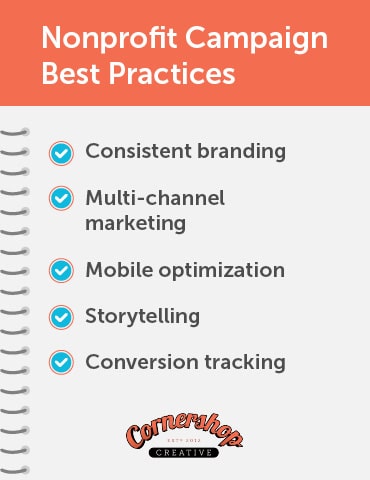 1. Maintain consistent branding
Your campaigns don't necessarily need to have the exact same branding as your organization, but the branding of the campaign should be consistent across all platforms. This means your Wordpress site should have the same logos and typography as your emails, which should have the same color scheme as your donation forms and the graphics you share on social media. This kind of consistency ensures that the campaign is easily recognizable, which means supporters will be more likely to trust it.
2. Use a multi-channel marketing approach
Life is crazy busy, and there are always a million things demanding immediate attention. Since your cause is awesome, you probably have so many potential supporters just waiting to be reached… But, they also have a million things demanding their attention.
Overstimulation is a real thing. To avoid it, most people get pretty picky about the channels they pay attention to. Some people never check the mailbox, but scan Facebook daily. Others may filter their email inbox to only allow work-related messages, but relax over a pile of snail mail. This means if you are only using one marketing channel there could be a whole lot of supporters that will never see your message! To be really effective, your campaigns should incorporate as many of these channels as possible:
Website
Email
Social media
Direct mail
Text
It may seem like a lot to manage, but with some creative brainstorming you can easily create a marketing plan for your nonprofit that includes all of the important channels, and content ideas for each one!
3. Ensure digital content is optimized for mobile
Did you know that over 90% of Internet users go online using their mobile devices? In fact, there are many people who only go online with mobile devices. Mobile optimization is no longer a nice option. It is the expected norm—and we're not just talking about your website, either. All your emails, forms, and petitions have to look beautiful and work well on mobile devices too.
Here are a few tips to keep in mind as you test the mobile-friendliness of your digital content (which you're planning to do, right?):
Make sure images load correctly. There is a lot that can go wrong when loading an image on mobile. Some "responsive" designs look good on tablets, but not phones, so images can be distorted or so large they run off the page. Images are also known for having large file sizes that can make them load slowly, or not at all. Test all of your digital content on multiple devices to ensure that everything looks the way you want it to.
Ensure fonts are the right size. That huge heading font may look awesome on your actual webpage, but it will take up an entire page on mobile if it isn't adjusted. Make sure you are building your digital content with font sizes that are appropriate for each type of device. (This is done by adjusting the break points – let us know if you want help with this!)
Prioritize fast load time. Let's face it, no one wants to wait around for a page to load, no matter how much we believe in the cause. Help your supporters out by making sure your digital content loads fast enough to satisfy the shortest attention span.
4. Tell a story
People love stories. We relate to them. We want to read more of them and share them with our friends and family. The best thing you can do to promote your campaigns is by sharing stories! Let your supporters share in personal victories by showing them the impact your organization has had this year. Let them see why hearts are breaking and how they can help. It is this type of personal connection that will elevate your campaign beyond being just another marketing effort.
5. Track your conversions
In order to plan more effective nonprofit campaigns in the future, you need to know what is happening with the campaigns of today – meaning you need to track all of your conversions. This can include email click-rates, new subscribers, donations, and anything else that signals engagement.
By tracking your conversions over time you can learn which marketing channels generate the most supporter interest, which types of content people respond to, and even which pages of your website could benefit from some quality maintenance. Without tracking, you run the risks of missing valuable growth opportunities and repeating the same detrimental mistakes over and over again.


Wrapping Up
As this guide has shown, there are a lot of ways to create successful (and beautiful) nonprofit campaigns. Now it's time to get out the whiteboard and do some creative brainstorming! What campaigns can you create to connect supporters to your cause?
One more tip before we go (and this is a big one): remember to make your campaigns unique. There is something about your organization that speaks to the hearts of the people you need to reach. Don't be afraid to tap into that and create something brand new. Good luck!
Explore the following additional resources for more tips to elevate your nonprofit's next campaign: