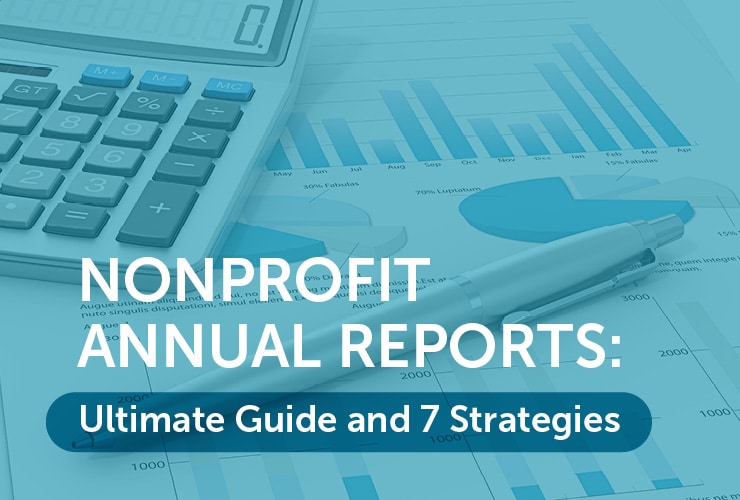 That dreaded yearly task has come around once again: it's time to write your nonprofit's annual report. Compiling everything your nonprofit has done in the past year might feel overwhelming or even tedious. How are you supposed to condense all of your world-changing awesomeness into a few paragraphs? And how can you write in a way that makes everyone from your biggest fans to your more disengaged supporters want to read it?
Writing a spectacular annual report has a ton of benefits and can help set your nonprofit up for success over the next fiscal year. For instance, a compelling and comprehensive annual report could help you gain and retain more donors, increase your financial transparency, or even win a grant.
We've put together this ultimate guide with seven strategies to help you knock your report out of the park and have even included one of our favorite examples. Here are our tips:
At Cornershop Creative, we're passionate about helping nonprofits like yours reach their greatest online potential. And because your annual report is an essential piece of the puzzle, we created the WordPress Nonprofit Annual Report Builder to simplify the process. These tips are aimed at helping you create a show-stopping annual report for your organization, whether you use our template or not. Let's get started!

1. Hook your readers on the first page of your annual report.
These days, it seems like everyone has a lot going on. So getting your supporters to sit down and read — like, actually read — your report might seem daunting, especially when you're competing with fifteen-second clips of puppies, funny memes, or whatever else the internet decides to throw in the way.
Piquing the curiosity of your readers right from the start is essential if you want them to turn the page, and that's when a hook can come in handy. Think of your hook as the opening ceremony in the Olympics or that first monologue in Saturday Night Live. It's what grabs your readers' attention to show them that they're in for something good.
Including a hook on the first page of your annual report will set the tone for the rest of it, so take some time to come up with an opening statement that resonates. Here are a few strategies you can use to hook your readers:
However you decide to draw your readers in, be sure that you represent the rest of the report in an accurate way. Ultimately, you want to prepare your readers for the rest of the report. Making up a statistic that doesn't align with the rest of your findings or asking a question that won't get answered might just leave readers confused, and that's the last thing you want to do in your nonprofit annual report.
Pro tip: Hiding the existing header and footer of your website on the annual report page can help to remove distractions and allow the report to stand on its own. While there are many ways to accomplish this, one easy way is by using the Nonprofit Annual Report Builder.

2. Show off your nonprofit's accomplishments.
Now that your readers are ready to binge your nonprofit's annual report like it's their favorite Netflix show, you should share all of the incredible things that you've achieved in the past year. As you know, your nonprofit annual report is going to the people who have supported your work, so telling them what you've actually done with that support will help donors understand their impact.
We recommend that you share your nonprofit's accomplishments early on in your annual report. This way, readers will know that your nonprofit is really doing something amazing, which will prompt them to learn more. But when sharing your accomplishments, be sure to follow these tips:
This section of your nonprofit annual report should be your victory lap and your readers are there to cheer you on. After a long year of hard work, you deserve to celebrate your accomplishments, so lean into it and have some fun!
Pro tip: If you have lots of accomplishments to share this year, consider adding some visual intrigue to the long-form content sections of your report. For example, the Nonprofit Annual Report Template helps bring long-form content to life with sections that animate as they appear and fun background color and image options for blocks.

3. Use your annual report to applaud your donors.
You're not the only one who gets to celebrate — your donors should too! After all, they're the ones who keep your nonprofit moving along, so now's your chance to thank them for it.
You can give your donors a round of applause in a variety of ways. For example, you could list specific initiatives that their donations helped you achieve, how many beneficiaries you helped, or big leaps and bounds you've made to improve the world. Showing your gratitude reminds donors that everyone can make a difference, and a thank you helps donors feel appreciated and valued.
It's also worth dedicating a few pages in your annual report to your most impactful donors and funders, especially if they helped you complete a major project or capital campaign. Doing so will help these donors feel like an integral part of your nonprofit, which they are!
And, because every donation counts, consider emailing your annual report to anyone and everyone who donated throughout the fiscal year so that they can see their impact. The friendly reminder of your cause and what your nonprofit is doing to help might even encourage them to donate again or get more involved.
Pro tip: A simple table of contents at the beginning of the report will make key information, like donor shout-out, easy for your VIP supporters to find.

4. Keep it real.
While you want to give a big hip-hip-hooray to your nonprofit's accomplishments and all that your donors have done to support your cause, your annual report also presents an opportunity to be transparent about your finances.
Let's face it: the nonprofit model can be (and often is) abused by bad actors looking to make or store tax-exempt income, and donors are well-aware of this reality. By providing the utmost transparency about how you make and spend your funds, you show your donors that you're a trustworthy and reliable organization who's really doing the work. Here are some nonprofit annual report requirements that you should include to be transparent about your finances.
Nonprofit Annual Report Requirements
While no one (well, except for a few passionate accountants) wants to sift through all your receipts from the past year, you should still provide readers and potential funders insight into what you earn, what you spend, and why. This can be broken down into three categories:
Lastly, don't be afraid to be straightforward about how close (or far) your nonprofit is to reaching your goals. Even if you've fallen short this fiscal year, donors might see this as an opportunity to donate.
While your nonprofit might still be struggling to regain its footing after the events of 2020, remember that transparency is key. Be optimistic and concrete in explaining how you'll keep moving forward and adapting, but don't shy away from acknowledging setbacks. You might feel unsure about how to approach it or fearful of projecting an image of failure, but for people who feel connected to your mission, this acknowledgment can be an extremely powerful motivator to stay involved and keep giving.

5. Bring your nonprofit's annual report to life with awesome visuals.
Just as no one wants to read your entire transaction history, no one wants to slog through page after page of small text. Your nonprofit's annual report should be as engaging as possible to keep everyone reading until the very end, and using lots of visuals is one of the best strategies you can use. Plus, who doesn't love a pretty picture?
If you already have an awesome nonprofit website, pull similar images and graphics so that your annual report looks branded to your organization. Maintaining consistent branding in your annual report also builds trust and increases your visibility as a recognizable nonprofit.
Nonprofit Annual Report Graphic Examples
Images just don't have to be on the cover — they should also be used to represent information throughout your annual report. For example, let's say that your nonprofit saw a massive increase in corporate matching gift revenue over the past year. While you should certainly write about it in your accomplishments section, it's even better if you include a graph to show the increase over time or throughout the year.

But you aren't limited to graphs either! You might also want to include pictures of your programs and facilities, plus beneficiaries, major donors, volunteers, or team members (with their permission). Putting a face to your work can help your nonprofit resonate with more people. Here are some examples of graphics to include in your annual report.
In short: visuals galore!

6. Design your annual report for paper and digital viewing.
Maybe up until now, you've been imagining your annual report as a glorious little book with stunning visuals and lots of great information. What a great image! But what if we told you that your annual report should also go digital?
Paper annual reports are great for a lot of reasons. They're easy to keep on deck at your facility for casual viewing, you can send them as part of an appreciation package to major donors, and who doesn't want to hold all of their accomplishments in their hands?
We're not telling you to get rid of the paper report, but we are saying that you should also create an online version. Providing access to your annual report on your website means that your findings are accessible to everyone, whether they're recurring donors or have just discovered your nonprofit.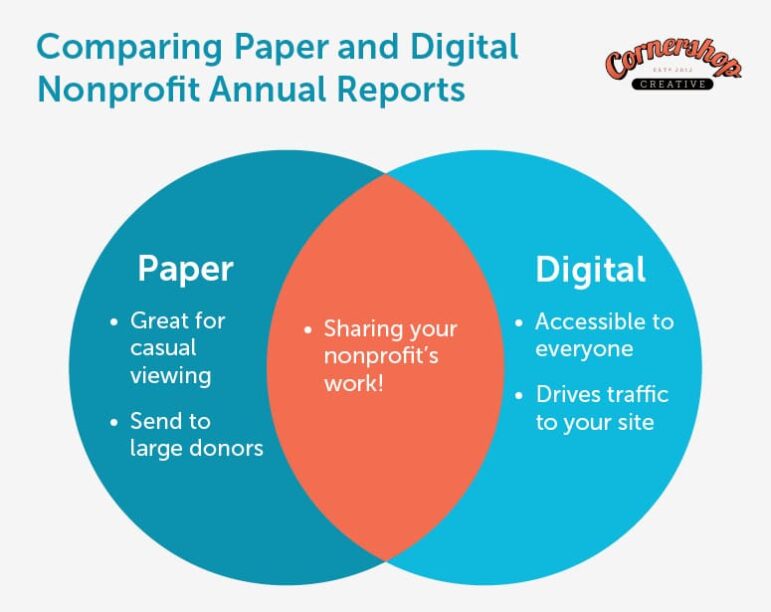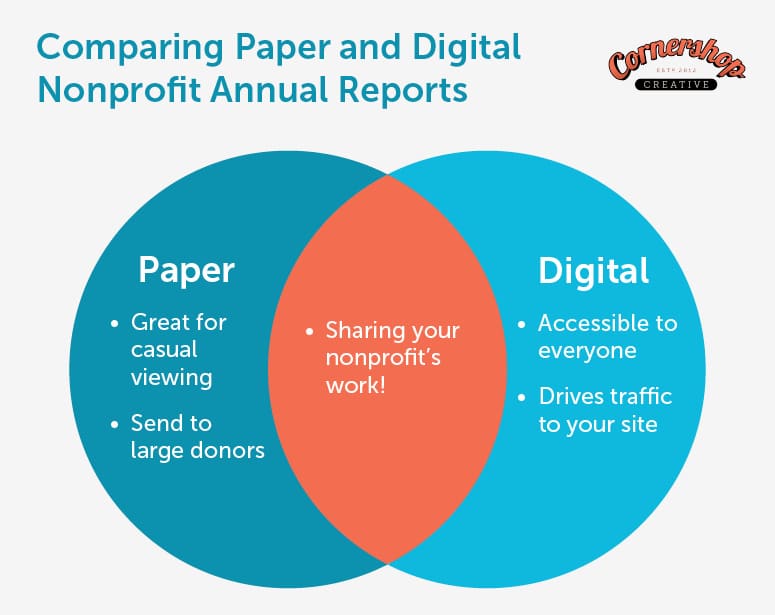 When creating a digital report, remember you might not be able to copy and paste it. While your digital report should contain the same information, it might require some adjustments so that it is well-optimized for online viewing. You'll also want to make sure that it's viewable on mobile devices, since that's how most people access the internet these days.
If website stuff isn't your forte, you might consider partnering with a nonprofit web design consultant who can help you do everything from creating a digital version of your annual report to decluttering the backend of your website to giving your site a full makeover.
With all of the effort that you've put into creating your nonprofit annual report, why wouldn't you want the whole world to see it? Putting your report online will give more people the chance to read it!
Pro tip: Create a memorable custom URL for your report page, making it easy for supporters to find and reference. Our Nonprofit Annual Report Template makes it easy to customize the URL and every other aspect of your digital report.

7. Share what's happening next.
Alright, you've shown off your accomplishments, thanked the people who helped you get there, and made all of it look pretty cool. Now what?
That's exactly what your readers will be wondering once they get to the end of your annual report, so don't leave them hanging. Instead, offer a glimpse into what's coming up next for your nonprofit. This brief look into the future can help get donors feeling excited and inspired by what your nonprofit is doing.
By giving donors a preview, you might also encourage them to get more involved. For instance, maybe list some of your upcoming events so that donors who were particularly inspired by your work can sign up to attend. Whatever upcoming activities you decide to point your donors to, just make sure you end on a call-to-action. After all, you'll need more achievements to share and donors to thank in next year's report!

Nonprofit Annual Report Example: FoodCorps
Now let's take a look at an example of a digital nonprofit annual report. This one is by FoodCorps, an awesome nonprofit that brings healthy food to children in school.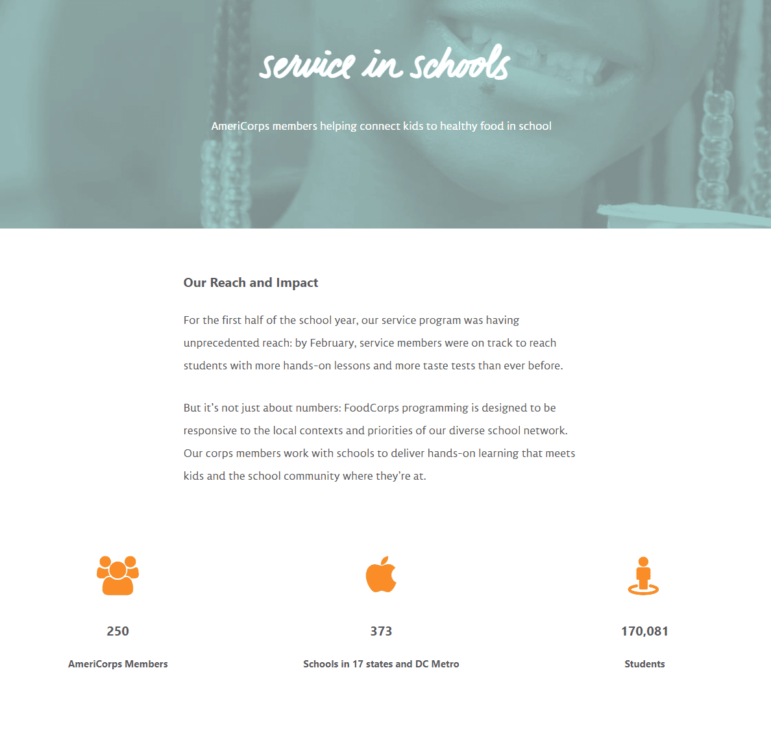 Right at the beginning of their report, FoodCorps begins discussing its impact. Notice how FoodCorps highlights its larger impact as well as identifies specifics, such as how many students benefited from their work.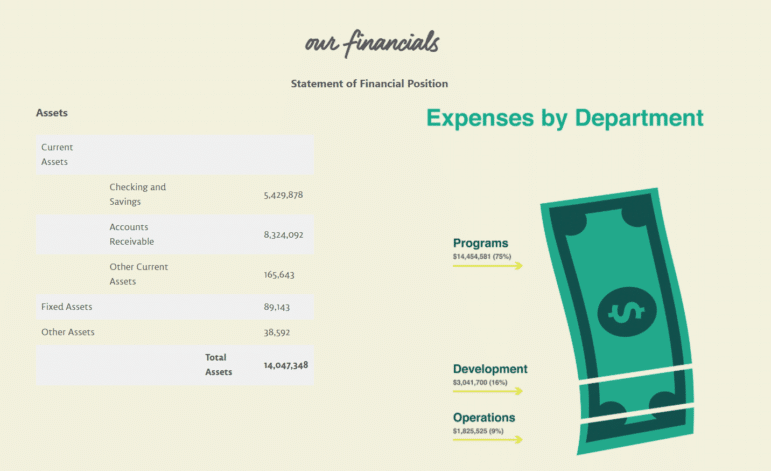 FoodCorps also takes some time to dig into its financial history. They provide a full breakdown of their assets as well as how these expenses are spread across their various departments. The dollar graph also provides an interesting and memorable visual!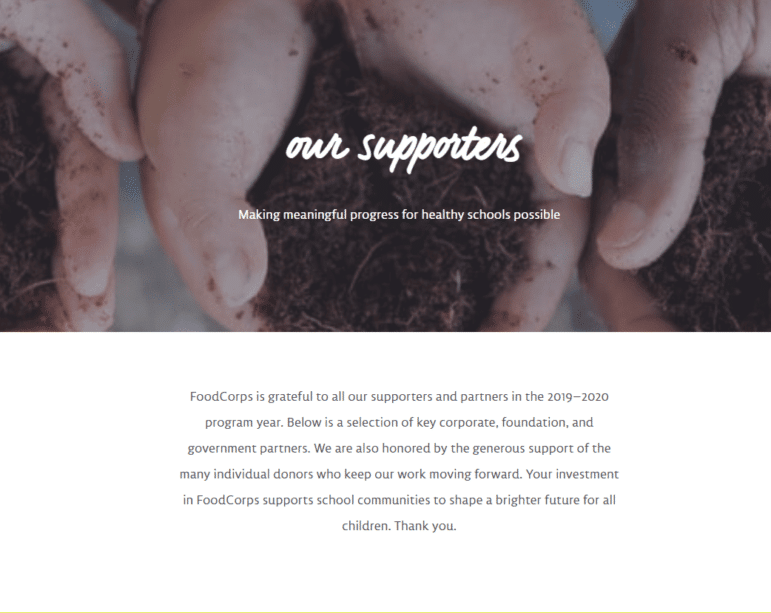 Lastly, the FoodCorps team thanks their sponsors and supporters at the end of their nonprofit annual report. The image of many hands emphasizes how it takes many hard-working individuals to make their amazing work possible.
---
Wrapping Up
Your nonprofit annual report is a fantastic opportunity to foster better relations with donors, build accountability, and share all of the wonderful things you've accomplished. With some solid writing, compelling visuals, and valuable information, you're on your way to creating your best nonprofit annual report yet. From everyone at Cornershop Creative: you've got this!
Want to learn more about getting the most out of your nonprofit's website? Check out these additional resources: