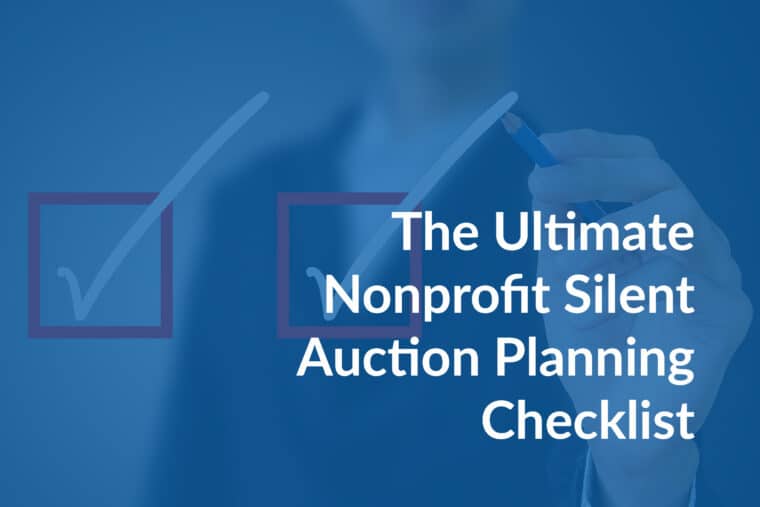 If your nonprofit has hosted a fundraising event before, you know that the planning process involves many moving parts. Some aspects will be the same no matter what type of fundraising event you choose, such as creating a budget and developing a promotion strategy. However, each type of event will need its own unique approach to succeed.
Silent auctions are one of the most popular types of nonprofit events, and for good reason. Silent auctions tend to attract a wide range of supporters and are extremely flexible, but that versatility can create additional challenges in the planning process. From figuring out how to procure auction items to engaging participants during the event, where do you start?
To help your nonprofit out, we created a comprehensive, easy-to-use checklist for planning a silent auction: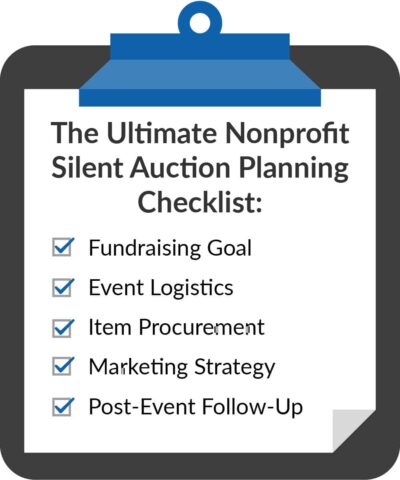 In the rest of this guide, we'll discuss each of the five steps on the checklist in more detail. Let's dive in!
1. Fundraising Goal
Every successful fundraising event begins with a clear goal. Your goal lays a foundation for the rest of your planning process by ensuring your entire team is on the same page and doing all that's necessary to reach that goal.
NXUnite's guide to starting a fundraiser recommends following the SMART goal method, which means your goal should be:
Specific about your event's purpose and what you intend to accomplish, such as earning a specific amount of revenue or increasing participation over last year's auction.
Measurable based on one or more success metrics, such as dollars raised, number of participants, or feedback provided.
Attainable, meaning the goal should be optimistic enough to motivate your team but not so far out of reach that they become discouraged.
Relevant to your organization's mission and current initiatives.
Time-bound or controlled by a deadline.
For example, if an animal shelter hosted a silent auction, their goal could be to register 25 new supporters and raise at least $30,000 to improve on-site veterinary care for their rescue cats by the end of the event.
This goal lists two specific purposes for the auction: attracting new supporters and generating revenue, each of which is tied to a success metric. There is also a deadline (the end of the event) and a relevant connection to the organization's mission (improving veterinary care for rescue cats). To determine whether this sample goal is attainable, the shelter would review data from past events and assess its current capabilities for fundraising and supporter acquisition.
2. Event Logistics
Once you know what your organization is hoping to accomplish by hosting a silent auction, you can start planning your event details. Some essential logistical considerations for your auction include:
Format. Part of the reason silent auctions are so versatile is that they can be held in-person, virtually, or in a hybrid format.
Venue. This can refer to the physical location of an in-person auction, the online bidding platform you use for a virtual auction, or both in the case of a hybrid event.
Date and time. Give yourself plenty of time to plan, and consider coordinating your auction with another fundraising campaign such as GivingTuesday or a peer-to-peer campaign.
Budget. Outline all of the costs your nonprofit will incur while planning and running your auction, such as venue rental or software fees, marketing expenses, and item purchases. Then, determine what costs you can offset through corporate event sponsorships and which ones your organization will have to pay for out of pocket.
Silent auctions can either serve as standalone fundraisers or be paired with a variety of other events from galas to golf tournaments. If you go the second route, figure out the logistics of the other event first, as it's usually easier to adapt your auction to the other event's format and budget rather than taking the opposite approach.
3. Item Procurement
Procuring auction items is typically the most involved part of the planning process. You'll need to balance finding high-value items that your supporters will enjoy bidding on with maximizing your fundraising ROI by securing as many items as possible at little or no cost.
Here are some typically best-selling silent auction items for your organization to consider:
Gift baskets. The less expensive and more common an item is, the easier it will be to procure. If you receive a variety of inexpensive items from sponsors, organize them into themed baskets to increase their collective value.
Exclusive tickets. Many venues offer discounts to nonprofits for tickets to concerts, plays, or athletic events. To make these experiences more appealing to auction participants, ask the venue if they can also coordinate a meet and greet with the performers or athletes for your winning bidder.
Family-friendly activities. Supporters with children or grandchildren often enjoy prizes that allow them to spend time with their families, such as theme park tickets or birthday party packages.
Vacation packages. According to the fundraising experts at Winspire, travel-related items tend to be best-sellers at auctions. While vacations are often the most challenging type of auction item to procure, there are dedicated providers your nonprofit can work with to offer high-value travel packages and maximize your event revenue.
To encourage more bids, describe each of your silent auction items thoroughly on its accompanying bid sheet. Include an attention-grabbing title, a relevant photo, and any restrictions—such as specific dates for tickets—supporters should know about before bidding.
4. Marketing Strategy
As with any fundraiser, a multi-channel marketing strategy will maximize your silent auction's reach. Consider promoting your event through the following channels:
Your nonprofit's website. Create a page dedicated to upcoming events and an online registration form to streamline ticket purchases.
Email marketing. If your organization has a monthly newsletter, use it to announce your auction in addition to sending more specific email blasts.
Social media. To attract even more potential participants, encourage your supporters to share auction-related posts with their followers.
Direct mail. While many organizations focus on digital marketing, direct mail can still be effective for inviting specific supporter segments, such as older guests, to your auction.
Since your auction items are the star of the show, feature photos of your most valuable prizes in your marketing materials. This way, supporters will arrive at your event excited to bid!
5. Post-Event Follow-Up
Develop your follow-up strategy in advance of your silent auction to make it as efficient and effective as possible. First, ensure you have a system in place to collect and store information on event participation, marketing conversions, and item purchases. You can then analyze and apply this data to make each of your future auctions more successful than the last.
Additionally, create two thank-you email templates: one for event participants and one for sponsors. After the auction, fill in the templates with each individual supporter's or business' name and information on their individual contributions to the event. Personalized thank-you messages show that your organization values your participants and sponsors, helping to build long-lasting relationships with them.
---
As you plan your silent auction, remember that your nonprofit has unique needs, capabilities, and values that might impact how you approach your checklist. Collaborate with your fundraising team throughout the entire process, from deciding on event logistics and procuring items to creating promotional and follow-up materials, to ensure all of your activities align with your organization's goals. Happy fundraising!
Author: David White, Director of Nonprofit Sales at Winspire
David White is the Director of Nonprofit Sales at Winspire. The Winspire team is dedicated to supporting the nonprofit community by providing the best service and unique auction item experiences for their events. Winspire has helped over 75,000 nonprofit auctions across North America increase their revenue through events of all sizes.