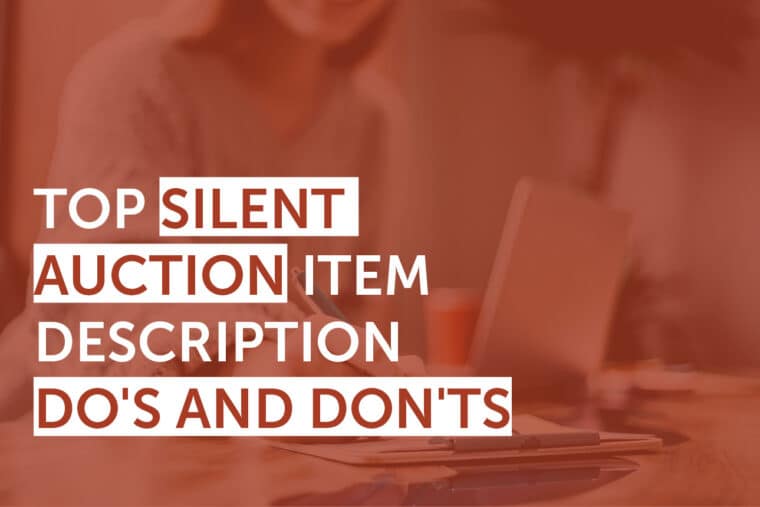 Picture this—you're an online silent auction attendee. You're scrolling through the available auction items and weighing your top picks. In one scenario, you come across Item Description A, and in another scenario, you find Item Description B:
Item Description A:
Title: Costa Rica Trip
Description: This Costa Rica trip is available for auction. It's a 7-day adventure with pre-planned activities. There's also a nice hotel and food. Bid if interested.
Item Description B: 
Title: Ultimate Adventure Getaway: One Week In The Costa Rican Rainforest
Description: Experience the thrill of a lifetime with our exclusive adventure package to the lush rainforests of Costa Rica. You and a guest will embark on a 7-day expedition filled with breathtaking activities and memorable experiences.
Your adventure includes hiking tours, zip lining, white water rafting, gourmet dining, and five-star hotel accommodations.
Which one is more appealing to you? If we had to guess, your answer is probably Item Description B! Obviously, both descriptions advertise the same item, but one of them captures your attention and motivates you to place a bid while the other could be easily missed. The point: how you describe auction items matters.
So, in the midst of your auction planning, don't forget to provide memorable auction item descriptions, especially for high-value items. In this guide, we'll review the top dos and don'ts to write knockout descriptions. Let's dive in!
Do: Cover the basics
Although it can be tempting to jump right into describing your item's attractive offerings, don't forget to cover the basics. These include:
Who: For experiences such as celebrity meet and greets or personal chef-prepared meals, describe who the main auction item package is built around. For example, you might say, "Chef John Smith is an award-winning, five-star chef with his own bistro." Additionally, mention who can enjoy this item. Is it for one person? Five people?
What: Be specific about what the auction item entails. Going back to our chef example, would the winning bidder take a cooking class and prepare their own meals, or would they enjoy a chef-prepared, delicious dinner? How many courses would the dinner be?
Where: "A tropical beach getaway" can mean several different things depending on the location. Don't forget to add where the experience will take place, so bidders can do their own research.
When: Mention specific dates or due dates for an item. For instance, the winning bidder for the chef-related auction item might need to schedule a dinner within the next five months.
Estimated value: How much is this auction item worth? Practice transparency and comply with legal requirements by making sure you've included the estimated value associated with each item.
Another point to cover is any item restriction considerations. For instance, SchoolAuction.net's Silent Auction Rules Explainer suggests covering any related age restrictions or blackout dates in addition to mentioning that an item may be withdrawn or changed without notice.
Don't: Ignore your audience
To know exactly what to say in your item descriptions, it's important to consider your audience. What words or phrases would they find particularly appealing? As you relied on your audience to guide your auction item selection, you should reference your collected audience data to refine your language. Data points to take note of include:
Demographics. If your audience is mostly made up of school families, they might value an auction item's free childcare services such as a date night out with a trusted babysitter to watch the kids. You could emphasize this aspect by placing it at the top of your description.
Interests. For sports-leaning guests, your auction items might include signed sports memorabilia or golf packages. You can emphasize who signed the memorabilia and highlight a brief overview of their athletic career.
Previous choices. Odds are, you know which auction items are winners based on previous auction results. You might indicate that these items are best-sellers or come highly recommended.
These data points can direct both your auction item descriptions and placement. For example, if you're running an in-person auction, NXUnite suggests creating an event attendee persona and keeping their interests in mind as you plan your event and choose auction items. This will enable you to think about what items they'd be drawn to first and placing them strategically.
Do: Include high-quality photos
Did you know the human brain processes images 60,000 times faster than text? Make sure your images depict your item in a positive light!
High-quality photos can bring items to life and allow for guests to "step into" experiential auction items. On the other hand, low-quality photos can deter interested parties from making a bid. Show your items off by including quality photography such as:
People experiencing the item. For auction items like zip lining or other adventurous experiences, it can be helpful to show the item in context. This way, bidders can easily visualize its value.
Location-based photography. If your item is location-related such as a hotel stay or Airbnb getaway, include multiple photos of the rooms, landscape, and amenities. Or, link to the Airbnb website, so guests can browse.
For online fundraising auctions, make sure images load quickly on both desktop and mobile so that guests can avoid straining their eyes or abandoning an item altogether. You can do this by using appropriate file types such as JPEGs for photographs and PNGs for graphics like logos to keep your event website mobile-friendly.
Don't: Undersell the item
Unique or creative auction items can inspire bidding wars if adequately described. Don't leave out key details or use vague descriptions when discussing your top items. Instead consider following these strategies to capture your audience's attention:
Use power words (sparingly). When used wisely and in context, power words can increase bids. Adjectives like "gourmet," "opulent," "VIP," and "luxurious" are great options to heighten your item descriptions, as long as they truthfully describe the item.
Promote items ahead of time. Use social media marketing to spotlight sought-after items and inspire higher attendance rates. Or, plan a "behind the scenes" pre-auction item preview.
Valuable details. In addition to "the basics," think about adding additional details to high-value auction items. This could include first-class seating, a private session, or the story behind an exclusive item, such as a one-of-a-kind painting.
By incorporating these strategies into your descriptions, you can paint your items in an attractive light. As you do so, consider your auction item list in its entirety. Be mindful that the more items you choose (in proportion to your guests), the less valuable each item will be perceived. Therefore, edit any substantial item repeats before finalizing your list.
Do: Break up lengthy descriptions
Complete another read-through of descriptions to ensure they include key details without overwhelming readers. Yes, guests would like to know the details, but they don't want to sift through large blocks of text to find pertinent information.
To safeguard against this, boil down each item's essential details into bullet points. For instance, premium noise-canceling headphones might have these features:
High-resolution audio with a powerful bass and clear treble
Noise cancellation to create an immersive experience
30-hour battery life
A hard shell carrying case
A wireless charger
Touch sensor controls for easy playback, volume adjustment, and hands-free calling
Voice-assisted compatibility
Placing this key information in bullet points makes it easier for guests to understand the item's value and not miss any key features. To verify the information and ensure you haven't missed any details, reference the auction item provider. For example, if Sony donated noise-canceling headphones, you could research the model number or name.
Auctions are excellent fundraising opportunities. Plan your nonprofit event in a way that makes your auction items the star of the show by writing thoughtful and relevant descriptions that motivate bidders. Use these tips to start writing your descriptions or refine your existing ones, and you're sure to host a successful auction that drives results. Happy fundraising!
---
About the Author
Roger Devine is a co-founder of Northworld, the developer and distributor of the award-winning SchoolAuction.net auction-management software. Before starting the company, Roger worked for many years in software, website development, and publishing. He's chaired at least 30 auctions over the past 20 years (one loses count after a while), has served terms on the boards of several area non-profits, loves all dogs on the planet, and lives in Portland, OR.