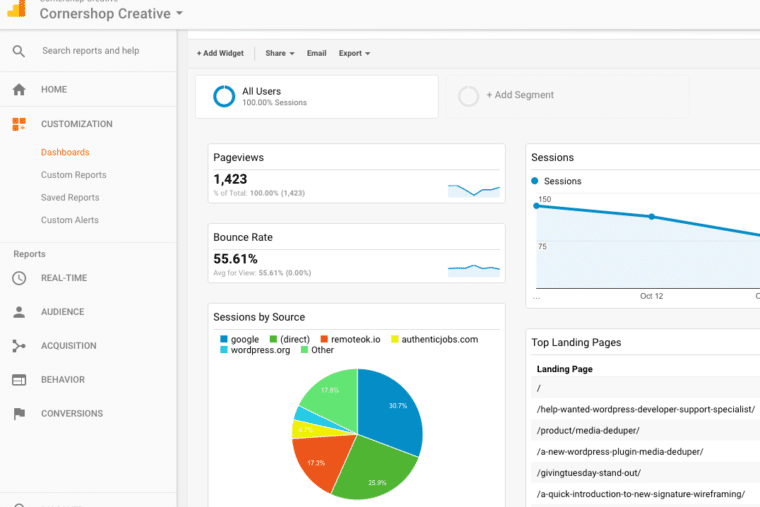 If you work online, you've probably heard about Google Analytics. But what is it and why should you use it too? Google Analytics is a tool that provides a plethora of information and insight into what's happening on your website, but most importantly it is easy to use, customizable, allows for real-time, automated data collection, and FREE.
I'm sure after that sales pitch you want to get started right away, so here are the five things you'll want to do first to dive into the world of Google Analytics.
Create an account!
If you don't have a Google account, you'll need to first create a Google account and then go to the Google Analytics site to share information about the site you want to track, read and agree to a terms of service, etc., like you would when signing up for any online service.
While this step might seem obvious, you'll want to remember that during account creation, you'll also need to set up a property or properties under that account. Google Analytics understands a property (aka your website) only as a resource associated with your account. For example, if you associate one property ID with two websites, data for both websites appears in the same property in your Analytics account.
Before setting up your account, you'll want to consider your long-term reporting goals and how they might affect your account structure as to whether you want separate or combined properties if you have multiple site. This also pertains to multiple domains under the same site.
Install it
Once you've finished setting up your account, you'll want to get your Google Analytics code so you can install in on your website.  The code will look something like this: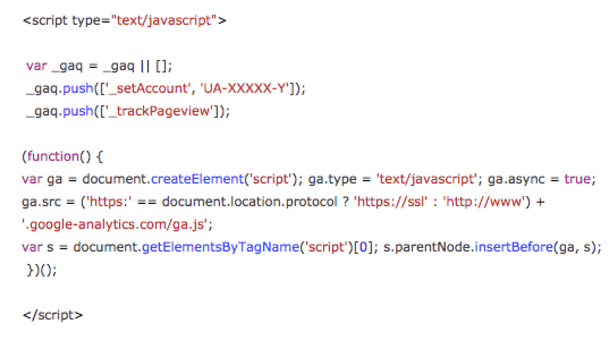 The most important thing you'll want to keep in mind is that this code MUST BE INSTALLED ON EVERY PAGE OF YOUR WEBSITE.  While how you'll install the code may differ depending on your website, where you'll install it will be the same. You'll want to plop the code between the <head> and </head> tags on your site.
Learn the lingo
Half the battle in become acquainted with Google Analytics is learning the terminology. Once you've mastered the certain metric names and what they mean, you'll be able to navigate and understand the Google Analytics dashboard much easier. Here is a quick glossary of the ones you'll find most helpful (here is a much more comprehensive glossary):
Dimensions: Attributes or characteristics of your users and their interactions with your site. Examples include: Browser, Page Path, Exit Page, Screens and Session Duration.
Metrics: Similarly, metrics are individual elements of a dimension that can be measured as a sum or a ratio. Examples include: Pageviews, Users, Screenviews and Pages/Session.
Events: A custom interaction (or attribute) on your website. For example, tracking plays of an embedded video.
Goals: Goals let you measure how often users take or complete specific actions on your website.  For example, subscribing to your email newsletter, submitting an inquiry or registering as a member.
Goal setting it one of the most helpful ways to use Google Analytics beyond its many built-in tracking tools, because it allows you to customize the types of actions you want to track. The Google Analytics support documentation provides a detailed, step-by-step set of instructions on goal setting.
Become a Google Analytics Boss
Google Analytics can be a bit of an intimidating tool, but by spending some time learning about the tools and techniques to get the most out of it is time well spent. There are many trainings out there, but Google Analytics offers their own, free Analytics Academy that goes over all the basics you'll need, plus they have an advanced course to help you become a pro!
These five steps will help you get well on your way to not only get Google Analytics up and running on your site, but also using that data to help identify improvements you can make to your site to increase traffic and engagement from your users.