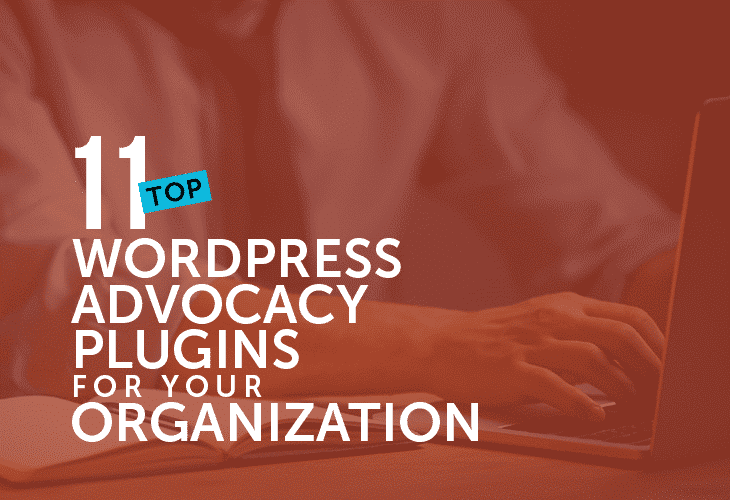 Your website is the best tool you have to engage and inform the supporters of your nonprofit organization. If you built your website with WordPress, then you already know how easy, powerful, and versatile it is. You may also know that plugins are the secret sauce that makes WordPress so versatile and powerful — but what you may not know is how to sort through thousands of available options to find the best WordPress advocacy plugins for your organization.
Never fear, Cornershop Creative is here to help! We have used a lot of plugins, and we have learned a lot about using them. We know that to be great, a plugin needs to add cool functions to your website without bloating the code and hurting performance. We know that it's important to learn who developed the plugin. And we know that you have to check each plugin to see how well it's supported before installing it.
You can read more about best practices for selecting plugins, but you don't have to learn this stuff the hard way like we did. Instead, we invite you to benefit from our experience so you can focus on the great advocacy work you do without having to parse out all the technical details.
So if you're looking to get your message out in the world in a big way, check out our list of the top 11 WordPress advocacy plugins for nonprofit organizations like yours:
As you scroll through this list, take time to imagine the ideal website for your organization. Could these plugins be exactly what you need to engage your supporters, raise awareness, get more donations, or offer a better user experience? We think so. Now, let's get started!

WordPress Advocacy Plugins FAQs
Before diving into each plugin, let's take a look at some frequently asked questions about WordPress advocacy plugins. Though we've tried to answer the most common questions here, we know this list can't possibly contain all of the questions you may have. If you need to know more, Cornershop can help.
What is a WordPress advocacy plugin?
A WordPress advocacy plugin is software that can be added to your nonprofit organization's WordPress website to provide extra functionality that can attract and engage supporters.
Some of the most popular advocacy plugins are ones that can create event listings, collect donations, build community, and open lines of communication. Others that may not be as obvious help your website work better so that your site doesn't create problems during your virtual petition drive or fundraising events.
How can WordPress plugins benefit my nonprofit's website?
One of the things we hear often from our nonprofit clients is, "We want a website that actually DOES something. It shouldn't just be a brochure for our organization." Plugins make this wish come true.
With plugins, your website will have increased functionality and usability. Here are just a few of the benefits you could see with a WordPress advocacy plugin:
Improved user experience. Plugins help you make it easy for your supporters to take the actions you want them to on your website. Better user experience means more signups, more donations, and more supporters coming back to see what's next.
Give your website personality. You want a website that speaks for your cause. Plugins add unique features that can set your organization and content apart.
Make it easy for visitors to engage with your organization. Whether you're looking at better ways to share your message, communicate with your audience, or raise funds, there's a plugin that can help you do it easily.
Better rankings in search results. There are a lot of plugins that are specifically designed to optimize your website for search engines. (Spoiler alert: our favorite is in this list!) Other plugins can offer benefits to search engine optimization, or SEO, by organizing your content and ensuring that important data is coded correctly for search engine indexing.
How should I pick a WordPress advocacy plugin for my website?
As mentioned before, you should always check to see how well a plugin is supported before you decide to use it on your website. Here are a few other things you should consider:
Does the plugin offer a lot of extra features you will never use? If so, you might want to pass on it. It's better to have a plugin that does one or two things really well than to have all those extra features cluttering your dashboard and slowing down your website.
Is it compatible with your current version of WordPress? Plugins that are unsupported get outdated pretty quickly. Outdated plugins may work fine, or they might cause database errors, security issues, poor website performance, and a whole bunch of other issues. It's just better not to take the risk.
Is it designed to match your website's branding? Some plugins do cool things, but they are limited in design, so they look very different from the rest of your content.
Is it responsive? Many of your supporters will be viewing your website from a mobile device, and you want to guarantee they all have a great experience, no matter the way they're interacting with your site.
How many active installs does the plugin have? We're not saying a plugin has to be popular to be good, but if a plugin has been around a long time and doesn't have many active installs, it could be an indication that people have had problems with it.
What do the reviews say? Feature lists are great, but you can learn a lot about a plugin by checking the reviews. Make sure to read both the positive and negative comments, with a focus on the three star reviews. They are the ones that generally give the most balanced descriptions.
Want to learn more? Check out this resource on the best practices for website maintenance.
Should I only use plugins meant for advocacy organizations?
This one's easy: nope! There are a lot of great plugins out there that can help you get your message out and increase supporter engagement. A little imagination can help you find the advocacy potential in any WordPress plugin.

Top 11 WordPress Advocacy Plugins
There are so many plugins available for WordPress that it can be hard to choose which ones you should use for your nonprofit advocacy website. It gets even more difficult when you don't know much about the quality of a plugin. The last thing you want is to get a plugin with bad code that degrades your website performance or opens your supporters' information up to cyber attacks.
Luckily, we have used a lot of plugins at Cornershop and actually keep lists of the good — and the bad. We also have a team of expert developers that can take a look at each plugin and assess it for safety. So you know when we publish a list of plugins, you are in safe territory.
This WordPress advocacy plugins list for nonprofits contains a lot of our favorites, and we added some variety so that you could be sure to find something helpful to your organization.
WP Congress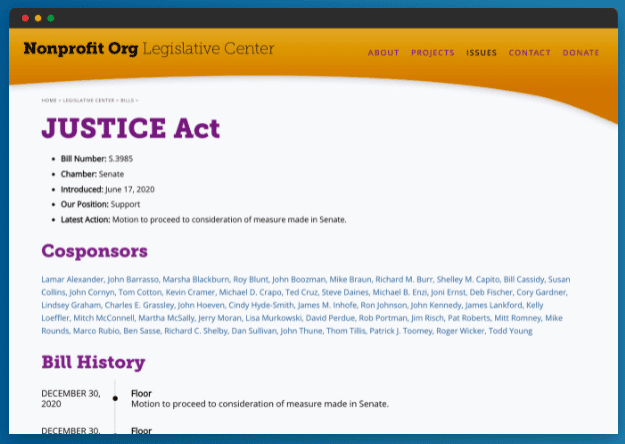 Overview
WP Congress is the ultimate plugin for advocacy organizations because it helps your supporters leverage their political power in support of your cause. After installation, you can connect WP Congress to data providers using free API keys, then use the imported information to display legislator scorecards, provide searchable district maps, and track important bills.
Features
Import bills and their progress directly into your site. WP Congress allows you to select the bills that are most important to your organization and follow them all the way through Congress. Putting this information on display makes it easy to encourage letter writing campaigns, petitions, and other advocacy actions right when they will have the most impact.
Allow visitors to explore a map to find their legislators. Help your supporters get out and vote by putting searchable district maps right into your website pages.
Rank legislators based on their voting histories. WP Congress makes it easy to create congressional scorecards so your supporters always know how their representatives are voting on the causes they care about.
Match your website branding. WP Congress uses deep site integration so it seamlessly adopts the styles and branding used on your website. It also includes shortcodes and blocks that make it easy to share data anywhere you want to on the site.
Price
WP Congress offers multiple pricing plans, including a single site for $499.00
Gravity Forms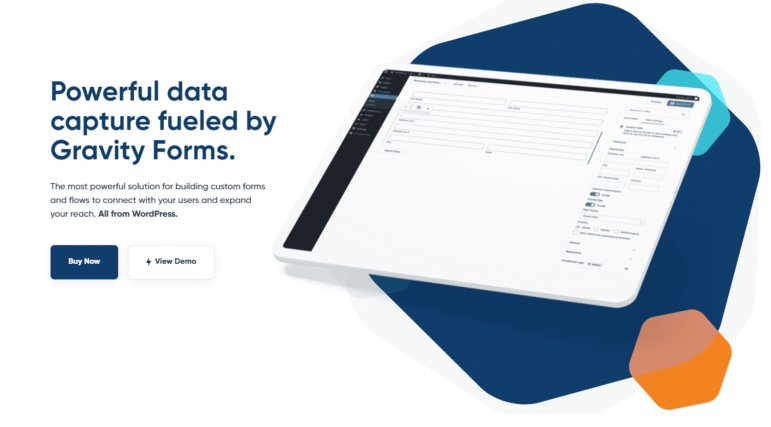 Overview
Gravity Forms is our favorite form builder for WordPress, and the one we recommend most often, especially for creating petition forms. It's easy to use and integrates well with most themes and page builders.
There is also an impressive list of add-ons for Gravity Forms, which add a lot of functionality and make it even easier to collect important information from your supporters, and send it to the CRM of your choice, such as Engaging Networks, Salsa Labs, or Luminate Online.
In addition to basic contact forms, you can set up Gravity Forms to collect petition signatures, event RSVPs, and other types of actions.
Features
Easily create custom forms. Gravity Forms uses a drag-and-drop form builder so you can easily create the exact form you need.
Accessibility, compliance, and mobile responsiveness. Gravity Forms was created with the best interests of your users in mind, so it is compliant with WCAG 2.0 AA standards, and responsive enough to look great on any device.
Unique options and controls. Whether you want to collect donations, sign supporters up to a mailing list, or collect a lot of survey data, you probably have a picture in your head of how you need your form to look and perform. Gravity Forms gives you the options and flexibility you need to create the form of your wildest dreams, including columns, conditional logic, pagination, and even an option for users to save their form progress to finish later.
Price
Gravity Forms has multiple pricing options, including Basic for $59.00 per year, Pro for $159.00 per year, and Elite for $259.00 per year.
The Events Calendar


Overview
The Events Calendar is our favorite WordPress plugin for nonprofits that regularly host events for their supporters. We know that the only way to have successful events is to have great attendance, and this plugin has all the functionality you need to create, promote, and manage in-person and virtual events. Once events are created, you can display them in a professional calendar that can be customized to match the styling of the rest of your website.
Features
Easily create and manage an events calendar. No matter what kind of events you host, The Events Calendar is ready to go as soon as you activate it. The main events calendar is displayed on its own page on your website, and lets your supporters choose whether to view the events in a calendar, in a list, or by the day.
Upcoming events widget. The Events Calendar also comes with an upcoming events widget so you can easily promote events anywhere on your website. The settings are customizable so you choose how many events to display, and how far into the future you want to promote.
Mobile friendly and responsive. It's estimated that about 50% of your supporters will be visiting your website from their mobile devices, so compatibility with smartphones is a must! Calendars and events will display beautifully on any device so your supporters will always have access to your important event details.
Maps, venues, and organizers. The Events Calendar also allows you to save and reuse venues and organizer information, and display maps on in-person events.
Price
The Events Calendar is free to download and comes with most of the functionality you could ever need. There is also The Events Calendar Pro option for organizations that sell event tickets, host recurring events, or need more event management options. The pro version is only $99 for a single site, and comes with a year of support and updates.
Media Deduper

Overview
Media Deduper is not quite an advocacy plugin, but it makes this list because it does some powerful cleanup in your media library that can considerably speed up your website, ensuring that your petitions and legislative scorecards can load in a satisfyingly short amount of time.
Features
Remove duplicate photos. Remember that awesome photo of your team and the mayor at your last fundraiser? You thought it was perfect for your website, and so did three other members of your team! Having multiple copies of the same photo in your media library can have a huge negative effect on your website's performance. The Media Deduper plugin will automatically find and delete extra copies while preserving the original location on the website.
Prevent future duplicates. Once your media library is cleaned out, Media Deduper will keep it clean by not letting you upload duplicate photos in the future. Instead, it will generate a warning message to let you know that the photo is already there, and even select it for you.
Remove unused photos. Most people don't think to go back and delete old photos from the media library after updating content. Media Deduper takes care of this too by showing which photos are unused and ready to be removed.
Increase load speed for your site. Cluttered media libraries are a common reason for slow load times on a website. Cleaning up the duplicated and unused photos will improve your site speed, which is great for SEO and user experience.
Price
Media Deduper has three pricing options, including a single license for $29 or unlimited use for $299.

SpeakOut! Email Petitions

Overview
SpeakOut! Email Petitions is a simple plugin that lets you embed a petition and collect signatures right on your website. Information from signers is stored in your WordPress database, and you can set the petition to be emailed to the email address of your choice as soon as it has collected enough signatures (think mayor, governor, or even the White House… the options are limitless!).
Features
Create and embed petitions. After your petition is created, you can embed it directly into your website pages and start collecting signatures. If you set a goal for the number of signers you need, a progress bar will show on the petition so you can celebrate as you get near your goal.
Allow signers to share petitions online. After signing, supporters have the option to share your petition on Facebook or Twitter to encourage their friends to become supporters.
Export signatures. Petitions are signed with the contact information provided by your supporters, and that information is stored in the WordPress database. You can export the list of signers to CSV at any time so you can sort the data or import the supporter information into your mailing lists. (Don't forget to add an opt-in for your mailing list to the petition form if you plan on doing this!).
Price
SpeakOut! Email Petitions is free to download and easy to install.
GiveWP


Overview
GiveWP is a donation plugin and fundraising platform that offers powerful features right out of the box as well as the option to enhance the plugin with add-ons. Accept donations, manage donors, view giving reports, and integrate with other services to become a charitable powerhouse!
Features
Design your own donation forms. GiveWP offers legacy forms that you can use right away, or you can build custom forms to collect exactly the data you need for your organization.
Generate full reports. There are multiple reporting options so you can compare campaign effectiveness, view and export data, and sort donors by date, form, or payment method.
Manage your donors. GiveWP keeps a complete history of your donor record that can be exported at any time. You can also create donation receipts and integrate with other third party services.
Price
GiveWP is available in a free version, which supports payments through Stripe and Paypal. GiveWP also offers multiple pricing options for the premium version with add-ons, including Basic for $249.00 per year, Plus for $360.00 per year, and Pro for $499.00 per year.
WP Popup


Overview
WP Popup is a simple and lightweight plugin that helps you draw attention to your most important topics and CTAs with a popup or lightbox. You can customize the content and appearance of the pop up box as well as exactly where and when the box will appear. This way, you can better target your advocacy supporters after they've learned about your issues.
Features
Create popups for your site. Popups are created using a page editor layout, so creating new popups is as easy as adding other pages and posts to your website.
Customize popups. Your popups can contain special elements like forms and buttons, and can be styled any way you want them.
Engage your site visitors. Popups are a great way to grab visitors' attention and get them to take action.
Price
WP Popup is free to download and ready to use as soon as it is activated.
Yoast SEO


Overview
Yoast is on a mission to make SEO easy for everyone — and the Yoast SEO plugin accomplishes that mission! This plugin is a must-have for every WordPress website, and doubly so for advocacy organizations that are hoping to be heard above the internet chatter.
Features
SEO health at a glance. Yoast SEO creates color-coded identifiers for each page of your website so you can see immediately which pages are optimized and which ones need more work.
Improve your content. Yoast SEO provides tips and tutorials for improving and optimizing the content on your website so you always know how you can improve your ranking, even if you are brand new to SEO.
Rank higher on Google. Once the plugin is installed and activated, a metadata template appears at the bottom of each edit screen on your WordPress site. This template can be set up to auto-generate metadata, or you can add custom content. Yoast SEO makes sure this important data is tagged correctly so that everything appears as it should in search results.
Manage redirects and protect your content. Yoast SEO Premium automatically manages redirects so you don't have to worry about breaking your site when you delete pages or change your site structure.
Price
There is a free version of Yoast SEO that offers plenty of great features to optimize your website. If you're looking for more, you can try the Yoast SEO Premium plugin, which is $89.00.
Widget Menuizer


Overview
Widget Menuizer makes it possible to add widgets and sidebars to your navigation menu. Anything that can go into a widget can now go into the menu, so you can be sure your most important issues get the attention they deserve.
Features
Draw attention to your most important issues. Widget Menuizer gives you ultimate control over your navigation menu, which allows you to use it as another advocacy tool. Add donation buttons, petition CTAs, and important information directly to the menu.
Make it easier for visitors to navigate your site. Help direct your supporters' attention where you want it to go by adding rich descriptions and images to your menu.
Price
Widget Menuizer is available to download for free.
BuddyPress


Overview
BuddyPress adds a private social network to your website so your supporters can chat, share, and interact with your organization. It is designed to work with most WordPress themes and comes with 15 blocks that can be added to any page of your website.
Features
Activity streams with familiar features. Like the popular social networks your supporters already use, BuddyPress adds an activity stream to your website that has @mentions, direct messaging, and threaded commenting.
Customize extended profiles. Tailor your supporters' profiles to align with your mission by choosing the information fields they fill out when creating a profile.
Let supporters control their own settings. Visitors have the option to personalize their own settings and notifications. If you prefer to control the settings yourself, this option can be disabled.
Engage your supporters with private conversations and big announcements. Since each BuddyPress plugin is unique to the website it is installed on, you can create your own private members area where supporters can chat freely about your cause. You can even create groups for committee discussions, or post announcements that only your members can access.
Price
BuddyPress is available to download for free.
Cool Timeline


Overview
This is the best tool we've found for creating timelines. You create posts, add pictures, assign a date, and Cool Timeline will automatically order the posts in your timeline based on the dates you set. You can use your timelines to show the history of your organization, promote event series, share successes, and illustrate your initiatives.
Features
Choose the layout of your timeline. Timelines can be vertical or horizontal, and you can choose the compact or clean layout to suit the style of your website.
Responsive and mobile friendly. Cool Timeline is built to look great on any device and is fully responsive to different screen sizes.
Timelines can be as simple or as detailed as you want. Settings include options for displaying content on one side of the line or both sides, adding a 'Read More' button to view longer content, using icons and images, choosing customized colors and backgrounds, and displaying the timeline in ascending or descending order.
Price
Cool Timeline is available to download for free.
---
Wrapping Up
There are a lot of great WordPress plugins for nonprofits invested in advocacy, and many can be a big help when it comes to advocating your cause and gaining supporters. It's important to remember that not all plugins are created equal and you should always do your research before adding plugins to your website.
We've tried a lot of plugins here at Cornershop, and are always happy to help you choose the best plugins for your website. Here are a few articles to get you started: