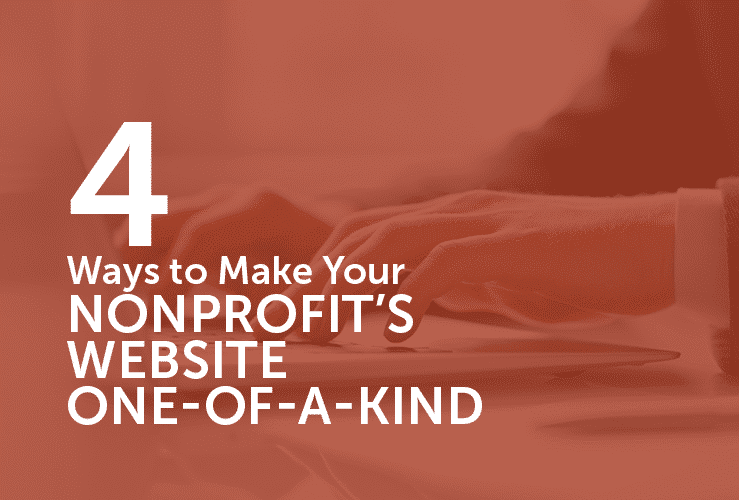 The increasingly digital nature of nonprofit marketing and outreach makes it nearly impossible to avoid website development. As a nonprofit leader, you're likely following web design best practices to ensure you maintain a site that fulfills its necessary purposes.
However, basic website standards are no longer enough to capture and keep the attention of your site visitors. Your nonprofit's website has to be one-of-a-kind to attract new supporters, and there are a few different ways to do it:
A website that differentiates itself from others will effectively reach larger audiences and engage more potential supporters. Leverage these four unique website-building tips to make your nonprofit's website stand out.
Include compelling visuals
Which would have a more memorable impact on you: an article about underfunded schools or a photo of a student reading a book held together by duct tape?
Think about the impact that your website will leave on its visitors. A body of text won't immediately capture their attention, but a captivating visual can leave a memorable impression. Photos are just one type of many visuals you can use, including:
Multimedia elements. Use photos or videos that illustrate your nonprofit's work. Avoid using stock photos or generic images; including unique images of your organization at work can make website visitors feel like they're part of the action. eCardWidget recommends sharing impact stories to show that your organization is dedicated to its work, which can be especially impactful when illustrated with multimedia elements.
Infographics. Graphs and informational flyers can draw attention to complex issues or important facts. For example, you might share numbers or statistics to show the gravity of an issue your nonprofit aims to address.
Attention-grabbing text. Use bolded and clearly structured text to improve the readability of a page. This will make site visitors want to read and pique their interest in the content of your page.
Page design elements: Creative page elements, such as custom calls-to-action or sidebar widgets, can grab users' attention and encourage them to take action related to the content of your page.
Visually appealing elements will not only capture the attention of your audience but will also keep visitors on your nonprofit's website for longer. Visitors will be intrigued and compelled to explore your website even further.
Add interactive features
Website exploration can inform visitors about your mission and work, but the ultimate goal is to encourage their participation. Nonprofits don't just need visibility; they need involvement.
Consider including the following interactive features on your website to urge visitors to engage with your content:
eCards: Create branded, digital greeting cards for supporters to send to their friends in exchange for a donation. eCards for charity will allow supporters to share their interest in your organization with their friends while also contributing to your cause.
Quizzes: Let visitors test their knowledge of your mission. For example, an animal shelter website might host a quiz that asks how many local shelters are at full capacity. Answering the question incorrectly opens an opportunity for you to educate (and potentially surprise) your website visitors!
Surveys: Ask for users' opinions or insight about your particular cause. This data can be collected and used to better appeal to them in the future. For example, if they express that they don't understand your mission's effect on their community, you might alter your website content to better explain this connection.
Social media integrations: By embedding your social media posts or linking to your social media accounts, you'll invite visitors to engage with your nonprofit on multiple platforms. This provides another opportunity for you to engage visitors in a new way.
Educational content: Include virtual workshops or webinars to teach site visitors more about your organization's work. Visual map tools and digital libraries can also share important information and documents with users.
Consider the goals of your website and incorporate interactive features that will further these goals. For example, if you aim to spread awareness for your cause through your website, a quiz about the issues your nonprofit serves could engage your audience.
Each tool should be easy to use and understand and should point to a logical next step. Your interactive features encourage your visitors to engage with your website, but that's just a stepping stone to having them engage with your nonprofit.
As an added bonus, interactive elements can be a fun way to improve the user experience on your website. Your audience will be more likely to explore your website when they're engaged with the content and enjoy interacting with it.
Leverage user contributions
Nonprofit websites popularly focus on communication from the nonprofit to the supporter. They use web pages and online forms to explain their mission and urge visitors to get involved. While your website should inform and compel visitors to act, consider letting supporters do some of the talking for you.
Double the Donation recommends using inspiring content, like direct quotes from impacted people, to tell the story of your mission. Use testimonials and quotes from:
Constituents
Donors
Volunteers
Board members
Staff members
Beneficiaries
Community members
Local businesses
Nonprofit partners
When you let the people who interact with your organization speak about their experiences, you're giving them a direct platform to champion your nonprofit. As a result, website visitors will trust the opinions and perspectives of their fellow community members and peers and be compelled to act.
Be sure to appropriately thank the people who speak out for your organization. For example, you can send a donor thank you email to show your appreciation for a donor who agreed to be quoted on your website's homepage.
Collaborate with other experts
You use your website to address an issue (or a condition) and explain what can be done to help.
As you develop your website content, lean on the expertise and input of other experts to prove the importance of the issue and back up your organization's approach. Although brand elements can help secure donors' confidence in the validity of your donation requests and appeals, it never hurts to have other, reputable voices advocating for your organization.
Think outside the box when you consider who your "experts" might be. For example, an environmental nonprofit might invite a scientist to contribute articles to the website's blog. For a first-hand account of your organization's work, ask volunteers to share their experiences through video interviews. Not only can they convince your audience of the authenticity of your nonprofit's efforts, but they can also explain the need for donations or volunteers.
---
Observe how other nonprofits present information on their websites and consider ways to approach your site differently. Remember, your organization in and of itself is unique. Leverage the aspects of your nonprofit that make it special to appeal to larger audiences and gather support through your website.
About the Author:
Tim Badolato is the CEO of eCardWidget.com, an innovative platform for digital employee recognition, donor acknowledgement, business marketing, and nonprofit marketing. He has a passion for using technology to drive positive outcomes for mission-driven businesses and nonprofits.