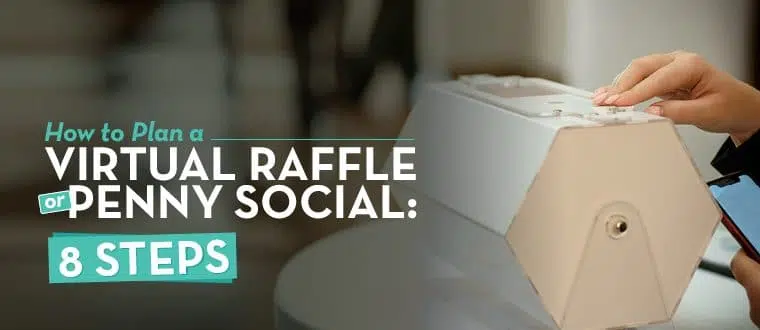 The year-end giving season is approaching faster than you think! Having a solid campaign strategy and a calendar full of engaging events and opportunities has always been important, but forging and reinforcing your connections with supporters is especially important as we begin slowly emerging from the pandemic.
How can you best engage supporters, remind them of your mission's importance, and raise funds online without breaking the bank? Virtual raffles and penny socials.
Whether you're looking for a virtual-friendly addition to your existing plans or don't have the time to plan a larger virtual or hybrid year-end gala, a virtual raffle-style event might be the answer. By combining the fundraising potential of ticket sales, engaging virtual elements, and appealing prizes, raffles can deliver a high impact without requiring the heavy investment of time and resources needed for larger-scale events.
However, raffles and penny socials still require a fair amount of planning, strategy, and technical support to yield the year-end returns you're looking for. 
At OneCause, we specialize in all things virtual fundraising, and we've helped thousands of organizations adapt their events for today's new world. We've put together this quick guide to help you get started planning your next (or first) virtual raffle. 
Here's what we'll cover:
What are raffles and penny socials?

How do they work virtually?

How do you plan a virtual raffle-style event?
Raffle-style events are an ideal addition to any organization's fundraising line-up. Easy to adapt to the virtual space and always engaging for donors, a raffle or penny social could be the perfect way to raise additional funding and strengthen ties with supporters in the coming months. Let's dive in!
What are raffles and penny socials?
Raffles and penny socials are both ticket-based fundraising events. You secure exciting prizes (often bundles or baskets of items), promote the event to supporters, and offer numbered tickets for sale. Once participants have their tickets, what they do with them will depend on the specific type of event you're hosting:
In a raffle,

supporters buy tickets to win specific items. When the time is up, you'll pull one winning ticket and award the prize. 

In a penny social,

supporters buy tickets to "bid" on a range of prizes or baskets. Traditionally, participants place their tickets in designated baskets for each item they want to win. The more tickets they place, the higher their odds of winning when a single ticket is pulled for each item at the end of the event.
Raffles and penny socials typically require much less planning than large-scale silent auctions, making them effective and quick tools to drive year-end revenue. They can be easily added to all kinds of campaigns and events, and they offer a low cost of entry. In our guide to penny socials, we cover a variety of ticketing strategies to drive results based on your goals, prizes, and audience.
How do raffles and penny socials work virtually?
Thankfully, these fundraising events are easy to adapt to the virtual realm. Ticket sales can be easily brought online using fundraising software, and digital marketing outlets like email and social media are useful for spreading the word.
However, one challenge when adapting any fundraising event to the virtual sphere is maintaining donor engagement digitally. 
There's a lot of competition for your supporters' attention online, so your virtual raffle or penny social has to stand out. Your prizes and item baskets will need to do the heavy lifting to incentivize engagement. But you should also proactively look for other ways to make your event more exciting. Here are a few best practices to keep in mind:
If you're hosting a raffle as part of a larger virtual event,

get your audience excited leading up to the drawing. Regularly remind participants that ticket sales are still open. Be sure to communicate all the way up to the end. Showcase your prizes with high-quality videos and descriptions. Using dedicated virtual fundraising software should make it easy to combine multimedia and built-in ticket sales in one donor-friendly interface.

If you're hosting a standalone virtual raffle,

boost engagement ahead of time with an energetic social media campaign. Ask supporters to share your posts far and wide and to tell their friends what your mission means to them. High-quality multimedia content to show off your items will be critical in this case as well. We also recommend livestreaming the ticket drawing and grand finale to leave participants with a more exciting and memorable experience.
Plus, taking your raffle virtual opens up new ways to increase engagement and ticket sales. Combine it with any of your other new virtual fundraising and engagement ideas.
For instance, try taking a peer-to-peer approach, in which dedicated ambassadors or volunteers spread the word about your event and compete to see who can help sell the most tickets. Or, you might consider letting volunteers host their own local virtual penny socials with items and tools provided by your organization. 
How do you plan a virtual raffle-style event?
Once you've decided to host a virtual raffle or penny social for your nonprofit, how do you start planning it? Let's walk through the core steps you'll need to follow.
1. Build your virtual toolkit.
Any type of virtual fundraising event or campaign will naturally rely on technology. While it is possible to host a virtual raffle using bare-bones payment processing tools, you'll be better served (and your donors will have a more seamless experience) when you use dedicated software. For a raffle or penny social, you'll need:
Online ticketing tools or mobile bidding software that supports ticket purchases

Virtual event software to handle registrations and live-streaming

Email and social media for promoting your raffle

A database or CRM to record transaction data and analyze your event's performance
Covering these essentials will help you plan and host a polished virtual raffle event that engages donors and delivers more value. 
For the best results, look for comprehensive platforms that support multiple tasks at once. For instance, virtual event software that includes built-in fundraising tools will make it much easier for donors to join in your raffle and stay tuned into your message for longer. 
If your team is fairly new to virtual fundraising, check out our complete guide for a deeper dive into the essentials of a fundraising toolkit and how to put them to work for your mission.
2. Form a planning team.
These events can vary widely in terms of size, and even the simplest raffle has a lot of moving parts that need to be aligned to ensure success. Form a team to help plan and host your virtual raffle, and assign individuals to handle these specific responsibilities:
Event chair or lead

Item procurement

Marketing and promotions

Logistics and technology

Emcee or host, if your event will involve live-streamed portions
By sharing the workload, each team member can focus their efforts on planning the most effective event possible. This is especially important for areas like procurement and technology. Boring prizes or malfunctioning technology can lead to a disappointing raffle for even the most eager audiences.
3. Set a goal and guidelines.
Next, lay down specific guidelines for your virtual raffle or penny social. Try to answer these questions as specifically as you can:
What's the budget for this event?

Do you need any new technology?

What are your goals for this event?

How much money do you want to raise overall?

How many tickets do you need to sell to cover expenses?

How many supporters do you want to engage with this event?

When will you draw and announce the winning tickets?

How long will participants have to buy tickets?
Even if you've already hosted a number of virtual events, managing them is still a challenge for many nonprofit teams. Determining concrete guidelines like these early in the planning process is a smart move. This will help keep your entire team on the same page and prevent any elements from derailing along the way. 
4. Procure your prizes.
Item procurement is one of the most critical parts of planning any raffle-style event or auction. Your items are the main draw of the event and will either hinder or boost your results, both in terms of revenue and engagement.
In our directory of auction item ideas and procurement tips, we break down the procurement process into five core stages:
Form a team.

Ideally, you've already assigned one or more individuals on your planning team to focus on procurement.

Get started early.

Procurement can take a long time (depending on the scale of your event and the number of items you need), so start as early as possible.

Review your donor data.

Use your data to generate insights on which items will be most appealing to your supporters based on their interests and giving capacities.

Create an item wishlist.

Brainstorm the items you'd love to feature in your raffle or penny social. Having a concrete list of ideas will streamline the entire process.

Use donation request letters to begin outreach.

Give your procurement team resources to simplify the outreach process and save time.
Procurement can be logistically complicated, especially for larger multi-item raffles or penny socials that are part of bigger events. Get started early and take an organized approach! 
5. Set up your virtual event center.
Your virtual raffle or penny social will need its own dedicated online space. Set up a page on your site specifically for the event, or, better yet, create a virtual event center or event microsite. This digital space will house the entire event experience from start to finish, allowing participants to register, buy tickets, browse items, and engage with your programming all in one place.
If your raffle is part of a larger virtual gala or auction, you'll likely already have a virtual event center in place. Be sure your raffle elements can be seamlessly incorporated into the broader event experience.
Even for standalone raffle-style events, a virtual event center can greatly improve the user experience, especially if you'll be incorporating livestreamed elements to showcase items and announce winners. A centralized experience will generally return more value than a piecemeal approach that may be confusing or frustrating for some users.
6. Plan any additional event logistics.
To maximize interest and engagement, virtual events should incorporate more elements than the core fundraising activity alone. 
If your virtual raffle or penny social is occurring within a broader event, make sure to fully plan out how it will be incorporated into the larger strategy. When will you draw winners? How will you encourage attendees to keep buying tickets?
We've touched on this point a few times already, but it bears repeating. Even standalone raffles should involve other engaging virtual elements. Consider these additions:
Social media-based ambassador campaigns to generate interest and competition leading up to the raffle

Virtual happy hours to show off your raffle items and encourage ticket sales

Live-streamed grand finales to draw the winning tickets and announce winners
If you're incorporating any additional virtual elements into your raffle, give yourself plenty of time to plan them. Your tech team should conduct multiple test runs to make sure everything will run smoothly once it's time to kick off a live stream.
7. Promote your raffle and sell tickets.
Ticket sales are what drives revenue for raffle-style events, regardless of whether they're virtual or in-person. Start promoting your raffle well in advance of the final drawing. We recommend at least a month ahead of your event date.
Social media and email are the most effective outlets for spreading the word. Create plenty of multimedia content to showcase your items and explain the virtual raffle process. In your digital content, link readers directly to your virtual event center to buy tickets. Encourage your supporters to share your posts with their own networks, too, to further increase your event's visibility. 
Consider offering special promotions during the lead-up to your raffle. For example, a limited window of time in which your tickets are buy-one-get-one-free could be the perfect way to boost energy and excitement leading up to the big day.
8. Host your event and follow up.
Once it's time for your virtual raffle or penny social, kick off the drawing with an exciting announcement (ideally live-streamed). 
Before drawing the winning tickets, remember that you'll have a captive audience eagerly awaiting to hear if they've won.
Take the opportunity to thank supporters for their participation, briefly highlight your mission, and make one last donation ask. This process is fairly similar to classic best practices for running a silent auction. Then, draw the winning tickets and announce winners! Your virtual fundraising software should be able to handle this process digitally, but you might also want to create a physical set to recreate the classic raffle experience.
After the event has ended and your winners have been announced, immediately follow up with everyone who participated. Thank them again for supporting your mission and being a part of your nonprofit's impact. Remember to direct them towards other ways to stay engaged, like registering for your next event or signing up for your newsletter.
---
The shift to virtual engagement has been a major change for the nonprofit sector, but even amid disruption, it's important to remember that your classic events don't have to get lost in the shuffle. Raffles and penny socials can be easily adapted for the virtual space with some reimagining and the right technology.
Especially as the year-end giving season approaches, offering engaging activities that remind donors of your mission and raise much-needed support is a good idea. Virtual raffle-style events are an extremely flexible choice for building out your fundraising calendar.
Author: Kelly Velasquez-Hague
Kelly Velasquez-Hague brings over 20 years of fundraising, nonprofit management, and sales/marketing experience to her role as the Director of Content Marketing for OneCause. As a member of the OneCause sales and marketing team, Kelly manages all of the company's content strategy and execution. She is passionate about empowering great missions and loves that her current role allows her to continue to help nonprofits reach new donors raise more funds for their cause.